NFC East:

2013 Week 2 SDG at PHI
September, 15, 2013
Sep 15
8:34
PM ET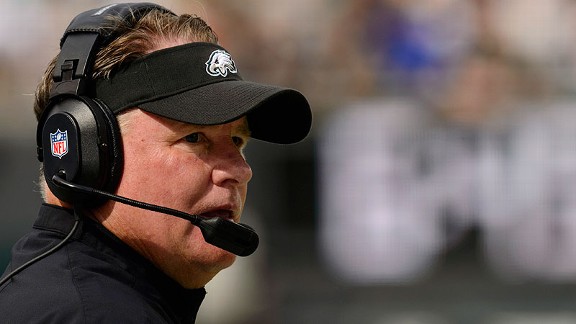 Howard Smith/USA TODAY SportsChip Kelly's Eagles had the ball on offense for just 19 minutes, 43 seconds in Sunday's loss.
PHILADELPHIA -- Two weeks into the Chip Kelly era, we've already seen how his offense can wear out defenses -- the Eagles' defense as well as the opponent's.
Kelly's heroes amassed 511 total yards of offense and scored 30 points against the
San Diego Chargers
here Sunday. Kelly's zeroes allowed 539 total yards and gave up 33 points. The last three, a 46-yard field goal by
Nick Novak
, gave the Chargers a 33-30 win and spoiled Kelly's debut at Lincoln Financial Field.
If this past Monday was the NFL version of the Los Angeles Lakers' Showtime, a breathtaking display of the potential of Kelly's up-tempo offense, then this was an unnerving exhibition of the risks that come with it. When the offensive precision isn't quite there, it can misfire and place enormous pressure on the Eagles' defense.
Mistakes -- from poor time management to an overthrown deep ball to a touchdown-erasing rookie penalty by tackle
Lane Johnson
-- become magnified.
A couple of weeks ago, Kelly gave an impromptu lecture on the meaningless (to him) time-of-possession stat. On Sunday, the Chargers held the ball for 40:17, the Eagles for just 19:43.
"It's our responsibility to get them off the field," Kelly said. "We can't just sit there and say we were on the field too long. We have to get them off the field."
[+] Enlarge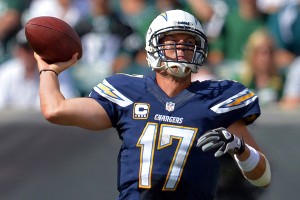 Jeffrey G. Pittenger/USA TODAY SportsPhilip Rivers is looking to improve to 2-0 against the Giants -- the team that drafted him in 2004.
That was a problem, as the defense allowed
Philip Rivers
to convert 10 of 15 third downs while passing for 419 yards. But the bigger problem, frankly, was the offense's inability to score points in the first half. In the opener at Washington, the Eagles steamrolled their way up and down the field. This time, they ceded control of the game to Rivers.
The Eagles had the ball first. They gained 27 yards on eight plays, then punted. They punted on three of their seven first-half possessions and missed a long field on a fourth drive. They scored 10 first-half points.
The Chargers scored 13 points on their first three possessions. Their next two ended on lost fumbles deep in Eagles territory.
"They kept us off the field and out of rhythm in the first half," Eagles quarterback
Michael Vick
said. "In the second half, we were able to get into a rhythm and score 20 points, but it wasn't enough."
The game came down to a strange sequence late in the fourth quarter. The Eagles gave up an all-too-easy touchdown drive to spot the Chargers a 30-27 lead. Vick connected with
DeSean Jackson
twice for 35 yards to get down to the San Diego 14 with just more than two minutes left.
The Eagles needed a touchdown. They also needed to take as much time off the clock as they could. If they'd accomplished one of those things, they likely would have won or, at least, gotten into overtime. Instead, they accomplished neither.
Vick threw a pass to tight end
Brent Celek
. Safety
Eric Weddle
broke the pass up, and Celek was slow to get up. Vick was hit on the throw, and he, too, was slow to get up. Referee Terry McAulay ruled that both were injured and had to miss at least one play.
"I won't say I wasn't hurt," Vick said. "I wasn't hurt hurt. If I am standing up, I'm not hurt, I'm ready to go. But he said I had to come out for a play. I think that was unfortunate for my team, but they are doing their jobs."
Nick Foles
came in. He threw a fade that sailed over Jackson's head, out of bounds.
Those two plays took just nine seconds off the clock. After running the ball every which way at Washington, and averaging 4.5 yards per carry despite San Diego stacking up against the run, Kelly turned into former Eagles coach Andy Reid on this decisive red zone possession. So when Vick came in and threw another incomplete pass, there was still 1:51 on the clock after Alex Henery's chip-shot field goal tied the game.
"We're just trying to score a touchdown," Kelly said when asked whether the Eagles left too much time. "We wanted to make it a four-point game."
They didn't, and it took Rivers three plays and less than a minute to move the ball 42 yards and into field goal range. From there, it was the Chargers who ran the ball to kill time and set up the winning field goal.
The Eagles spent the short week between the Washington win and this game answering questions about just how fast and efficient and downright unstoppable their offense was. Now they have an even shorter week to ponder how they could score 30 points and never have control of a game. Reid, who drafted and signed most of these Eagles, will be here Thursday night with his 2-0
Kansas City Chiefs
.
"I feel like last week, the energy was amazing, and then you get a loss," running back
LeSean McCoy
said. "You can't wait to play and get this bad taste out of your mouth. The goal was to get to the playoffs and win a championship. The goal was never to go undefeated."
September, 15, 2013
Sep 15
4:36
PM ET
PHILADELPHIA -- Quick thoughts after the
San Diego Chargers
'
33-30 victory
over the
Philadelphia Eagles
Sunday:

What it means:
There won't be a million stories explaining the phenomenon that is Chip Kelly's offense, at least not this week. After setting land-speed records in Washington on Monday night, the Eagles had trouble getting into gear against the Chargers. They ultimately put enough points on the board to win most games, but they cost themselves several touchdowns with mistakes in the first half. Given a chance to take the lead in the fourth quarter, the Eagles stalled in the red zone. They kicked a field goal to tie the score, but left the Chargers nearly two minutes to drive for
Nick Novak
's game-winning 46-yard kick.
Stock watch:
It was probably inevitable after the avalanche of praise the first-year coach received last week that Kelly's stock would fall. He was trying to become the first Eagles coach to win the first two games of his tenure since Nick Skorich in 1961. Kelly was never going to go undefeated in the NFL, but Eagles fans were hoping to ride the Chip-mania wave at least a little bit longer.
Defensive regression:
The Eagles' defense looked much more like the work in progress that it is.
Philip Rivers
picked apart a secondary that was suspect before injuries weakened it even further. Cornerback
Cary Williams
, who had a sack and an interception at Washington, was called for three pass-interference penalties (one was declined). When the Chargers took the field with 1:51 left in a tie game, the Eagles were helpless to stop the winning drive.
Bad timing:
The Eagles' improved special teams had been an overlooked story with so much attention focused on Kelly's offense. But the kicking game failed the Eagles at the worst time, allowing a long kickoff return to set up the Chargers' go-ahead touchdown. Kicker
Alex Henery
, who missed a field goal earlier in the game, couldn't handle a fumble on the play and the Chargers recovered.
What's next:
The Eagles get little rest before welcoming longtime coach Andy Reid back to Lincoln Financial Field on Thursday night. The game becomes doubly important because the Eagles' next matchup after that is in Denver on Sept. 29. A loss to Reid could put the Eagles in jeopardy of starting 1-3 after winning their first game.