NFC East:

2013 Week 2 Upon Further Review
September, 16, 2013
9/16/13
3:00
PM ET
A review of four hot issues from the Dallas Cowboys' 17-16 loss to the Kansas City Chiefs on Sunday:
Field-position game:
The Cowboys had 12 possessions Sunday, and five of them started at their 16-yard line or worse. That's not a recipe for success.
The Cowboys gained 63 yards on 19 plays and had to punt on four of those drives. The clock ran out on them on the final drive that started at their 4 to close the game.
"This game, in a lot of ways, came down to field position," quarterback
Tony Romo
said. "It's tough to go 80, 90 yards, 95 yards consistently against that defense in that environment. It's going to wear on you. Once again, no one cares. We still got to get the job done and find a way to do it. But you've got to find chunk plays and really got to kind of get to stuff that can help you on it. We've got to do a better job."
[+] Enlarge
Denny Medley/USA TODAY SportsThe Kansas City Chiefs limited Cowboys receiver Miles Austin to three catches for 31 yards.
Where was Austin?
The last time
Miles Austin
played at Arrowhead Stadium he left with 10 catches for a Cowboys-record 250 yards and two touchdowns, including the overtime game winner, in 2009. He caught only three passes for 31 yards Sunday, and the Chiefs did not have veteran
Dunta Robinson
available. With so much attention paid to
Dez Bryant
, Austin -- and
Jason Witten
, for that matter -- had to become a larger part of the offense, but Romo could not find either of them because of the Chiefs' pass rush.
A mobile quarterback:
As far as final numbers go, the Cowboys did a good job on
Jamaal Charles
, holding him to 55 yards on 16 carries. But
Alex Smith
was another story. The Chiefs quarterback ran for a career-high 57 yards on eight carries, with 49 coming in the first half. There is already some worry how the Cowboys will handle the read-option by Washington's
Robert Griffin III
and Philadelphia's
Michael Vick
(and possibly Oakland's
Terrelle Pryor
, if he's still starting on Thanksgiving), and the job on Smith did not ease any fears.
Big-leg Bailey:
In the first two seasons of his career,
Dan Bailey
struggled on field goal attempts from 50 yards or more -- like all kickers -- making only five of nine tries. On Sunday, he nailed kicks from 51 and 53 yards, giving him two 50-plus yarders in the same game for the first time in his career. With so many games determined by a kicker, the Cowboys know Bailey will answer the call more often than not. Bailey also made a 30-yarder, giving him 12 games in three seasons with at least three field goals.
September, 16, 2013
9/16/13
2:59
PM ET
A review of four hot issues from the
Washington Redskins
' 38-20 loss to the
Green Bay Packers
on Sunday:
[+] Enlarge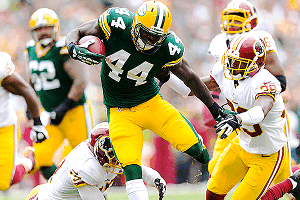 Jeff Hanisch/USA TODAY SportsPoor tackling plagued the Redskins in their loss to the Packers on Sunday.
Tackling woes:
The Redskins' defense already had flaws; it added another one with its tackling. The Redskins consistently give high-powered offenses extra yards because they fail to tackle; they have allowed the most yards after contact this season (208) after ranking sixth in this area last season, according to ESPN Stats & Information. The problem is that teams are able to spread them out, preventing gang tackling at times. They're not good enough, and not making enough plays, to overcome this issue. Teams will continue to get them in space, and Washington needs to prove it can tackle. Or else.
Quarterback runs:
Is
Robert Griffin III
not running on zone-read options because of his knee? Because of how defenses are playing them? Because deficits forced the Redskins to abandon it? It's a good question (why, thank you), and one we'll try to answer throughout the week. Griffin's timing in the pocket is off -- yes, a byproduct of missing so much offseason work from the knee injury. It can be subtle sometimes, but the difference in hitting a receiver on the correct shoulder can mean the difference between a 10-yard gain or 20. It adds up. One reason the Redskins gained so many yards after the catch last season was because of the chaos in the back end of defenses, fueled by late linebacker drops as they were worried about defending a multi-option run game.
Brandon Meriweather:
There's a dual issue here with Meriweather, starting with his health after leaving Sunday's game with a concussion. He'll now be monitored all week. So the Redskins will spend another week waiting to see whether Meriweather is able to play. Then you have to wonder what sort of punishment, if any, he'll receive from the NFL. He was not flagged for either of his big hits, but replays showed him leading with his helmet on the first one against Eddie Lacy. Regardless, when he returns they need him more under control with his tackling -- and he needs to prove he can play for longer than a half without getting hurt. His continual health issues make the loss of
Phillip Thomas
even worse. But just think of the learning curve for a secondary with three rookies in prominent roles.
UPDATE:
Meriweather will be fined, but not suspended
according to Adam Shefter
.
Special teams:
They've flown under the radar a little bit because of the problems elsewhere. But they shouldn't. The special teams have not done anything to help. That goes for the returns, where rookie
Chris Thompson
is averaging 19.7 yards on six kick returns and 4.7 yards on three punt returns; one good runback would boost either number. Gunner
Niles Paul
and long-snapper
Nick Sundberg
both received 15-yard unsportsmanlike conduct penalties Sunday. In Sundberg's case, the Redskins had pinned Green Bay at its own 10-yard line. It wasn't a death sentence for the defense that the Packers then started at the 25-yard line. But right now every yard is huge for this defense. And
Sav Rocca
shanked a 25-yard punt that gave Green Bay the ball at its own 35 in the first quarter.
September, 16, 2013
9/16/13
1:30
PM ET
PHILADELPHIA -- An examination of four hot issues a day after the
Philadelphia Eagles
' 33-30
loss
to the
San Diego Chargers
:
[+] Enlarge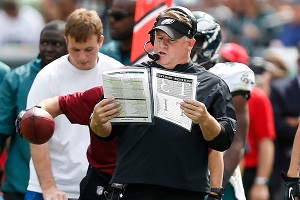 AP Photo/Brian GarfinkelChip Kelly said he made some mistakes during his first regular-season loss as an NFL head coach.
Crash course in the NFL rulebook:
Football coaches don't like to admit mistakes, but Chip Kelly acknowledged he didn't know he could keep
Michael Vick
in the game by calling time out after Vick was nicked on the Eagles' pivotal final possession.
"That's on me," Kelly said Monday. If he had known, he said, he would have used one of his three timeouts at that point.
Vick was slow to get up after being hit by San Diego's
Jarius Wynn
on first down at the Chargers 14. Referee Terry McAuley blew his whistle for an injury timeout, meaning Vick had to leave the field for at least one play -- unless Kelly called time himself.
Nick Foles
came in for one play, an incomplete pass to
DeSean Jackson
.
"I made mistakes," Kelly said. "No one coaches a perfect game, no one plays a perfect game."
Kelly's time management also questionable:
Kelly also said he should have bled time off the clock on that same possession, but his thought process was a little clearer.
The Eagles got the ball on their own 29, trailing 30-27, with 3:05 left in the fourth quarter. After throwing an incompletion, Vick completed three passes for 46 yards and scrambled once for 11. The Eagles moved to the San Diego 14 in 56 seconds. Kelly chose to keep the gas pedal to the floor.
"We were throwing the ball and it was working," Kelly said. He said it wouldn't have been "difficult" to shift gears and take more time in that final sequence. Instead, the Eagles kicked a game-tying field goal and left the Chargers 1:51 for their game-winning drive.
"We should have run the clock," Kelly said. "That's my decision."
Philip Rivers wasn't just standing around:
Kelly mocked ball-control offenses last month, saying time of possession only showed which offense was better at "standing around." In college, though, you don't face 10-year veterans playing their 118th NFL game.
Rivers continually ran the play clock down. But he was using the time to diagnose the Eagles' defense and change the Chargers' offensive calls.
"They basically put the game in his hands," Kelly said. "He was making a lot of checks up at the line of scrimmage."
The Eagles can't do much to fix their secondary on a short week:
Bradley Fletcher
, who missed Sunday's game with a concussion, was cleared to practice Monday. His return will help the Eagles' secondary improve for Thursday night's game against Andy Reid,
Alex Smith
and the Chiefs.
Unfortunately for coordinator Bill Davis,
Brandon Hughes
did not practice because of a hamstring injury. His availability for the Chiefs game is unknown.
As far as the safety situation,
Nate Allen
likely will start again. Rookie
Earl Wolff
got plenty of playing time Sunday, but is still making too many mistakes, Kelly said.
September, 16, 2013
9/16/13
12:00
PM ET
A review of four hot issues from the
New York Giants
' 41-23
loss
to the
Denver Broncos
on Sunday:
[+] Enlarge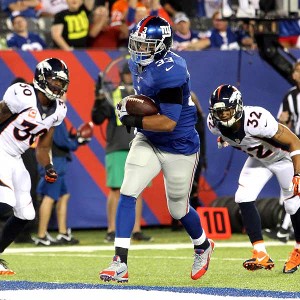 Brad Penner/USA TODAY SportsDa'Rel Scott's touchdown was one of the few bright spots for the Giants' running game in Week 2.
Where is the running game?
The Giants had 23 rushing yards on 19 carries. They have 73 rushing yards in two games. Only two teams in the league have fewer rushing yards right now, and those are the two teams that haven't played a second game yet -- Cincinnati and Pittsburgh, who need 11 and 43 rush yards, respectively, on "Monday Night Football" to pass the Giants. So the odds are very strong the Giants will enter Week 3 with the No. 1 passing offense and the No. 32 rushing offense in the league. If they were 2-0, this would be a nettlesome quirk that needed to be worked out. At 0-2, it's a full-blown crisis. It's a confusing situation with the backs, sure, due to
Andre Brown
's preseason injury and
David Wilson
's Week 1 fumbles. The back who got the most snaps Sunday was
Da'Rel Scott
, and it looks as though the Giants intend to use
Brandon Jacobs
at the goal line. But the big issue is that the offensive line isn't pushing people around enough to open holes for any of these guys.
Where's the pass rush?
The defensive linemen haven't shown much, either. They got to
Peyton Manning
a couple of times Sunday, but they couldn't seem to finish him off. They finished with no sacks, and that's the fourth time in their last nine games (dating back to November 2012) that they finished a game without any sacks. They have a total of five sacks in their last seven games. If the Giants can't get pressure on opposing quarterbacks, they're simply not a good defense.
Eli Manning is off.
The Giants' quarterback has his full complement of receivers, including a healthy
Hakeem Nicks
, an improved
Rueben Randle
, a happy
Victor Cruz
and a very useful-looking receiving tight end in
Brandon Myers
. Yet Manning leads the league with a stunning seven interceptions through two games. It's easy to say he can't do it without a good running game to keep defenses honest, and there's unquestionably some truth in that. But 3.5 interceptions per game is completely unacceptable no matter how one-dimensional your offense is or how far behind you keep falling. Manning's first interception was a bad decision in a tight spot at a point when the game was still close. He needs to play better.
Can't lean on history.
The Giants know full well that they started 0-2 in 2007 and went on to win the Super Bowl. But a couple of the veterans who were there in 2007 wrinkled their noses Sunday night at the comparison. It kind of belittles that team's accomplishment to assume it can be done again, and those veterans know that. This team has its own significant issues to fix, and looking to the past isn't the way to fix them.