NFC East:

2013 Week 3 KAN at PHI
September, 2, 2014
Sep 2
7:59
AM ET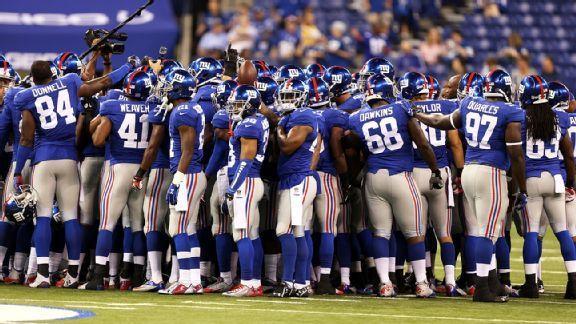 ESPN.com
New York Giants
reporter Dan Graziano makes his game-by-game picks for the 2014 season.
Week 1: at Detroit Lions
The Giants are coming off a mess of a preseason, undermanned and overwhelmed, with the offensive line still a mess and the new offense not clicking at all. No one will pick them to win this game. Except me. Prediction: Win
---
Week 2: Arizona Cardinals
This one's a comedown off the Week 1 surprise, as Arizona's banged-up defense still manages to flummox Eli Manning and collect a few interceptions. It's a bummer of a home opener as reality begins to set in. Prediction: Loss
---
Week 3: Houston Texans
Houston's defense is as liable as Arizona's to make life miserable for Manning and the offensive line. But Houston has bigger questions on offense than even the Giants, and this is a win for the New York defense against Ryan Fitzpatrick. Prediction: Win
---
Week 4: at Washington Redskins
The short week and Washington's stellar crew of offensive weapons prove too much for the Giants to overcome. Will Beatty still sees Brian Orakpo in his nightmares. Prediction: Loss
---
Week 5: Atlanta Falcons
The pattern continues, and the Giants overcome two Osi Umenyiora sacks to outscore the Falcons with a furious Manning comeback in the final minutes. The Giants poke their heads over the .500 mark as they make the turn into the most brutal stretch of their schedule. Prediction: Win
---
Week 6: at Philadelphia Eagles
The Giants don't have Matt Barkley to kick around this time when they visit the City of Brotherly Love. Chip Kelly and the Eagles show them what a truly innovative offense looks like. Prediction: Loss
---
Week 7: at Dallas Cowboys
The season-long debate about what gives when an anemic Giants offense meets a pathetic Cowboys defense tilts in Dallas' favor in the first meeting. Tony Romo & Co. have more than enough weapons to outscore Manning and his bunch, and the Giants hit the bye with a 3-4 record. Prediction: Loss
---
Week 9: Indianapolis Colts
After a long break before the Monday night home game, the Giants get taken apart by Andrew Luck, Hakeem Nicks & Co. at MetLife Stadium for a third straight loss. The offense is starting to run more smoothly, but it still doesn't have enough playmakers to outscore one of the league's better offenses. Prediction: Loss
---
Week 10: at Seattle Seahawks
You're kidding, right? Prediction: Loss
---
Week 11: San Francisco 49ers
The Giants have obviously handled the Niners in recent years and in some high-profile situations. But by this point in the season, San Francisco's defense is back to full strength, and the 49ers can't afford to lose ground to the Seahawks by failing to beat the team Seattle just beat the week before. Prediction: Loss
---
Week 12: Dallas Cowboys
A sixth straight loss is by no means out of the question here, as Romo and his crew still have the potential to outscore anyone in a given week. But from this far out, I'll forecast that something goes wrong for Romo late in this game, and the Giants get a gift. Prediction: Win
---
Week 13: at Jacksonville Jaguars
This is where the schedule starts to soften up, when the Giants start playing teams that insist on not starting their best quarterback. It's unfortunate they're 4-7 at this point and just about out of the playoff hunt, but they will get it going against the bottom-feeders. Prediction: Win
---
Week 14: at Tennessee Titans
I think the Titans are going to be dreadful this year, and by December they won't be very difficult for anyone to beat, even at home. A third straight victory keeps the Giants' hopes alive. Prediction: Win
---
Week 15: Washington Redskins
Have to be honest: The NFC East is so unpredictable that, when doing these predictions, I just decided to give the Giants a 3-3 division record with victories in all three home games and losses in all three road games. It's as fair a way as any to do it, I believe. Prediction: Win
---
Week 16: at St. Louis Rams
After moving back to .500 with four straight wins, the season falls apart at the hands of the St. Louis pass rush. An offensive line that has once again been the Giants' biggest problem all year can't protect Manning in a must-win game. Prediction: Loss
---
Week 17: Philadelphia Eagles
Tom Coughlin's teams can always find a way to play for pride. The Giants' playoff hopes are extinguished, but they still manage to end the season on a high note and with a .500 record. Prediction: Win
---
Predicted Record: 8-8
September, 20, 2013
9/20/13
2:45
AM ET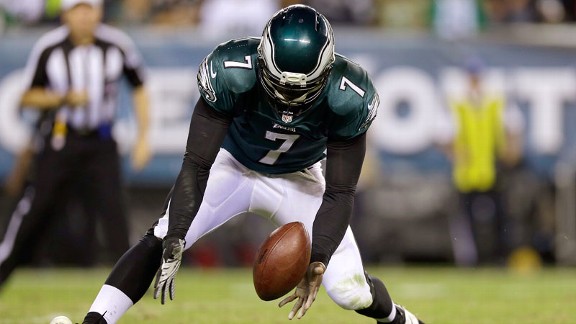 AP Photo/Matt RourkeMichael Vick threw two interceptions, lost a fumble and was sacked five times by Kansas City.
PHILADELPHIA -- Now Chip Kelly knows.
Since January, when he was hired to replace Andy Reid as head coach of the
Philadelphia Eagles
, Kelly has dismissed the video record of quarterback
Michael Vick
's habit of throwing footballs to the other team.
Kelly didn't know Vick's reads on the 24 interceptions he threw in his previous 23 games. He didn't know whether a receiver ran the wrong route or an offensive lineman missed an assignment. So how could he know whether all those turnovers were Vick's fault?
Now Kelly knows. On Thursday night, he got a sideline view of the Vick Slam: He threw two interceptions, lost a fumble, took five sacks and limped off the field after having his ankles rolled up during a
26-16 loss
to the
Kansas City Chiefs
.
It would be unfair to blame all of it on Vick. The Eagles' offensive line was confused and physically overwhelmed by the Chiefs. Vick's receivers couldn't get open and the offense looked out of sync from the beginning.
"I don't think Michael was out of sorts," Kelly said. "I thought Michael did some nice things. We have to do a better job of protecting Mike and giving him an opportunity to set his feet and throw the football."
In explaining away Vick's performance, Kelly sounded an awful lot like Reid, his predecessor -- and on this night, his opponent. He didn't sound at all like the cocky coach who has said, many times, that every sack is ultimately the quarterback's fault. Both interceptions were clearly Vick's fault.
The first came early. Vick threw to his right, toward tight end
Brent Celek
. Linebacker
Derrick Johnson
tipped the pass toward safety
Eric Berry
, who hauled it in and returned it 38 yards for a touchdown.
"We've got to get it out a little bit quicker, I think," Kelly said. "You know, you can't do that against a good football team like that."
"What hurt so much about that play was that I knew exactly what I needed to do," Vick said. "I had press coverage on one side and I just tried to take the easy way out. If I just throw the fade on the other side, it never happens. I made a poor decision and it was a bad ball."
The second pick wasn't much better. Vick tried to force a ball to
Riley Cooper
. Safety
Sean Smith
stepped in front of Cooper for the easy interception. That one led to a Chiefs field goal.
"Just a missed read," Vick said. "I missed him, and those are plays that you can't have against a good defense like this. I solely take responsibility for what happened tonight."
Bad games happen to everyone. The problem here is Vick's history -- the stuff Kelly watched on videotape and shrugged off.
Remember in 2010, when Vick had that brilliant Monday night performance in Washington? He completed 20 of 28 passes for 333 yards and four touchdowns, and the consensus was that he had mastered football. Within six weeks, the
Minnesota Vikings
were flustering him with blitzes and the joy ride was over.
Vick opened the 2011 season with a 31-13 win at St. Louis. The Eagles lost their next four games. In the fourth, Vick threw four interceptions.
Last year, you know all about. Vick was rusty early and injured late. The Eagles went 4-12, Reid was fired and it looked very much as if Vick would be gone, too.
But Kelly watched all that game tape and saw Vick's mobility and his strong arm and believed he could eliminate the mistakes. He is not the first coach to be lured by the siren song of Vick's talent. He is very likely to be the last.
That could be because Vick succeeds, in which case he isn't going anywhere. Or it could be because Vick repeats history this season and nobody else is willing to entrust him with a football team.
Or it could be because Vick gets hurt again. He has played a full 16-game season exactly once in his career. That was seven years ago. He has come up limping at least once in all three of the Eagles' games this season.
Vick ran out of bounds at the end of his career-long 61-yard run. But he took some big hits in the pocket. Johnson drilled him as he threw a touchdown pass to
Jason Avant
in the first quarter.
Justin Houston
fell across both his ankles on the Eagles' final offensive play. Vick was hurt and lost a fumble on the play.
The end result was the kind of frustrating loss that became habitual in Reid's two final seasons. Vick was an enormous part of that. He embraced Kelly and his offensive scheme, saying the new coach had helped "fall in love" with football all over again.
Vick won the starting job over
Nick Foles
during training camp and two nearly flawless preseason games. He went back to Washington, scene of his 2010 display, and convinced the world that he had mastered football again. He put up astounding numbers and was turnover-free in Sunday's 33-30 loss to San Diego.
After two weeks, Vick's 119.0 passer rating was third in the NFL behind only
Peyton Manning
and
Aaron Rodgers
. Kelly's offense was unstoppable.
And then came Thursday night. Turnovers. Sacks. Passes batted down at the line of scrimmage. Another injury.
"To say that we didn't do our jobs correctly is probably the only way that I can put it," Vick said. "We have to go back to the drawing board."
Somehow you get the feeling they'll find some very familiar answers when they do.
September, 20, 2013
9/20/13
1:29
AM ET
PHILADELPHIA – Observed in the locker room after the
Philadelphia Eagles
'
26-16 loss
to the
Kansas City Chiefs
:
McCoy
Playing hurt:
Eagles running back
LeSean McCoy
was limping severely as he walked to and from the trainers' room. McCoy suffered what he termed a high right ankle sprain late in the second quarter.
It looked –- and felt –- much worse.
"The way I landed, I felt pain right away," McCoy said. "I had that type of injury before and I felt the same type of pain, so I thought it was something serious."
McCoy was X-rayed before halftime. He came back on the field with his teammates for the second half, but was not on the field for the first series. After trying his ankle out, he went back in and promptly broke a 30-yard run. McCoy added a 41-yard touchdown run in the fourth quarter.
"I still was in pain," McCoy said. "A couple of runs, I could feel it."
McCoy finished the game with 158 yards on 20 carries (92 yards on nine carries after being hurt). He leads the NFL with 395 rushing yards.
Vick fine … physically:
Michael Vick
limped off the field after being sacked with just over one minute left in the game.
Nick Foles
went on the field but didn't run a play after a replay review showed Vick had fumbled the ball away.
"I was going back in," Vick said. "I had both my ankles rolled up on. It felt better right away."
After two relatively mistake-free games, Vick threw two interceptions to go with the lost fumble.
Confusion on the line:
The game featured two of the three offensive tackles taken with the first four picks of this year's draft. Kansas City's
Eric Fisher
, the first overall pick, committed two penalties. The Eagles'
Lane Johnson
, taken fourth, was schooled by Chiefs linebacker
Justin Houston
.
Houston had 3.5 sacks, mostly at Johnson's expense.
"Sometimes I would set back and he wouldn't come at all," Johnson said. "Then sometimes he would take off after delaying a little bit. Live and learn. I didn't play very well. Got to go out there and learn."
Johnson wasn't alone. The Eagles' line, expected to be a major strength, was wobbly all night. Center
Jason Kelce
lost a fumble when he thought Vick was under center instead of in the shotgun. He also snapped the ball over Vick's head once and didn't snap the ball when everyone else on the offense jumped, drawing a false-start penalty.
September, 19, 2013
9/19/13
11:42
PM ET
PHILADELPHIA -- A few thoughts on the
Philadelphia Eagles
'
26-16 loss
to the
Kansas City Chiefs
:

What it means:
Chip Kelly's offense can be stopped, and
Michael Vick
is still prone to the kind of mistakes and injuries that helped create a job opening for Kelly in the first place. Vick threw two interceptions, including one returned 38 yards for a touchdown by Chiefs safety
Eric Berry
. Vick was also sacked five times as Kansas City's defense disrupted Kelly's read-option offense. On his last play of the game, Vick fumbled the ball away after being sacked by
Justin Houston
, then limped off the field with an apparent ankle injury. The Eagles are 1-2 and, with a road game in Denver next on their schedule, staring 1-3 right in the face.
Stock watch:
Falling: Chip Kelly. With so much attention on the return of Andy Reid, Kelly's predecessor, the first-year coach could have made a bold statement about the Eagles' new world order. Instead, Kelly has lost his first two home games and seen his offense solved by an NFL defensive coordinator. Four days after admitting he didn't manage the clock properly in the final minutes of a 33-30 loss to San Diego, Kelly has even more profound questions about the long-term effectiveness of his scheme.
Reid and react:
The big topic of conversation in Philadelphia all week was how fans would, and should, respond to Reid in his first game here as a visiting head coach. There was similar debate about
Donovan McNabb
, the franchise quarterback of the 2000s, whose No. 5 was retired in a halftime ceremony. Both men were cheered enthusiastically. The Eagles flashed a thank you message to Reid as he walked onto the field, triggering a standing ovation, and McNabb was cheered as fireworks exploded over the stadium.
Shady, scary:
LeSean McCoy
, the NFL's leading rusher, grabbed his lower leg and howled in pain after being tackled late in the first half. McCoy left the field to chants of his nickname, "Shady, Shady," and received X-rays. He returned with the team after halftime, but backup
Bryce Brown
began the third quarter in the backfield. McCoy returned with a vengeance, however. He broke a 30-yard run on his first touch after missing a series. In the fourth quarter, his 41-yard touchdown run got the Eagles within striking distance of the Chiefs at 23-16. McCoy finished with 158 yards on 20 carries.
What's next:
After playing three games in 11 days, the Eagles get 10 days to recover, regroup and prepare for their next game. There is much to do. The pass defense was better Thursday than it was against San Diego on Sunday, but still looks like a smorgasbord for
Peyton Manning
. And Kelly has to find a way to tune up his offense and get Vick back to where he was in his first two, relatively mistake-free starts.
September, 15, 2013
9/15/13
6:05
PM ET
PHILADELPHIA --
Observed in the locker room after the Philadelphia Eagles' 33-30 loss to the San Diego Chargers.
McCoy
Bad bounce:
Kicker
Alex Henery
could have turned the game around if he'd handled a fumble by Chargers return man
Fozzy Whittaker
. "It was coming toward me, it bounced up and hit my elbow," said Henery, who does not practice such situations. San Diego recovered on the Eagles' 39-yard line and scored a touchdown seven plays later.
Stalled drive:
The Eagles had the chance to take a 34-30 lead in the game's final minutes. Not only did their last drive stall at the San Diego 14, but they left 1:51 on the clock for the Chargers to stage their winning drive. Coach Chip Kelly said no attention was paid to the time: "We were trying to score a touchdown," he said. "We're trying to make it a four-point game instead of a three-point game."
Wilted secondary:
The Eagles completely remade the secondary that was gashed for 33 touchdown passes last season.
Philip Rivers
torched the new version for 419 yards, three touchdowns and a 124.3 passer rating. With
Alex Smith
,
Peyton Manning
and
Eli Manning
the next three weeks, that's scary. "There's still a lot of work to be done," defensive coordinator Bill Davis said. "We've got to work our tails off and get things done."
Run stopped:
Running back
LeSean McCoy
was held to 53 yards on 11 carries after gaining 184 on 31 rushes at Washington. The Chargers' commitment to stopping the run was part of that. "We wind up with 400 yards passing," McCoy said. "To be honest, as a defense, I don't think they were really effective."