NFC East:

2013 Week 3 Upon Further Review
September, 23, 2013
9/23/13
2:35
PM ET
A review of four hot issues from the
Washington Redskins
' 27-20 loss to the
Detroit Lions
on Sunday.
[+] Enlarge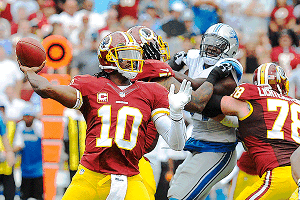 AP Photo/Richard LipskiHaving to dig out of deficits all season, the Redskins and QB Robert Griffin III have been especially pass-heavy on offense.
QB progress:
After three games, Redskins quarterback
Robert Griffin III
is on pace to set an NFL record for number of passes per game. Griffin has averaged 46.3 passes, putting him on pace to break
Matthew Stafford
's record of 45.4, set last season. Griffin is on pace to throw 741 passes; Stafford threw 727 passes in 2012. But the Redskins' offense worked best last season when the focus was on running the ball, not just with Griffin but with running back
Alfred Morris
. He's looked good the past two weeks, but has just 40 carries -- mostly a byproduct of two lopsided games. For the offense to change, Griffin can't stay on a record-setting pace.
Digging out:
The 0-3 start has left the Redskins in a familiar spot, needing to emerge from a bad start. The problem is, this start feels a whole lot worse than last year's 3-6 record because they were still within shouting distance in most of those games. During their winning streak last season, the Redskins believed they could overcome anything that happened in a game. They won on the road minus Griffin; they won with a less-than-100 percent Griffin. They won when the passing attack wasn't working. But they're not playing with the same confidence now. Will one win change that? Probably not, but it would allow them to enter the bye week feeling much better.
Defensive issues:
The Redskins struggled to find answers defensively once again. They switched strategies Sunday, using man coverage in their base defense but with three corners and one safety. That enabled them to stay in their base defensive front -- they were getting hurt on the ground in the first two games because they were mostly in their nickel package. They stopped the run and at times did well in man coverage. But the secondary has struggled in coverage and the more chances Detroit had to throw the ball, the more likely they would give up big yards.
Return to sender:
Rookie
Chris Thompson
was replaced by
Josh Morgan
on the final two kick returns of the game. Not that it made much of a difference: Morgan averaged 21.5 yards on two returns compared to 22.5 for Thompson. But it's clear that Thompson is still learning how to return kicks at an NFL level. For example, on one return he took the ball up about a yard or two too far before making his cut. At times he seems to underestimate the speed of those coming at him and he's unable to get wide. During the preseason, he was a patient returner and then made a decisive cut. Now, after his first cut, there is still hesitation.
September, 23, 2013
9/23/13
12:30
PM ET
An examination of four hot issues from the
New York Giants
' 38-0
loss
to the
Carolina Panthers
:
[+] Enlarge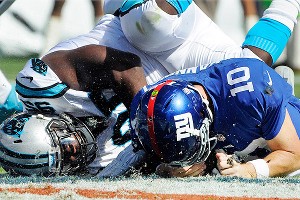 AP Photo/Mike McCarnEli Manning has been sacked 11 times this season and has been knocked down 22 times.
Beatty beaten:
The entire offensive line was miserable in a game in which quarterback
Eli Manning
was sacked seven times, but the worst game of all belonged to left tackle
Will Beatty
, who admitted he let the first sack he allowed stick with him too long and affect his play later in the game. The Giants signed Beatty to a five-year, $37.5 million contract ($19 million guaranteed) this offseason on the premise that he'd be their franchise left tackle. But so far this year I've seen sloppy technique, particularly inconsistent hand placement that opposing defenders are exploiting. Beatty isn't a big, mauling left tackle. When he's great, it's due to his superior athleticism and sound technique. When the technique suffers, he becomes extremely vulnerable, especially to pass-rushers as good as the ones in Carolina.
Rookie struggling, too:
On the right side, first-round pick
Justin Pugh
wasn't necessarily supposed to be starting at this point. But a preseason injury to
David Diehl
elevated the rookie to the starting role, and he got eaten up Sunday, as well. I continue to believe Pugh is talented and will be a valuable part of the Giants' offensive line as the front office reworks it in the coming years. I think the reason they drafted him is because they do not know what their line needs will be in 2014 and beyond, and they believe he can play multiple positions on the line. Some folks said before the draft that Pugh profiled as an NFL guard, not a tackle, and that may be the case. Right now, his classroom is in the fire, which could help him long-term but is not helping the Giants in the present.
Sloppy with the ball:
The Giants added three turnovers Sunday, bringing their season total to a league-leading 13 through three games. Factor in their four takeaways so far, and their minus-9 turnover differential is tied for the worst in the league with the 0-3 Steelers, who have committed nine turnovers and forced none. According to ESPN Stats & Information, the last time an NFL team had 13 turnovers in its first three games was 2001, when both the Lions and the Cowboys did it. (They were both 0-3, as well, surprisingly.) Last year's Giants didn't commit their 13th turnover until Week 10.
One positive. (Positive?) Yes, positive:
Running back
David Wilson
looked the best he's looked since the preseason. Perhaps more importantly, Wilson was singled out for unsolicited praise by coach Tom Coughlin in the postgame news conference. The called-back touchdown cannot be counted, since I don't think he scores without Beatty's hold. But he continues to look great running the ball. He is carrying it more securely and it is clear he is one of the Giants' highest-ceiling offensive weapons. Things could be turning around for Wilson.
September, 23, 2013
9/23/13
12:30
PM ET
A review of four hot issues from the Dallas Cowboys' 31-7 win against the St. Louis Rams on Sunday.
Scoring early:
The Cowboys have put up points on their first drive in every game so far this season but scored a touchdown for the first time Sunday when
Tony Romo
hit
Dez Bryant
from 2 yards. But it was the touchdown on the Cowboys' first drive of the second half that put the game away. Thanks to
DeMarco Murray
's legs (59 yards) and Romo's right arm (24-yard TD to
Gavin Escobar
), they put the game away for a 24-0 lead.
[+] Enlarge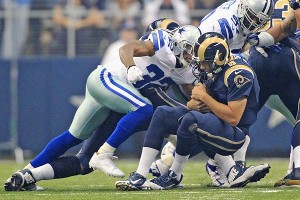 James D. Smith/AP PhotoCowboys CB Orlando Scandrick sacks Rams QB Sam Bradford for his first sack of the 2013 season.
"Obviously, the game wasn't over at that point, but it's a tough one to come back from that amount," Romo said. "We knew getting the ball that we had a chance to really put some pressure on them to make them become one-dimensional right away."
Running from the spread:
The Cowboys do not have a fullback on their roster and prefer to use multiple-tight end packages, but Murray's work out of "11 personnel" showed you what worked best for the Cowboys.
Murray had 15 runs for 101 yards when the Cowboys used three wide receivers. His longest run of the game -- a 41-yarder -- came out of "12 personnel" (two tight ends), but that was the only carry of more than 10 yards he had out of that grouping.
Sack-master:
The Rams entered Sunday as the only offense to not allow a sack but left Sunday having given up six. Cornerback
Orlando Scandrick
started it off with a blitz off the slot to bring down
Sam Bradford
. Scandrick has 7.5 sacks for his career, which is the fourth most in team history by a defensive back.
"He's got good timing, and he wants to be around that football," coach Jason Garrett said.
Nice comeback:
If Garrett is looking for a teachable moment, he can point to second-year defensive end
Kyle Wilber
. With 3:19 left in the second quarter, Wilber was blindsided on a punt return by
T.J. McDonald
and needed medical attention.
In the fourth quarter, Wilber was able to record the first sack of his career when he dropped Bradford for a 10-yard loss.
September, 20, 2013
9/20/13
12:00
PM ET
An examination of three hot topics after the
Philadelphia Eagles
' 26-16
loss
to Andy Reid and the
Kansas City Chiefs
:
[+] Enlarge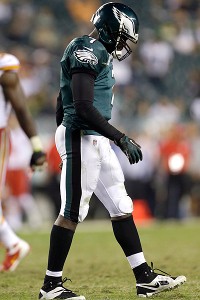 AP Photo/Julio CortezMichael Vick and the offense have looked mistake-prone and out of sorts too often this season.
Those sustainability concerns were very real:
After the Eagles stormed FedEx Field for a season- and eye-opening victory, Chip Kelly's offense was the talk of NFL Nation. Was it unstoppable? Could it work over a long NFL season? Would it wear out the Eagles' offensive or defensive players first?
While conceding that three games in 11 days is an extreme test, the early indications are not good.
Michael Vick
has come up limping again.
LeSean McCoy
played the entire second half on a painful sprained ankle. The offensive line is making exactly the kind of fatigue mistakes --
Jason Kelce
thought Vick was under center? Really? -- the players warned about during camp. The defense disintegrated, allowing a 15-play, 75-yard drive that consumed 8:15 of the fourth quarter.
"We have to do what is required of us," cornerback
Cary Williams
said.
The good news is a 10-day gap before the next game. But that game will be at altitude in Denver, against
Peyton Manning
. The Giants and
Eli Manning
are a week later. After losing two home games in which they were favored, it's impossible to pick the Eagles in either of the next two contests.
This house is not a home:
The Eagles spent money to remodel and update Lincoln Financial Field. The free Wi-Fi is great. The home-field advantage? Not so much.
Chip Kelly is now 0-2 in his new home stadium. The Eagles have lost eight home games in a row, the longest streak in the NFL and tied for the longest streak in franchise history. Because they are on the road the next three weeks, they will go a full calendar year since their last win at the Linc -- last Sept. 30 against the Giants.
"Losing at home, man, it's tough," Williams said. "You don't want to lose at home. You try to come out and compete the best you possibly can at home. You want to win at home. We haven't been able to do that thus far."
That two-point conversion was as bad as it looked:
After McCoy's 41-yard touchdown run, the Eagles trailed the Chiefs 23-16. They had 11:36 left and needed just one touchdown to tie it.
Ah, but if Kelly hadn't gone for a slapstick two-point conversion way back in the first quarter, it would have been 23-17, and a TD plus PAT would give the Eagles a win. The Chiefs went on that clock-devouring drive and kicked a field goal, knowing they could give up a TD and a field goal without falling behind.
"We worked on it for a while," Kelly said of the gimmicky two-point play. "We thought when we scored our first touchdown, we were going to try to line up [for the play]. If the number count was right, we were going to fire it over there and see if we could get it in."
The number count was right. Rookie
Zach Ertz
was easily tackled by the clearly unfooled Chiefs. The play and the strategy were wrong. Kelly liked going for two early in games at Oregon. He was usually scoring first and putting more pressure on his overmatched opponent. Here, the Eagles were already down 10-0 and the failed conversion only put more pressure on them.
NFC EAST SCOREBOARD
Saturday, 12/20
Sunday, 12/21