NFC East:

2013 Week 4 NFL Buzz
September, 29, 2013
9/29/13
8:59
PM ET
SAN DIEGO -- Observed in the locker room after the
Dallas Cowboys
' 30-21
loss
to the
San Diego Chargers
.

Lee
Momentum lost:
The Cowboys felt like they were ready to turn a corner after last week's win against St. Louis, but they were unable to come up with back-to-back wins when they could have kept separation in an NFC East that is there for the taking.
"It's frustrating," linebacker
Sean Lee
said. "We want to be a consistent team that wins week in and week out, and we haven't been for two years. And right now we're not. We're an average football team. Until we start winning consistently that's what we're going to be."
Missing an option:
Rookie
Terrance Williams
took over Miles Austin's role as the No. 2 receiver and finished with seven catches for 71 yards, surpassing what had been his season totals in catches and yards, but he had a drop in the first quarter and a fumble at the goal line in the fourth quarter.
Austin did not play because of a hamstring injury, and it's not known when he will be back, even though Jason Garrett said the injury was not as severe as some of the strains Austin has suffered in the past.
"Miles is a great football player," quarterback
Tony Romo
said. "Whenever you don't have him, it's always going to be tougher. Saying that, it's a part of the game. Miles knows that. Same thing when I got hurt. You've got to be able to find a way to win football games."
Another injury for Ware:
DeMarcus Ware
has been bothered by stingers through the early part of the season, but that wasn't an issue for him Sunday. A back strain was.
Ware said he pulled a muscle in his back in the first series of the game, and was in and out of the lineup for most of the game. He was held without a sack despite an inexperienced defensive line. He said he would not need an MRI for the injury.
"A little bit," Ware said when asked how much it affected his play, "but if you get out there, you've got to play and do what you've got to do."
September, 29, 2013
9/29/13
8:52
PM ET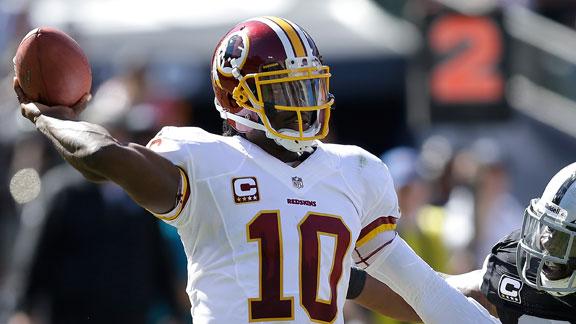 OAKLAND -- Seen and heard in the locker room after the
Washington Redskins
'
24-14 victory
against the
Oakland Raiders
:
Garcon
Relief:
The Redskins were upbeat, but they did not go overboard with giddiness after winning their first game of the season. There were plenty of smiles, but the emphasis was the same as it was when they had success last year: It's just one (needed) win. But perhaps what summed everything up was the fierce spike by receiver
Pierre Garcon
after his go-ahead touchdown. "That was three weeks of frustration," Garcon said.
Pain:
Redskins running back
Alfred Morris
left the game in the second half with a rib contusion, but coach Mike Shanahan said Morris did not suffer any breaks. Morris dressed slowly and was unable to talk afterward; he was on medication. Morris finished with 71 yards on 16 carries. Also, tight end
Logan Paulsen
left the locker room wearing a brace on his left knee.
Family affair:
Running back
Roy Helu
picked a good time to have his best game of the season. Helu grew up in Danville, Calif., and had 50 family members and friends in attendance. Helu was not on the hook for all those tickets, though he did buy a handful. Helu gave them a highlight when he hurdled a Raiders defender after a catch. "I just went for it," Helu said.
Big time:
David Amerson
's 45-yard interception return for a touchdown cut the deficit to 14-10 and was a game-changing play. It was his first career interception. "It was like a dream come true," Amerson said. "To get your first interception in the league and have it be a pick-six, I couldn't ask for anything better."
September, 29, 2013
9/29/13
8:46
PM ET
DENVER -- Seen and heard in the
Philadelphia Eagles
' locker room immediately after their
52-20 loss
to the
Denver Broncos
:
McCoy
Breathless:
LeSean McCoy
didn't have the wind knocked out of him in the first half. He just didn't have any wind to begin with. "I couldn't breathe," McCoy said. "I needed the oxygen mask. I didn't adapt to the weather until the second half. I couldn't breathe at all." So much for the Eagles' pregame belief that the altitude wouldn't affect them.
Response time:
Chip Kelly doesn't know how his players will react to a 32-point embarrassment, their third loss in a row. "I'll really be able to answer that question Tuesday when we get back on the practice field," Kelly said. "If we're hanging our heads and feeling sorry for ourselves, I'll say we didn't have any progress."
Peyton Manning is really good:
That is obvious from the 37-year-old quarterback's record-breaking start. But the Eagles spent about three hours discovering firsthand just how good, how smart and how accurate Manning is. "There's no question you're frustrated," cornerback
Cary Williams
said. "Four teams have tried to stop them," Kelly said. "They haven't yet."
The NFC East looks like home:
After three losses to AFC West teams, the Eagles get their NFC East rivals, the
New York Giants
, next week. "It's a must-win game," Williams said.
September, 29, 2013
9/29/13
5:30
PM ET
KANSAS CITY, Mo. -- Observed in the locker room after the
New York Giants
' 31-7
loss
to the
Kansas City Chiefs
:

Coughlin
Dart-throwing:
Giants coach Tom Coughlin said it's been impossible for the team's offense to get into any kind of rhythm, and as a result, "play-calling is like throwing a dart at a board." He also used the word "debacle" to describe the offense's performance in the second halves of games so far this season.
Rock bottom?
Defensive end
Justin Tuck
described the feeling around the 0-4 Giants as "low as you can get" but said the only thing to do was get back to work and try to beat the Eagles next week. "What else can we do?" he said. "Can't run and hide. We have to try and right this ship, or die trying."
Second-guesses
: Wide receiver
Victor Cruz
said he wished Coughlin had allowed the Giants to go for it on fourth-and-inches from their own 30-yard line late in the third quarter with the score still just 10-7 Chiefs. Coughlin said it would have been "a foolish error" if he'd gone for it and not made it at that point in the game and at that spot on the field.