NFC East:

2013 Week 4 Upon Further Review
September, 2, 2014
Sep 2
7:59
AM ET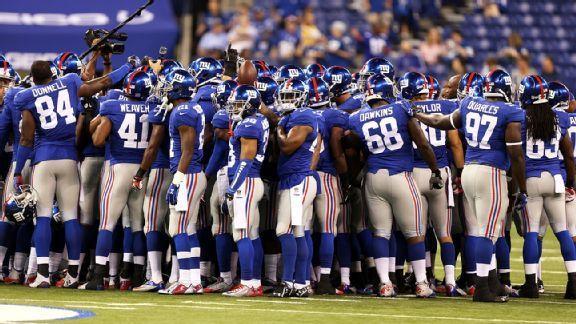 ESPN.com
New York Giants
reporter Dan Graziano makes his game-by-game picks for the 2014 season.
Week 1: at Detroit Lions
The Giants are coming off a mess of a preseason, undermanned and overwhelmed, with the offensive line still a mess and the new offense not clicking at all. No one will pick them to win this game. Except me. Prediction: Win
---
Week 2: Arizona Cardinals
This one's a comedown off the Week 1 surprise, as Arizona's banged-up defense still manages to flummox Eli Manning and collect a few interceptions. It's a bummer of a home opener as reality begins to set in. Prediction: Loss
---
Week 3: Houston Texans
Houston's defense is as liable as Arizona's to make life miserable for Manning and the offensive line. But Houston has bigger questions on offense than even the Giants, and this is a win for the New York defense against Ryan Fitzpatrick. Prediction: Win
---
Week 4: at Washington Redskins
The short week and Washington's stellar crew of offensive weapons prove too much for the Giants to overcome. Will Beatty still sees Brian Orakpo in his nightmares. Prediction: Loss
---
Week 5: Atlanta Falcons
The pattern continues, and the Giants overcome two Osi Umenyiora sacks to outscore the Falcons with a furious Manning comeback in the final minutes. The Giants poke their heads over the .500 mark as they make the turn into the most brutal stretch of their schedule. Prediction: Win
---
Week 6: at Philadelphia Eagles
The Giants don't have Matt Barkley to kick around this time when they visit the City of Brotherly Love. Chip Kelly and the Eagles show them what a truly innovative offense looks like. Prediction: Loss
---
Week 7: at Dallas Cowboys
The season-long debate about what gives when an anemic Giants offense meets a pathetic Cowboys defense tilts in Dallas' favor in the first meeting. Tony Romo & Co. have more than enough weapons to outscore Manning and his bunch, and the Giants hit the bye with a 3-4 record. Prediction: Loss
---
Week 9: Indianapolis Colts
After a long break before the Monday night home game, the Giants get taken apart by Andrew Luck, Hakeem Nicks & Co. at MetLife Stadium for a third straight loss. The offense is starting to run more smoothly, but it still doesn't have enough playmakers to outscore one of the league's better offenses. Prediction: Loss
---
Week 10: at Seattle Seahawks
You're kidding, right? Prediction: Loss
---
Week 11: San Francisco 49ers
The Giants have obviously handled the Niners in recent years and in some high-profile situations. But by this point in the season, San Francisco's defense is back to full strength, and the 49ers can't afford to lose ground to the Seahawks by failing to beat the team Seattle just beat the week before. Prediction: Loss
---
Week 12: Dallas Cowboys
A sixth straight loss is by no means out of the question here, as Romo and his crew still have the potential to outscore anyone in a given week. But from this far out, I'll forecast that something goes wrong for Romo late in this game, and the Giants get a gift. Prediction: Win
---
Week 13: at Jacksonville Jaguars
This is where the schedule starts to soften up, when the Giants start playing teams that insist on not starting their best quarterback. It's unfortunate they're 4-7 at this point and just about out of the playoff hunt, but they will get it going against the bottom-feeders. Prediction: Win
---
Week 14: at Tennessee Titans
I think the Titans are going to be dreadful this year, and by December they won't be very difficult for anyone to beat, even at home. A third straight victory keeps the Giants' hopes alive. Prediction: Win
---
Week 15: Washington Redskins
Have to be honest: The NFC East is so unpredictable that, when doing these predictions, I just decided to give the Giants a 3-3 division record with victories in all three home games and losses in all three road games. It's as fair a way as any to do it, I believe. Prediction: Win
---
Week 16: at St. Louis Rams
After moving back to .500 with four straight wins, the season falls apart at the hands of the St. Louis pass rush. An offensive line that has once again been the Giants' biggest problem all year can't protect Manning in a must-win game. Prediction: Loss
---
Week 17: Philadelphia Eagles
Tom Coughlin's teams can always find a way to play for pride. The Giants' playoff hopes are extinguished, but they still manage to end the season on a high note and with a .500 record. Prediction: Win
---
Predicted Record: 8-8
September, 30, 2013
9/30/13
3:00
PM ET
A review of four hot issues after the
Philadelphia Eagles
'
52-20 loss
to the
Denver Broncos
:
This game was never going to be a pleasant afternoon in the Rockies for these Eagles.
After
Philip Rivers
dissected their patchwork secondary in Week 2, we immediately wondered how bad things would get when the Eagles faced the elite quarterbacks, with no one being more elite than
Peyton Manning
. Now we know.
"We ran into a buzzsaw," Eagles defensive coordinator Bill Davis said after the game. Davis had left the locker room, possibly after turning in his belt and shoelaces. He spoke to reporters via the iPhone of a member of the media relations staff.
[+] Enlarge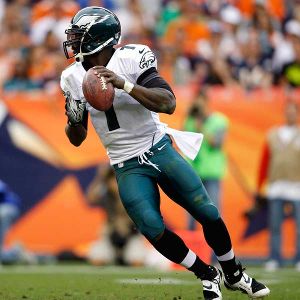 Chris Humphreys/USA TODAY SportsMichael Vick spent a significant amount of time scrambling after the Eagles' offensive line failed to block Broncos defenders in their Week 4 game.
The Eagles became a part of the history that Manning is making, the same way Michael Spinks was part of the history Mike Tyson made or the rest of the field was part of the history Usain Bolt made in the Olympics. They have no choice but to accept that and find a way to move on.
The next three weeks are huge for Chip Kelly.
After losing three games to the AFC West, by larger margins every week, Kelly's Eagles play the
New York Giants
(0-4),
Tampa Bay Buccaneers
(0-4) and
Dallas Cowboys
(2-2).
The Eagles have an opportunity to win all three of those games, which would get them to 4-3, restore their respectability and give the second half of the season meaning. All three games are against NFC teams and two are within the division, where the Eagles are 1-0. Since 1990, teams that start 1-3 have just a 14 percent chance to go to the playoffs, according to ESPN Stats & Information. But somebody is going to win the NFC East. It says so right in the rulebook. Until they lose games and ground to Dallas, the Eagles have a chance to be that team.
The offensive line is becoming an issue.
Kelly laid the blame for the offensive struggles squarely on the pressure quarterback
Michael Vick
is experiencing. "We've got times where he is at the top of his drop and he's sticking his foot into the ground and there's pressure on him," Kelly said. "That's not on Mike."
A quick history lesson: Two years ago, Andy Reid brought in longtime
Indianapolis Colts
assistant Howard Mudd to coach the offensive line. Mudd has a unique approach suited to slimmer, more athletic linemen. The result was a purge of players who just didn't fit. Could it be that some of the linemen here just don't fit Kelly's own unique approach? Could it simply be that the players returning from injuries --
Jason Peters
,
Todd Herremans
,
Jason Kelce
-- aren't at full health? Is it just a natural transition period?
"Someone who's been playing fantastic for 52 plays, on the 53rd play makes a mistake up front," Kelly said. "Somebody you expected to be picked up is creating penetration."
Time will provide the answers, but there is enough of a body of work to start asking the questions.
There are no playmakers on this defense.
Davis has been trying to scheme around the personnel he has while shifting the team from a 4-3 to a 3-4 base. The results were not very good through three weeks, and they were disastrous Sunday against the Broncos. No matter the scheme, though, a great player will find ways to make an impact: a sack on a crucial third down, a ball stripped from a running back or receiver, something. The Eagles just aren't getting those plays.
"We only have one way to go," Davis said. "We have to get better. Everything about the defense has to improve. We have enough talent."
Davis may or may not believe those words. The rest of us have to believe our eyes.
September, 30, 2013
9/30/13
2:10
PM ET
A review of four hot issues from the
Washington Redskins
' 24-14
win
against the
Oakland Raiders
on Sunday.
[+] Enlarge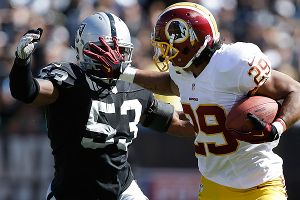 AP Photo/Marcio Jose SanchezRoy Helu showed he could be a solid replacement for injured starting running back Alfred Morris.
Sudden change:
After three weeks of
Michael Vick
and
Aaron Rodgers
and
Matthew Stafford
, the Redskins weren't about to complain. Oakland's
Matt Flynn
was not going to threaten them downfield as much as those quarterbacks, nor did he have the mobility to give them fits as
Terrelle Pryor
would have. So the Redskins caught a break. However, the defense deserves credit for how it played, holding the Raiders' offense to one touchdown. Also, the defense handled the sudden-change situations well. The Redskins allowed a fake punt to be converted, giving the Raiders a first down at their own 47-yard line. The defense forced a punt three plays later. In the third quarter, the Redskins turned it over at their own 42. But the defense again held, forcing a missed 52-yard field goal attempt. How big was that? Washington's offense then drove for the go-ahead touchdown.
Healthy Helu:
During the summer, it was clear that running back
Roy Helu
, finally healthy, could become a weapon on offense. But, because of the lopsided nature of games -- and the inability to keep defenses guessing -- it has been tough to showcase Helu at all. But the Redskins saw what he could do Sunday, particularly in the open field. If running back
Alfred Morris
(ribs) has to miss any time -- the bye week comes at a good time for him -- the Redskins can still be effective running the ball with Helu. He's not as patient as Morris and doesn't set up blocks as well, which leads to a lot more 1- and 2-yard gains, but he'll hit some big ones because of his quick feet and speed. He's more dangerous in the passing game and his pass protection was solid Sunday, too.
Turnaround game:
The big question will be whether or not Sunday's win signaled the start of something or was a fluke. Both sides of the ball continued to have some issues: third-down passing for the offense and consistency on defense (can they handle a good offense?) They're fortunate the NFC East is struggling, which buys them some time. Still, they were tested Sunday and passed. Now they just need to win in Dallas after the bye.
Play-action success:
Because the Redskins stuck with the ground game and eventually gained control of the game, they were able to use more play-action passes. According to ESPN Stats & Information, the Redskins used play-action on 24 percent of their throws in the first three games compared to 42 percent Sunday. Quarterback
Robert Griffin III
completed 10-of-13 play-action passes for 119 yards. Their offense works best this way.
September, 30, 2013
9/30/13
2:00
PM ET
A review of four hot issues from the
Dallas Cowboys
' 30-21
loss
to the
San Diego Chargers
on Sunday.
Don't lament the running game:
The easy thing to do after a game is look at the final stats and say something like, "The Cowboys should have run it more."
[+] Enlarge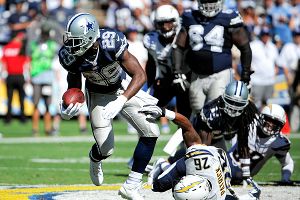 AP Photo/Denis PoroyRunning back DeMarco Murray finished with 70 yards on 14 carries against San Diego.
DeMarco Murray
had 70 yards on 14 carries, and, as a team, the Cowboys had 92 yards on 16 carries. However, the Cowboys did not have the ball enough in the second half to continue to make a dent with the running game. They were down two scores by the time they had their third possession of the second half, and running it made no sense.
The line rotation appears over:
The right guard job now belongs to
Brian Waters
. After playing two series in each half of the Week 2 loss to the
Kansas City Chiefs
and then alternating series with
Mackenzy Bernadeau
in the Week 3 win against the
St. Louis Rams
, Waters played the entire game Sunday against the Chargers. The Cowboys like Waters' strength and savvy, but left guard
Ronald Leary
will have to remain on his toes. As much as the Cowboys like him, they will not hesitate to make a move. So far this season, the Cowboys have benched
Will Allen
and
Bruce Carter
. They're not afraid to make a decision.
Quick-strike defense:
With
Sean Lee
's 52-yard interception return for a touchdown in the second quarter, the Cowboys have three defensive scores in four games. They had three all of last season, and the last time they had four in a season came in 2010 after Jason Garrett took over as head coach.
Brandon Carr
returned an interception of
Eli Manning
for a touchdown in the season-opening win against the
New York Giants
and
Barry Church
added a 27-yard fumble return for a score. Perhaps it could be an omen for this week's game against the
Denver Broncos
. The last time the Cowboys saw
Peyton Manning
, Lee and
Orlando Scandrick
returned interceptions for touchdowns on Dec. 5, 2010, when Manning was with the
Indianapolis Colts
.
Need field-position work:
Chris Jones
has a big leg, but he needs to do a better job of pinning opponents deep in their territory. And when he has a punt land on the 15, as happened Sunday, the coverage team has to down the ball before it gets to the end zone.
Lance Dunbar
was unable to track a Jones punt in the fourth quarter, which went for a touchback and gave the Chargers the ball at the 20.
Six plays later,
Antonio Gates
had a 56-yard touchdown catch. Had Dunbar made the play, then the Chargers could have had to go a longer distance to score. Of course, with the way the defense played Sunday, it might not have mattered.
September, 30, 2013
9/30/13
12:30
PM ET
An examination of four hot issues from the
New York Giants
' 31-7
loss
to the
Kansas City Chiefs
:
[+] Enlarge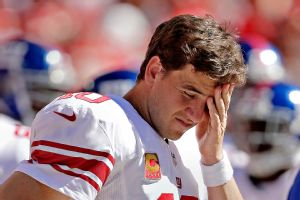 AP Photo/Charlie RiedelAside from a Victor Cruz touchdown the Giants failed to get inside the red zone all game.
The fourth-down call:
The initial call was first down -- that the Giants had converted a third-and-17 with a pass from
Eli Manning
to
Victor Cruz
over the middle. But the Chiefs challenged the call and won, which brought up fourth down and less than a yard to go for the Giants on their own 30-yard line. With 1:55 left in the third quarter and the Giants trailing just 10-7, Giants coach Tom Coughlin decided to punt instead of going for it. "If I would have gone for it on fourth down and didn't make it at that point in the game, it would have been a foolish error," Coughlin said, and he was right. He'd effectively have been handing the Chiefs at least three points. But it says a lot about where the Giants are with their offense, making Coughlin's call the obvious and easy decision. Coughlin talked about the offense being unable to get into a rhythm, and perhaps if he felt it was, he'd make a different call there. But given how tough it's been for the Giants to gain yards, this was an easy decision. It just looked really bad when
Dexter McCluster
ran the punt back 89 yards for a touchdown.
On a related note:
Earlier in the third quarter, the Giants had a third-and-1 at their own 45 and called a play on which running back
David Wilson
bounced out to the right behind three tight ends. But none of the tight ends could make a single block to free Wilson, who was tackled for no gain, and the Giants had to punt then too. Just another example of an offense that has no reason to feel it can get a yard when it needs to get one. The Giants were 1-for-14 on third downs.
Looks like a misprint, but isn't:
The official stat sheet shows the Giants 0-for-0 on red zone attempts, and it's true. They didn't run a single play that began inside the Chiefs' 20-yard line. Other than Cruz's 69-yard touchdown catch, the closest they got to the end zone all day was the 26, from which
Josh Brown
missed a field goal at the end of the first half. Only eight of the Giants' 61 offensive snaps came in Kansas City territory.
How about the defense?
The Giants did force three turnovers from a Chiefs team that had none in the first three weeks. But where's the pressure? Their one "sack" was a
Spencer Paysinger
tackle of
Alex Smith
at the line of scrimmage on a Smith scramble. They hit Smith just three times all game.
Jason Pierre-Paul
has one sack in his last 11 games. When the Giants don't pressure the quarterback -- and it's been quite some time -- they have a poor defense.