NFC East:

2013 Week 5 Upon Further Review NFC
October, 7, 2013
Oct 7
2:00
PM ET
A review of four hot issues from the
Dallas Cowboys
' 51-48
loss
to the
Denver Broncos
:
[+] Enlarge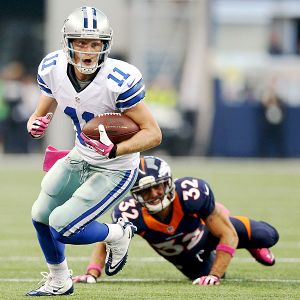 Matthew Emmons/USA TODAY SportsCole Beasley scored the first touchdown of his career and finished with four receptions for 47 yards.
Empty it out:
The Cowboys broke out their empty package against the Broncos and had great success. Unoffically, quarterback
Tony Romo
completed 10 of 13 passes for 235 yards when the Cowboys left the quarterback alone in the backfield. Only one of Romo's four sacks came in an empty look. That was one of the bigger changes the Cowboys used to attack the Broncos and Romo made it work. Romo's 79-yard throw to receiver
Dez Bryant
came out of an empty look, but Bryant's fumble came when the Cowboys motioned to an empty look. Romo's shortest completions in the 01 or 02 package were a pair of 10-yarders.
Finding the weakness:
As head coach Jason Garrett says, every defense has a weakness and the opponents have found the Cowboys' in their 4-3 scheme. San Diego completed 20 passes for 238 yards to running backs and tight ends. The Broncos completed 18 passes for 221 yards. They have given up back-to-back 100-yard games to tight ends in
Antonio Gates
(136) and
Julius Thomas
(121). With Minnesota's
Kyle Rudolph
, New Orleans'
Jimmy Graham
, Chicago's
Martellus Bennett
and Green Bay's
Jermichael Finley
left on the docket, the Cowboys better figure out how to defend the tight end better.
Playing to its level:
The Cowboys are realizing just how valuable defensive end
Anthony Spencer
is to this defense. Perhaps nose tackle
Jay Ratliff
too. With Spencer out for the year and Ratliff on the physically unable to perform list for at least one more game and possibly a lot longer, the Cowboys' defensive line is getting exposed. Defensive end
DeMarcus Ware
and defensive tackle
Jason Hatcher
are the only players in the roles that were set before the season started. The rest of the line was hardly expected to make the roster. For as well as defensive end
George Selvie
and defensive tackle
Nick Hayden
have played at times, they were still out of work this summer and not on a team last season respectively. Defensive line coach Rod Marinelli was lauded for his work the first three games, but in the past two games the Cowboys have one sack.
Filling a role:
It's too easy to compare receiver
Cole Beasley
to
Wes Welker
. The Cowboys have found a role for Beasley in the slot. Beasley caught four passes for 47 yards and had his first touchdown, a 4-yarder in the fourth quarter. He looked positively Welker-like on his 23-yard catch, working the middle of the field with his quickness on the defensive back. He will be limited as an outside receiver, but his effectiveness underneath and the trust Romo has in him will make Beasley a factor on the offense, especially if the Cowboys continue to roll out their aforementioned empty package.
October, 7, 2013
Oct 7
12:30
PM ET
A review of four hot issues from the
Washington Redskins
coming out of their bye week.
Defensive breakdowns:
It's great for the Redskins defense that it entered the bye week after a strong performance; the unit needed confidence and a seven-sack game provided some. But the fact that Oakland's
Matt Flynn
was demoted to third string after that game tells you a thing or two. The Redskins have not fared well against good quarterbacks and have three of them upcoming -- Dallas'
Tony Romo
, Chicago's
Jay Cutler
and then Denver's
Peyton Manning
. The Redskins can't expect a shutdown performance, but is it asking too much to tackle better? If they do that and provide a steady four-man rush, they can reduce their issues. Getting end
Jarvis Jenkins
and linebacker
Rob Jackson
back from suspensions will help, but neither has been an impact player.
[+] Enlarge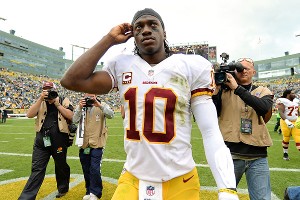 AP Photo/Greg TrottSo far this season, Robert Griffin III has looked nothing like the dynamic rookie QB he was in 2012.
Not so special:
Punter
Sav Rocca
has been too inconsistent. His hang time on some punts has been 3.0 seconds, a good second off the bottom of where it needs to be. Rocca's untimely shanks aren't what a struggling defense needs. But it's not just Rocca. Washington's longest kick return? Twenty-eight yards. The longest punt return? Eleven yards. There's also hidden yardage in what is lost because of poor decisions on both returns.
Chris Thompson
handles both duties, but never returned punts in college and clearly is still learning to make decisions when to field them. He's also adjusting to not having the same speed advantage he had in college. The blocking needs to be much better too.
Robert Griffin III's legs:
The second-year quarterback used his legs a lot more in Week 4 than in previous games. Griffin does not need to be a running machine to be effective, but his legs remain a valuable weapon for him. He needs to combine his legs with his growing penchant for keeping his eyes downfield. It led to big plays against Oakland. It's a way to make big plays with your legs and still reduce hits. This isn't about the zone-read, but it is about not just sitting in the pocket. The Redskins aren't built to have that sort of game.
Health issues:
The biggest one involves running back
Alfred Morris
, who bruised his ribs in the Sept. 29 win over the
Oakland Raiders
. The key will be what he's able to do later in the week and not Monday or even Wednesday. Morris is averaging 5.29 yards per carry and 2.30 yards after contact; both are stronger numbers than he posted a year ago. Tight end Jordan Reed's quad contusion was still an issue in the Redskins' last practice Oct. 1 before taking off for the rest of the week.
Fred Davis
should be healthy, so if Reed can't play they'll be fine. But Reed would help, too. Tight end
Logan Paulsen
's sprained left knee is an issue; losing him would hurt the blocking.
October, 7, 2013
Oct 7
12:30
PM ET
A review of four hot issues from the
Philadelphia Eagles
'
36-21 victory
over the
New York Giants
:
The quarterback situation gets interesting.
With
Michael Vick
getting treatment on his injured hamstring Monday morning, the storyline for this week seems obvious. Will Vick be ready for Sunday's game against winless Tampa Bay? If not, can
Nick Foles
excel in the same stadium where he made his only winning start of 2012? And how will all of that emerge from Chip Kelly's personal microprocessor? Foles' two fourth-quarter touchdown passes put the Eagles over their highest point total of the season, but it must be noted that he was handed a short field three times courtesy of interceptions by the Eagles' defense. This will be a topic for discussion all week.
[+] Enlarge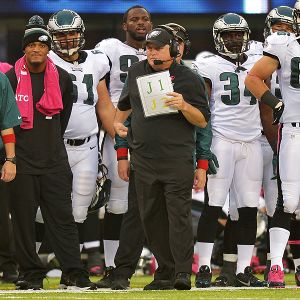 Drew Hallowell/Philadelphia Eagles/Getty ImagesChip Kelly will have a decision to make this week regarding his starting quarterback.
The turnovers finally came.
Defensive coordinator Bill Davis promised that turnovers would "come in bunches" once the Eagles' defense settled into its proper techniques and responsibilities. The defense didn't play a great game against
Eli Manning
and the Giants on Sunday, but it generated enough pressure to force mistakes. Manning was under pressure on all three fourth-quarter picks, and he committed three penalties for intentional grounding. Of course, Manning was leading the league in turnovers before the Eagles got to him, so it's fair to question whether the Eagles played that much better.
The kicker was good.
There was some public concern about
Alex Henery
after the kicker missed a field goal in three consecutive losses, including a three-point loss to San Diego. Kelly continued to voice confidence, saying that Henery struck the ball consistently in practice. But practice isn't a game, and the pressure is different. On Sunday, Henery made 5 of 5 field goal attempts, the longest coming from 41 yards. But he still hasn't made a long pressure kick in a game. Until he does, it will be fair to wonder about him.
DeSean was DeSean again.
It wasn't just because
DeSean Jackson
caught seven passes for 132 yards and a touchdown, either. Jackson was in at least one post-whistle shoving match and mimicked
Victor Cruz
's "Salsa" touchdown celebration. "Just having a little fun," Jackson said. The game is much more fun for the speedy wideout when he's targeted 12 times, as he was Sunday. Vick hit him for a 56-yard gain and Foles connected with him on a nicely designed 5-yard touchdown.
October, 7, 2013
Oct 7
12:00
PM ET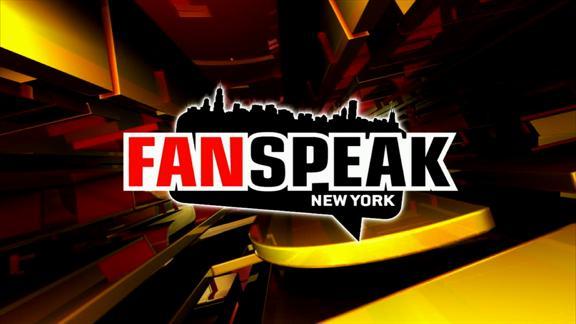 An examination of four hot issues from the
New York Giants
' 36-21
loss
to the Eagles:
[+] Enlarge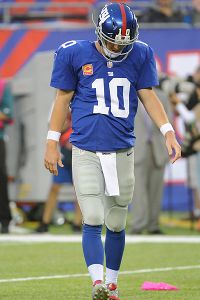 AP Photo/Bill KostrounGiants QB Eli Manning has thrown a league-leading 12 interceptions this season.
Honestly, with the turnovers:
So many problems, but might as well start here. The 2013 New York Giants are inexcusably careless with the football. They turned the ball over four times Sunday and didn't force any Eagles turnovers. That pushes their league-leading giveaway total to 20 and their league-leading turnover differential to minus-13 through only five games. Truly astounding that they could turn over the ball six times in their opener, do all that talking about how you can't win that way, and a month later they've only knocked the average down to four per game. A good team would have crushed the Eagles on Sunday. A bad team likely would have fallen into a win. It takes an historically awful team to blow a third-quarter lead and lose by 15 to
Nick Foles
. The Giants are on pace to turn over the ball 64 times. The NFL record for a single season is 63, by the 1978
San Francisco 49ers
.
Uneasy Eli:
The main culprit for this, as you'd expect it to be, is the player who touches the ball the most. Giants quarterback
Eli Manning
threw three interceptions in a span of nine throws in Sunday's fourth quarter and now has a league-leading 12 for the season. Manning's completion percentage has dropped each week, from 64.3 in the season opener to 46.2 Sunday. Not even Tom Coughlin, who will be a Manning loyalist until the end of time, could hide the fact that
Manning was responsible
for this latest loss. Add to the interceptions that three of the Giants' 12 penalties and 34 of their 136 penalty yards came on intentional grounding penalties by Manning.
Still not running:
We continue to wonder what the Giants offense would look like if
David Wilson
could stay on the field and emerge as the feature back his draft position says he should be. Wilson scored the game's first touchdown and was heavily involved in the first quarter, but he missed the final three quarters with a neck injury. There's almost no competition for carries in the backfield until
Andre Brown
can return in Week 10, so if Wilson can get healthy it appears he'll get another chance.
Still not sacking:
Well, that's not fair. The Giants did get their one sack to maintain their average. (They have five now in five games, more than only the Steelers, who have four but have played only four games.) Defensive end
Jason Pierre-Paul
looked quicker and more disruptive than he has at any time this season, but he didn't bring down
Michael Vick
or Foles, and he has only one sack in his past 12 games dating to the middle of the 2012 season. Without a consistent pass rush, the Giants defense is not a good one.