NFC East:

2013 Week 6 Upon Further Review NFC
October, 14, 2013
10/14/13
3:00
PM ET
A review of four hot issues following the
Washington Redskins
'
31-16 loss
to the
Dallas Cowboys
:
It's tough to defend the clock management at the end of the first half.
Redskins coach Mike Shanahan defended the way Washington handled the timeouts and play calls during that span. Shanahan knows more about coaching than I'll ever know, but in this case, there is this: The Redskins had a chance to stop the clock at Dallas' 17 with 37 seconds left. They would have had one timeout left. Conceivably, they could have run several more plays by stopping the clock at this point. They also would have been more limited to where they could throw with only one timeout, or whether they could run the ball. Still, they trailed 14-3 at the time and had a chance to gain momentum before the half. Instead, the Redskins ran three plays, including a quarterback keeper on third-and-10. They got their field goal; but they also lost a chance for more plays and perhaps more points.
[+] Enlarge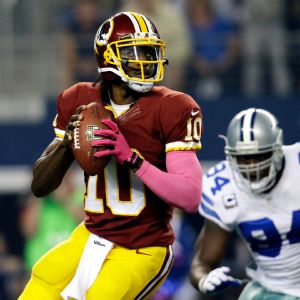 AP Photo/Tim SharpRobert Griffin III finished the loss to the Cowboys with 19 completions for 246 yards and no TDs.
Robert Griffin III regressed during the game from a passing standpoint.
He completed 9-of-21 passes for only 112 yards in the second half, looking off-target on too many throws. The interception in the end zone wasn't just on him, as receiver
Santana Moss
slipped and fell after the ball had been thrown. Griffin was under duress often and it possibly affected his accuracy. Regardless, Griffin's passer rating got worse with each quarter, starting with a 111.5 rating in the first and finishing with a 25.0 in the fourth. He ran well; it wasn't nearly enough.
Washington's defense played its best game of the season,
bothering quarterback
Tony Romo
enough to hurt his accuracy. Corner
DeAngelo Hall
did a terrific job on receiver
Dez Bryant
and, after a bad first series, the defense did a better job tackling. For the third straight game, they also stopped the run. For the first time this season, they did not allow a play of more than 20 yards. After a horrific start, the defense can feel better about themselves entering the Chicago game.
Bad calls occur every game.
But the Redskins lost a chance to gain early momentum when the officials ruled that
B.W. Webb
was a passive player when he was blocked into the ball on a Washington punt. That meant it was not a fumble. But former vice president of officiating Mike Pereira told WFJK-FM's Grant Paulsen that he would have ruled it a fumble because Webb was an active blocker, extending his arms to block Washington's
Jerome Murphy
. The Redskins would have had the ball at the Cowboys' 24 trailing by a touchdown. They did force a punt and drove for a field goal. But they lost a chance at more points.
October, 14, 2013
10/14/13
3:00
PM ET
A review of four hot issues from the Dallas Cowboys' 31-16 win over the
Washington Redskins
:
[+] Enlarge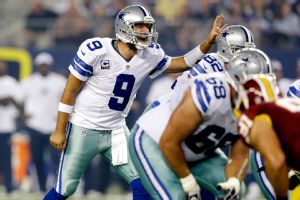 AP Photo/LM OteroTony Romo and the Dallas offense stepped up their production in the third quarter.
Man, what coverage:
If you're looking for a change in how the Cowboys played defensively, it was in the secondary. Cornerback
Brandon Carr
followed
Pierre Garcon
all over the field.
Morris Claiborne
and
Orlando Scandrick
were matched up in man coverage more. The result was three pass breakups apiece for Carr and Claiborne and two for Scandrick.
"I think that takes us back to what we're all here for," Scandrick said. "Whether it's man or zone, it's our job to play the scheme, but Brandon Carr was brought over from Kansas City, gave him a bunch of money to play man-to-man. Mo, traded up for him to play man-to-man. Signed me long-term to play man-to-man, so …"
Answering the call:
In a Sept. 22 loss to the
San Diego Chargers
, the Cowboys ran just seven plays in the third quarter and lost 30-21. On Sunday they ran only eight plays in the third quarter but managed to score a touchdown thanks to Dwayne Harris' kickoff return. After that, however, the offense had two three-and-out drives. After
Kai Forbath
missed a 49-yard field goal early in the fourth quarter, the Cowboys answered with a nine-play drive that ended with a 30-yard field goal from
Dan Bailey
for an eight-point lead. For six of those nine plays, the Cowboys went with their "empty" personnel, spreading the field.
Tony Romo
completed four of six passes for 42 yards with no running back on the field with
Cole Beasley
catching three of the passes.
Need line help:
The trade deadline is two weeks away, and the Cowboys will be open for business but face salary-cap restrictions when thinking about making a deal. While
DeMarcus Ware
felt confident his strained quadriceps would be OK, there is little proven help along the defensive line, leading to a question about adding a defensive lineman through a trade or free agency. The Cowboys have about $2 million in cap room, making the acquisition of a name player difficult. At one point the defensive line Sunday was
Caesar Rayford
,
Drake Nevis
,
David Carter
and
Kyle Wilber
, who did have his first career sack. They pressured Robert Griffin III at times, but can this "no-name" group, as Jerry Jones called it, get it done every game?
Quiet return:
After missing two games with a hamstring injury,
Miles Austin
was held without a catch against the Redskins. He was targeted four times and nearly had a touchdown, but Redskins cornerback
DeAngelo Hall
managed to deflect the Romo pass at the last second. It was the second straight game Austin was held without a catch by the Redskins. It also happened in last year's season finale, but he missed a lot of action in that game with an ankle injury. For the offense to be at peak efficiency, Austin will need to make some plays. The good news is that he did not aggravate his hamstring injury, so he should improve as he grows more confident in his legs.
October, 14, 2013
10/14/13
12:30
PM ET
A review of four hot issues from the
Philadelphia Eagles
' 31-20 victory over the
Tampa Bay Buccaneers
:
[+] Enlarge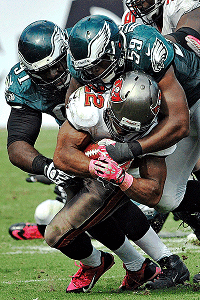 AP Photo/Steve NesiusDeMeco Ryans is averaging nearly nine tackles per game and is on pace for a career high in sacks.
Nick Foles may run the "same offense" as coach Chip Kelly insists.
There is no question, though, that Foles plays quarterback differently than
Michael Vick
. That doesn't necessarily mean better, but the difference could help sway Kelly in deciding which quarterback to start Sunday against Dallas. According to Pro Football Focus, Foles got the ball out in an average of 2.4 seconds per dropback. That's nearly two seconds faster than Vick's average release. Vick makes more plays by buying time with his mobility, and that raises his average. Still, Kelly likes a quick, decisive passer. PFF also looked at Foles' performance when he was feeling pressure from Tampa Bay's defense. His passer rating was 106.6, which is excellent.
The Eagles' record is a peculiar 3-3. Maybe it says something about Kelly's team.
Maybe it says something about the NFL in 2013. Maybe it's just a fluke of the schedule, but the Eagles got to .500 in very odd fashion. Their three wins are against teams with a combined record of 1-15. The three teams that beat the Eagles, all from the AFC West, are a combined 14-3. Because they are 2-0 in the NFC East and 3-0 in the NFC, the Eagles could survive a 1-3 start and compete for a playoff berth. They can really help that cause Sunday when they host the
Dallas Cowboys
, with whom the Eagles are tied for first place in the division.
Jason Peters was or was not at tight end at times.
The Eagles' Pro Bowl left tackle missed a total of nine offensive plays after hurting his shoulder Sunday. He returned, but played three different positions: left tackle, right tackle and tight end. Sort of. Peters lines up outside rookie tackle
Lane Johnson
in an unbalanced look Kelly deploys at times. The line can look like this: tight end, guard, center, guard, tackle, tackle/tight end. "It creates some different matchup problems on how they're going to deploy themselves," Kelly said. "You're using Jason as a tight end. Are you going to put a defensive end on him? How are you going to time your blitzes?" While he lines up like a tight end, Peters does not report as an eligible receiver in that alignment.
The Eagles' defense had its moments.
There were some bad moments, to be sure. Allowing
Mike Glennon
to throw two second-quarter touchdown passes to
Vincent Jackson
and take a 17-14 lead? That was bad. The 90-yard drive for a field goal after having a chance to pin the rookie quarterback at his own 1-yard line? Also bad. But the Eagles got excellent play from defensive linemen
Fletcher Cox
(two passes knocked down, five hurries per Pro Football Focus) and
Cedric Thornton
, who was vital in holding
Doug Martin
to just 67 rushing yards on 16 carries.
October, 11, 2013
10/11/13
12:00
PM ET
CHICAGO -- An examination of four hot issues from the
New York Giants
'
27-21 loss
to the
Chicago Bears
:
Eli Manning and Rueben Randle:
The thing with Randle is weird. Of Manning's 15 interceptions this year, six have come on throws targeted for Randle. Their inability to get in sync was part of the problem on each of the first two interceptions Thursday night. On the second, Randle said he thought Bears cornerback
Tim Jennings
jumped the route, so he kept running. Manning didn't see that, however, and threw short, where he expected Randle to be. Later in the game, Randle could easily have been called for a fumble after he slammed the ball on the ground after falling down and costing himself a touchdown, but the officials ruled that he'd given himself up. He said he believed he'd been touched down. Randle's still a work in progress in his second year, but there's something about him Manning likes. Only
Hakeem Nicks
(eight ) saw more targets Thursday than Randle, whose five targets tied him with
Victor Cruz
for second.
[+] Enlarge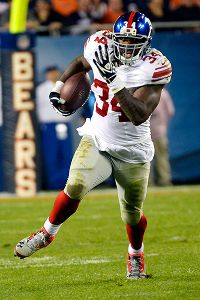 Mike DiNovo/USA TODAY SportsBrandon Jacobs was running like it was 2008, rushing for 106 yards and two scores.
Have they a run game?
With leading rusher
David Wilson
out with a neck injury, little was expected of a Giants rushing attack that came in ranked dead last in the league in yards per game. But
Brandon Jacobs
delivered his first 100-yard game since Dec. 11, 2011, plowing for big chunks of yardage behind blocking fullback
John Conner
. Some of the success can be attributed to a Chicago defensive line that's missing several starters. And if Wilson continues to miss time, it's tough to imagine Jacobs repeating or sustaining that level of success at this stage of his career. But at least the Giants have some tape now of themselves running the ball effectively. That's got to help somehow.
Uneasy Eli:
Manning's problems look pretty extensive to me. Even on some of his more successful throws, his feet are moving and he's staring down receivers, which he never used to do. It's possible the protection issues have resulted in a really uncomfortable quarterback who's off his game. But he's playing like a guy with whom something is seriously wrong. The interceptions are one thing, but where are those deep, pinpoint sideline bullets he used to throw in big spots? Right now, with Manning, you're just hoping he doesn't do something to cost the team the game.
Sack watch:
No sacks.
Mathias Kiwanuka
was credited with two hits on
Jay Cutler
, and no one else on the Giants defense was credited with even one. The Giants defense has five sacks this year. Only the Steelers, who have played two fewer games, have fewer sacks (four). The Giants have eight sacks in their past 11 games dating back to last November.
Jason Pierre-Paul
has one sack in his past 13 games. When the Giants don't get sacks, they do not have a good defense.