NFC East:

2013 Week 7 Upon Further Review NFC
October, 22, 2013
10/22/13
12:00
PM ET
An examination of four hot issues from the
New York Giants
' 23-7
victory
over the
Minnesota Vikings
:
[+] Enlarge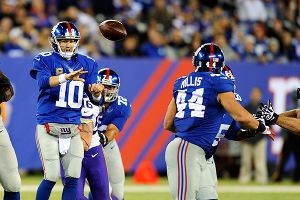 AP Photo/Bill KostrounPeyton Hillis had 18 carries and a touchdown in his Giants debut.
The impact of Jon Beason:
What's amazing is that Beason was only available in trade because he'd lost his starting outside linebacker job in Carolina to Giants castoff
Chase Blackburn
. After two games in New York you can make a legitimate case that Beason is the best defensive player on the team.
Justin Tuck
called him a "godsend" and spoke of Beason's impressive football knowledge and ability to direct traffic and get guys positioned on defense before the snap. Beason also plays fast and finds his way to the ball quickly. He looks like a very good middle linebacker, and it may be that he needed to be in the middle instead of on the outside where Carolina was using him. The extent of the upgrade he represents over what the Giants had been using at linebacker prior to his arrival speaks ill of the decision not to prioritize the position in the offseason.
What a little pressure can do:
The Giants got only one sack, raising their league-worst team total to six for the season, but they did pressure Vikings quarterback
Josh Freeman
and it did matter.
Antrel Rolle
's interception came on a play on which
Shaun Rogers
was draped around Freeman's ankles. Tuck's sack came on third down. Both plays deprived the Vikings of at least field goal chances. The Giants' pass rush has been absent all year and must resurrect itself if they are going to win more games. It was encouraging that
Jason Pierre-Paul
(who now has one sack in his past 14 games) looked quicker off the ball in the first half, but he has to carry it through the game.
The Peyton Hillis thing:
The newly signed Hillis made his best contribution as a receiver out of the backfield, catching five passes for 45 yards. He ran for a touchdown, but he had only 36 yards on 18 carries and the Giants averaged only 2 yards per rush attempt as a team. They didn't have to do much on offense to beat a Vikings team that looked as though it wasn't trying to score. And Hillis is a neat story if he really is making a comeback of any sort here. But to think the run game woes are suddenly solved would be a mistake.
Whither Hakeem Nicks?
He was once again the Giants' most-targeted receiver, as
Eli Manning
threw his way 10 times. But Nicks caught only two passes for 28 yards. He can't seem to get separation from defenders, at all, anymore, which means he has to outfight them. And while he's capable of that, it's no way to go through a game and help your quarterback. Increasingly, Nicks looks like a guy who's not worth the No. 1 wide receiver money he seeks. And if he's still seeking it in March, he's not likely to be a Giant next year.
October, 21, 2013
10/21/13
12:30
PM ET
A review of four hot issues following the
Washington Redskins
'
45-41 win
over the
Chicago Bears
:
[+] Enlarge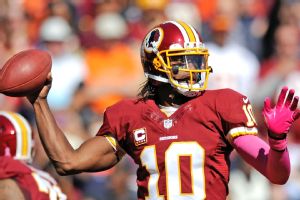 AP Photo/Nick WassRobert Griffin III showed off the Griffin of old against Chicago, rushing for 84 yards and throwing for 298.
Robert's return:
Quarterback
Robert Griffin III
has been playing all season, obviously, but Sunday marked the first official return of Griffin pre-knee injury. He hurt Chicago running (84 yards) and throwing (298 yards). What really helped the Redskins was the ability to be balanced in their play calls and to use a large dose of play-action passes. Defenders were out of position and alleys created because of Griffin's success. If the Redskins need him to play this well every week to win, then they'll continue to struggle because Sunday's game will be hard to duplicate. But when Griffin gets on a roll, it raises the confidence of everyone around him. Defenders talked often last year about how they knew that they had a quarterback who could bail them out.
Meriweather's status:
The NFL will suspend safety
Brandon Meriweather
. It's just a matter of how many games, according to ESPN's Adam Schefter. Meriweather plays with a lot of passion and an exuberance that rubs off on his teammates. He's also been effective -- not great but OK -- in the secondary. He's mostly a sure tackler, but his hits are killing the Redskins and cost them 22 yards Sunday. They'll cost him a lot more in his pocketbook -- and it will cost the Redskins a player for one or two games. The Redskins don't have the depth to withstand the loss. Meriweather says he's changed the way he hits and he probably has. And it's difficult for defensive backs to play with his old sort of abandon anymore. But Meriweather must change; if he can't, then it'll be difficult for a team to trust him in the future. It'll also make it a lot tougher on his current team.
Defensive inconsistency:
The Redskins played terrific in the first half against Chicago and quarterback
Jay Cutler
. They tackled well and prevented big plays and disrupted timing. And then they went in the tank against backup quarterback
Josh McCown
. The game tested the Redskins' resolve and they could learn a lot about themselves. But you could feel a lot better about the overall defense had Washington not been picked apart in the second half. With Denver's
Peyton Manning
and San Diego's
Philip Rivers
in the next two weeks, they need to do better or continue what they showed in Dallas and the first half versus Chicago.
Two-headed monster:
The Redskins surpassed 200 yards rushing for a second straight game and, while Griffin's legs certainly helped here, so, too, does having
Alfred Morris
and
Roy Helu
. Morris lacks Helu's burst, but his vision and patience makes him an excellent back. And Helu does more than just provide a change-of-pace. He's a big back (5-foot-11, 215 pounds) who has been effective in the red zone, in part because with him in the game the Redskins can run or pass. Most of the time when Helu is in the Redskins do pass, so defenses must honor that threat (as opposed to Morris, who is not a good pass-catcher). Having that balance in the red zone is imperative. It's why Helu rushed for three touchdowns. Meanwhile, Morris averaged 5.0 yards per carry and gained 95 yards. If Washington keeps games close, these two can both be productive and helpful.
October, 21, 2013
10/21/13
12:30
PM ET
PHILADELPHIA -- A review of four hot issues from the
Dallas Cowboys
'
17-3 win
against the
Philadelphia Eagles
:
[+] Enlarge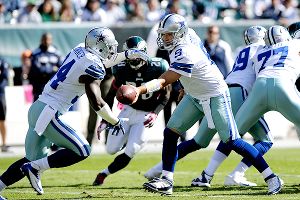 AP Photo/Michael PerezTony Romo and the Cowboys will need to work on connecting for longer plays in early downs.
Early down woes:
The Cowboys converted on only five of 16 third-down tries in part because of their issues on first downs. Of their 36 first-down plays, the Cowboys ran the ball 13 times and did not have a rush of more than six yards. They had only seven "chunk" plays that went for more than 10 yards. As a result, they faced too many third-and-long situations that made it more difficult for the offensive line to protect when the defense knows the pass is coming. Without
DeMarco Murray
(knee) and facing a poor pass defense, the Cowboys wanted to attack through the air but
Tony Romo
had nine first-down incompletions. Second-and-10 is a difficult down and it leads to too many third-and-long situautions.
Sage advice:
The Cowboys, who were without
DeMarcus Ware
, mixed in several new faces on the defensive line, added undrafted safety
Jeff Heath
to the equation in the secondary and were still able to keep the Eagles' offense in check.
Jerry Jones knows why.
"I've just got to say the obvious: coaching," Jones said. "We're really getting coached up. Monte [Kiffin] and all of them, Rod [Marinelli], they're showing these guys and showing our players where to be, how to fundamentally play."
Last year the Cowboys had to mix in key players on defense as the season wore on, but were unable to finish games.
Getting to the ground:
The Cowboys knew
LeSean McCoy
would be a challenge because of his ability to make people miss. Where the Cowboys excelled was in making McCoy work for his yards. He still made people miss, but they were at the line of scrimmage and the back side and secondary were able to close on him to get him on the ground. Kiffin said the defense was gap sound, which is a must against a back like McCoy.
The Cowboys were also strong tacklers.
J.J. Wilcox
missed one to give up a first down, but there weren't many misses the rest of the day. Tackling is something of a lost art because of practices nowadays, but
Sean Lee
disagreed.
"Actually, when you thud up, that actually can be better than some of the tackling drills because you're forced to move your feet and move your hips instead of lunging," Lee said. "So we work on putting ourselves in good body position every day in practice. To where when we get to the game, it will transfer over."
Pressuring the empty package:
Romo completed seven of 11 passes for 78 yards when the Cowboys broke out their empty package against the Eagles, but he was under a lot of pressure from their defense. When the Cowboys went to their empty look, the Eagles attacked Romo and made him get rid of the ball earlier than he would have wanted. As the Cowboys look to use the empty package more, they will have to come up with a way to handle the blitz.
October, 21, 2013
10/21/13
12:30
PM ET
PHILADELPHIA -- Taking a look at four issues a day after the
Philadelphia Eagles
' 17-3
loss
to the
Dallas Cowboys
:
Chip Kelly really has a quarterback problem now:
The status of
Michael Vick
's hamstring is unknown.
Nick Foles
was being evaluated for a concussion. Rookie
Matt Barkley
is healthy, but threw three interceptions. Kelly won't know what his options are until later Monday or Tuesday. As for Foles' performance, Kelly said he was "off" and the numbers support him. According to ESPN Stats & Information, Foles over- or underthrew receivers on 12 of his 29 attempts Sunday. He did not complete any of his eight attempts that traveled 15 yards or more. Coming into the game, Foles had the highest percentage on such passes in the NFL (58.3 percent). So it was, statistically and to the naked eye, a terrible drop off for Foles.
[+] Enlarge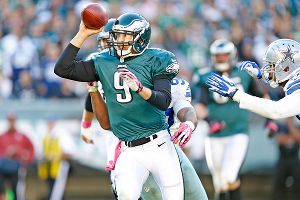 AP Photo/James D. SmithNick Foles' injury adds to the quarterback woes for Eagles coach Chip Kelly.
Foles was not able to discuss his terrible game, but Tony Romo was:
One possible element: "It probably didn't seem like it," Romo said, "but the wind played enough of a factor to where, just to complete balls down the field it was going to be a little more difficult. Even when you threw them well, it was swirling. ... When you got down toward the end zone, it switches." Foles did not have to deal much with that last part. The Eagles got near an end zone only once in the first three quarters. But it might help explain Foles' trouble with downfield throws.
Romo also had soothing words for Barkley:
After the fourth-round pick from USC threw three interceptions in the fourth quarter, Romo encountered him on the field. "I've been there," Romo said. "We've all been there. I just told him, 'You've got to go out and let the ball go.' The young guys who end up being successful are the ones who throw it, they see it, they let it go. And eventually they'll tighten all that stuff up. The guys who just stand there and hold it, they don't last very long."
The Eagles' home losing streak is officially in their heads:
The loss to the Cowboys was the ninth in a row for the Eagles at Lincoln Financial Field. That is the franchise record for consecutive home losses, eclipsing an eight-game streak at Municipal Field from 1936 to 1937. Even through their most miserable seasons in the late 1960s and early 1970s, even with Jerry Williams and Ed Khayat as coach, the Eagles never managed that. The first six losses in the streak came last season, under Andy Reid, but Kelly and this group now have an 0-3 home record. "It's an embarrassment," center
Jason Kelce
said. It's hard to argue with him.
NFC EAST SCOREBOARD
Saturday, 12/20
Sunday, 12/21