NFC East:

2013 Week 8 Upon Further Review
October, 28, 2013
10/28/13
2:55
PM ET
A review of four hot issues following the
Washington Redskins
' 45-21 loss to the
Denver Broncos
:
[+] Enlarge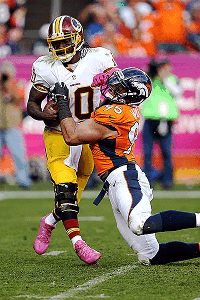 AP Photo/Paul SpinelliShaky pass protection hurt Washington QB Robert Griffin III during Sunday's loss at Denver.
The passing game:
Don't pin it all on QB
Robert Griffin III
, though clearly he has a lot to do with the inconsistency of the passing game. The Redskins have yet to find a solid No. 2 receiver to put alongside
Pierre Garcon
. The emergence of tight end
Jordan Reed
helps quite a bit, but the Redskins continue to get little production from the other wideouts; even the once sure-handed
Santana Moss
has dropped crucial passes. And the pass protection breaks down when defenses know what's coming. Denver hurt the Redskins with looks they either hadn't seen or didn't anticipate. At times the protection would slide one way only to have Denver send a stunt the other way. But Griffin will, and should, get plenty of blame. He's a developing passer hurt more by his lack of offseason work than most originally realized. He's still learning to read coverages at a faster speed. Griffin has made some strides, but not enough to carry the team as a passer.
Shanks for nothing:
Punter
Sav Rocca
had a terrific game for much of the day. Rocca averaged 43.2 yards on his first six punts, with one fair catch and four downed inside the 20-yard line. But after a three-and-out by the offense, Rocca's 15-yard punt enabled Denver to drive for a field goal and 10-point lead. Rocca was knocked in Philadelphia for these sort of lapses and he seemingly has had more of these shanks this season than in his previous two. They never occur at a good time.
Play calling:
The Redskins were imbalanced on first-down plays, tilting heavily toward runs. Until the fourth quarter Washington had called 13 runs on first down compared to six passes. In the first four drives of the fourth quarter -- the fourth drive started with 7 minutes, 54 seconds remaining and Denver leading by 10 -- the Redskins called four passes on first down and one run. Problem is, their passing game kept putting them in bad spots: Through the first four drives of the fourth quarter, Griffin completed only 2 of 6 first-down throws for 15 yards. He was sacked twice, lost a fumble on one and scrambled for 4 yards. So 10 first-down passing plays netted the Redskins 19 yards. Their 14 runs gained 70 yards (27 coming on one play). Go ahead and blame play calling all you'd like, but that obscures the bigger issue, which goes back to the passing game.
Improved play:
The special teams did a much better job in coverage, helped by Rocca's punts (until the last one). If the Redskins want to win a couple games in a row, and it's a possibility, then this unit needs to provide more games like Sunday. They managed a 34-yard punt return from
Josh Morgan
, after he fielded the ball inside the 10-yard line and somehow eluded two tackles. They still need more from their special-teams units.
October, 28, 2013
10/28/13
12:30
PM ET
DETROIT -- A review of four hot issues from the
Dallas Cowboys
' 31-30
loss
to the
Detroit Lions
on Sunday.
What to make of the antics:
After the game the Cowboys did their best to diffuse any possible issue regarding
Dez Bryant
's emotion during and after the game. They put it on competitiveness and passion. When
Terrell Owens
would have outbursts like that, Owens was viewed as selfish. Perhaps Bryant was being positive with what he was saying, but he has to understand the cameras will always be on him and the story might change in the future.
[+] Enlarge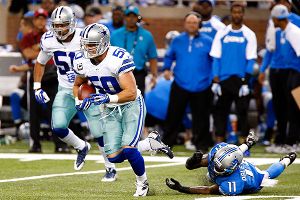 AP Photo/Duane BurlesonDespite forcing four turnovers, including two picks by Sean Lee, the Cowboys couldn't hold on to beat the Lions.
Win turnover battle, lose game:
Coach Jason Garrett always says the turnover battle is the biggest determining factor in the outcome of games. They Cowboys forced four Detroit turnovers and did not give it away even once, and they lost. It is the second time the Cowboys have had a plus-four turnover margin this season (they beat the
New York Giants
in the opener) and just the 11th time they have had two or more games with that margin since 1999.
"When you win it 4-0 and have two penalties in the ballgame in terms of not beating ourselves, we did a damn good job of that," Garrett said. "Unfortunately we didn't make the plays necessary on offense and didn't make the stops on defense at the critical moments of the game and that was the difference."
Help wanted:
The trade deadline is Tuesday and while the Cowboys might want to make a trade, salary-cap issues will make any deal difficult. The most they can hope for is help from within. Running back
DeMarco Murray
and defensive end
DeMarcus Ware
missed their second straight game with knee and quadriceps injuries. Both could be back this week against the
Minnesota Vikings
. Murray was able to take part in three limited practices last week but the coaches did not believe he looked comfortable enough to play against the Lions. Ware has not practiced in two weeks but has seen the strength return to his leg.
Turnover machine:
Linebacker
Sean Lee
had the second two-interception game of his career. His first came on Dec. 5, 2010, against
Peyton Manning
, and the
Indianapolis Colts
. Lee has 11 interceptions in his first four seasons, the most by a linebacker in the NFL since 2010. The last time the Cowboys had a player with at least four picks in the first half of a season was cornerback
Anthony Henry
, who had five in 2007. Lee also made double-digit tackles for the sixth straight game, finishing with 10. Now if he can do something about the secondary and defensive line the Cowboys might be in business.
October, 28, 2013
10/28/13
12:30
PM ET
PHILADELPHIA -- Taking a look at four pressing issues a day after the
Philadelphia Eagles
' 15-7 loss to the
New York Giants
.
[+] Enlarge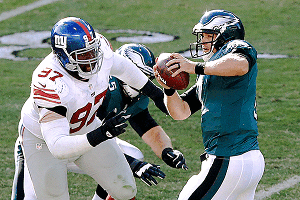 AP Photo/Matt RourkePhiladelphia's offense has been woeful the past two weeks with Matt Barkley at quarterback.
Maybe QB Matt Barkley should practice with the first team this week
. As coach Chip Kelly acknowledged in his weekly appearance on 94.1 WIP FM Monday morning,
Michael Vick
is almost certainly out for next week.
Nick Foles
has not yet been cleared by doctors to resume practicing. Even if Foles does get clearance through the concussion protocol, Kelly may want to make sure Barkley is better prepared than he was for his last two unplanned relief appearances.
"I think it is valuable just to practice with those guys and see their timing and know their breaks in a full-speed environment," Barkley said. "Routes versus air is one thing, but to be able to get reps in team periods and seven-on-seven, I think it will be valuable."
Unless, of course, the Eagles can convince the Raiders to cover
DeSean Jackson
with air instead of a defender.
Jackson's history might have worked against him Sunday. There was booing after he let a punt skip off his fingers and go out of bounds deep in Eagles territory. Eagles fans are all too aware that Jackson has admitted to letting outside issues, like his contract, affect his commitment on the field.
But this just seemed to be a punt that was carried by the wind.
"The punter punted it pretty far," Jackson said. "It was one of those things where he outkicked me. It was over my head and the wind took it."
LeSean McCoy took the blame again
. The running back said, "I didn't show up" for the game against Dallas last week, when clearly there were a lot of problems with the running game. McCoy vowed Sunday's game against the Giants would be different.
He gained 48 yards on 15 carries. McCoy remains the NFL's rushing leader with 733 yards, but all that talk about his early pace seems like ancient history. After three weeks and 395 yards, McCoy was on pace for more than 2,100 rushing yards. He's now on pace for 1,466 and trending sharply downward.
"It starts with me," McCoy said. "I feel like, coming into the game, we want to establish the run. Teams know that. It starts with me. I have to get out there and get it going."
The last two games may be reality. The previous two might have been misleading.
The Eagles got to 3-3 with consecutive road wins against the Giants and the Tampa Bay Buccaneers
. That had Kelly's team feeling like it was on the right track, with a chance to assume control of the NFC East with home games against Dallas and New York.
The Eagles are 0-2 with zero offensive touchdowns in those games. While there is plenty to chew on in explaining their offensive futility, it may be worth a second look at the Eagles' wins. The first came in the season opener at Washington, against a rusty
Robert Griffin III
and a defense with no game tape of Kelly's offense to study. The next two came against teams that were winless when the Eagles played them.
It's totally understandable for the Eagles to lose against exceptional teams like Kansas City and Denver, who are a combined 15-1. The losses to similarly flawed teams like San Diego, Dallas and the Giants suggest that the Eagles just aren't good enough to be called average.
Najee Goode outscored his father
. John Goode played in 30 NFL games as a tight end with the Eagles and the St. Louis Cardinals. He never scored a touchdown.
Goode's son Najee, a linebacker and special teams mainstay for the Eagles, recovered an errant long snap Sunday to score the Eagles' only touchdown of the game -- and the Goode family's only NFL touchdown as well.
"I was just going to go hit him," Goode said, referring to Giants punter
Steve Weatherford
's inept pursuit of
Zak DeOssie
's bad snap. "I was going to knock the mess out of him to get the ball into the end zone. Then the ball came through and I saw it and my eyes got big and I scooped it up."
Goode found the end zone, something the Eagles' offense has failed to do for the past eight quarters.
October, 28, 2013
10/28/13
12:00
PM ET
An examination of four hot issues from the
New York Giants
' 15-7 victory over the Eagles:
[+] Enlarge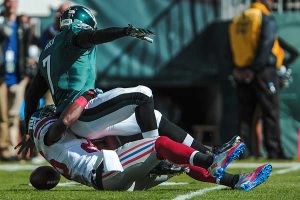 John Geliebter-USA TODAY SportsNew York Giants strong safety Antrel Rolle tallied one of the Giants' season-high four sacks against the Eagles on Sunday.
Sacks!
The Giants got four sacks Sunday, which is a stunning number for a team that had only six in seven games all season prior to Sunday. Two of the sacks came from defensive backs
Antrel Rolle
and
Terrell Thomas
, one from defensive end
Mathias Kiwanuka
and one from defensive tackle
Linval Joseph
, who said he was relieved when slippery
Michael Vick
was replaced at quarterback by the more stationary
Matt Barkley
(whom he sacked). Defensive tackle
Cullen Jenkins
said it wasn't "the most ideal situation" for the sacks to come from the defensive backs, but the Giants would take them any way they can get them -- especially the Thomas one that forced a turnover just before halftime.
Balance on offense:
The Giants ran the ball 33 times for 81 yards, their third-highest single-game rushing total of the season and their season high for rush attempts in a game. (They had 32 against Minnesota in Week 7.) It helps that they've actually had halftime leads the last two games, which they did not in the first six. And it helps that
Peyton Hillis
has added a dimension as a receiver out of the backfield for which teams have to account. Everyone's interested to see how it'll work when
Andre Brown
is eligible to return from injury after the bye.
Incremental progress:
The Giants were 8-for-19 on third downs in the game and are 22-for-49 (44.9 percent) on third downs over their last three. Through their first five, they were last in the league at 26.2 percent. It was also
Eli Manning
's second straight game without an interception after throwing 15 in his first six. So while it frustrated the Giants that they didn't score a touchdown, they are seeing improvement in key areas on offense.
Practicing what they preach
: Through the six-game losing streak that began their season, the Giants spent a lot of time talking about the importance of sticking together and focusing on the game in front of them. Those things can sound like cliches, but this team has meant -- and lived by -- those words, and now it's paying off. We see teams every year in the NFL fall apart after falling out of contention, but that hasn't happened to the Giants. There is ample pride on display in the individual performances of guys like Rolle and Thomas and Joseph and
Jon Beason
and the like. There's no finger-pointing, no woe-is-us moping and no stewing over what's come before. A month ago, they likely would have lost a game as close as the one they played Sunday. But they're playing better now, and while it's not likely to matter in the big picture, Giants fans should feel good that they'll continue to get an honest effort from their team every week.