NFC East:

2013 Week 9 MIN at DAL
November, 4, 2013
11/04/13
10:30
AM ET
ARLINGTON, Texas -- Welcome back,
Jason Witten
.
It'd been a while since the perennial Pro Bowl tight end played a featured role in the
Dallas Cowboys
offense. Witten had a total of only nine catches for 90 yards with no scores in the previous three games.
Witten was back to being a weapon in Sunday's win over the
Minnesota Vikings
, catching eight passes for 102 yards and a touchdown. Not coincidentally, the strong performance came after a week of working to find ways to make sure Witten was involved in the offense after he was targeted only twice in the previous week's loss to the
Detroit Lions
.
With the Vikings playing primarily Cover 2 defense, Witten feasted.
Tony Romo
was 8-of-10 throwing in Witten's direction, highlighted by a 26-yard touchdown on a seam route.
"It's been a tough couple of weeks with the coverage," Witten said. "It's frustrating for all of us, but you work those situations and stay ahead of the chains. A big part of that is the tight end, and we can even clean it up more.
"When you play these defenses, the ability to find those underneath throws and get those first downs can really hurt this style of defense. We've worked it a lot over the years and it's good to see it pay off in this game."
November, 3, 2013
11/03/13
8:20
PM ET
ARLINGTON, Texas -- In a surprise move, the
Dallas Cowboys
'
Ernie Sims
started in the base defense over
Bruce Carter
as the weakside linebacker against the
Minnesota Vikings
on Sunday.
Carter
However, after Sims struggled to make several tackles in the first half, Carter started in the base defense in the second half.
"I'm just trying to find the best combination for our football team at that position," linebackers coach Matt Eberflus said. "I'm still working that out. You got first down, you got second down and you got third down. Both of them have different things they bring to the table in terms of helping our football team, and we're going to work that combination during the course of the game and see what the best thing is for us to win."
Carter finished with six tackles and Sims with three. It's hard to say who took the lead, or if the rotation should continue, but coach Jason Garrett explained why Carter didn't at least start.
"He responded really well, really well," Garrett said. "He practiced this week, and you know Ernie got the start and Ernie played a lot in this ballgame, but Bruce got his chanced and he made some plays in this game. The best part about him is his demeanor and his spirit. We saw a little of Bruce Carter out there today, which is good. Flying around, making plays, having an impact on the game. He did a really good job."
Carter didn't make his first appearance until the Vikings attempted a field goal with about 2:08 to play in the first quarter. Before he entered the game,
Sean Lee
and Sims were the nickle linebackers.
In the first half, Sims missed two tackles on
Adrian Peterson
, who rushed for 140 yards on 25 carries. In the second half, Carter made a tackle on Peterson, causing a one-yard loss
"It's all based on combinations," Eberflus said. "I have two solid players, they're both trying to play better, they're still working and they're working their ass off, and we'll find the best combination."
November, 3, 2013
11/03/13
7:31
PM ET
ARLINGTON, Texas -- Last week, the
Dallas Cowboys
lost to the
Detroit Lions
on a touchdown with 12 seconds to play. On Sunday, they beat the
Minnesota Vikings
on a touchdown with 35 seconds to play.
"The nature of this league is that you're going to play close games, so get used to it if you follow football," coach Jason Garrett said. "Get used to it if you're a player. As a coach you have to get used to it. That's the nature of this league. You have to do things that the winning teams do at the end of the ballgame. We were able to do that this week."
They were unable to close out against the Lions. They were unable to close out against the
Denver Broncos
on Oct. 6, losing on a last-second field goal. They were unable to make plays in the fourth-quarter of losses to the
Kansas City Chiefs
and
San Diego Chargers
.
On Sunday,
Tony Romo
directed a nine-play, 90-yard drive for the winning points and the defense was able to come up with a final-second stop when
Christian Ponder
's Hail Mary fell woefully short of the end zone.
After a Romo pass was intercepted with 4:29 to play, the defense came up with a big three and out, aided by some curious play calling.
"We were able to show everyone we could close out games now," defensive tackle
Nick Hayden
said. "I know that was everyone's question, focusing on, 'Can the Cowboys close out games?' But it just shows everyone we can do it."
This week it did. But
Sean Lee
knows it's a week-to-week league.
"You find a way to win," Lee said.
November, 3, 2013
11/03/13
7:24
PM ET
ARLINGTON, Texas --
Tony Romo
jogged on to the field with 2:44 to play, his team trailing by three points and 90 yards separating the
Dallas Cowboys
from a winning touchdown.
His most recent pass was intercepted. The crowd of 85,360 was restless, to say the least. Owner and general manager Jerry Jones was squirming in his perch at the 50-yard line.
What was Romo thinking?
"Honestly, you've got to disregard everything and just say, 'What do we need to do to win the football game?' and 'What do we feel like gives us the best chance to go do that?'" Romo said. "I know as a quarterback you love to be in those situations."
[+] Enlarge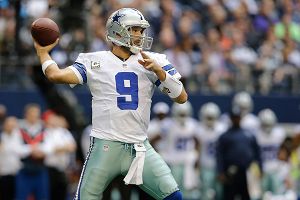 AP Photo/Nam Y. HuhTony Romo was at his best when the Cowboys needed him in the fourth quarter against Minnesota.
On the ninth play of the drive, Romo found
Dwayne Harris
for a 7-yard touchdown pass with 35 seconds to play, and the Dallas Cowboys escaped with a 27-23 win against the
Minnesota Vikings
.
On the nine plays, the Cowboys used the same personnel grouping, 01 to be exact, with four receivers and a tight end. If the Cowboys were going to win, it would be on Romo's right arm and nobody else. Some others might think it's foolish, but the Cowboys don't.
On first down,
Jason Witten
picked up 11 yards, running a simple out route with his receivers blocking just enough for him to get a first down.
"It gets the momentum rolling, gets you ahead of the chains, per se," Romo said. "And it gets you doing what you want to do calling-wise."
Harris caught a 6-yard check down before the two-minute warning.
Cole Beasley
added an 18-yard catch and run for the third longest gain of his career. He finished the day with six catches for 68 yards.
"Every opportunity we give him, he seems to step up and do something positive for us," coach Jason Garrett said. "He's got a great feel and instinct for playing the game. Quarterbacks love throwing to him, great feel for beating guys in man coverage, settling in zones, going north and south after the catch. He's just a damn good football player."
Romo's first incompletion of the drive came on a
Terrance Williams
' drop, but then
Dez Bryant
, who had a key drop in the third quarter and had a disappointing game in general, came up with a 34-yard grab to the Vikings' 20.
The Cowboys had eight drops on the day, but Romo did not flinch, finding Bryant.
"You don't want drops ever to happen," Romo said. "You're going to have them happen one or two times. Today was a little extreme. You just have to keep your approach even keel."
He worked the edges with Beasley for 9 yards on first down and went back to the same play that opened the drive to Witten for 5 yards. His second incompletion of the drive came when he was pressured and forced to throw it away. The Cowboys were lucky Witten was not flagged for holding.
Perhaps they had it coming because of how they played that final drive. Minnesota pressured Romo on 36 percent of his drop-backs on the first nine drives of the game, according to ESPN Stats & Information, but sat back on the final drive. The line protected just well enough, pushing three defenders by, to give Romo time to step up into the pocket and find Harris.
As the officials signaled touchdown, Romo jumped into Witten's arms. It might have been relief for those restless fans and the squirming Jones, but it wasn't for Romo.
It was proof that the work put in during the week ad augmented in between series on the sidelines was worth it.
"Relief is never a term I would use," Romo said. "It's a joy. You feel like you won the football game, and you feel like you gave yourself a chance to win at that point. More than anything it's a little more competitive than that, if that makes sense ... I just picture Michael Jordan over Xavier McDaniel where he's just kind of aggressively being, 'Yes!' That's the feeling you have. Without swearing, you want to be like that."
November, 3, 2013
11/03/13
7:18
PM ET
ARLINGTON, Texas – Just imagine the overreaction if the
Dallas Cowboys
didn't pull off the comeback.
This had the makings of all the most popular Cowboys narratives colliding together, which might have caused enough negative energy to blow the retractable roof off of Jerry Jones' beloved $1.2 billion football palace.
It would've been awful under any circumstances to fall a game under .500 by losing to a one-win
Minnesota Vikings
team at home. But to do it in a game in which
Dez Bryant
made an emotionally charged mental mistake and
Tony Romo
threw a crunch-time interception?
All that was missing from the toxic mess was Jerry storming around on the sideline with a few celebrities by his side.
[+] Enlarge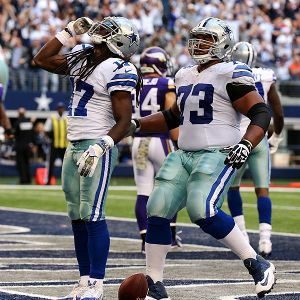 Matthew Emmons/USA TODAY SportsDwayne Harris' short touchdown catch capped a 90-yard drive in the final three minutes.
Still, if the Cowboys don't march 90 yards with less than three minutes remaining …
TONY ROMO CHOKES AGAIN!!!
DEZ BRYANT IS AN IMMATURE IDIOT DIVA!!!
FIRE JASON GARRETT!!!
But the apocalypse was avoided. The Cowboys survived against the 1-7 Vikings, pulling off a comeback to emerge with a
27-23 victory
on Sunday, preventing Dallas for dominating the NFL news cycle for another week.
"It would have been tough, there's no question about it," said tight end
Jason Witten
, who has endured many media firestorms during his 11 seasons suiting up for America's Team. "I try not to think about those situations. It was good to get this win, but I think we all know it wouldn't have been a good setting, for sure."
As it is, we can all take a deep breath and think in sentences that include lowercase letters and end in periods. It wasn't the prettiest win, but at least the world isn't ending.
Romo remains the highest-rated fourth-quarter passer in NFL history. That's easy to forget after moments such as his interception with the Cowboys trailing by three and less than five minutes remaining, but it's a fact.
Never mind that proven clutch quarterbacks with Super Bowl rings such as
Drew Brees
,
Ben Roethlisberger
,
Eli Manning
and
Joe Flacco
throw picks in similar situations -- late in one-score games -- more often than Romo. Or that Romo has led 19 fourth-quarter comebacks -- more than Roger Staubach, aka Captain Comeback -- after going 7-of-9 on the winning drive Sunday for 90 yards and a touchdown to
Dwayne Harris
with 35 seconds remaining.
"If you really look at his body of work and you look at it objectively," Garrett said, "he's done this kind of stuff a lot."
Of course, until he has playoff success, Romo will be perceived by many to be a choke artist. It's really that plain and simple.
That's why Romo is right when he says the media -- or more specifically, the discussion and debates about teams and players -- doesn't matter. He'd be wasting energy to worry about it. If his work pays off and his focus bears fruit, the narrative will be rewritten anyway.
It's a lesson Bryant needs to learn. That's easy to say but hard to do for a guy who turns 25 Monday and spent the past couple of weeks as the primary target for NFL-covering critics. He's bothered by inaccurate and unfair assumptions that he's a selfish, me-first diva receiver.
Bryant knew the wrath would only intensify if the Cowboys lost Sunday. He knew his foolish penalty for pulling his helmet off while arguing a call, a personal foul due to a rule he says he didn't know about, one that knocked the Cowboys out of field-goal range, would be a huge topic of discussion. He knew his drop on a deep crossing route early in the fourth quarter, a play he probably could have scored on, would be replayed endlessly all week.
If not for that last drive, on which he made the biggest play with a 34-yard catch and run, Bryant would be the subject of harsh public scorn again this week.
"Oh, no doubt," Bryant said. "Not once I didn't think about that. I promise I thought about that after the drop and after the penalty. But we came out, we stuck together, we stayed as a team. We pulled this 'W' out."
They pulled out the win, which meant Jerry didn't have to field any questions about Garrett's job security after the game. Or during either of his two weekly radio shows.
The Cowboys can move on as a 5-4 team that has flaws but also holds sole possession of first place in the NFC East.
A few minutes away from a full-blown crisis, the Cowboys put the narratives on pause.
November, 3, 2013
11/03/13
7:15
PM ET
ARLINGTON, Texas -- The
Dallas Cowboys
set a franchise record with an embarrassing nine rushing attempts in their
27-23 victory
against the
Minnesota Vikings
on Sunday. The Cowboys gained just 36 yards.
Starting running back
DeMarco Murray
, returning to the starting lineup after missing the previous two games with a sprained knee, had four carries for 31 yards.
"Yeah, yeah -- but hey, we won, and we were effective in the passing game," Murray said.
The Vikings played an aggressive defense by bringing a safety closer to the line of scrimmage, and Dallas wanted to attack with the passing game. With a safety closer to the line of scrimmage, quarterback
Tony Romo
checked out of several run plays to pass.
According to ESPN's Stats & Information, the Cowboys have dropped back to pass an NFL-high 87 percent of the time.
The Cowboys' 51 pass attempts marked the sixth time since 2006 that a team won despite dropping back at least 80 percent of the time.
"You'd certainly like to have more balance than that, obviously," coach Jason Garrett said. "We'll keep striving for that. We did run the ball a little bit fairly well early on. DeMarco looked like he was going to have a good day, but as it wore on there were some minus runs that happened that got us behind the sticks a little bit. Hard for us to get into a rhythm."
Murray had a 27-yard gain and converted a third-and-1 with a 6-yard gain. But the run game had three negative-yardage runs from the running backs, and in the second half the running backs had minus-1 yard overall. Romo did scramble for 8 yards on a third-down play.
Romo finished the game with 20 consecutive pass attempts, including plays negated by penalties.
"A few times they got us," Romo said of the Vikings. "We had called a few more runs, but it was difficult with the way their defense is predicated on that, showing you a safety down or a blitz look and then, boom, getting out. It makes it difficult if you have a couple of that stuff called."
November, 3, 2013
11/03/13
6:45
PM ET
ARLINGTON, Texas -- In Detroit last week, it was about the sideline antics and how to act like a professional.
On Sunday, back in his home stadium, Cowboys wide receiver
Dez Bryant
was still struggling with it. He turns 25 on Monday, and while that can be used as an excuse for slipups in his behavior, when they do happen, they sometimes cost his team.
Bryant didn't have a sideline moment, but he had another one of those "it's always something with him" moments in the Cowboys' 27-23 victory over the
Minnesota Vikings
on Sunday.
While protesting a pass interference call against him with the referees, Bryant took his helmet off, drawing a 15-yard penalty and pushing his team out of field goal range.
[+] Enlarge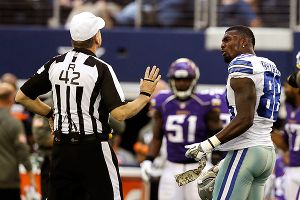 AP Photo/Tim SharpDez Bryant made a costly mental error that cost the Cowboys, but he made a crucial 34-yard reception on the game-winning drive.
Bryant said he didn't know there's a rule about not taking your helmet off on the field of play and only did it so the referees could see his face.
"I didn't know it was a flag," Bryant said. "The play was over with and I didn't know it was a flag. I learned from it. Not a big deal anymore."
Bryant gave you that smile of his, like we're all in on the joke and we understand how the emotions of football and life sometimes get to us and we have those slipups.
Bryant finished with six catches for 64 yards and two drops. But Bryant had a 34-yard reception on a slant on the final offensive drive of the day, and that catch put the Cowboys in position to win.
Earlier, he dropped a pass; if he catches it, he's running for days, stopping only until he gets to the end zone.
But the emotional Bryant became poised later in the game.
"I was kinda expecting the ball," he said. "Whenever Tony [Romo] gives me the signal, and all I was thinking about was the pass that I dropped before that. That pass that was a touchdown and, man, I knew it before the ball that was thrown. It wasn't the same play. I felt like I have to make up for it. I wasn't down, I'm never down when I drop a pass. I'm ready to come back and make a play."
That's why the Cowboys love Bryant and understand why he's the most important part of this offense.
The Cowboys need Bryant.
But what happened in Detroit -- where he was waving his arms, yelling and screaming about coverages and then getting into it with
Jason Witten
toward the end -- brought a staggering amount of attention.
"Yeah, I understand that. But come on, man, throughout this whole week that was a whole bunch of nonsense, that was uncalled for," Bryant said. "It really wasn't all that serious for people to be talking about that situation throughout the week. My quarterback said what it was, all the players in here said what it was, even the audio came out and people still talking about it -- that's a damn shame. That's just the world that we live in, man. All I gotta do is keep playing football and not let that stuff get to me."
Bryant said he felt different with the cameras watching his every move on the sidelines. Receivers coach Derek Dooley told Bryant not to curtail the passion. Dooley said Bryant won't let what people say about him change who he is.
"It kinda threw me off a little bit. I have to watch myself," Bryant said. "I didn't want y'all to get me on camera and make me look like a fool. I had to watch that a little bit and I had to contain it a little bit -- that's me, it's all positive. I feel like that's who I am. That's what brings the excitement to me and to others. I can't let nobody destroy the passion I have for this game."
The passion shouldn't be shut down. How the Cowboys use Bryant needs more focus. He didn't get thrown to until a minute remained in the first half last week in Detroit. On Sunday, he was targeted on two of the first three pass plays of the game. He broke two tackles on his big 34-yard reception.
You can't teach what Bryant has: talent. He's got it, but he needs to relax sometimes. He needs to calm down. It's OK to get excited and pump up your teammates, but you can't have too many slipups.
The world is watching.
November, 3, 2013
11/03/13
6:02
PM ET
ARLINGTON, Texas -- Observed in the locker room after the
Dallas Cowboys
'
27-23 victory
against the
Minnesota Vikings
.
Bryant
A big win:
Cowboys coach Jason Garrett is not a big-picture guy. He is happy the Cowboys got to 5-4 and maintained their lead in the NFC East, but he's not looking at this win as some sort of breakthrough. He knows the Cowboys will be in games similar to Sunday's and won't prevail. "Certainly all the games are important," Garrett said. "They are, and we understand that. You have to play them as best you can and do everything you can to win them and learn from them and move on. We'll let somebody else be the historian on the whole thing, but we've got to get ready for New Orleans."
Another comeback:
Tony Romo
's reputation might be one thing, but with his 7-yard touchdown pass
Dwayne Harris
with 35 seconds to play gave the Cowboys' quarterback his 19th game-winning, fourth-quarter drive. Romo has 63 fourth-quarter touchdown passes in his career, and he was able to overcome his 24th fourth-quarter interception. "I relish being out there helping our football team win," Romo said.
Dizzying day for Dez:
All eyes were on
Dez Bryant
after last week's sideline outbursts. He caught six passes for 64 yards, but had two drops and a key penalty after he could not control his emotions in the third quarter. Bryant was penalized for unsportsmanlike conduct when he took his helmet off to complain about an offensive-pass-interference penalty. The flag knocked the Cowboys out of field-goal range and gave Minnesota life, even if its following drive ended in a turnover. "A bad play by him," Garrett said. "You can't do that." Bryant responded later with a 34-yard gain on the Cowboys' game-winning drive.
November, 3, 2013
11/03/13
4:13
PM ET
ARLINGTON, Texas -- A few thoughts on the
Dallas Cowboys
'
27-23 win
against the
Minnesota Vikings
:
What it means for the Cowboys:
They never make things easy, going down to the final minute before dropping the one-win Vikings.

Tony Romo
's 7-yard touchdown pass to
Dwayne Harris
won the game with 35 seconds to go and kept the Cowboys in first place in the NFC East with a 5-4 record. Since the start of the 2011 season, the Cowboys are 17-1 against teams that are .500 or worse.
The win was the Cowboys' fourth at AT&T Stadium, matching their home win total from a year ago.
It was an ugly win, but Garrett will undoubtedly say winning in the NFL is a hard thing to do. It's even harder when you let bad teams stick around.

Stock watch:
Tony Romo, rising. With the season on the line, Romo responded with a game-winning drive after throwing what could have been a crippling interception. Romo completed 7 of 9 passes on the 90-yard drive.
Forget the ground game:
The return of
DeMarco Murray
was supposed to bring some sort of return of the running game, but it never happened.
The Cowboys chose to attack through the air against the 29th-ranked defense, but it's not as if Minnesota has a great run defense. In the second quarter, the Cowboys got to the Vikings' 12 and did not even give a pretense of running the ball with back-to-back plays out of an empty set and a three-wide-receiver formation. The result was a drop and two sacks, forcing the Cowboys to settle for a
Dan Bailey
field goal.
Murray, who was playing after a two-game absence with a knee injury, finished with four carries for 31 yards and the Cowboys had just nine carries for the game.
Seeing stars:
Last week the Cowboys couldn't stop
Detroit Lions
wide receiver
Calvin Johnson
, who had 329 yards. This week it was
Adrian Peterson
.
It wasn't a historic day for Peterson, but he had some vintage moments when it mattered most on his way to 140 yards rushing. He busted free for a 52-yard run at the Minnesota 28 and then scored the go-ahead touchdown with 5:40 to play when he ran through safety
Jeff Heath
and linebacker
Justin Durant
for an 11-yard score on fourth-and-1.
What's next:
The Cowboys travel to New Orleans to take on the Saints next week. This was a game New Orleans defensive coordinator Rob Ryan has had circled since he joined the Saints after he was dismissed as the Cowboys' defensive coordinator in January. The Cowboys have lost seven of their eight games to the Saints. Their only victory came at the Superdome in 2009 (24-17) when New Orleans was undefeated.