NFC East:

2013 Week 9 PHI at OAK
November, 3, 2013
11/03/13
10:45
PM ET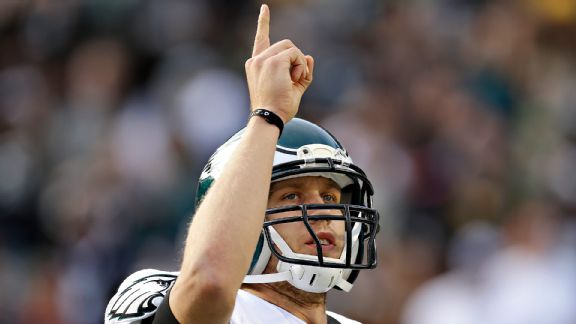 AP Foto/Ben MargotPhiladelphia Eagles quarterback Nick Foles tied an NFL record with seven touchdown passes.
OAKLAND --
Nick Foles
won't have any trouble finding the "a-ha" moments when he watches this game film.
The
Philadelphia Eagles
quarterback produced a bunch of them, including an NFL record-tying seven touchdown passes, in a
49-20 rout
of the
Oakland Raiders
. Foles said he had accomplished that feat before -- "in a video game."
If Chip Kelly was unsure who his quarterback would be when
Michael Vick
returns from his hamstring injury, Foles made an awfully persuasive case: 22-for-28, 406 yards, a perfect passer rating of 158.3, and zero interceptions.
And of course, the touchdowns. Foles wrote his name in the NFL record book alongside
Peyton Manning
(who threw seven TDs against the
Baltimore Ravens
in September), Y.A. Tittle, Joe Kapp, Sid Luckman, George Blanda and the Eagles' own Adrian Burk.
For Foles, it was about writing his name alongside
Riley Cooper
, who caught three of the touchdowns,
Brent Celek
,
Zach Ertz
,
LeSean McCoy
,
DeSean Jackson
and an offensive line that gave him a comfortable pocket all afternoon.
"Whenever I've looked at records my whole life, the greatest thing about it is the guys you do them with," Foles said. "This is something that's special for the Philadelphia Eagles organization. You have to look at the components -- the O-line blocking, guys running great routes, making huge catches. It's special for all our teammates."
It actually took two teams to make Foles' record-tying day possible. The Raiders simply failed to cover McCoy, making his 25-yard catch and run all too easy. Cornerback
Mike Jenkins
fell down, leaving Jackson all alone for a 46-yard score. Cooper abused rookie
D.J. Hayden
all afternoon.
But Foles made every throw.
"He put the ball on people," Kelly said. "He was really, really good on third downs. Nick played really, really well."
It was an outstanding performance made all the more remarkable by what preceded it. Foles stepped into the starting lineup three weeks ago after Vick pulled a hamstring. He delivered a three-touchdown performance at Tampa Bay, winning a game and winning NFC Offensive Player of the Week honors.
One week later, he delivered the worst performance of his young NFL career in a 17-3 loss to the
Dallas Cowboys
. When Foles wasn't overthrowing receivers, he was underthrowing them. When he wasn't doing that, he couldn't find them at all. He completed 11 of 29 passes for 80 yards before being knocked out of the game with a concussion on the last play of the third quarter.
It was mystifying to everyone, from Kelly to Foles himself. He missed last Sunday's loss to the
New York Giants
as he recovered from the concussion. When he was cleared medically, he studied the game tape, looking for clues to his poor play.
"You have to watch the film of it," Foles said, "and you just see what you could've done differently to be more successful on each play. A lot of times, it's really something you already know, and it's just like an 'A-ha!' moment, where you're like, 'Oh, that's all I have to do.'"
It wasn't just Foles, either. The Eagles scored only three points against Dallas. Their only points last week against the Giants came on a special teams play.
So naturally they got two weeks' worth of touchdowns before the end of the third quarter here.
[+] Enlarge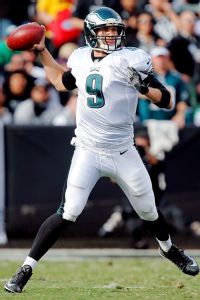 Brian Bahr/Getty ImagesThe only other time Nick Foles completed so many touchdown passes was "in a video game."
"We suffered two defeats recently and our offense sputtered," Foles said. "It was good to get back on track."
It can't be overstated how much it means to be the guy who got that offense back on track. The Eagles' opening-night romp against Washington seems like a million years ago. Kelly's fast-paced, innovative offense had been smothered by division rivals Dallas and New York.
This team desperately needed a big game from a quarterback, any quarterback. Foles gave the Eagles one of the greatest games ever played.
"Nick is a tremendous quarterback," center
Jason Kelce
. "There was a little bit different look in his eye going into the game. It was his mannerisms and everything. He was upset with the way he played before, in the Dallas game. The whole team was a little bit down. I just think, overall, he seemed extremely focused on having a good game this week."
"He had an unreal game," Cooper said. "I'm extremely proud of him. He's a great teammate. He has so much confidence and that's something you need in a quarterback. He handled it great. He's a real winner."
Kelly knew Foles had tied the NFL record.
"There's a sign in our office," Kelly said. "I walk by it all the time. Adrian Burk. So I know what the record is."
Foles' seventh touchdown, Cooper's third of the day, was a 5-yard toss with 4:28 left in the third quarter. Foles came out for two more offensive possessions, two opportunities to break the record. Both ended in punts and Kelly sent Barkley out to mop up.
"This isn't about records," Kelly said. "If I put Nick out there and try to get a record and he gets hurt, that's being silly."
After he left the game, Foles said, teammates told him about the record.
"I had no clue how many touchdowns I had thrown," Foles said. "I just slowed things down out there. I felt really comfortable. That was a fun game to play in."
It was game full of a-ha moments, a performance that should keep Foles in the starting lineup for the rest of this season and, just maybe, even beyond that.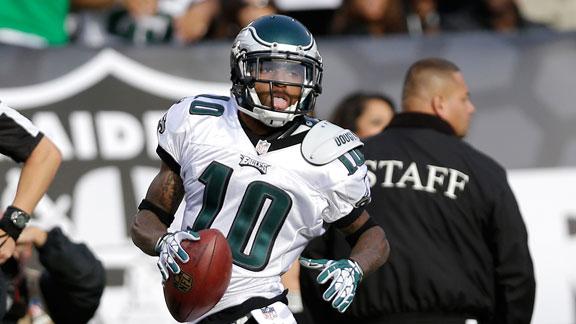 November, 3, 2013
11/03/13
10:15
PM ET
OAKLAND, Calif. -- On a day
Nick Foles
tied an NFL record with seven touchdown passes, it was all too easy to overlook
Riley Cooper
's career day.
"Some people wanted to throw him under the bus after the first couple games," Eagles coach Chip Kelly said. "He's a big, physical target. I'm really happy with his production."
Cooper
Cooper, who became a starter when
Jeremy Maclin
tore his ACL in training camp, had just eight catches through the Eagles' first five games. Kelly was asked weekly about his lack of production and whether he was able to get open. It didn't help that Cooper had drawn attention over the summer in the worst way, when a video surfaced on the Internet of him using a racial epithet.
Cooper has 17 catches in the Eagles' past four games. He caught three of Foles' touchdowns Sunday, including two within three minutes that gave the Eagles a 21-3 lead against the
Oakland Raiders
. Cooper also caught Foles' record-tying seventh TD throw, making the score 49-13 late in the third quarter.
"I was just out there playing my game," Cooper said. "The quarterback put the ball right where it needed to be. I give all the credit to him."
Cooper fooled rookie cornerback
D.J. Hayden
with a double move to get open for his 17-yard score early in the second quarter.
"He muscled up and got physical and got by the guy," Kelly said. "He does a great job catching the ball."
Cooper caught a touchdown pass at Tampa Bay, which just happened to be the last complete game played by Foles.
"He's a tremendous player," Foles said. "He's a hard worker. He has a lot of speed. I don't think he gets a lot of credit for that. He's a fast guy."
Cooper showed that speed on a 63-yard touchdown -- again at Hayden's expense -- and by taking a bubble screen 42 yards to help set up the Eagles' first touchdown.
"It's definitely fun," Cooper said. "When you feel like you're contributing, that's the biggest thing. I don't want to get 1,000 yards every game. I don't want multiple touchdowns every game. I just want to contribute."
November, 3, 2013
11/03/13
8:45
PM ET
OAKLAND -- Seen and heard in the
Philadelphia Eagles
' locker room after their
49-20 victory
over the
Oakland Raiders
.
Foles
Foles lost count of his touchdown passes.
"I had no clue how many touchdowns I had thrown,"
Nick Foles
said after tying the NFL record with seven. "People came up and told me when I stopped playing." That was early in the fourth quarter.
Asked if he'd ever thrown seven touchdowns at any level, Foles laughed.
"Only in a video game," he said.
Chip Kelly knew exactly how many touchdowns Foles had.
The Eagles head coach also knew it was the NFL record. He left Foles in for two possessions after he tied the record with 4:28 left in the third quarter, then replaced him with rookie
Matt Barkley
.
"This isn't about records," Kelly said. "If I put Nick out there to try to get a record and he gets hurt, that's just being silly."
Ertz has a new souvenir.
Zach Ertz
, the rookie tight, end grew up in the Bay Area and played at Stanford. He had well over 20 friends and family members in the stands. So it was the perfect setting for his first career touchdown catch.
"I have the ball," Ertz said. "The equipment guys have it for me. All the guys said you better keep it, so I did. This is the first time I've been back in the Bay since I left for camp. It was a lot of fun to play here today."
November, 3, 2013
11/03/13
7:18
PM ET
OAKLAND -- A few thoughts on the
Philadelphia Eagles
'
49-20 victory
over the
Oakland Raiders
on Sunday.

What it means:
Nick Foles
just might be the Eagles' quarterback of the present and future, after all. In his ninth league start, Foles tied the NFL single-game record with seven touchdown passes. Foles connected with wide receiver
Riley Cooper
for three scores, and once apiece with tight ends
Brent Celek
and
Zach Ertz
, wide receiver
DeSean Jackson
and running back
LeSean McCoy
. After two games in a row without an offensive touchdown, Foles threw scoring passes on the team's first four possessions. He finished with 406 yards on 22-of-28 passing, with a perfect passer rating of 158.3. Foles has not thrown an interception this season.
Stock watch:
Foles' stock is sky-high. His record day makes his last performance, that dud against Dallas, even more puzzling. A week before that, Foles was named NFC Offensive Player of the Week for his 296-yard, three-touchdown outing in Tampa. After that, coach Chip Kelly left the door open for Foles to remain the starter after
Michael Vick
returned from his hamstring injury. Foles was knocked out of the Dallas game with a concussion, but had completed only 11 of 29 passes for 80 yards through three quarters. Sunday, Foles kicked the door open again. It's hard to imagine Kelly going back to Vick after this.
Running it up:
Kelly must have felt like he was coaching Oregon in a Pac-12 game. After his offense failed to score a touchdown for two weeks in a row, Kelly was asked a lot of questions about whether opposing defensive coaches had figured out his offense. So it's probably not surprising that Kelly had Foles throwing deep with a 42-13 lead late in the third quarter. The BCS is watching, after all.
What's next:
The Eagles (4-5) are going to need this kind of effort from Foles and the offense next Sunday in Green Bay. Their defense has been very good of late, holding four straight opponents to 21 points or fewer, but that streak will likely be in jeopardy against the Packers in Lambeau Field.