NFC East:

2013 Week 9 Upon Further Review NFC
November, 4, 2013
11/04/13
8:00
AM ET
A review of four hot issues from the
Philadelphia Eagles
' 49-20
victory
over the
Oakland Raiders
on Sunday.
[+] Enlarge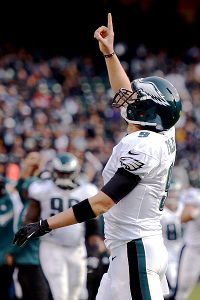 Kirby Lee/USA TODAY SportsNick Foles tossed seven touchdowns and 406 yards against the Raiders.
Nick Foles has to play.
The main reason is obvious. Coach Chip Kelly says his intention is to try to win every week, and that makes it nigh impossible to bench a quarterback who just threw for seven touchdowns in a game.
But even if Kelly says he's not thinking beyond this season, he still has to know what he has in Foles. The 23-year-old has started only nine games. He had two bad games mixed in among his six starts last year. This year, he followed a very good start in Tampa with a disaster against Dallas, then produced his epic performance in Oakland.
A winning team needs consistent quarterback play. Foles can't be expected to duplicate what he did Sunday, but the Eagles have to know whether that Dallas game was a one-time aberration or part of a pattern of up-and-down performances.
Foles is not a statue.
He has always suffered from the inevitable comparison to
Michael Vick
, one of the most mobile quarterbacks of all time, but Foles can move around a little bit. On two of his touchdown throws Sunday, Foles rolled out to his right -- once by design and once, Foles said, in an "ad lib." He had three runs for 14 yards.
"Nick's a good athlete," Kelly said. "He's not a blazer. We all understand that, but I think he really moves around, he keeps things alive. That's what he did today."
The tight ends finally appeared.
When the Eagles added free agent
James Casey
and second-round pick
Zach Ertz
to a roster that already had
Brent Celek
, the expectation was that Kelly would find all kinds of ways to deploy his tight ends. That really hadn't happened until Sunday.
Ertz was targeted six times, Celek four times. Ertz had five catches for 42 yards and his first career touchdown. Celek caught three balls for 27 yards and a touchdown.
"It's a matchup thing," Kelly said. "It's something we hoped we'd get to at some point in time. Some weeks, it's not the flavor of the day. We really felt this week it would be a big thing for us."
The pace was fast.
The Eagles looked much more like the fast-break team Kelly wants them to be. They ran only 57 plays (compared to a whopping 92 for the Raiders), but really seemed to put pressure on the Oakland defense with their tempo.
"It's tough to play tempo when it's first down, incomplete," Kelly said. "The ball's not going your way. It's hard to get going. Our guys are starting to get a better feel for it."
"The most important thing about it," guard
Evan Mathis
said, "is you start to learn what the blueprint for success is. We have a lot of young guys on our team. They start to see that the hard work, the trust in the process, can translate to these kinds of results."
November, 4, 2013
11/04/13
8:00
AM ET
A review of four hot issues from the
Washington Redskins
'
30-24 overtime win
over San Diego:
Ground attack:
The Redskins have excelled on the ground in the past five games -- and, not so coincidentally, they're 3-2 in that stretch. In these five games, the Redskins have averaged 173.6 rushing yards per game, second only to San Francisco, according to ESPN Stats & Information. And their 4.93 yards per rush ranks fourth in the NFL over that time.
Alfred Morris
had a season-high 25 carries, allowing the Redskins to use all of their play-action game, and that consistently hurt the San Diego defense. For as talented as quarterback
Robert Griffin III
is, it's Morris who powers the offense. The more success Morris has, the better opportunities Griffin will have to throw. Also, those three
Darrel Young
touchdowns will provide defenses something else to worry about at the goal line.
[+] Enlarge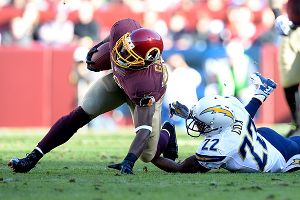 Patrick McDermott/Getty ImagesPierre Garcon had seven catches for 172 yards in Sunday's win.
Getting in rhythm:
Receiver
Pierre Garcon
was wide open on the first play of the game, but Griffin's pass was low and behind him. But after that pass they were mostly in sync -- and if they weren't, then Griffin put the ball close enough to Garcon for him to make a tough catch. The only other pass-catcher on the roster capable of making those grabs is tight end
Jordan Reed
. Griffin and Garcon need to be on the same page because otherwise the passing game just won't threaten many teams. The other wideouts might make a big play once in a while, but none come close to scaring a defense. Garcon can do just that, especially in the intermediate area. The more Griffin throws with trust to Garcon, the more big plays he can make. And with Griffin's accuracy off this season, it's important to have another player with a wide catch radius.
Missing rush:
Outside linebacker
Brian Orakpo
played the run well against San Diego, penetrating to the inside on a couple of occasions to make stops. But in the last two games, with opposing quarterbacks throwing a combined 90 passes, Orakpo has not been credited with even a quarterback pressure.
Peyton Manning
and
Philip Rivers
do a good job avoiding hits by releasing the ball quickly. And it's not as if the Redskins are generating much pressure from elsewhere -- they have a combined three sacks and five quarterback hurries the past two games. Orakpo's presence helps no doubt, but if the Redskins really want to make a run, he'll have to make more noise as a pass-rusher.
Special teams mishaps:
On both field goals it appears the kicks were too low.
Kai Forbath
needs to kick it a little low when attempting a kick from more than 50 yards, but his first one was from only 25 yards.
Lawrence Guy
, who blocked it, barely jumped. It's tough to say whether the fact that the laces were facing the wrong way made a difference. Regardless, it was low. Forbath did make a 47-yarder later in the game. Meanwhile, the punt coverage has improved statistically since it allowed Devin Hester's 81-yard return for a score in Week 7. It helps that only two of
Sav Rocca
's next 12 punts were returned, gaining a combined 14 yards. Six punts have gone out of bounds.
November, 4, 2013
11/04/13
8:00
AM ET
ARLINGTON, Texas -- A review of four hot issues from the
Dallas Cowboys
' 27-23
win
against the
Minnesota Vikings
.
[+] Enlarge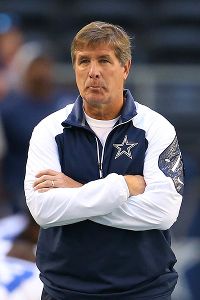 Matthew Emmons/USA TODAY SportsBill Callahan's offense hasn't been able to replicate the success it had after exploding for 522 yards against the Broncos in Week 5.
Sputtering on offense:
Remember when the Cowboys put up 522 yards on offense against the
Denver Broncos
on Oct. 6? Seems like forever ago. The talk out of that game was that the Cowboys had found an offensive identity. That has not turned out to be true. Against some of the bottom-of-the-barrel defenses fielded by the
Washington Redskins
,
Philadelphia Eagles
,
Detroit Lions
and Vikings, the Cowboys have topped 350 yards just once -- with 350 against the Vikings. The Cowboys have struggled on third downs (5-of-14 against Minnesota). The running game was nonexistent (nine attempts).
"There's a word we use and our players understand and it's execution," coach Jason Garrett said. "We as coaches have to constantly give our players a chance to execute and put them in plays where they can be successful."
Bill Callahan's first year as a playcaller has hit a bump. He and
Tony Romo
have to find a way to get the rhythm they had against the Broncos. Having it happen against a New Orleans team whose offense will score points this week would be preferable.
Hurry back, Morris Claiborne:
The Vikings knew where rookie cornerback
B.W. Webb
was on Sunday. The
New Orleans Saints
will know it, too. Webb, who was playing the slot with
Orlando Scandrick
playing outside due to Claiborne's hamstring strain, had a difficult matchup in
Greg Jennings
, who caught six passes for 56 yards, including a 27-yarder. It was the most extensive action of Webb's career and he will have to grow up fast. In the fourth quarter he was able to knock down a pass on the Vikings' final drive. With only
Micah Pellerin
, fresh up from the practice squad, in reserve, the Cowboys need Webb to perform better if they want to contain a passing offense like the Saints'.
Opportunistic defense:
The Cowboys' defense will never win a beauty contest but it has shown to be opportunistic.
Nick Hayden
's fumble recovery in the end zone was the fourth defensive score of the season for the Cowboys. The last time the Cowboys had five defensive scores in a season came in 1999 when they finished 8-8 and made the playoffs under Chan Gailey. So far this season the Cowboys have had touchdowns from
Brandon Carr
(49-yard interception return),
Barry Church
(27-yard fumble return),
Sean Lee
(52-yard interception return) and Hayden.
Changing their ways:
After seeing
Cordarrelle Patterson
return kickoffs 8 and 9 yards deep in the end zone, the Cowboys altered their game plan on the Vikings' return specialist.
Dan Bailey
's opening kick of the second half was high and barely to the end zone, which Patterson booted out of bounds. They squibbed their next two kicks, including the final kickoff after taking the lead to make sure Patterson did not beat them. Bailey had been a touchback machine in the first eight games, but the Cowboys were wise to make the switch on Patterson if he was going to continue to flip field position.