NFC East:

2014 Hall of Fame
August, 3, 2014
Aug 3
12:10
AM ET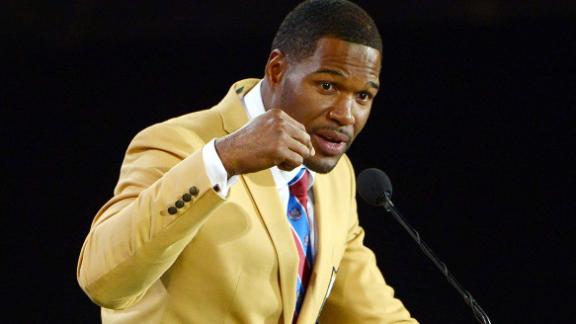 CANTON, Ohio -- In a sprawling, 34-minute induction speech Saturday night at the Pro Football Hall of Fame, former
New York Giants
defensive end Michael Strahan invoked Jane Fonda workout tapes, said he still doesn't understand "Coughlin Time" and told longtime rival Jon Runyan that he knew his tells. It was all over the map, but it was kind of fitting for a guy whose life could be described the same way.
The final speaker of the seven new Hall of Famers on Saturday, Strahan began his speech with his memory of being a husky 13-year-old living in Mannheim, Germany, and ended it by singling out his "TV wife," Kelly Ripa, who was in the audience to watch his enshrinement ceremony. He opened by calling himself "an improbable Hall of Famer, an improbable football player" and closed it with these words:
[+] Enlarge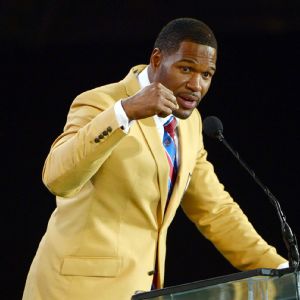 Kirby Lee/USA TODAY SportsMichael Strahan's Hall of Fame speech was like his New York Giants career: a whirlwind of success and entertainment.
"Improbability means nothing, because absolutely anything is possible."
Strahan is a testament to that, an amalgamation of circumstance, influence and wildly varied success. He's a huge international TV superstar who seemed truly touched by the weekend's celebration of his football career. As he and his bronze Hall of Fame bust showed his famous gap-toothed smile, he told the following tales, among others:
The one about how his brothers made fun of him for being fat when he was 13 and living in Germany because their military father was stationed there. They called him "B.O.B.", which stood for "Booty on Back," and the ribbing inspired him to go out and purchase those Jane Fonda workout tapes. He eventually moved on to Herschel Walker ones, but he says it all worked.

The one about getting drafted out of Texas Southern by the Giants and "going to the scariest city I could ever imagine -- New York City."

The one about how he hurt his foot on a sack dance as a rookie and the late Giants co-owner, Bob Tisch, gave him rides to practices after he saw him walking there on crutches.

Meeting Lawrence Taylor, Phil Simms and O.J. Anderson in the Giants locker room and thinking, "I watched these guys when I was 6 years old. They're still here?"

"When I was a rookie, I was scared of you," he said to Taylor, who was among the returning Hall of Famers on stage. "And now, I'm retired and up here with you wearing this yellow jacket, and I'm still scared of you."

He spoke warmly of current Giants coach Tom Coughlin, with whom he feuded early but bonded late in his career. He said, "I still don't get" why a coach insists that someone arrive at 7:55 for an 8:00 meeting, but he also said, "You made me a better man, Coach Coughlin," and Coughlin's grin was as wide as the end zone.

He also spoke warmly of Eli Manning, who hammed it up by keeping a straight face as Strahan kidded him for never showing emotion. Strahan said he used to walk around the locker room before games trying to pump everyone up but couldn't figure out how to do it for Eli. "I used to say, 'How am I going to reach this boy?' And then I realized I didn't have to. He was already reached. What I learned from Eli was that you don't have to be outwardly excitable to be inwardly combustible."

He singled out former opponents Erik Williams and Runyan, telling Runyan (who was in the crowd) that his right foot gave away everything.

He told fellow Hall of Famers John Randle, Chris Doleman, Bruce Smith and Howie Long that he "stole" techniques from all of them, including Randle's practicing pass-rush moves on shopping carts and Smith's obsession with the StairMaster. "I am a mixture of all of you," he said.
And that might have been the Strahan line of the night. This is a guy who lived through three very different Giants eras until the final game of his career was the most improbable of all -- the Super Bowl XLII victory over the unbeaten
Patriots
. This is a guy who once said on the air, as a guest on Ripa and Regis Philbin's show, that he hoped someday to replace Regis … and did.
Strahan said Friday that "I don't really get excited about many things, because every day is a continuous cycle of interesting stuff, but this is unlike anything else."
He will leave Canton, Ohio, and return to his fabulous and fascinating life. But to hear Strahan speak is to listen to a man who truly appreciates how wild and crazy it's all been. And it's fun to listen to someone like that.
August, 2, 2014
Aug 2
10:45
PM ET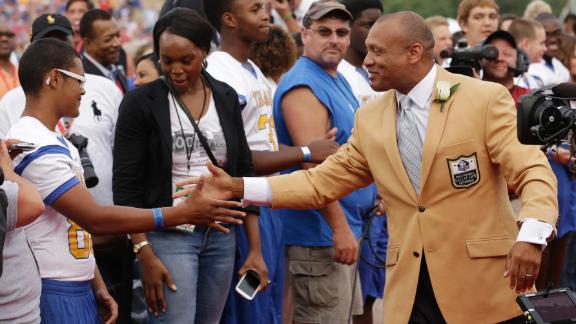 Pastor Aeneas Williams stood in front of a congregation unlike any other he has spoken to before, inside a sanctuary that has defined his life, and he expounded about a religion whose followers are as devout as any other.
It wasn't a Sunday morning in his St. Louis church. It was a Saturday night in Canton, Ohio.
In front of thousands of football fans -- his congregants -- who gathered in a small, Northeast Ohio town to pay tribute to a sport's cathedral, Williams preached about football, faith and family during his Pro Football Hall of Fame enshrinement speech.
For 25 minutes, the devout Christian pontificated about the Church of Football.
It was everything you'd expect from Williams, who spent 10 of his 14 seasons with the
Arizona Cardinals
and the last four with the
St. Louis Rams
. He was thankful and humbled. He addressed hot-button issues, and he showed that the fire hasn't disappeared 10 years after he last played. And it was all done with a flair only those accustomed to speaking in front of the masses can provide. He promised he'd cry, but only sweat dripped down his cheeks. His impassioned speech had two themes, both of which he has tried to live in his life: "Begin with the end in mind and die empty." He tried to stay away from the morbid, but he pointed out that he was inductee No. 287 and his last name put him on the bottom of every list of this year's inductees -- a symbol for his road to the Hall.
He started at the beginning of his football life, which began in a park in New Orleans, and went through his journey to the Hall of Fame, which didn't truly begin until a week before the season began at Southern University. It was then that Williams decided to walk on. Although, as he explained, nothing came easy to him -- speed, winning in Arizona, his acceptance into the Hall of Fame -- Williams was a natural talent whose dedication helped him become great. He thanked Gill Byrd, the former San Diego cornerback, whose help Williams solicited. But after spending time with Byrd and his wife, Williams didn't become just a better cornerback. He credited Byrd for teaching him how to be a good husband and father while playing in the NFL.
As to be expected from a Williams speech, faith played a large part.
He talked about taking signs from God as early as his childhood, when Williams, as a running back in the 95-pound league, was crushed by a 110-pound player. It was then that Williams switched to defense. He also said his faith helped lead him to walk on at Southern.
Williams' competitive edge shined bright throughout his speech. It was obvious he still basks in having shut down Michael Irvin in the 1999 playoff game against the
Dallas Cowboys
, the same one the Cardinals won in an upset. Williams joked that he was covering Irvin so closely that if Irvin went to the bathroom, "I had to go flush it."
His speech began by supporting NFL commissioner Roger Goodell for having to make tough decisions so the game could continue. He joked about getting a middle finger salute from an entire section of
New York Giants
fans when he'd come out for warm-ups at old Giants Stadium. He noted that his former defensive backs coach, Rob Ryan, put him on Aeneas Island long before Revis Island was discovered. Williams said his work ethic was established in the aisles of the Superdome, where he sold popcorn, peanuts and soda as a kid.
By the time Williams finished, he still hadn't cried, but he was leading the stadium of fans in chants and cheers. Williams looked comfortable on a pulpit, behind a lectern, talking with his hands, preaching the gospel of football.
He looked at home in the Hall of Fame.
August, 2, 2014
Aug 2
7:20
PM ET
CANTON, Ohio -- A large
New York Giants
contingent is on hand Saturday for the enshrinement of former Giants defensive end Michael Strahan into the Pro Football Hall of Fame. The leader of that contingent is Giants owner John Mara, who remembers Strahan as a Hall of Fame practice performer.
"That's a once-in-a-lifetime guy, a guy that makes other people better," Mara said on his way into the ceremony at Fawcett Stadium. "And you'd just watch him practice, going up and talking to different players. He was always encouraging guys, but he'd also get on guys if he felt they were slacking off and not doing their jobs. And that's one thing I always appreciated."
Strahan said Friday that he doesn't get to East Rutherford, New Jersey, as often as he likes to, but he will show up periodically throughout the season to talk to Giants players. There are only three remaining Giants who played with Strahan, but it's not hard for him to get everyone's attention.
"He has a huge impact when he comes in, because he's got the credibility because they know he was such a great player," Mara said. "And what was great about him, I've said this a million times, is that he practiced just as hard as he played, and he set such a great example. So that type of influence is what you want.
"We're very proud to be here to support him."
August, 1, 2014
Aug 1
5:20
PM ET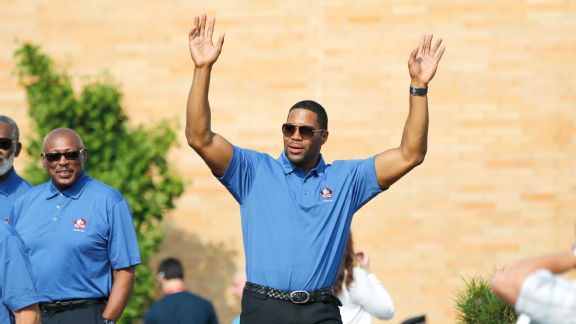 AP Photo/Ben LiebenbergMichael Strahan is back to feeling like a rookie during Hall of Fame weekend.
CANTON, Ohio -- It's not easy to impress Michael Strahan, whose post-football life is basically a traveling theme park. But this weekend he's spending here being inducted into the Pro Football Hall of Fame ... this is getting it done.
"I don't really get excited about many things, because every day is a continuous cycle of interesting stuff," the former
New York Giants
defensive end said Friday afternoon, hours before putting on his gold Hall of Fame jacket for the first time. "But this is unlike anything else."
To name a few of the things in Strahan's head when he says something like that, the Giants' all-time sacks leader is currently the co-host of Fox's Sunday NFL pregame show as well as "Live with Kelly and Michael" and, on occasion, "Good Morning America." He has been a pitchman for submarine sandwiches and men's skin care products, among other things. He hosted Nickelodeon's Kids' Choice Awards this year. He is a huge, world-famous star -- by far the biggest and best-known of any in this year's Hall of Fame class. Yet on Friday, he felt like an awed rookie all over again.
"You can't buy your way in here. You can't trick anybody into getting you in here. You can't bribe your way in here," Strahan said. "This is something you truly have to earn. And you're here with guys you watched play football when you were growing up, and now you're in the same room with those guys? It's overwhelming."
Friday afternoon brought the Nitschke luncheon, to which all of the current Hall of Famers wear their gold jackets, but the class of 2014 wears light blue polo shirts. The newbies aren't supposed to talk during the Nitschke luncheon -- just listen to the wisdom of the men who've been enshrined in years past. They have to accept being the butt of their jokes, and hearing their stories again even if they've heard them before.
"You've got to humble yourself," Strahan said. "Because everybody here has had their moment. This has nothing to do with TV now or what you do outside of this. This is what you did for those 15 years, and these guys are here for what they did on the field."
Strahan said it's an especially proud weekend for him because it's about football, and there are people who know who he is but don't even realize he played football. He told a story about former teammate Keith Elias, who told his wife he'd be seeing Strahan this weekend because he's going into the Hall of Fame. Elias' wife responded, "He played football?"
"It's cool, because it means that I've done something right, and I view it as a compliment," Strahan said. "But I appreciate that people recognize the football stuff, because that was such a big part of what I was, and I wouldn't have what I have now if it hadn't been for football. I'm very realistic about that."
Friday night Strahan gets his jacket. ("The biggest thing for me is going to be not sleeping in it. That's going to be the biggest challenge.") Saturday, he gets to unveil his bronze bust and make his acceptance speech. And as the night's biggest star, he gets to be the last of its seven speakers.
"I know I'm not going to be the first one to cry, because I'm going to be the last one to speak," he joked Friday.
For Strahan and his fellow 2014 Hall of Famers, the whirlwind weekend was just beginning. But the experience already had his attention in a special way. And with Michael Strahan, that's no small feat.
August, 1, 2014
Aug 1
9:00
AM ET
By
ESPN.com staff
| ESPN.com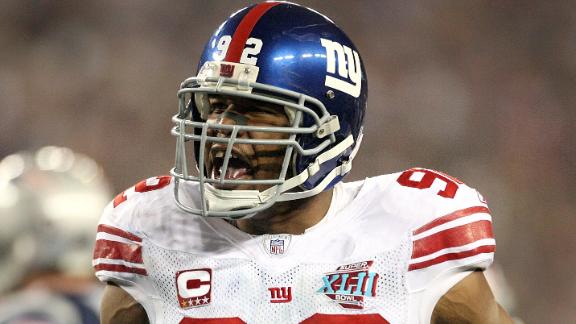 ESPN.com
New York Giants
reporter Dan Graziano says Michael Strahan, who will be enshrined in the Pro Football Hall of Fame on Saturday, fostered a positive, upbeat vibe that still pervades the Giants' organization.
February, 1, 2014
Feb 1
8:10
PM ET
This logjam at wide receiver might be hurting
Tim Brown
.
The Dallas native, who played for the Oakland and Los Angeles Raiders and the
Tampa Bay Buccaneers
, was a finalist for the Pro Football Hall of Fame, but missed out on election Saturday.
Instead, wide receiver Andre Reed, who played in four Super Bowls with the
Buffalo Bills
, got in along with six others. Reed was part of a logjam at wide receiver that involved Michael Irvin, Cris Carter and Brown.
Carter and Irvin are in the Hall, and you can add Reed to that.
But as the years progress, other receivers such as Randy Moss, Terrell Owens, Isaac Bruce and Torry Holt will be added to the mix. Of course Marvin Harrison missing enshrinement this year brings another name to evaluate at the position.
Brown wasn't the greatest receiver who played (Jerry Rice), or one of its biggest winners (Irvin), or a man who noted for scoring plenty of touchdowns (Carter), but he was a dominant force.
Brown is just one of eight players with at least 100 touchdowns in league history. He's also just one of eight men with more than 1,000 catches. Carter and Rice are the only two in the Hall on that list.
When it comes to yards, Brown has 14,934, sixth all-time. that's more than Harrison (14,580), Carter (13,899), Irvin (11,904), and Reed (13,198). However in the next few years when the Hall of Fame voters look at the numbers of Moss (third in yards), Owens (third in touchdowns) and Bruce (fourth in yards), will Brown get lost?
Reed getting into the Hall was well deserved for a man who played on four teams that reached the Super Bowl, and dealt with the frigid conditions of Buffalo late in the season.
Brown didn't deal with poor weather. He just had these great quarterbacks throwing to him: Jay Schroeder, Steve Beuerlein, Todd Marinovich, Jeff Hostetler, Vince Evans, Billy Joe Hobert, Jeff George, David Klingler and Donald Hollas.
Those men were before Brown turned 33, and the Raiders were able to finally stabilize the quarterback position with Rich Gannon.
In 1999, Browns' first season with Gannon as the quarterback, he caught 90 passes for 1,344 yards and six touchdowns.
Brown had nine consecutive seasons with at least 1,000 receiving yards, that's right, catching passes from guys like Hobert, George and Hostetler.
The career of Brown is wonderful, yet it's twisted around some other receivers whose numbers are comparable to his. Skill set can be debatable, but Brown missed out on the Hall, and given the type of receivers coming up in a couple of years, the logjam will continue to hurt him.
February, 1, 2014
Feb 1
7:30
PM ET
You sit back and try to figure this out.
Charles Haley
is a man who won five Super Bowls with two different teams. He won two with the
San Francisco 49ers
and three with the
Dallas Cowboys
. Haley wasn't some scout-team player backing up an elite player.
Haley wasn't some starter that was taken off the field on certain downs.
Haley was an every-down pass-rush specialist who dominated games. Yet, Haley was denied entry into the Pro Football Hall of Fame on Saturday.
It's really sad. This is Haley's fifth time being a finalist, and it's difficult to understand why he can't get in.
Let's review the stats of the matter: Haley's teams won 153 of 219 games. In 12 seasons he was part of 10 division titles, seven NFC title games, and of course, five Super Bowls.
He was a five-time Pro Bowler and named to the All-Pro team twice. In his career, Haley had 100.5 sacks.
Those are the numbers from an impressive resume.
Now, let's review the intangibles.
Haley changed the balance of power in the NFC when the 49ers tired of his antics and traded him to the Dallas Cowboys.
Getting Haley meant Dallas defensive end Jim Jeffcoat was either out of a job or had to come off the bench.
If you don't believe Haley made a major difference, this is what Jeffcoat said in the book "Boys Will Be Boys" about the Cowboys' dynasty in the 1990s, after hearing the Cowboys acquired Haley: "The more I thought about it, the more excited I became. Charles was a great player who needed to start, and I was comfortable being a sixth man. If anything, it would extend my career."
Jerry Jones' teams needed a defensive presence to go along with the Triplets. Haley was it. He was the driving force behind what the Cowboys needed. Haley won Super Bowls with a driving personality that can turn you off.
His antics are legendary and just embarrassing.
However, there is no disputing what he meant to a football team.
But I hope Haley's issues in the the locker room, and there were many, didn't affect voters on Saturday.
It's just hard to believe a man with his resume would get bypassed for the Hall of Fame.
There are eight Hall of Famers with more sacks than Haley. Does that mean they're better than him?
You can't tell me Rickey Jackson (128) and Derrick Thomas (126.5) were more dominant than Haley. Chris Doleman is fourth all-time in sacks with 150.5.
Is Haley better than him?
Simeon Rice (122) and Clyde Simmons (121.5) are not in the Hall and most likely will never get there. Rice is a three-time Pro Bowler and went five consecutive seasons with double-digit sacks. You can't tell me Haley isn't better than him.
Maybe one day, Haley will walk across the stage in Canton, Ohio.
One day.
February, 1, 2014
Feb 1
7:25
PM ET
NEW YORK -- The really special part of rooting for a team that wins a championship is the way it lives in your memory. That's the stuff that lasts. The game itself is a thrill, and you feel great when it's over and the next day and right on through the parade. But the "WE WON!" feeling fades, and what you're left with is the memory of how much fun it was. And memories fade. So when something happens to stir that memory, it's the feeling of the ultimate sports-fan payoff coming back to you years later. That's a treat.
For
New York Giants
fans of a certain age, Saturday's election of
Michael Strahan
to the Pro Football Hall of Fame is such a moment. It's not as though you ever forgot Strahan, or anyone else who helped knock off the unbeaten Patriots and deliver that improbable Super Bowl XLII title. But a night that celebrates Strahan's greatness is a night that brings back the memories of that game and reaffirms for the current generation of Giants fans their ownership of that particular place in NFL history.
Your fathers and grandfathers had Frank Gifford and Y.A. Tittle, Bill Parcells and
Lawrence Taylor
. Those are Giants Hall of Famers who meant something to the fans who watched them deliver their own great moments. They mean something to you if you appreciate your team's history, but if you're under, say, 40 years old, they're not really
your guys
. Your guys are Strahan and
Eli Manning
and Tom Coughlin and
Justin Tuck
and
Brandon Jacobs
and
David Diehl
and that indestructible offensive line. Your great Giants moments were written by
Victor Cruz
and Ahmad Bradshaw. Those are the guys you'll think of when you remember the greatest times you had as a Giants fan. When one of them makes the Hall of Fame, it gives you the chance to smile as it all comes rushing back to you.
It's hard to know how many of the players from the two most recent Giants championship teams will have a night like Strahan had Saturday. Not all of their résumés are yet fully written. But getting Strahan in gives this generation of Giants fans another chance to remember some truly great times. And those opportunities are always welcome.
January, 29, 2014
Jan 29
12:00
PM ET
On Saturday night in New York, Charles Haley will discover if he's going to be elected into the Pro Football Hall of Fame. Haley is a finalist for a fifth time since his retirement.
Former
New York Giants
defensive end Michael Strahan and
Tampa Bay Buccaneers
linebacker Derrick Brooks are favorites to get in from the defensive side.
Could those two men push Haley out?
Haley won five Super Bowls, three with the Cowboys and two with the
San Francisco 49ers
.
He was a five-time Pro Bowler and a two-time All Pro. Haley was considered one of the top players during his era.
His off-the-field issues, fights with teammates and members of the media, are well-documented, yet, there is no denying how much of an impact he had in the NFC when he joined the Cowboys.
Haley is tied for 28th in league history in sacks with 100.5; eight Hall of Famers are ahead of him in sack totals. Kevin Greene and Strahan have more sacks than Haley, and when Jason Taylor becomes eligible, he will too.
Three other Hall of Famers -- Warren Sapp, Howie Long and Andre Tippett -- have fewer sacks than Haley. Yet there is no disputing the impact Sapp and Long had on the game.
Tippett had a fantastic career and his defensive résumé is somewhat similar to Haley's. He was a five-time Pro Bowler and a two-time All Pro.
So maybe, just maybe, Haley gets in.
January, 29, 2014
Jan 29
12:00
PM ET
NEW YORK -- A friend called
Michael Strahan
last year on the night before the Super Bowl and told him he hadn't been elected to the Pro Football Hall of Fame on the first ballot. Strahan's reaction?
"All right, let's go get something to eat," the former
New York Giants
defensive end recalled Tuesday.
One of 15 finalists in this year's election, the results of which will be announced Saturday night, Strahan continues to insist that he doesn't give his Hall of Fame chances much thought until someone asks him about them. As the co-host of the syndicated morning talk show "Live! with Kelly and Michael," and a member of Fox's NFL pregame show, Strahan's card is extremely full these days. So he uses that fact to support his claim that he hasn't even imagined what it would feel like if he got a call this year telling him he made it.
"To be honest with you, I don't have enough time right now to imagine things," Strahan said. "I wake up, I work, I go to sleep and I wake up and do it again."
Strahan spoke Tuesday as part of Fox's pre-Super Bowl media availability with its on-air personalities. Earlier in the day, Hall of Famer
Warren Sapp
created a stir by saying he didn't think Strahan's case stacked up with those of others on this year's ballot. Strahan waved off Sapp's criticism by mentioning his 15 years in the the league, his 141.5 career sacks (a figure that ranks fifth in league history) and his belief that his career didn't tail off toward the end the way many do. And he said he believed making the Hall of Fame would be about more than just himself.
"This is about my family, my teammates, my coaches, the people who helped me get to this point," Strahan said. "I'm just trying to teach a lesson here that it isn't about yourself. I don't hang onto statistics from football. I've done everything I could do. So it's not up to me to vote whether I make it to the Hall of Fame. It's not up to the opinion of another player. It's howling into the wind, because who cares?"
If Strahan gets the votes he needs this time, he admits he could be singing a different tune come Saturday night. But if he doesn't, he's got plenty to do to keep his mind off of it for another year.
January, 29, 2014
Jan 29
8:30
AM ET
Yeah, the old
Michael Strahan
-
Warren Sapp
feud
resurfaced Tuesday
, which means it must be Super Bowl week. Strahan is up for Pro Football Hall of Fame election Saturday for the second year in a row, and Sapp, who got in last year, doesn't think he should make it.
I'm with Strahan on this one, in that I don't understand why Sapp would make this a cause of his. Part of it may be that he'd like to see his friend and former teammate
Derrick Brooks
get in instead, but this venom is too much to assign away simply to that. It's clear Sapp hates that Strahan holds the single-season sack record and that he believes
Brett Favre
handed it to him. But to hold that grudge for 12 years? And to continue it even after you got into the Hall of Fame first? Doesn't make a lot of sense to me. Maybe Sapp wanted to be the new Regis and is jealous that Strahan got the job instead.
Anyway, we'll have more on Strahan and his thoughts on the Hall of Fame later today, and of course we'll let you know what happens with the election Saturday night.
Meantime, as Jordan Raanan points out, there was
a smattering of a Giants presence
at Super Bowl Media Day, even without the Giants themselves here. I didn't watch the broadcast to see how P.R. man Pat Hanlon acquitted himself as a commentator. I hope he was as open about his feelings and opinions
as he is on Twitter
.