NFC East:

2014 NFC Camp Confidential
August, 11, 2014
8/11/14
11:01
AM ET
PHILADELPHIA -- The
Eagles
took a leap of faith last year, trusting that coach Chip Kelly's unorthodox ways would work at the NFL level.
That faith was rewarded with a 10-6 record, an NFC East title and a firm belief in how Kelly does things. So the Eagles entered their second training camp under Kelly feeling comfortable with his methods, but restless, because as
LeSean McCoy
and others put it, the season "ended too soon." The Eagles view their playoff appearance -- one-and-done against the
New Orleans Saints
-- with regret rather than satisfaction. And that's a good thing.
"I think if you're content with 10 wins and winning the division, you're probably shortchanging yourself and the team," Kelly said. "We did that. What's the next step? How can we improve upon that? We're trying to get a bunch of guys that are never complacent in terms of, 'All right, we've arrived.' We haven't arrived."
That lack of complacency has been evident in the early going at camp. The defensive players, who were figuring out where to line up in a new 3-4 scheme last summer, are beginning to play with some attitude this year. The offensive players, who feel challenged by concerns about the departure of wide receiver
DeSean Jackson
, want to prove they can pick up where they left off without taking any backward steps.
Practices are efficient, but up-tempo and challenging. Hitting is a thing of the past, but everything is done with a sense of purpose that is obvious to even the casual observer. That sense of novelty that hung in the air last summer has been replaced. These Eagles are all business, and determined to build on last year's progress.
THREE REASONS FOR OPTIMISM
[+] Enlarge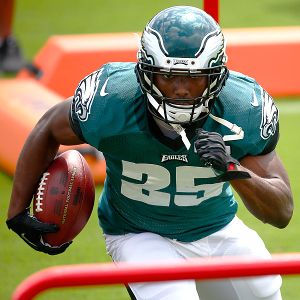 AP Photo/Matt RourkeLeSean McCoy looks as strong as ever in Eagles camp.
1. McCoy looks better than ever. After leading the NFL in rushing last season, McCoy decided he wanted to be a little quicker in 2014. He lost a few pounds and worked on his agility. The results show, even during routine camp drills. McCoy seems better at getting out into pass routes and catching the ball. He teases defenders who try to cover him, then got into a brief fistfight with linebacker
Trent Cole
after Cole knocked him over during a no-tackling drill. That's a lot of intensity for early August.
2.
Nick Foles
looks comfortable as the No. 1 quarterback. A year ago, Foles was the underdog in the competition against veteran
Michael Vick
. And Vick won the job. But Foles wound up starting 10 games, leading the Eagles to the division title and putting up amazing numbers. He might not throw 27 touchdowns and just two interceptions this season, but he doesn't have to. Foles seems to be in control of the offense during every session, and his teammates sound excited about seeing how good the former third-round pick can be.
3. The defense really seems to have received an injection of swagger during the offseason. Last year's transition from a 4-3 to a 3-4 meant a lot of people were playing out of position. Now the players seem acclimated to their roles. They also built some confidence after playing much better in the second half of the season. The tentative, awkward first six games now look like part of the process the defense had to endure. It survived, and the players seem to have grown from this experience.
THREE REASONS FOR PESSIMISM
1.
Jeremy Maclin
was never
DeSean Jackson
, so it's kind of unrealistic to expect him to replace Jackson's production -- 82 catches, 1,332 yards, 9 touchdowns. In fairness, Kelly expects a combination of players --
Darren Sproles
, rookies
Jordan Matthews
and
Josh Huff
, tight end
Zach Ertz
, as well as Maclin -- to make up for the loss of Jackson. But until someone shows the speed and big-play ability that made Jackson special and put a strain on defenses, questions about this offense will remain.
2. The Eagles didn't add much to a defense that ranked dead last in the NFL in passing yards allowed. Safety
Malcolm Jenkins
was a solid player with the Saints, but they let him walk and signed
Jairus Byrd
instead. First-round pick
Marcus Smith
shows promise as an edge defender, but he didn't exactly come into the league like
Jadeveon Clowney
. The Eagles are counting on overall improvement from their defense in Year 2 under coordinator Bill Davis, but it might turn out that some playmakers would have helped as well.
3. The Eagles caught some breaks last season that are unlikely to be repeated. The Giants had a decidedly off year, with
Eli Manning
especially struggling more than usual. Washington went through the end of the Mike Shanahan era, which rendered
Robert Griffin III
harmless. And Dallas was without QB
Tony Romo
the night the Eagles beat the Cowboys to claim the division title. A tougher schedule (Indianapolis, Seattle, among others) and a tougher NFC East could make for some serious challenges.
[+] Enlarge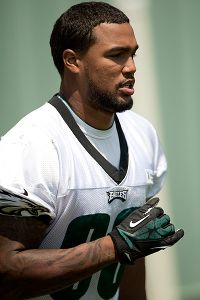 AP Photo/Matt RourkeThe expectations were kept low for first-round pick Marcus Smith, but he's fulfilled them.
OBSERVATION DECK
Marcus Smith came into camp as the Stealth First-Rounder, third-team on the depth chart and with no real pressure to make an impact this season. But that's all part of Kelly's methodology. To listen to teammates and coaches, Smith is having a very good first camp and should get a chance to make an impact right from the start. Better to be a pleasant surprise than a letdown.

Perhaps the hit of camp so far has been second-round draft pick Jordan Matthews, a 6-foot-3 wide receiver from Vanderbilt. It remains to be seen if Matthews can be as impressive when there's a safety bearing down on him at full speed, but the early signs are good. Matthews is smart, conscientious and possesses good speed and very good hands.

It's kind of a double-edged thing. If Allen Barbre is more than adequate at right tackle while Lane Johnson sits out his PED suspension, then the Eagles probably shouldn't have used the fourth pick of the 2013 draft on Johnson. But if Barbre can fill in competently for four weeks and Johnson can reintegrate with his linemates smoothly, the Eagles will have better depth on their offensive line.

It's hard to say how the competition between safeties Nate Allen and Earl Wolff is going. There has been no hitting so far. Wolff's occasional appearances with the first team turn out to be nothing more than the coaches getting a look at the various possible combinations. In other words, it will come down to game performance. Allen earned the upper hand with an interception during Friday night's preseason opener in Chicago.

Injuries tell a story. Last season, the Eagles had three ACL tears in the first week or so of training camp practices. This year, there have been no major injuries. Most of the injuries, in fact, have been to wide receivers. When there is little contact, you don't get major injuries. But the guys who have to do all the running wind up with muscle pulls and foot injuries.
August, 11, 2014
8/11/14
11:00
AM ET
OXNARD, Calif. -- Every move
Dallas Cowboys
quarterback
Tony Romo
has made in training camp has been watched. That's nothing new. What's new is how those moves are interpreted.
Coming off a second back surgery last December, Romo has not taken every training camp snap with the first team as he did coming off the first back surgery in the spring of 2013. It has led to confusion and speculation as to how much the 34-year-old quarterback has left.
What has been lost in the interpretations is how Romo has played when he has practiced. He has looked very much like the same quarterback who threw 31 touchdowns and just 10 interceptions last year.
Much has been made about Wade Wilson's comments about Romo's inconsistency on the deep ball in camp, but two of his noticeable throws have led to a deep completion and a touchdown. Romo threw 16 passes last year that traveled more than 31 yards. He had 25 in 2012. The Cowboys' passing game is not about go routes. It's about the intermediate game and Romo has no problems with those throws.
There should be natural concern as to whether Romo can make it through a season. Back injuries ended Troy Aikman's career at 34. Romo said he has another four, five or six years left in him. He has to follow a detailed protocol each day to make sure the back is strong. He takes multiple trips to the ice tub a day. He does specific hamstring, gluteus and abdominal exercises to strengthen his core and take the stress off his back.
Romo does not doubt he will be the same guy, but there are skeptics; just as there have been since he took over for Drew Bledsoe in 2006.
"Not everyone knows but once you have back surgery you kind of have to change the way you do things," Romo said. "You have to constantly work on your glutes, your hamstrings, your abs and strengthen everything around that area and so life will be different after that. But that doesn't mean you can't do the things that it takes to be successful on the field or whatever you want to do. There's been plenty of people who've done it. You just got to go do it. It just takes work."
THREE REASONS FOR OPTIMISM
[+] Enlarge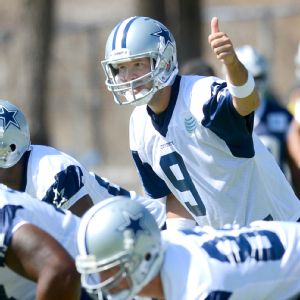 Jayne Kamin-Oncea/USA TODAY SportsTony Romo should benefit from the best offensive line he's had since 2007 -- if he can make it through the season.
1.
The Cowboys have their best offensive line since 2007 when Flozell Adams, Leonard Davis and
Andre Gurode
made the Pro Bowl. They have rebuilt the line over the past four years with three first-round picks in
Tyron Smith
(2011),
Travis Frederick
(2013) and
Zack Martin
(2014). They are big-school, prototype players and will give Romo time to throw the ball,
Dez Bryant
time to get down the field and
DeMarco Murray
space to run it. It will also give the defense plenty of time on the sideline. The commitment to the run by new playcaller Scott Linehan must be on display to truly believe the Cowboys will change their ways, but the line gives them a dynamic they have not had since Romo's first full year as a starting quarterback when they went 13-3.
2.
Last year, Bryant became the first Cowboys wide receiver with back-to-back 90-catch seasons. He also earned his first Pro Bowl spot. Over the past two years he has 25 touchdowns. In training camp he has been just as good if not better. Bryant can do things athletically that only a few receivers in the NFL can do with his size, speed and athleticism. He can run through and by corners. He can jump over and around them. He gives Romo the ability to throw a bad pass and turn it into a long completion. He still has to fine-tune his route-running, but he is taking the role of leader in the receivers' room seriously now that he is the most experienced Cowboy. Linehan's past with
Calvin Johnson
should also help shake Bryant free from certain double-teams.
3.
Not since 2002 have expectations been so low for the Cowboys, and that is a good thing. After missing their window for success from 2007 to 2010, the Cowboys have been overhyped for most of the past four playoff-less seasons. Because they have a visible owner, play on national television a ton and have recognizable names, many have kept calling the Cowboys one of the most talented teams in the NFL even if that wasn't true. After three straight 8-8 seasons and the losses of
DeMarcus Ware
,
Jason Hatcher
and
Sean Lee
on defense, calls for 6-10 or worse have been heard more than calls for anything better than 8-8. The Cowboys went 5-1 in the NFC East last year with the worst defense in franchise history. With just a tad better play defensively, the Cowboys believe they can make the postseason.
THREE REASONS FOR PESSIMISM
1.
Jerry Jones said more than once that the defense will be better in 2014 because it can't be worse than it was in 2013. Well, he's right. They can't be 33rd in a 32-team league, but the numbers can be worse. Without Ware and Hatcher, with
Henry Melton
coming off a torn anterior cruciate ligament and with
Anthony Spencer
doubtful to be ready for Week 1, the Cowboys do not have a proven pass-rusher. Losing second-round pick
DeMarcus Lawrence
was crushing. When Rod Marinelli's scheme has worked best, it's been because of the four-man pass rush. Without a dynamic rusher, the Cowboys will rely on waves of rushers but that is based more on hope than reality. With no pass rush, the secondary, which has concerns, could be exposed again.
2.
Jason Garrett is in the final year of his deal and Jones is in no rush to offer an extension. Nor should he be with Garrett posting a 29-27 record in three-plus seasons. Garrett has fended off questions about his future over the past year and Jones has expressed optimism that Garrett could be his long-term coach. If the Cowboys get off to a slow start, then Garrett's future could be an almost daily topic and become a distraction. Jones has said there is no playoff mandate for Garrett to keep his job. Garrett has done a good job re-tooling the roster and has had the Cowboys within a Week 17 win of making the postseason in each of the previous three seasons but hasn't gotten the job done. If he doesn't get it done in 2014, it's hard to imagine he will be around in 2015.
3.
If the Cowboys do not get off to a decent start with six of their first nine games at AT&T Stadium, then it could be a long year -- and the $1.2 billion stadium has not been much of a home-field advantage. Two of the first four opponents are San Francisco and New Orleans, among the favorites in the NFC. The Cowboys have a trip to Seattle and host Arizona, which was a 10-win team a year ago. Three of the last four games are on the road and December games have not been kind to the Cowboys.
OBSERVATION DECK
[+] Enlarge

Ron T. Ennis/Fort Worth Star-Telegram/MCT/Getty ImagesDistractions could loom large quickly for Jason Garrett if the Cowboys get off to a shaky start.
August, 11, 2014
8/11/14
11:00
AM ET
EAST RUTHERFORD, N.J. -- There's a tricky balancing act going on here in
New York Giants
training camp this summer. The team is trying its best to wash away the memory of a disappointing 7-9 season, but to do that they're asking for a lot of help from a lot of people who weren't even on that team.
"Obviously, we did a lot of work in the offseason and tried to turn the roster over a little bit," said Giants GM Jerry Reese, whose team signed more free agents than any other in the NFL this offseason. "But there are plenty of guys who were here last year for that 0-6 start and have a bad taste in our mouths."
Among those are quarterback
Eli Manning
, who threw 27 interceptions in the worst season of his career, and defensive end
Jason Pierre-Paul
, who struggled through back and shoulder problems and recorded just two sacks in the 11 games he played.
They are the biggest keys to potential success on each side of the ball for the Giants, and each has a fresh energy in this camp. Pierre-Paul says he's "110 percent" because he's fully healthy for the first time since October 2012. Manning is invigorated by the new scheme being installed by new offensive coordinator Ben McAdoo.
"It's different, and you come into the season a little nervous," Manning said. "It's a different feeling at this time of year than in previous years. We still have a lot of work to do, a lot to improve on, but I'm excited about that challenge."
Three reasons for optimism
1. The secondary:
The Giants spent big to upgrade at cornerback, signing
Dominique Rodgers-Cromartie
from the AFC champion
Denver Broncos
,
Walter Thurmond
from the Super Bowl champion
Seattle Seahawks
and
Zack Bowman
from the
Chicago Bears
. They also re-signed
Trumaine McBride
, who was a starter for them last season, and still have 2011 first-round pick
Prince Amukamara
. The Giants believe the cornerback group is a strength, and, on paper, it appears to be so. "Now," defensive coordinator Perry Fewell asked last week, "can we get them to play together?"
[+] Enlarge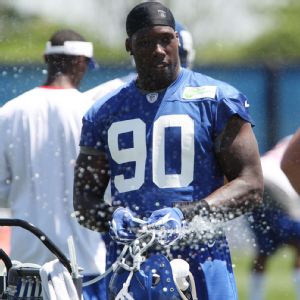 Noah K. Murray/USA TODAY SportsJason Pierre-Paul, fully healthy for the first time in nearly two years, is eager to regain his form and bolster the Giants' pass rush.
2. Jason Pierre-Paul:
The Giants had just 33 sacks last season, and
Justin Tuck
, who's now with the
Oakland Raiders
, had 11 of them. The pass rush has to improve in order for the secondary to thrive. That's why the Giants are so encouraged about the health and attitude of Pierre-Paul. Back surgery in June 2013 and a shoulder injury suffered in Week 10 last season combined to make it "a lost year" in Pierre-Paul's own words. But if he's back to full health, they have reason to hope he can return to the form he flashed in 2011, when he had 16.5 sacks and the Giants won the Super Bowl.
3. The line can't be any worse:
The total collapse of the offensive line was the biggest reason for the Giants' 0-6 start and 7-9 record in 2013. With
Chris Snee
having retired the day before camp, they have a question mark at right guard, but they believe they're better with
Geoff Schwartz
at left guard and
J.D. Walton
at center than they were in those spots last season. Moreover, the signings of veterans
Charles Brown
and
John Jerry
and the second-round selection of
Weston Richburg
have the Giants convinced their backups are better in case the line is ravaged by injury again. The key might be a rebound season for left tackle
Will Beatty
.
Three reasons for pessimism
1. Is it all too much too soon?
The Giants project to have six new starters on offense and six on defense, as well as a new offensive coordinator. They didn't dip their toe into the free-agent waters this offseason -- they dove in headfirst and stayed in until their fingertips wrinkled. Most teams -- including the Giants -- will tell you that big free-agent sprees aren't the way to build teams. They had to sign a lot of guys because their roster had hollowed out, but it's folly to think they could have possibly solved all of their problems in one offseason. There are likely to be lingering questions to answer next spring.
2. Inexperience on offense:
Rashad Jennings
has never been a No. 1 running back in the NFL.
Odell Beckham Jr
. is a rookie at wide receiver, and
Rueben Randle
is a starter for the first time there as well. They have no established starting tight end on the roster. They have inexperience at center and right guard, and right tackle
Justin Pugh
is entering his second NFL season. The new scheme is simple and quick and could be fun to watch, but there are reasons to wonder whether the Giants have the right personnel to make it all work.
3. Leadership void:
Many of the players who left or retired were significant leaders on the field and in the locker room. Tuck, Snee,
Terrell Thomas
and
Kevin Boothe
were all players to whom teammates looked for guidance in good and tough times.
Jon Beason
and
Antrel Rolle
return to captain the defense, and Manning takes a leadership role behind the scenes on offense, but the absence of several of the players who helped keep chins up during last season's 0-6 start as well as they did during recent Super Bowl runs creates a challenge for Tom Coughlin and his coaching staff.
Observation deck
Jennings is the clear No. 1 back, but now that neck injuries have forced David Wilson to retire, the Giants are trying to sort out the running back depth chart behind him. Their preference is for rookie fourth-rounder Andre Williams to show enough to claim the No. 2 spot. He looks good running the ball but not so good catching it, and, as any rookie back would, he has work to do in pass protection.

[+] Enlarge

AP Photo/Seth WenigRashad Jennings gets his first shot at being a No. 1 running back. Meanwhile, the Giants' depth chart behind him has yet to be sorted out.

Larry Donnell is leading the uninspiring pack at tight end, especially with Daniel Fells laid up with an injury. Donnell has the surest hands of the group and is a good downfield blocker, though he could stand to show more power at the point of attack in the run game.

Surprise young stars of camp include rookie fifth-round linebacker Devon Kennard, who could push for playing time at strongside linebacker, even after Beason returns from injury and Jameel McClain gets bumped back outside, and wide receiver Marcus Harris, who's making a strong push for the roster spot once thought ticketed for the still-gimpy Mario Manningham.

Beatty has done much more than the Giants expected him to do at this point in his recovery from his broken leg, and he's determined to put his disappointing 2013 season behind him. He has held his own against the revitalized Pierre-Paul in recent practices.

Jacquian Williams, once strictly used as a coverage linebacker in nickel packages, has progressed to the point where the coaches consider him their starting weakside linebacker in the base defense. His speed is a major asset.
August, 11, 2014
8/11/14
11:00
AM ET
RICHMOND, Va. -- The stories that have created a buzz this year wouldn't have been noticed much last summer. A fan collecting signatures on his arm and then having them tattooed. A rookie getting his head shaved rather than perform a skit for the rest of the team. Both stories drew national attention.
How different from 2013.
A year ago the focus was on
Robert Griffin
III's surgically repaired right knee, which seemed to be discussed -- heavily -- each day. It segued into a discussion on Griffin's relationship with his coaches, Mike and Kyle Shanahan -- from his trust level to how they were handling his return. Griffin would address the media; his coach might say something to contradict him; and, on one occasion, Griffin had to return to clarify comments.
By season's end the Redskins had become a reality show.
But with Jay Gruden in charge, the Redskins have been devoid of camp drama. Of course, a franchise on its sixth head coach since the 2001 season typically ends up finding drama. For now, the Redskins are enjoying a quiet summer.
"It's definitely about football right now. We're not in the headlines. I don't see us on the 'SportsCenter' ticker at the bottom every day," Redskins nose tackle
Barry Cofield
said. "It's a good feeling to just be focused on football and only fielding questions about players and their activities on the field."
Gruden's easygoing demeanor has provided the Redskins a fresh approach. Of course, everything could change if he loses a game -- or three in a row -- and the questions become harsher, the scrutiny greater. And if Griffin doesn't respond in this offense, well …
But, for now, Griffin looks closer to his old self and all is well.
"It's a normal head coach-quarterback relationship," Griffin said. "Jay brings a lot of energy. He's funny. He's personable. We're excited to have him here."
THREE REASONS FOR OPTIMISM

[+] Enlarge

Geoff Burke/USA TODAY SportsWith Robert Griffin III, right, showing his athleticism again, optimism at Redskins camp has been on high.

The Redskins have more speed offensively than a season ago. It's not just DeSean Jackson, it's Andre Roberts and quarterback Robert Griffin III. The Redskins' quarterback again is running like he did two years ago, when he was more of a dual threat before his knee injury. He's able to get more juice on his throws, at least when his footwork is right. Jackson's deep speed has been evident and he has shown the ability to immediately adjust when Griffin scrambles. Not all wideouts do so. Roberts is more of a threat underneath and the Redskins have hurt the defense a couple of times with short throws against blitzes, allowing the speed guys to catch and run.

During camp, the Redskins have spent more time during individual drills on teaching fundamentals, whether it's blocking by the tight ends or pass rushing with the outside linebackers. In the past there was more prepping guys on assignments. The outside linebackers, for example, have received much more pass-rush instruction -- focusing on all aspects, such as hand placement, get-off and how to use their inside arm at the top of the rush. It's a good long-term strategy. The Redskins need and want more production from their outside linebackers, Ryan Kerrigan and Brian Orakpo. Both can be helped by a little extra knowledge and refinement of their rushes. The extra teaching has made a big difference inside with Keenan Robinson, too.

It's difficult to get a full sense of the run game in camp because there's no real live tackling. But in the practices against New England and then in the preseason opener it was evident that this should be a strength. Aside from one addition (left guard Shawn Lauvao) it's the same group and they're using the same run game as the past several years. It's clear the line works well together in the run game and then gets a boost from tight end Logan Paulsen and fullback Darrel Young, who continues to improve as a blocker. The Redskins need the run game to be their focal point. It's the most consistent part of the team.
THREE REASONS FOR PESSIMISM
For whatever reason, there have been too many times when Griffin has not unloaded the ball. It was more pronounced early in camp, but it remains an issue worth watching. It's hard to always know why he didn't throw the ball -- no one open? Pressure? And his ability to extend plays will be crucial in games, so it's also hard to know how much to extrapolate from this. But there have been times when the protection has broken down and there have been times when Griffin needed to unload the ball or make a different read. Griffin's maturation as more of a pocket passer will take time, as the Redskins have pointed out many times.

Age and injuries. This isn't going to change and will be a concern for a while given the Redskins have some age on their defense (five likely starters 30 or older). Defensive end Jason Hatcher, 32, missed the first two weeks of camp. Safety Ryan Clark missed the preseason opener with a hamstring issue. Clark's on-field leadership matters a ton, so when he misses time it's a loss. You can't panic because he has a sore hamstring, but when a player is 34 it makes you wonder about his durability. The Redskins need the younger safeties to develop because they will be needed. They also need Hatcher to work with the other pass-rushers to establish a rhythm when it comes to stunts and games. Jackson, too, has dealt with minor leg injuries since joining the Redskins, once in the spring and twice in camp.

When there's a first-time head coach and a lot of new assistants, and you're coming off a 3-13 season, there will be growing pains. It's not just the coaching staff; you see it with some players. Linebacker Keenan Robinson, for example, will help because of his size, speed and athleticism -- he's taken plays away in practices and the preseason opener with that combination. But he has to experience so much more to be consistently effective; he was fooled a few times in practice by New England's play-action passes; he needs to prove himself as a run defender. We haven't seen Hatcher work with the other linemen yet. And while Gruden's demeanor has received praise, there's no way to know how it will play out in the season. The Redskins have faced no public issues yet that had to test him.
OBSERVATION DECK
[+] Enlarge

Geoff Burke/USA TODAY SportsThe size of TE Jordan Reed should be a factor for the Redskins near the goal line.

Inside linebacker Perry Riley has had a strong camp and played fast in the preseason opener. New inside linebackers coach Kirk Olivadotti was the right hire for this group.

One important development has been the play of defensive tackle Jarvis Jenkins. The Redskins need more help collapsing the pocket and Jenkins has done so this summer. They need this to continue once the regular season starts. Jenkins' ability to collapse the pocket helped Brian Orakpo record a sack against New England in the preseason opener. Patriots quarterback Ryan Mallett was forced up but had little room thanks to Jenkins. The Redskins have been waiting for the former second-round pick to show something the past two seasons. Now he needs to do it again during this season.

The Redskins have small receivers and I wonder how often that will be an issue. Of their top six receivers, none is taller than 6 feet (Pierre Garcon). He's the only real physical player of the bunch, too. It's why tight end Jordan Reed will be a pivotal player on third downs and in the red zone. His size and quickness enable him to win quickly.

I don't see any of the starting offensive linemen losing their jobs anytime soon. Guard Spencer Long could be ready to start at some point this season. He's not there yet.

Ryan Grant has impressed all summer thanks to his route running; he's much savvier than most rookies. He does the subtle things well to create separation, like coming back for the ball. It'll be a test for him when he faces starting-caliber corners, but if he can adjust then he'll be a nice find.

The tackling was so much better in the preseason opener and the misses the Redskins did have were covered up by more gang tackling. This needs to continue. It's not as if the Redskins have had an extremely physical camp, but it's been more than in the past and perhaps that helped.

Safety Ryan Clark is every bit the leader everyone anticipated; the players tease him quite a bit about his ESPN persona. When the season begins I think they'd like to see more of the non-ESPN Clark.

Corner DeAngelo Hall truly enjoys playing the role of wise veteran. He hasn't played with many winning teams, but he has lasted awhile and evolved his mindset over the years. He prodded corner David Amerson to work harder in the offseason; the young corner responded.