May, 12, 2014
May 12
10:15
AM ET
IRVING, Texas -- For all of the talk about the
Dallas Cowboys
drafting a quarterback, they never really considered selecting one.
[+] Enlarge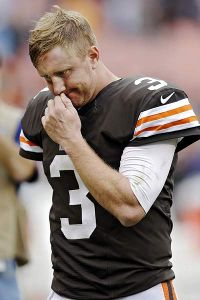 Tony Dejak/AP PhotoThe Dallas Cowboys are viewing 30-year-old backup Brandon Weeden as their "developmental quarterback."
After the first round, owner and general manager Jerry Jones said picking
Johnny Manziel
, "wasn't even a thought," despite loving the former Texas A&M quarterback who ended up with the
Cleveland Browns
.
The Cowboys liked several lower-round quarterbacks, such as
Tom Savage
, but passed on all of them. The Cowboys have not drafted a quarterback since taking
Stephen McGee
in the fourth round of the 2009 draft. Since 1989, the Cowboys have drafted only four quarterbacks:
Troy Aikman
,
Bill Musgrave
,
Quincy Carter
and McGee.
Steve Walsh
was taken in the first round of the 1989 supplemental draft.
With
Tony Romo
coming off his second back surgery and
Kyle Orton
's future in question, many thought the Cowboys would take a shot at a quarterback.
"We feel in signing
Brandon Weeden
, he can be viewed as that developmental guy," coach Jason Garrett said. "A first-round pick a couple of years ago, coming from a baseball background, has all the physical tools you want. We view him as in that role right now, so we wanted to be selective about anybody else we wanted to bring in here."
So no Savage, no
Aaron Murray
, no
AJ McCarron
. The Cowboys did sign
Dustin Vaughan
as an undrafted free agent and he was on their draft board.
At quarterback, "the best players who play typically come from the top rounds," Garrett said. "I do think with how the league has changed, there is a demand to play those guys earlier and that changes the dynamic of taking your time to develop guys year after year and they play in years four and five. The thing you're concerned about is developing them for somebody else. You develop them for two, three, four years and he goes and plays for another football team. We don't think that's a worthwhile thing. There's been a theory around the league, teams like Green Bay for years always took a guy late and if that player develops into something that was a good thing for their team or to trade to somebody else. There were some examples of them doing that. It's a philosophy a lot of teams, they agree with that. But when you have other issues on your team I think it becomes a little bit of a luxury to do that. When you feel good about your starter and you feel good about your backups, we feel it's better to take a position player, a guy we know can contribute on special teams, instead of trying to develop that guy [quarterback]."
May, 5, 2014
May 5
11:00
AM ET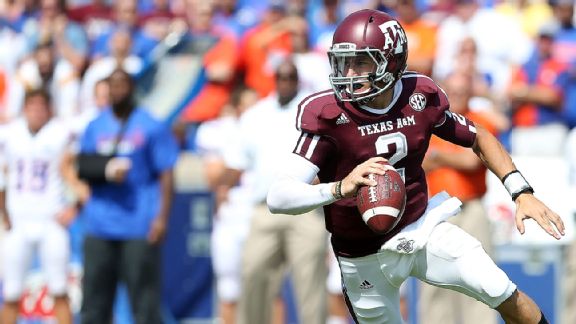 Ronald Martinez/Getty ImagesIs Tony Romo's back enough of a concern for the Dallas Cowboys that they'd take a flier on the media circus that would come with drafting quarterback Johnny Manziel?
IRVING, Texas --
Johnny Manziel
is the most polarizing player in this draft, so naturally people believe he will end up with the
Dallas Cowboys
, the most polarizing team in the NFL.
With the first round coming fast, ESPNDallas writers take a roundtable look at what a union of the Cowboys and Manziel would mean.

Todd Archer:
Let's make an huge assumption here that Manziel will be available at No. 16 when the Cowboys pick in the first round. I ask this question first: Should the Cowboys pick the Texas A&M quarterback? We'll get to "Would the Cowboys pick him?" in a second.
My take is, yes, the Cowboys should take him, and I'm not even thinking about the marketing opportunities and off-field stuff that Jerry Jones thinks about. From a football standpoint, I'd argue it would be a great value pick. There is no way the
Green Bay Packers
thought they would get
Aaron Rodgers
in 2005 late in the first round, but they took him even when
Brett Favre
was playing well.
Tony Romo
is 34 and coming off two back surgeries. I think he'll be fine and return to form, but what happens if he doesn't or he takes a big hit in Week 8 and is down for the year?
Jerry always tried to find a quarterback on the cheap after
Troy Aikman
retired and he never found a guy until Romo. And that was lucky. I think he'd be lucky again if Manziel were there at No. 16.
Calvin Watkins:
I don't believe the Cowboys should take him. No. 1, I don't believe he'll fall to No. 16 or even out of the top 10. If he does fall to No. 16, the Cowboys should either bypass him or trade down. This team has bigger holes to address such as secondary and defensive line before quarterback. There are quarterbacks later, such as
Aaron Murray
from Georgia, who can be taken in the second or third round. Yeah, I know Romo is coming off back surgery and he's 34 and all of that. It's a back injury and you never know about backs. However, getting Manziel at No. 16 isn't worth it to me. You can find a good quarterback to groom in the later rounds.
Tim MacMahon:
Heck, yes. If you can get a guy you feel is a franchise quarterback in the middle of the first round, you do it, especially when the fate of your franchise rests on a 34-year-old back that has been operated on twice in the past year. This isn't about trying to run Romo out of town. It would be a chance to extend the window of having a Pro Bowl-caliber quarterback another decade or so, an opportunity the Cowboys shouldn't pass up after navigating that rickety bridge from Aikman to Romo. It would be complicated for a couple of years because of Romo's massive contract and the potential chemistry issues that Roger Staubach mentioned, but it would be well worth it if Manziel can make plays in the NFL like he did in the SEC.
Jean-Jacques Taylor:
No. No. No. A thousand times no. This team has way too many holes to draft a quarterback in the first round to sit behind Romo for at least three years. That makes absolutely no sense. When Green Bay drafted Aaron Rodgers and let him sit, they were a contender. They could afford to do it. There's a good chance Jason Garrett gets fired at the end of next season if he's not in the playoffs. Do you think he wants to take a first-round pick and stash him for the next coach? Heck, no. This was the worst defense in the universe last year. Are they really going to miss out on a chance to help it to draft a quarterback who may or may not be a star?
Archer:
OK, let's move on to the second part of the question: Would the Cowboys take Manziel if he is there at No. 16?
I believe they would. We always talk about how the Cowboys should draft a quarterback every year, so now when they could do it, we're going to say, "No, not that guy?" I don't think the next Cowboys quarterback will be developed by this team. In other words, a middle-round pick who sits for a few years and takes over. Almost all of the top quarterbacks come from the first or second round. The Cowboys would have Manziel ready to go without the burden of having to carry the franchise early on. He is skilled. He has ability. And he is a draw. I do think it would be incumbent on the coaches to manage this thing the right way because the second Romo throws a poor pass, fans will be calling for Manziel. You can't operate that way.
Watkins:
Say the Cowboys do take him, which I doubt, can you imagine if Romo has a bad game? He has been known to have them from time to time. Garrett would be under pressure to send Manziel into the game when he's not ready. Then if he does use Manziel, you've got a media and fan circus. The Cowboys have endured their own type of drama from Terrell Owens, Pacman Jones, Romo's own issues, Jerry Jones and how he runs the franchise among other things, but a quarterback drama isn't fun for anybody. Having Manziel around isn't fun. But if Jerry drafted him he wouldn't care, it would be about the business of marketing and not the business of football.
MacMahon:
Well, that might depend on who gets the last word in with GM Jerry. I can't imagine Garrett, a head coach fighting to keep his job as he enters the last season of his contract, would be thrilled with the idea of using a first-round pick on a guy who might be holding a clipboard and still drawing a media horde as a rookie. But Stephen Jones seems just as enamored with Johnny Football as his father is. I don't think Jerry could help himself if Manziel were available when the Cowboys are on the clock. A strong football argument can be made for Manziel as a fit, and it'd be a home run for the marketing department. And we all know the Cowboys' GM cares about marketing almost as much as he does about football.
Taylor:
Jerry loves collecting baubles. We know this.
Dez Bryant
was a bauble. So was Terrell Owens. And Rocket Ismail. He loves any marketing aspect that added more cash to the family treasure trove. I can absolutely see Jerry using the force of his personality to persuade Garrett and vice president Stephen Jones the right move to make is adding Johnny Football to the roster, even though he's going to sit for multiple seasons and wouldn't make an impact on the team unless Romo was hurt. Hey, at least the preseason games would be sold out.
Archer:
Let's be honest, he won't be there at No. 16 and I think we all believe it would cost too much to trade up to get him, so who takes Manziel and why is he a better fit there than with the Cowboys?
I'm going with Jacksonville. They need a quarterback and they need a draw. It's probably not the most sound football decision to think of it like that, but the Jaguars have no juice. Manziel would give them some juice. And the Cowboys will see him at Wembley in November. Perfect.
Watkins:
It's interesting, but when I read Ourlads' mock draft, it didn't have Manziel going until No. 26 to Cleveland. But when I look at the top 10, I can see six teams taking him. I think Cleveland takes him at No. 4, but you have to wonder about the weather in the AFC North. Manziel hasn't played in that on a regular basis in college. Can he produce in cold weather in Pittsburgh and Baltimore in November and December? Oakland seems logical as well at No. 5.
Matt Schaub
should start in 2014 and Manziel would get his chance the following year. It's just no easy place for him to go. Houston, I don't believe, thinks Manziel is better than the two defensive players. So, I guess to answer this question, I think Cleveland takes him at No. 4.
MacMahon:
I think the Browns take him at No. 4. The Browns have been searching for a franchise quarterback since cutting
Bernie Kosar
, and drafting Manziel would fire up a rabid fan base desperately searching for a reason to be optimistic. Strange as it sounds, I also see Cleveland as a team that would give Manziel a chance to succeed early in his NFL career.
Josh Gordon
just led the NFL in receiving yards as a 22-year-old despite dealing with a QB rotation. Tight end
Jordan Cameron
is coming off a Pro Bowl season as a 25-year-old. The Browns have two Pro Bowl offensive linemen -- left tackle
Joe Thomas
and center
Alex Mack
-- who are in their prime. And Cleveland addressed its need for a running back by signing
Ben Tate
. Add an electrifying quarterback, and the Browns might actually have one of the NFL's most explosive offenses.
Taylor:
On the surface, Jacksonville should be really intrigued by Johnny Football because they need a quarterback and they need someone to put butts in seats. They're going to be bad again, so they need a playmaker on offense. That said, coach Gus Bradley is a defense-minded dude, so he'll probably go defense and take Buffalo linebacker
Khalil Mack
. That leaves Johnny Football to Cleveland. The Browns have a really good, young defense. They have a young star in receiver Josh Gordon. What they need is a triggerman. Since 2002, the Browns have had 10 different players lead them in passing, which is not a positive. If he's the star some project, Johnny Football will turn that franchise around and he'll own the city.
May, 3, 2014
May 3
12:00
PM ET
April, 22, 2014
Apr 22
12:45
PM ET
IRVING, Texas -- Before people get carried away with
Kyle Orton
's absence from the
Dallas Cowboys
' offseason program, two factors need to be put out there: the workouts are voluntary and he missed just one day.
But the Cowboys should not look at Orton's absence as a one-day deal. They should take a worst-case scenario look at it. They need to determine whether Orton really wants to play football in 2014, despite what they heard from the player's agent and the fact Orton would be walking away from $3.25 million.
[+] Enlarge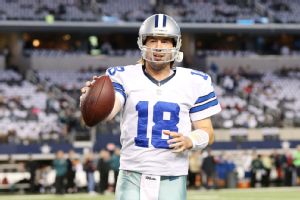 Matthew Emmons/USA TODAY SportsGiven some of the current uncertainty surrounding backup Kyle Orton, should the Cowboys look to select a quarterback in next month's draft?
It could be as simple as him not wanting to play anymore. He is the second-highest paid backup quarterback in the NFL behind
Matt Moore
($4 million) of the
Miami Dolphins
, so money wouldn't seem to be an issue. He has been content in his role as a backup to
Tony Romo
, so opportunity wouldn't seem to be an issue.
Undoubtedly the Cowboys have spoken directly to Orton this offseason with the whispers of him thinking about retirement. What was discussed is not known. Did he tell them he would play or not play?
Orton holds the cards here because he does not have to show up until the mandatory June minicamp. If he does not report for that, then he would face fines up to close to $70,000. If he does report, what kind of condition is he in?
The Cowboys can trade him or release him. What kind of return would they get for a player who may or may not report to a new team? If they release him, then they would forfeit the right to pick up $3 million of the $5 million signing bonus he received in 2011. After the
Jeremiah Ratliff
fiasco, you would think the Cowboys would be more vigilant in these kinds of cases.
They could keep him and hope he arrives at the June minicamp in good shape and is ready to go when the team reports to Oxnard, Calif., for training camp. Hope, however, should not be their strategy.
Yet there is a more immediate question raised from Orton's absence. Does it push quarterback up the ladder when it comes to the draft?
The Cowboys signed
Brandon Weeden
to a two-year deal in the offseason with no signing bonus. They liked him coming into the 2012 draft, but not as much as the
Cleveland Browns
liked him. He had more interceptions than touchdown passes, but the Cowboys have taken a no-risk look at him.
What can they learn about Weeden before the draft? Not much. Coaches are not allowed on the field with the players until Phase 2 of the offseason program, which comes the week of the draft.
The Cowboys attended
Aaron Murray
's workout at Georgia last week. They talked with
Jimmy Garoppolo
and
David Fales
at the NFL scouting combine. They had a number of quarterbacks at their Dallas Day workouts last week in
Garrett Gilbert
,
Casey Pachall
and
James Franklin
, but they did not have a quarterback among their national visitors.
The Cowboys aren't exactly being held hostage by Orton, but his decision (or indecision) could go a long way in how they plan to attack the draft.
April, 16, 2014
Apr 16
10:05
AM ET
The
Dallas Cowboys
have three quarterbacks on their roster and expect to keep it that way when the 2014 regular season begins.
However, it doesn't mean the Cowboys won't look at some quarterbacks.
Team officials are in Athens, Ga., on Wednesday looking at University of Georgia quarterback
Aaron Murray
. Among the officials in attendance is Cowboys' quarterbacks coach Wade Wilson.

Murray
There is no expectation the Cowboys will draft Murray in the later rounds of next month's draft, but the team is doing its due diligence, much like it did two years ago with
Brandon Weeden
.
When Weeden was entering the draft from Oklahoma State, Cowboys officials met with him and kept watch from afar. After Weeden was released by the
Cleveland Browns
this spring, the Cowboys jumped at the chance to sign him because they had done the research necessary to make a move.
With the amount of money invested in starting quarterback
Tony Romo
and backup
Kyle Orton
, the team isn't trying to draft a quarterback in the first two rounds. Finding a future replacement for Romo isn't a high priority, but they are looking for a quality young backup. Though Weeden is 30, he has only two years of NFL experience, so that justifies the Cowboys signing him.
Also, the Cowboys are expected to void out the last few years of Orton's contract, making him a free agent after the 2014 season.
Murray is projected as a middle-round draft selection, but ESPN's Jon Gruden was impressed with him.
Gruden said Murray, who is fully recovered after tearing his ACL in his left knee last November, has deep-ball accuracy, good touch on the ball and will be "the steal for somebody" in the draft. Cowboys' officials aren't in love with Murray's height, 6-1, but they believe he's got a strong enough arm to make the necessary throws in the NFL.
Murray is the all-time leading passer in SEC history and holds the school record with 121 career touchdowns.
The Cowboys haven't met with any of the top quarterbacks at Valley Ranch during their 30 pre-draft visits. It could be a smoke screen, or the simple fact the team isn't drafting a quarterback.
Team officials are quite familiar with all the top quarterbacks, and their closer look at Murray might not mean anything now, but could be something for the future.
April, 5, 2014
Apr 5
12:00
PM ET