February, 13, 2014
Feb 13
3:00
PM ET
PHILADELPHIA -- Midway through the 2013 NFL season, SI.com's Peter King took a look at a league-wide trend and concluded, "Kicking field goals is too easy."
King didn't spend that much time in Philadelphia.
It wasn't so much that
Alex Henery
did a terrible job as the
Philadelphia Eagles
' kicker. He made 23 of 28 attempts, a success rate of 82 percent. But the more telling number wasn't the 23. It was the 28.
[+] Enlarge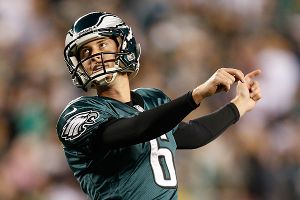 AP Photo/Brian GarfinkelAlex Henery has attempted just five field goals of at least 50 yards in his three NFL seasons.
The best kickers in the league don't just make 90 percent of their attempts. Their range and success rate give coaches the confidence to turn to them in all kinds of situations, at ever greater distances. New England's
Stephen Gostkowski
didn't just make 15 more field goals than Henery; Gostkowski attempted 13 more.
Henery attempted just two field goals of 50 yards or longer, making one. Gostkowski attempted six. Baltimore's
Justin Tucker
attempted seven. So did Green Bay's
Mason Crosby
and Dallas'
Dan Bailey
.
When the Eagles lost to the
New York Giants
at home in October,
Matt Barkley
was playing quarterback in relief of
Michael Vick
. Late in the second quarter, Barkley drove the Eagles to the Giants' 27 before being sacked for a 5-yard loss.
Instead of trying a 50-yard field goal with wind swirling, coach Chip Kelly decided to go for a fourth-and-12. Barkley dropped the snap and threw an incompletion.
Now it goes without saying that Barkley could have made better plays on third and fourth down. Taking the sack probably changed Kelly's strategy. But would the Patriots, Packers, Ravens, 49ers or Cowboys have balked at trying a 50-yard field goal?
The guess here is no. A week earlier, Kelly had made the second-guessable decision to have Henery try a 60-yard kick late in the first half against Dallas. He missed.
A coach without complete confidence in his kicker is like a baseball manager with a shaky bullpen. The ripple effect on his decision-making is constant.
Henery also missed a 48-yard field goal in the Eagles' 24-22 playoff loss to the Saints. His kickoff to the shallow end zone resulted in a long return that set up the Saints' game-winning score.
Henery presents a bit of a conundrum for the Eagles. They invested a fourth-round pick in him in the 2011 draft. At 26, he is still at the point in his career when many kickers find themselves. Is it better to take the risk that he will do just that with the Eagles, or the risk that he will do it for some other team?
Most of the top kickers in the league right now were undrafted. Gostkowski, like Henery, was a fourth-round pick. Green Bay's Crosby was a sixth-round pick. The more typical route is to be signed as a rookie free agent and bounce around until finding the right combination of opportunity and success.
Seattle is
Steven Hauschka
's sixth team. Denver is
Matt Prater
's third.
So the Eagles will almost certainly bring in a kicker to compete with Henery, something they didn't do last year. But it seems unlikely they will use a draft pick, unless somebody they really like -- Chris Boswell from Rice or Anthony Fera of Texas, maybe -- is sitting there in the sixth or seventh round.
Hauschka is to become a free agent, but will likely remain with the defending champions. Veterans
Adam Vinatieri
and
Phil Dawson
should be on the market. One intriguing name is
Dan Carpenter
, who had a good season in Buffalo. If the Bills re-sign Carpenter, that could make
Dustin Hopkins
, their sixth-round pick from Florida State last year, available.
Kickers are out there. The Eagles have a decent one. The question is whether that's good enough.
July, 1, 2011
7/01/11
1:04
PM ET
I asked, and the consensus answer was something like, "Sure, why not?" And so we conclude our position-by-position series on potential four-year free agency and the NFC East with a look at kickers and punters. Yeah, even with content hard to come by these days, I couldn't justify splitting them into two posts.
NFC East teams in need
Cowboys
: They're set at punter with
Mat McBriar
, but while they're obviously invested in kicker
David Buehler
, they brought in veteran
Kris Brown
to see if they could put some pressure on Buehler to be better. The new kickoff rules could make Buehler's saving grace -- his ability to drill touchbacks on kickoffs -- less valuable than it used to be, which means making field goals is the only way he's going to keep his job. If he flops badly, it's possible Dallas looks at someone on this list since Brown likely isn't the answer either.
Giants
: Set at kicker with
Lawrence Tynes
, and committed to
Matt Dodge
at punter but you wonder for how long. Following
Jeff Feagles
was never going to be an easy assignment, but as big as Dodge's leg is, his directional gaffes last year were too much for the Giants and their fans to stomach. Not kicking the ball out of bounds against
DeSean Jackson
and the Eagles in that Meadowlands game wasn't the first mistake -- just the worst and least forgettable. Dodge is likely to start the season with the job, but the Giants might want to keep their eye on this list in case they need to make a midseason move.
Eagles
: Situation very much in flux in Philly, where they drafted kicker
Alex Henery
, likely signaling the end of the Eagles career of the great
David Akers
. Punter
Sav Rocca
, is also a free agent and could decide to retire rather than punt again at the age of 38. Bet on the Eagles going with Henery at kicker and bringing back Rocca on a one-year deal, but if Rocca won't have it, they'll need to go shopping.
Redskins
: Well, they have guys at both spots. But
Graham Gano
is coming off a bad year as the kicker, and they could theoretically look to replace him. They have two punters on the roster --
Josh Bidwell
and
Sam Paulescu
-- so they should be able to come up with something out of that.
Top five potential free-agent kickers
1.
Adam Vinatieri
, Colts
2.
Ryan Longwell
, Vikings
3. Akers
4.
Matt Bryant
, Falcons
5.
Shayne Graham
, Patriots
Top five potential free-agent punters
1.
Adam Podlesh
, Jaguars
2.
Ben Graham
, Cardinals
3.
Steve Weatherford
, Jets
4. Rocca
5.
Michael Koenen
, Falcons
Predictions that mean nothing:
At least three of these teams will change kickers and/or punters between now and the end of the 2011 season, but I'm not saying which because kickers and punters are totally unpredictable. Akers leaves the division, though, I predict, though Dallas fans might wish their team would snag him.