September, 13, 2013
Sep 13
12:00
PM ET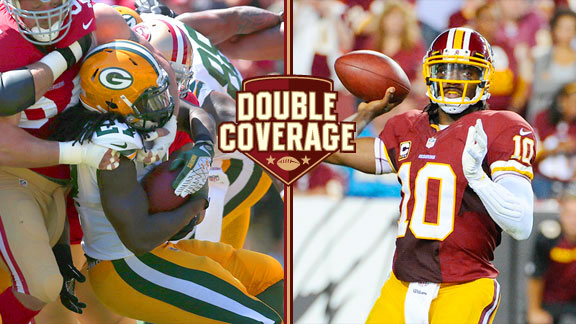 AP Photo, Getty ImagesEddie Lacy, left, and Robert Griffin III are among the keys to Sunday's Packers-Redskins matchup.
The
Green Bay Packers
and
Washington Redskins
, NFC division winners last season and playoff hopefuls this season, both lost in Week 1.
That means, barring a tie, when they meet Sunday at Lambeau Field, one of these teams will be in an 0-2 hole to start this season.
"It's not about, does it make or break your season," Redskins quarterback
Robert Griffin III
said this week.
ESPN Packers reporter Rob Demovsky and ESPN Redskins reporter John Keim break down the key elements to this matchup.
Demovsky:
John, let's get right to perhaps the most closely watched knee rehabilitation in recent NFL history. You've watched Griffin's every move in his comeback from the knee injury. You have chronicled practically every step he has made since, and by now, you've dissected the film of Monday night's loss to the
Philadelphia Eagles
. What limitations, if any, did he play with?
Keim:
Griffin did not look the same and showed the effects of not playing in a game in the preseason -- and of recovering from major knee surgery in January. Was his knee 100 percent? Everyone says it is, including the doctors. But his game was not 100 percent, as should be expected. Jon Gruden pointed it out a few times on Monday night, showing how Griffin wasn't always transferring his weight onto his front leg when he threw. In some cases, the line was getting shoved back and provided him no chance to step into a throw. But it was evident early, even when he had that room. It seemed like his reactions in the pocket, especially early, were not where he would want them to be. He also made the worst passing decision of his career, throwing an interception into triple coverage to a receiver who never even appeared open. He finished strong, though most of the passes he completed during this stretch were short throws. Still, he showed a better rhythm. It's going to take him a few games.
The Packers just played a mobile quarterback; how did they take away
Colin Kaepernick
's legs -- and how did it leave them vulnerable to the pass?
Demovsky:
The Packers did a good job limiting Kaepernick's running opportunities by playing a lot of zone coverage. That kept the defenders' eyes on the quarterback, and they rarely had their backs turned to him. However, that meant they couldn't play as much press coverage as they normally would, and the result was that they gave up massive amounts of yardage to receiver
Anquan Boldin
, who caught 13 passes for 208 yards, and allowed Kaepernick to throw for 412 yards. Now, it should be noted that the Packers were missing two key players in the secondary, safety
Morgan Burnett
and cornerback
Casey Hayward
, who both missed the game because of hamstring injuries.
How much, if anything, do you think Redskins can learn from watching the way Kaepernick and the 49ers attacked the Packers?
Keim:
I'm sure there is a lot to learn, but I wouldn't be surprised if they anticipate different looks in the secondary because of who might be back for Green Bay and because Griffin needs to prove himself as a dynamic threat again. Until he does, I wouldn't be surprised to see teams play him more aggressively, or at least without as much fear. I'm not sure how long that will last; until he makes them pay, I suppose. But I also think what Washington needs to do more than learning from Green Bay's game is learn from its own. The Redskins killed themselves with penalties and poor decision-making. That meant their bread-and-butter run game could never get going, and their offense sputtered until it was 33-7.
Are Burnett and Hayward expected to play Sunday? If so, how big a difference will that make for the Packers?
Demovsky:
Hayward won't play. He already has been ruled out and is likely to miss at least another game or two. This is the second time he pulled the same hamstring. The first time, he missed a month. He reinjured it Aug. 23, and if it's as severe, he could be out for a while. Last season, his six interceptions were huge for the defense. Burnett's injury didn't seem as bad, and it was somewhat surprising that he missed the 49ers' game. The Packers hope he can play, because their safety play with
M.D. Jennings
and
Jerron McMillian
was subpar at San Francisco.
Speaking of the secondary, the Redskins were 30th in the NFL last season in passing yards allowed. Are there any signs that will improve this season? I would think
Aaron Rodgers
would be licking his chops to play against this defense.
Keim:
It's debatable how much they've improved. Long term? I think they'll be helped because two rookies -- starting free safety
Bacarri Rambo
and cornerback
David Amerson
-- are playing key roles. Rambo's big issue is tackling, mostly in the open field. His coverage has mostly been fine, but I don't think he's been challenged in a way that Rodgers could on Sunday. I like Amerson's future, if he remains disciplined with his technique. He's a better tackler than anticipated. But Washington has issues at strong safety because of
Brandon Meriweather
's constant injury issues (missed Monday with a groin injury). The Redskins used a cornerback who had never played safety before in his place (
E.J. Biggers
), and he struggled. Their corners,
DeAngelo Hall
and
Josh Wilson
, do some good things but are not top-line starters. What this group needs more than anything is a better pass rush.
Speaking of the rush, how is the Green Bay offensive line holding up without
Bryan Bulaga
, and where is it susceptible?
Demovsky:
Perhaps surprisingly, Green Bay's young tackles, rookie
David Bakhtiari
on the left side and second-year man
Don Barclay
on the right, held up well against the 49ers.
Aldon Smith
beat Bakhtiari a couple of times for sacks, but Smith does that to a lot of tackles. It's why he had 19.5 sacks last season. But other than those two plays, Bakhtiari's first start went fine. Barclay is much improved over last season, when he filled in for Bulaga the final six games. As a unit, the run blocking needs to get much better.
Eddie Lacy
didn't have much running room, and when he did, there were penalties -- three of them on left guard
Josh Sitton
, who is normally pretty clean -- that wiped away the Packers' longest rushes of the game.
Looking at the big picture, one of these teams is going to be 0-2 after this game (barring a tie). If that's the Redskins, how devastating would that be for them? I know they finished strong last season, but I'm sure they don't want to put themselves in a hole again.
Keim:
It's a hole they could dig out of with games against the
Detroit Lions
at home and on the road against the
Oakland Raiders
in the following two weeks before their bye. But I don't think any team wants to start off 0-2, especially one that has designs on accomplishing grand things in the postseason, which, if healthy, the Redskins should have. I also think it would depend on how they look against Green Bay. If they play well and lose a close game, it still suggests they're on a certain path (no moral victories, but more about being headed in the right direction). If it's an ugly game like it was for nearly three quarters Monday? Then it suggests other issues. That would be difficult for them to swallow. But the one thing I've seen with this group, last season and in the previous few, is that they are resilient. Their mindset is a good one for a 16-game season.
I would think if there's any formula for stopping the Green Bay offense, everyone would use it. But is there a theme to when teams are able to slow this attack?
Demovsky:
For about the past year and a half, teams have played the Packers predominantly one way -- keep both safeties back and dare them to run the ball. That's why they drafted Lacy in the second round. The hope is that teams will start respecting the Packers' running game and bring a safety in the box to stop it. That would give Rodgers more open space to throw in the secondary. Lacy did not get off to a strong start against the 49ers, but he did have one impressive series late in the game in which he gained 26 yards on five carries. Problem was, he couldn't get much else done the rest of the game.
May, 16, 2013
May 16
12:30
PM ET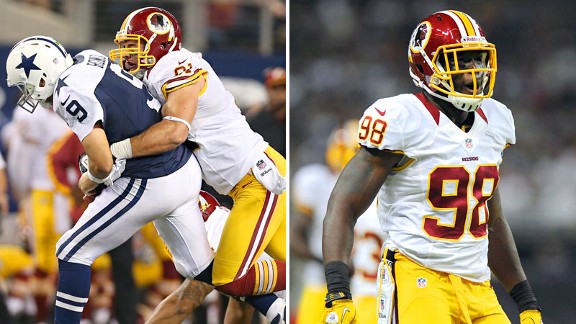 USA TODAY SportsThe Redskins are counting on Ryan Kerrigan, left, and Brian Orakpo to torment QBs this season.
As this
Washington Redskins
offseason unfolds, the former first-round pick on whom everyone will be focused will be
Robert Griffin III
, the dazzling young quarterback who followed up his rookie season with reconstructive knee surgery in January. But there are two other former first-rounders who hold the key for the Redskins on the defensive side of the ball. If the Redskins are to defend their NFC East title,
Brian Orakpo
and
Ryan Kerrigan
could be just as important to the effort as Griffin and his recovering right knee.
Ever since Mike Shanahan and Jim Haslett arrived in 2010 and changed the Redskins to a 3-4 defense, the outside linebacker position has taken on increased importance. Orakpo and Kerrigan are the starters at outside linebacker, and as such are tasked with the pass rush. The team has invested a first-round pick in each of them and constructed a defense designed to maximize their ability to get to the opposing quarterback. This means the plan is not simply to have a good pass rush, but a dominant one. Haslett's scheme calls for Orakpo and Kerrigan to be speedy, relentless predators who harass quarterbacks on every play and roll up the sacks. And 2013 is the year for them to flourish in that scheme.
Orakpo, the 13th overall pick in the 2009 draft, turns 27 in July, and as of now is heading into the final year of his contract. He could, conceivably, get an extension from the Redskins prior to the start of the season, but that's no sure thing. Drafted to be a dominant pass-rusher, Orakpo has flashed that ability during his career, averaging 9.5 sacks in his first three seasons before last season was cut short by a Week 2 pectoral muscle injury.
Prior to last season, the questions about Orakpo were whether he could elevate his game from very good to to great -- joining the elite pass-rushers in the league with a double-digit sack total. He hasn't had that since his rookie season, when he was a defensive end in a 4-3 scheme. Though Pro Football Focus ranked him as the No. 4 rush linebacker in the league in 2011 (behind only
Aldon Smith
,
DeMarcus Ware
and
Cameron Wake
), nine sacks didn't feel like enough for a player drafted that high and playing in a defense designed to make stars out of outside linebackers.
On the other side is Kerrigan, the No. 16 overall pick in the 2011 draft. The night the Redskins picked Kerrigan, their vision was of a hyper-athletic, two-pronged pass-rush that would force teams to pick their poison. Commit extra blockers to Orakpo, Kerrigan and his incredible raw pass-rushing instincts would get you. Commit extra blockers to Kerrigan, and Orakpo feasts. Kerrigan collected 7.5 sacks as a rookie and 8.5 more last season, in spite of having to play without Orakpo in the final 14 games. With the fear of Orakpo removed, teams were able to commit those extra blockers to Kerrigan all season long. Though he flashed his playmaking ability, the Redskins didn't get the consistent, week-to-week quarterback pressure on which their defense is designed to rely.
Washington finished the 2012 season with 32 sacks, more than only eight other teams in the league. The Redskins' pass defense ranked 30th in the NFL for the season, and during the seven-game win streak that delivered the division title it relied on the ability of the coaches and defensive backs to design and adjust to game plans that would change from week to week or even, sometimes, from quarter to quarter. They were able to play well enough against the pass to win games, though they all admit they would rather give up fewer yards this season through the air than 4,511.
That will have to start up front. The Redskins return basically the same secondary they had last season. They hope
Brandon Meriweather
can be healthy and give them what they need at strong safety, and it's possible that one or more of the mid-round rookies they drafted could help, but those are not sure things. That's why they need Orakpo back healthy (as well as defensive lineman
Adam Carriker
, who suffered a season-ending injury in that same game) and they need Orakpo and Kerrigan to play to their draft pedigrees -- i.e., dominate.
The NFC East has long been known for its pass-rushers, and even in recent seasons it has boasted some of the top pass-rush performances in the league. Everyone knows about the way the Giants sacked quarterbacks en route to two Super Bowl titles in five years. Everyone knows Ware is one of the best. The Eagles led the league in sacks two years ago.
It's time for the Redskins to take their place in that pass-rush hierarchy. With Kerrigan and a healthy Orakpo starting at outside linebacker, they have the talent to be the best pass rush in the division, and one of the best in the league. In 2013, if the Redskins want to remain a playoff team, Orakpo and Kerrigan are going to have to make the leap from good to elite.
January, 31, 2013
Jan 31
2:58
PM ET
NEW ORLEANS -- The glitz is still here, but the tone this Super Bowl week just doesn't seem to fit with the celebrations on Bourbon Street or the free and easy nature of the host city.
The issue of player safety has been as topical as
Ray Lewis
' last game or brothers Jim and John Harbaugh coaching against each other.
We've heard predictions that the NFL will be gone in 30 years, or at least reduced to a game of two-hand touch. President Barack Obama hypothetically has wondered whether or not he would let a son play football. Current players have said they "signed up" for a violent game and all that may eventually come with it, even as thousands of former players are pursuing lawsuits claiming the NFL failed to warn them of the long-term effects of concussions.
ESPN.com surveyed a group of current and former players and executives to get their thoughts on the player-safety issues.
The group included current San Francisco linebacker
NaVorro Bowman
, former NFL cornerback Eric Davis, current Baltimore safety
Ed Reed
, retired quarterback Bobby Hebert, former NFL director of officiating Mike Pereira, former linebacker Willie McGinest, current San Francisco linebacker
Aldon Smith
, NFL Players Association president Domonique Foxworth, current Baltimore linebacker
Terrell Suggs
, retired lineman Shaun O'Hara, current San Francisco fullback
Bruce Miller
, longtime
Dallas Cowboys
executive Gil Brandt and current San Francisco guard
Alex Boone
.
[+] Enlarge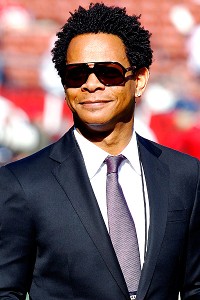 AP Photo/Kevin Terrell"Let's be real honest," former NFL safety Eric Davis said. "It's a gladiator sport. Coliseums were built for it."
Here are the highlights of their answers to the hot-button questions:
Where do you see the NFL in 30 years?
Brandt:
"I don't think we're Montgomery Ward. Montgomery Ward, at one time, was the leading retailer in the world and they made the mistake of saying we're not going to go into the little towns, we're just going to go into these big places, and they stood still. The league may doze, but it will never close. They're always looking for ways to make things better. They've been working on making the game safer and they'll continue to make it safer."
Pereria:
"I see it not a whole lot different than it is. I think the league will go as far as it can and still go further than it is now to try to make the game safer. But I don't think it's going to make the league disappear as some people have said. I think this is still a once-a-week game that people get very passionate about their games."
McGinest:
"I think the NFL definitely is going to be here to stay. I think that this is the best game in the world. I think that they're doing everything in their power to keep it that way and to make it one of the safest games. I don't think it's going to look different. I think they're just changing certain things to make it safer. If you're talking about hit zones, if you're talking about staying away from head shots and stuff like that, that's not something we're not used to hearing. So I don't think we're going to go back to leather helmets with no face masks or no helmets. This game is going to be the way it is. I just think they're doing everything and taking every precaution to make it safer."
O'Hara:
"Football is not going to disappear in 30 years. Will it look different? Of course it'll look different. Look at the game 30 years ago to today -- different game, different rules, different equipment. So 30 years from now, absolutely, it'll be a different game."
Are the safety concerns overblown?
Foxworth:
"My responsibility is just to protect the rights of the players and their health and safety, so I don't think that there can be enough [attention given to safety issues], especially given some of the things that have happened as a result of some of the head injuries. I'm pretty sure that those players and their families would say that there's no such thing as too much attention on the health and safety of the guys. So I come from that standpoint, and, being a former player, it's something I'm keenly aware of from a personal standpoint, and a lot of my friends are in this league and I know a lot of our kids may potentially be in this league. So it's very important that we put as much effort, time and money toward evolving the game and the science of the game as we can."
Smith:
"The game is what we signed up for. We didn't sign up for tennis. We didn't sign up for swimming and didn't realize we were going to go out there and get tackled. We signed up for football, which we knew was a physical sport."
Davis:
"Let's be real honest. It's a gladiator sport. Coliseums were built for it. People like to watch it and we're talking about big, strong, fast men. There are going to be collisions. There are going to be injuries. Do all the things you have to do to make it as safe as possible, but the reality is there's always going to be some danger."
Hebert:
"A little bit. But the NFL is so popular because it's the modern-day gladiator. I mean, I don't know what that says about mankind. But you can also look at boxing and ultimate fighting and how popular they are. Fans don't want to see flag football. I still think football will be here. You can change it, but you can only change it so far."
McGinest:
"I think it's necessary based on some of the studies, some of the former players and what they're going through, some of the players now. It's necessary. And it's also showing that the NFL cares about its players. If they're taking time to put on these full-on studies and they're going through every precaution with the testing of the gear and the helmets and they are willing to change certain things about the game to make sure that it's going to be here and be a safer game, it has all the signs of going in the right direction."
Boone:
"I just never understood how you change the game when you have players who are bigger, stronger and faster every year. It's just football. It's going to be physical. It's a physical sport. There are going to be injuries, but we're doing things to correct it.''
What one change would you make to improve safety?
Pereria:
"The safety issue is really all about the head. That's something the league has been focusing on for a long time and they'll continue to focus on making the rules broader than they are right now. Right now, only nine players are protected in certain situations. Can you go further? Possibly. The whole notion is going to try to be to get the head out of the game and get back to the wrap and tackling as opposed to lowering the head. They're serious about that, and they should be. To me, as I watch so much football on Sundays, it's already made a difference. You see situations where a defender really has a chance to blow up a receiver and he doesn't. To me, that means the rules are taking effect and that the fines have made a difference."
Davis:
"They're making the game safe for quarterbacks and star players. But they're not making it safer for all players. You never hear of a defenseless running back. You never hear of a defenseless linebacker. Defensive players aren't protected. Unless you make it safer for all players, I don't think you're doing as much good as you can. You have to put everyone on equal footing."
Reed:
"Defensive players should be protected, too. Offensive guys, quarterbacks in general, shouldn't be treated better than everybody on the football field.''
McGinest:
"I would take out the chop-block. That's another thing we don't talk about. A lot of emphasis is on the head, guys getting concussions and stuff, but there are also a lot of players getting their ACLs knocked out because now guys are diving. Now that they know they can't go high, guys are starting to attack with chop-blocking. That's also knocking guys' careers either out or messing them up. Not everybody's
Adrian Peterson
coming back from those injuries. A lot of guys, they take the wrong hit on the knee, they're never the same player."
O'Hara:
"I think the only real way to get everybody on the same page is to somehow get all the players in the NFL and all the coaches in the NFL and all the referees, get everybody in the same building and have, 'This is what is acceptable and this is what is not.' No second- and third-person regurgitation of the facts and, 'Here's what we're looking for,' because that needs to be consistent and everybody needs to hear the same message. Centralize the education, basically."
What else can be done to make things safer?
Hebert:
"I think you truly have to take it out of the players' hands as far as whether you're going to go back into the game or not after a head injury. As a player, when it comes to your teammates, you never want to be looked upon as a wuss. You want to be a tough son of a gun. To me, it totally has to be out of the hands of the players."
[+] Enlarge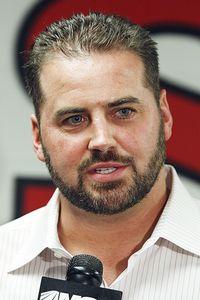 AP Photo/Mel Evans"You wouldn't give your son a circular saw and let him go and start whittling wood," former lineman Shaun O'Hara said. "You would teach him how to use that."
Davis:
"Look, the guys I played with and the guys that are playing now were schooled a certain way. It's too late for us and maybe too late for the guys still playing in the NFL. But the next generation is where a difference can be made. The kids that are coming into Pop Warner now need to be taught how to tackle properly. And maybe, just as importantly, they have to be taught that if you get dinged, if you take a hit to the head and you don't feel right, you go straight to the coach or the doctors and tell them immediately. People do that with ankle injuries. You hurt your ankle, you come out of the game. Head injuries need to be treated the same way."
Foxworth:
"In nine years, you can ask me that question and I'll have a definitive answer. But I don't know. We don't know how much damage repetitive hits do or whether it's the big knockout blows that do the damage. There are just so many questions. We're not sure about the best treatments and the quicker recovery time and if there are any precursors that make someone predisposed to have these kinds of brain injuries. Those are questions that will be answered by this Harvard research, and at that point, I think we can be able to set forth clear protocols of how to treat a player after a practice or how many hits [before] it's time to sit a guy out. Those sorts of things that are changes that can be made easily."
Brandt:
"I think it's like the Internet. People that are older, like myself, are not Internet-savvy. Kids that are 7 or 8 know more about it than I do. I think it's a thing that you build from the bottom up. Where I think we have a problem is that we have a lot of youth football leagues and the guys that are coaching sometimes get overzealous. I think we're gradually educating that element."
Would you let a young son start playing football right now?
Bowman:
"I'm not going to deter my kids from the game. When they see the game, they understand what it's all about. It's a physical game."
Suggs:
I respect [the president's comments] for the simple fact that this is a very physical and dangerous sport, especially considering that with the concussions and the current findings of Junior Seau. A parent would be reluctant [to let] his or her child play football. I think, if you play the game right and you play it appropriately, that injuries are part of the game.''
Pereria:
"Sure, I would. But I'd also be out there with him, coaching and working with the coaches to make sure that the game, at that level, is being coached properly and that kids are keeping their heads up and abiding by the rules that are still in the NFL rule book, which defines tackling as wrapping your arms around the opponent and taking him to the ground."
Miller:
"Everyone has their own opinions, but I would let my kid play football. It's a violent game, but not too violent. At the same time it builds character, hard work, dedication, responsibility. All of those things are important. They are taking caution to be careful and concerned for the players' safety and taking that into account more."
Foxworth:
"My son's so young, I like to think that we would have made advances by the time he's old enough to play to make it safer. Given the current state of the game, I wouldn't stop him from playing it, but I'd be very cautious about the exposure and the frequency with which he may come into contact with those type of dangers."
O'Hara:
"If my son wanted to play football, I would absolutely let him. I would drive him. But I would teach him. You wouldn't give your son a circular saw and let him go and start whittling wood. You would teach him how to use that. There's a proper way to use power tools. So my issue is, when I hear parents say, 'I don't want him to play football,' well, it's because you don't want to take the time to teach him how to do it right. Or you don't know how to teach him right. So that, to me, is a big sticking point. When I see kids that want to play football, I just want them to learn it the right way. We need to make sure our coaches are teaching our kids the right way to do things, because for every one kid that gets hurt, that's something that could affect a whole lifetime."