June, 30, 2014
Jun 30
5:30
PM ET
PHILADELPHIA -- The Eagles don't have a problem if offensive tackle
Lane Johnson
is really suspended for four games, as reported by Paul Domowitch of the Philadelphia Daily News.
They have several problems.
Remember, Johnson was a quarterback in high school and then a tight end when he first got to Oklahoma University. The 6-foot-6 Johnson bulked up to more than 300 pounds to become an offensive tackle good enough to be taken fourth overall in the 2013 NFL draft.
Johnson
Was that physical transformation natural or the result of performance-enhancing drugs? This is more than a theoretical matter for the Eagles. They drafted Johnson based on his size and his physical skills. At the scouting combine last year, Johnson ran a 4.75-yard 40-yard dash, an excellent time for a man of his size. The Eagles drafted him fourth, which meant a contract worth almost $20 million, including a signing bonus of $12 million.
The Eagles made that investment on the assumption that Johnson was clean. He earned his money as a rookie, starting all 16 regular-season games plus the playoff game against New Orleans. But the question becomes, can he perform at the same level if he stops doing whatever earned him a four-game suspension?
If Johnson is sidelined, the Eagles could start either guard
Todd Herremans
or backup lineman
Allen Barbre
at right tackle. Barbe performed very well when pressed into action at left tackle last year at Green Bay. Herremans played right tackle in 2012 and 2013 before moving back inside to guard last year.
The other candidates to fill in for Johnson are
Dennis Kelly
, who was troubled by back pain last season, and
Matt Tobin
and
Michael Bamiro
. The Eagles did not take an offensive lineman in this year's draft.
Taking a step back, a suspension would cast doubts upon more than just Johnson.
Head coach Chip Kelly has gotten a lot of attention for his training methods and his sports science-based approach to football. It didn't raise many questions when linebacker
Jake Knott
was suspended earlier this year. But now, with a first-round pick and starter reportedly testing positive for PEDs, there will be plenty of speculation about what's in those custom smoothies the players drink after every practice.
Johnson would be the fifth Eagles player suspended for performance enhancing drugs. This would be the first time, however, that two Eagles have tested positive in the same year. Instead of a minor player whose absence would barely be noticed, Knott becomes part of a trend for the 2013 NFC East champions. If there are no more positive tests, there will be no more suspicions. But if the trend continues, questions will be asked.
March, 5, 2014
Mar 5
8:00
AM ET
The
Philadelphia Eagles
will be in almost perfect position when NFL teams are allowed to open talks with unrestricted free agents Friday.
They are perceived as a team "headed in the right direction," as soon-to-be-free-agent safety
Jairus Byrd
said on ESPN on Tuesday. And they have enormous flexibility thanks to more than $26 million in salary-cap space, according to ESPN's Roster Management service.
The Eagles didn't have to release wide receiver
Jason Avant
for cap purposes. That decision was about paying the $1 million roster bonus negotiated into his contract and due on March 15. But with Avant's departure, the Eagles save another $2.5 million on their cap.
General manager Howie Roseman has set low expectations for the team to make a huge splash in free agency. He could be doing that because he simply doesn't see a free agent worth splurging on, because he wants to prevent potential fan disappointment or because he doesn't want to telegraph his real plans to other teams before the market opens.
Three of the more intriguing names disappeared from a potential wish list this week: Miami extended the contract of cornerback
Brent Grimes
, Washington placed the franchise tag on linebacker
Brian Orakpo
and Pittsburgh linebacker
Jason Worilds
signed his transition-tag tender.
The two top safeties, Byrd and Cleveland's
T.J. Ward
, are expected to hit the market. Roseman has acknowledged his preference to address the safety position in free agency so it isn't a glaring need going into the draft. But he may have his sights set on some of the less expensive players expected to be on the market.
Roseman said last week that his spree of contracts for current Eagles would not limit the Eagles' options in free agency.
"It will affect other things going forward," Roseman said. "We have some flexibility. Obviously, this affects it, the things we've done the past couple of days. But we're going to go out and try to do things that make sense for our football team."
Another thing working in the Eagles' favor is the expansion of the cap this year to $133 million and the expected continuing rise over the next couple of years. That extra cap space comes just as Roseman will have to decide on extensions for players like
Nick Foles
,
Fletcher Cox
,
Brandon Boykin
and
Mychal Kendricks
.
Foles, especially, gives the Eagles a lot of flexibility. Starting quarterbacks can eat up 12 to 15 percent of a team's salary cap. Foles' 2014 salary of $770,880 accounts for 0.65 percent of the Eagles' cap. That's about as much as backup offensive lineman
Allen Barbre
.
Eventually, if they're going to be successful, the Eagles will have to pay a quarterback that kind of money. For now, they can build a team and deal with Foles -- or someone else if Foles should stumble -- when the cap increases.
"It's hard to look three years out," Roseman said. "It's hard to know where you're going to be after two full seasons and after two draft classes. We do spend a lot of time on the cap next year. We try to be conservative with what the cap projections are going to be."
Finally, there's this reality: The salary cap is not nearly as onerous as it is made out to be. The
Dallas Cowboys
were in as tight a situation as any team in the NFL going into the new league year. By reportedly reworking quarterback
Tony Romo
's contract, converting salary to bonus money, the Cowboys resolved their cap issues.
So there is an escape hatch from cap purgatory. The Cowboys still probably won't have the cap space to be proactive in free agency.
The Eagles will. They are in position to do whatever they want.
February, 20, 2014
Feb 20
8:00
AM ET
PHILADELPHIA – Numbers seldom tell the story when it comes to offensive line play. For the 2013 Eagles, though, these numbers were remarkably eloquent:
Jason Peters
: 1,019.
Evan Mathis
: 1,104.
Jason Kelce
: 1,096.
Todd Herremans
: 1,104.
Lane Johnson
: 1,103.
[+] Enlarge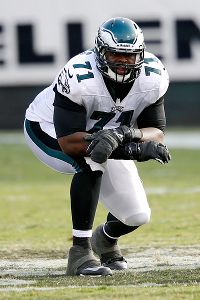 AP Photo/Kevin TerrellJason Peters was one of two Philadelphia offensive linemen to earn a Pro bowl nod in 2013.
Those are the snap counts for the Eagles' starting line, from left tackle to right tackle. Guards Evan Mathis and Todd Herremans played every single offensive snap. Right tackle Lane Johnson missed one play. Center Jason Kelce played 99 percent of the snaps. Left tackle Jason Peters, coming off two tears of the same Achilles tendon, played 92 percent.
A year after four of the five starting linemen were lost to injury, the Eagles enjoyed remarkable health at this most vital of positions. So it's no surprise the line was one of the team's strongest areas. Peters and Mathis were selected for the Pro Bowl. Kelce deserved to be.
The right side of the line wasn't as strong, but that's deceptive. The left side is the best in the NFL, according to Pro Football Focus. And the right had two players – veteran Herremans, who was relearning guard after playing tackle, and rookie Johnson – who improved noticeably as the season went on.
The line cleared the way for
LeSean McCoy
to lead the league in rushing and gave
Nick Foles
time to put up some unprecedented numbers and stake his claim to the starting quarterback spot.
There are two points to consider here. The first is that the Eagles aren't lucky to win the injury-free lottery every year, so they will need depth behind the starting five. The other is that Peters, Mathis and Herremans are all over 30. Top reserve
Allen Barbre
will be 30 in June. So it makes sense to have some young linemen in development.
The Eagles do. One consequence of the starters' health is that we never got to see any of them play.
In an interview with Bleeding Green Nation, Mathis cited
Matt Tobin
as a player to watch. The undrafted free agent from Iowa slipped ahead of
Dennis Kelly
, based on the weekly inactive list. At 6-foot-6, 290 pounds, Tobin is big enough to play tackle as well as guard.
And then there is
Michael Bamiro
, the 6-8, 340-pound project from Stony Brook. Bamiro spent the season working with offensive line coach Jeff Stoutland and his assistant, the similarly mammoth former tackle Tra Thomas.
Can Tobin, Bamiro, Kelly and center
Julian Vandervelde
provide enough depth behind the starters and the versatile Barbre? There is probably enough talent and potential there to make the offensive line relatively low on the priority list.
That said, the position is too important for the Eagles to pass on a player they like in the draft. That is GM Howie Roseman's philosophy, so it wouldn't be a surprise if the Eagles drafted a lineman or two.
While we're on the line, we should mention that long snapper
Jon Dorenbos
had another very fine season. It's a position you don't think much about until a mistake is made. Dorenbos, 33, doesn't make anyone think about it.
November, 15, 2013
11/15/13
5:15
PM ET
PHILADELPHIA -- Three
Philadelphia Eagles
starters, not counting quarterback
Michael Vick
, are listed as questionable for Sunday's game against Washington.
Left tackle
Jason Peters
has been playing with a list of nicks, led by quadriceps and pectoral muscle injuries. It wouldn't be surprising if he played, but the Eagles could also choose to sit him out this week and give him an extra week of rest with the bye week looming.
Allen Barbre
, who played well in relief of Peters last week, would start if Peters can't go.
Peters
Linebacker
Mychal Kendricks
(knee) seemed like a long shot to play. The questionable status, which signifies a 50-percent chance to play, is actually more positive than expected.
Najee Goode
would play in place of Kendricks, who would otherwise be the leading candidate to shadow Washington quarterback
Robert Griffin III
.
Cornerback
Bradley Fletcher
(pectoral) was questionable last week as well, and did not play in Green Bay.
Roc Carmichael
filled in for him.
As expected, safety
Earl Wolff
(hyperextended right knee) is out.
Patrick Chung
, the starter going into the season, will step back into the lineup. Linebacker/special teamer
Jake Knott
is also out with a hamstring injury.
Chung (shoulder), defensive end
Cedric Thornton
(knee), tight end
Brent Celek
(hip), and wide receiver
Riley Cooper
(knee) were listed as probable.
November, 11, 2013
11/11/13
8:00
AM ET
GREEN BAY, Wis. -- Taking a look at four storylines from the
Philadelphia Eagles
' 27-13
win
over the Green Bay Packers on Sunday at Lambeau Field.
Nick Foles is flirting with history.
Foles has thrown 16 touchdown passes this season without an interception. That would've tied the NFL record set in 1960 by Milt Plum, except that
Peyton Manning
already broke that 53-year-old mark this season. Manning threw 20 touchdowns before throwing a pick.
[+] Enlarge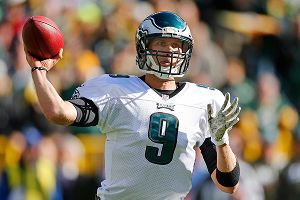 Gregory Shamus/Getty ImagesNick Foles has thrown 10 touchdown passes and no picks in the Eagles' past two games.
What's even more compelling is that Foles isn't being extra cautious. In fact, his receivers say that he's trusting them and throwing the ball out where they can get it. That raises the degree of difficulty on the no-pick streak.
"Nick does a great job protecting the football," coach Chip Kelly said. "He hasn't thrown an interception. He doesn't really make egregious mistakes. If he misses, he may not be as accurate on the throw. He's got a good grasp and command of what we're doing."
Foles put two strong games together.
After his rough outing against Dallas, Foles needed to prove he could be consistent. Check that box.
His numbers in the past two games combined: 34-of-46 (73.9 percent) for 634 yards, 10 touchdowns and no interceptions. Foles has a passer rating of 155.3 for the two games.
"We just have to keep moving, but I felt good out there," Foles said. "Receivers were making some good plays and helping me out."
Does that mean he will be the starting quarterback if
Michael Vick
is healthy? It's a question Kelly won't answer. Until Vick is 100 percent, it's a question Kelly doesn't have to answer.
Tempo works both ways.
The Eagles have done a better job maintaining Kelly's high-tempo offense. But in some ways, their ability to run a slow-it-down offense has been just as important at times. In the fourth quarters of wins in Tampa Bay and Green Bay, the Eagles drained the clock by methodically running the ball.
"You're in a game, it's a couple-score game," Kelly said. "Even if we did turn the ball back over, hopefully there's not a lot of time left on the clock. Everybody knew what was happening. Everybody knew we were running it. It's something to build upon. We feel comfortable it's something we're getting better with."
LeSean McCoy
ran the ball nine times for 50 yards in the Eagles' last drive, which took up the final 9:32 of the game. Foles ran for a first down.
Bryce Brown
mixed in a couple of runs for 11 yards.
"That's what championship teams have to be able to do," wide receiver
Riley Cooper
said.
The Ouch Department was extra busy.
The Eagles went into the game without starting cornerback
Bradley Fletcher
, who injured a pectoral muscle last week. They lost two more defensive starters, linebacker
Mychal Kendricks
and safety
Earl Wolff
, plus offensive tackle
Jason Peters
-- all in the first half.
"I think it speaks a lot about the depth," Kelly said. "You have to have it. It's a tough, hard-nosed, physical game and everybody needs to be ready to play at any point in time. I thought the guys that stepped up and came in did a really nice job."
Cornerback
Roc Carmichael
, linebacker
Najee Goode
and safety
Patrick Chung
helped the defense hold the Packers to 13 points.
Allen Barbre
replaced Peters at left tackle.
November, 10, 2013
11/10/13
8:10
PM ET
GREEN BAY, Wis. --
LeSean McCoy
believed the
Philadelphia Eagles
' running game would erupt when defenses were forced to deal with
Nick Foles
and the passing game.
[+] Enlarge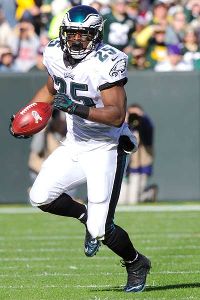 Jeff Hanisch/USA TODAY SportsEagles running back LeSean McCoy had his third-best rushing game of the season Sunday, totaling 155 yards on 25 carries.
McCoy was right. A week after Foles' seven-touchdown day in Oakland, McCoy ran for 155 yards in a
27-13 win
against the
Green Bay Packers
. It was McCoy's fourth highest career total and his second highest of the season. He has 932 yards after 10 games, tops in the NFL. Overall, the Eagles rushed for 204 yards against a Green Bay defense that had allowed just 94.5 rushing yards per game.
Foles had another big day, too, throwing for three touchdowns and 228 yards on just 18 attempts.
"We're trying to be a balanced operation," head coach Chip Kelly said. "It's what are they doing to us and how are we going to react to what they do to us."
According to ESPN Stats & Information, Foles used play-action fakes more frequently than any quarterback in a game since the beginning of 2006. Foles threw off play-action 14 of 18 times, 78 percent of his throws.
"He's playing with swag," McCoy said.
So is the running back. After being held to 55 yards or less in three consecutive games, McCoy was getting to the corner and making people miss the way he did earlier in the season.
"We really didn't do much different," center
Jason Kelce
said. "Like I said, the last few weeks, it almost felt like the line and the running backs were on a different page. They (the Packers) tried to do the same thing the
New York Giants
were doing, trying to make Shady bounce it outside. We did a good job of getting movement. We got to some outside stuff. He did a good job of getting to the second level, for the most part."
Last week in Oakland, Kelly kept firing after the Eagles built up a big lead. Early in the fourth quarter, up 49-13, he took a lot of starters out, including McCoy.
This week, with a two-touchdown lead and the Packers down to their third-team quarterback, Kelly chose to run the clock down. McCoy carried the ball nine times for 50 yards on the Eagles' 9-minute, 32-second drive to end the game.
"It's actually cooler," McCoy said. "You would think a long drive like that, we would get tired, but you actually don't. When you actually slow it down, it's like a huddle and we haven't huddled since probably last year."
The Eagles' balanced offense was even more impressive considering they lost left tackle
Jason Peters
to injury in the first quarter. Peters went out with a head injury. After being evaluated for a concussion, he returned and injured a quadriceps muscle.
Allen Barbre
replaced him and held up just fine.
"We can run our offense when Allen is in there," Kelly said.
On Sunday, they ran it and threw it, in balance, as well as they have all season.
November, 10, 2013
11/10/13
4:13
PM ET
GREEN BAY, Wis. -- Observations on the
Philadelphia Eagles
' 27-13 victory against the
Green Bay Packers
on Sunday.

What it means:
The Eagles are 5-5, are in contention in a weak NFC East and seem to have a legitimate quarterback in
Nick Foles
. A week after throwing seven touchdowns in Oakland, Foles threw for three at Lambeau Field. For the season, he has thrown 16 touchdowns and no interceptions. That was the NFL record for 53 years until
Peyton Manning
broke it this season. The victory also means the Eagles have some luck on their side. The Packers, already without
Aaron Rodgers
, lost second-team quarterback
Seneca Wallace
in the first quarter.
Scott Tolzien
made his NFL debut. The Eagles have wins against
Mike Glennon
,
Terrelle Pryor
and Tolzien this year.
Body count:
Both teams were afflicted by injuries. The Eagles lost three starters: Left tackle
Jason Peters
went out twice, once to be evaluated for a concussion and once with a knee injury. Linebacker
Mychal Kendricks
and safety
Earl Wolff
left with knee injuries.
Allen Barbre
replaced Peters and did a solid job protecting Foles' blind side. Veteran
Patrick Chung
replaced Wolff.
Najee Goode
took Kendricks' inside linebacker spot and was used a couple of times to blitz Tolzien.
Stock Watch:
Riley Cooper
-- Rising fast. After catching three of Foles' record-tying seven touchdown throws last week, Cooper caught two more against the Packers. The first was a fluky 45-yard play. Foles underthrew the ball. Cooper saw it and circled back under it as two Packers defenders overran the play. At the end of the third quarter, Cooper shook safety
Morgan Burnett
and was wide-open on a corner route for a 32-yard score.
What's next:
The Eagles' 10-game home losing streak is on the line as NFC East rival Washington comes to Lincoln Financial Field. Although they're 0-4 there under Chip Kelly, a win would keep them in contention in the division race as they go into their bye week. The Eagles, who are 5-1 on the road, opened the season with a 33-27 win at Washington.
August, 29, 2013
8/29/13
10:15
PM ET
EAST RUTHERFORD, N.J. -- It is probably a mistake to read too much into the
Philadelphia Eagles
'
27-20 preseason-ending loss
to the
New York Jets
, but let's do it, anyway. Here, with all due awareness of the relative lack of meaning, are some observations:

Maybe the most significant thing that happened for the Eagles was the hamstring injury that sent tight end James Casey to the locker room in the first half. The severity wasn't immediately known (and given Chip Kelly's casual approach to dispensing injury info, may never be known), but staying healthy is the No. 1 priority in a fourth preseason game. So an injury to a guy expected to be a key part of the offense can't be good.
This one last chance to impress before roster cuts resulted in more impact defensive plays than in the first three preseason games combined. If coordinator Bill Davis is looking for reserves who can step in and make an impact, he had to like what he saw from:
-- Inside linebacker Emmanuel Acho, who sacked Jets QB Matt Simms on a blitz, played solidly against the run and forced a Konrad Reuland fumble in the second quarter. In the first half alone, Acho was credited with eight tackles. Acquired from Cleveland in the Dion Lewis trade, Acho sure looks like the third-best ILB on the team right now behind starters DeMeco Ryans and Mychal Kendricks.
-- Brandon Graham, who bull-rushed Simms on the Jets' first possession and wrapped him up in the end zone. Simms threw the ball away, an intentional-grounding play that resulted in a safety. Graham still needs work on his pass drops (an understatement), but he can get to the QB from the OLB spot.
-- Chris McCoy, who started at the ROLB spot and tormented Jets tackle Jason Smith. McCoy dropped an interception on the first play from scrimmage -- a negative, sure, but he was in position to make it -- and sacked Simms for a 6-yard loss on the third play. McCoy got around Smith and hit Simms from behind, knocking the ball loose.
-- Everette Brown, the guy singled out by Pro Football Focus for his play against Jacksonville, ended the first half by sacking Simms and knocking the ball out of his hands when the Jets were in the red zone. Eagles fans would recognize the failure to get even a field-goal attempt from Marty Mornhinweg's days as Andy Reid's lieutenant.
On the other side, a few of the veterans who are trying to stick just did not impress. Safety Nate Allen gave up a 23-yard completion to Zach Rogers on a third-and-19 play. He had decent coverage on Michael Campbell on a later Jets possession, but did not make any real impact. Of course, neither did fifth-round pick Earl Wolff, who started alongside Allen.
Inside linebacker Casey Matthews had a very rough night. If he makes the team, it is going to be because he's that valuable on special teams. Matthews had gap control and a chance to tackle Kahlil Bell in the backfield, but ran into a teammate instead. Bell ran into the end zone for an all-too-easy 8-yard TD. Matthews had a defensive holding penalty two plays before that.
The only significant competition on the offensive side is for the backup spots along the line. With the starters sidelined, it was interesting to see who Chip Kelly lined up out there. Allen Barbre, who played two games at left tackle in place of Jason Peters, was at left guard. Undrafted rookie Matt Tobin, a 6-foot-6, 300-pounder from Iowa, started at left tackle. With Dennis Kelly expected to miss at least a couple of regular-season games because of a back injury, there is an opportunity for a backup tackle. Michael Bamiro, the massive but raw rookie from Stony Brook, started at left tackle. He looked massive and raw, especially in the early going. Danny Watkins was at right guard. He looked like Danny Watkins. Julian Vandervelde looks very much like he'll make the team as the backup center.
There was no reason to ponder whether Nick Foles should have been given a longer opportunity to compete for the starting QB job. He did not have a great game. But then, he was playing behind a dreadful offensive line against a Jets defense that blitzed more than usual in the preseason. It was also clear that Kelly was using as little of his offense as possible. Foles fumbled the ball away on the first series. He succeeded in finishing the game, and the preseason, without an injury.
By the second half, when Matt Barkley took over at QB, the line had settled in a little bit. Barkley engineered a 16-play, 80-yard touchdown drive. On the downside, he threw the Kevin Kolb-patented pick-six with two minutes left in the game. Barkley didn't get enough on an out to Jeff Maehl. Antonio Allen stepped in, intercepted and returned it for a TD.
In the midst of a sea of vanilla, Kelly suddenly called one of the triple-option plays the Eagles frequently ran in a recent practice. Foles faked a handoff, started running to his left, then whipped an overhand lateral to wide receiver Greg Salas. Surprised Kelly put that on film. Also, that play seems certain to result in a turnover at some point.
The injury plague continued at cornerback. Trevard Lindley limped off the field in the third quarter with a right ankle sprain. The Eagles have two corners, Curtis Marsh and Brandon Hughes, sidelined with broken hands. They are so thin there that safety Kurt Coleman was playing corner even before Lindley went down.
Speaking of which, Coleman would seem to be one of the guys on the bubble here. The fact that he played both safety and cornerback could help his case for making the team. You never know when you're going to be caught short in a game. On the other hand, it could mean Coleman is so far out of the running at safety that Kelly and Davis weren't interested in seeing him there.
If the cutdown to 75 was an indicator, Kelly is likely to do most of his roster work Friday, the day before the deadline to reach 53.
August, 27, 2013
8/27/13
11:15
AM ET
PHILADELPHIA -- Chip Kelly had some interesting things to say this morning about finalizing his first NFL roster. Some highlights:
*Kelly has final say on the 53-man roster. This was always a subject of speculation during Andy Reid's 13-year tenure, largely because the Eagles were vague about their process for selecting and evaluating personnel. Kelly couldn't have been more direct when asked if he had final say.
"Yeah," Kelly said.
Kelly
He added that he and general manager Howie Roseman are "on the same page. There hasn't been a decision that's been made personnel-wise since I've been here that I've felt one way and he's felt the other way. We've never had a situation where ... two guys are standing on a soapbox.
"I think he sees big picture and I see big picture."
*At Oregon, Kelly didn't have to cut his roster to 53 or decide which 46 players to dress on game days. He did have to decide on reduced numbers for road games, however, and said the same principles apply.
"It's part of the same thing," Kelly said. "You still have to look at what guys can be more versatile. I think versatility is the key. You have travel rosters in college. You can only bring X amount of guys to a game. It's the same thing: Why are we bringing the fourth running back if he doesn't contribute on special teams when the sixth receiver does contribute on special teams?"
*It follows, then, that versatility will go a long way toward final decisions on the 53-man roster, which must be made by Saturday at 6 p.m. The Eagles will not play their starters Thursday night against the Jets, but Kelly called it a "huge game" for sorting out those final roster spots.
"A lot is up in the air right now," Kelly said.
His starting five offensive linemen are set, but Kelly will keep four or five reserves. The advantage of playing multiple positions, as
Allen Barbre
does, could hurt former first-round pick
Danny Watkins
' chances to make the team. Watkins only plays guard. One wild card: backup guard/tackle
Dennis Kelly
is still not recovered from back surgery. Jeff McLane of the Philadelphia Inquirer reported that Kelly will likely be unavailable for the first two regular-season games.
Another big factor on offense: How does Kelly break down his skill-position players?
Clay Harbor
could be both a wide receiver and a tight end. If Kelly keeps four backs,
Matthew Tucker
could sneak onto the roster.
On defense, the switch from a 4-3 to a 3-4 means keeping more linebackers than usual. Kelly said the ideal would be "two deep," or eight LBs, but special teams and versatility could be deciding factors there, as well.
"When you're not the starter," Kelly said, "versatility becomes a huge thing. He may be at his position but he also plays on four special teams, so that's almost like four starting spots."
*One other thing seems certain. All 53 men who will be on the roster for opening night at Washington aren't here yet. Kelly said Roseman was working on moves before Tuesday's cut to 75. The GM will certainly be looking to add help in the defensive backfield and possibly at linebacker.
August, 17, 2013
8/17/13
6:55
PM ET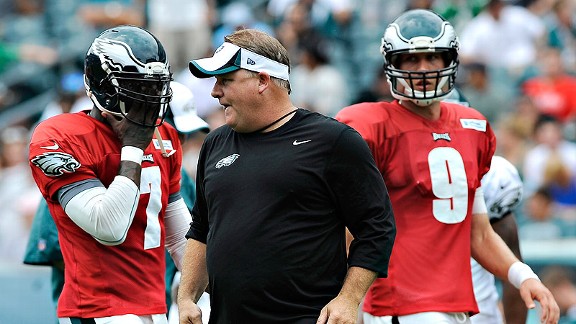 AP Photo/Michael PerezChip Kelly has made it difficult to read the tea leaves as to who will be the Eagles' top quarterback.
PHILADELPHIA -- It has been entertaining, if not enlightening, to watch Chip Kelly interact with the media on the subject of his starting quarterback.
Anyone hoping the
Philadelphia Eagles
' coach would make some kind of announcement after Saturday's public practice in Lincoln Financial Field was doubly disappointed. Not only did Kelly not say who would start at Washington on Sept. 9, he wouldn't even reveal whether
Michael Vick
or
Nick Foles
will start next weekend's preseason game at Jacksonville.
"As a staff on Monday – the players are off – but we'll be in and kind of put together our thoughts on how we're going to attack" plans for the week, Kelly said. "Those decisions in terms of rotations and things like that will be made Monday."
Vick started the preseason opener against New England. Foles started against Carolina Thursday night. Kelly said he simply kept the QBs in their rotation for starting off with the first team.
Several theories have developed to explain Kelly's handling of his QB situation.
Theory One: He knows and he's just messing with everyone.
There is some supporting evidence here. Kelly sees a distinct competitive advantage in secrecy and misdirection. Beginning Sunday, his practices will be closed to the media – even though a few will be open to 300 invited guests as part of the team's training camp move to their training complex.
Eventually, everyone in the NFL will know who the Eagles' starting QB is. He'll only have this opportunity to spring a last-minute surprise once, so why not use it?
On the other hand, the men most affected by such trickery would be Vick, Foles and their teammates. Unless everyone on the roster deserves an Oscar nomination, the players truly have no clue how all this is going to end. They may sense that Vick has the edge – his resume and his performance so far this summer support that idea – but they can't be sure what's going on under Kelly's visor.
Theory Two: Kelly honestly doesn't know and he's just letting Vick and Foles make the decision for him.
There was a telling moment Saturday. A reporter started a question by saying, "I know you don't want to name a starting quarterback right now—"
Kelly cut him off.
"I would love to name a quarterback now," he said.
If he'd inherited a team with
Tom Brady
or
Aaron Rodgers
on the roster, none of this would be happening. Vick and Foles both started games last year. Both played behind an injury-ravaged offensive line. Both earned a full share in the Eagles' 4-12 record. Both have skills, but both are flawed.
There is no gimme here.
So why not use every last practice and all four preseason games, a luxury he didn't have at Oregon, to evaluate Vick and Foles in different situations? As sharp as Vick has looked, he hasn't yet faced the complex coverages and blitzes that opponents have deployed to frustrate him over the past few seasons.
"I think we are going through the process," Kelly said. "We know we have got a little bit of time here, so we'll go through the process and look at how it's going to express itself, get back, watch the tape today, put a lot of new situations in today, put it in today, see how they handle that."
Theory Three: Matt Barkley is a stalking horse, the real starter, and this has all been sleight-of-hand.
This theory has been retired after two preseason games. Barkley's NFL future remains unwritten, but there has been an enormous gap between his level of play and that of Vick and Foles.
Theory Four: Kelly is developing Vick and Foles along parallel tracks.
This intriguing twist comes from ESPN's Sal Paolantonio. Kelly figures he'll wind up needing Vick and Foles during the upcoming season, so he's treating them both as No. 1 QBs in every way.
The usual approach – giving the presumed starter the vast majority of reps with the first team – would create a learning curve for the backup if and when he has to step in due to injury or performance. Doing it this way keeps both QBs engaged and forces both to prepare as if they're the guy.
One aspect of Paolantonio's theory is that it doesn't preclude either of the first two. Whether Kelly knows or not, the parallel-track approach would have its benefits.
The downside risk is that one of them is going to wind up feeling demoted and disappointed right as the season begins. It might take a little while for him to bounce back.
Some notes and observations from practice:
Kelly had the team working on specific situations: time running out while needing a touchdown, for instance. He said the Eagles will do more of that Sunday. The players are off Monday. With the Jacksonville game Saturday night, Kelly said he and his staff would try to simulate a normal regular-season week.

Left tackle Jason Peters, long snapper Jon Dorenbos and running back Bryce Brown were back on the field after missing time with injuries. Peters' absence gave Allen Barbre an opportunity that he seized. Kelly praised Barbre's play at tackle in both preseason games, and it sounds like the veteran is likely to make the final roster. "Allen, to us, has really solidified his situation with us from a depth standpoint," Kelly said. "We knew he could play guard, but now to have a guy that's a guard-tackle guy, and I think sometimes you've got seven guys active on game day, you're going to have to have somebody that's got some versatility and I think that's what we've learned from him."

The Eagles signed defensive end Eddie McClam, who was in camp with Detroit last year. The 6-foot-5, 265-pound McClam played at Old Dominion.