December, 19, 2013
12/19/13
5:30
PM ET
IRVING, Texas --
Orlando Scandrick
has been the
Dallas Cowboys
' best cornerback most of the season, but he's been awful the past two weeks.
Scandrick isn't hiding from the fact. The film doesn't lie, and neither do the numbers.
Scandrick
The
Chicago Bears
and
Green Bay Packers
targeted Scandrick a total of 17 times, completing 14 passes for 199 yards and two touchdowns, according to ProFootballFocus.com. By comparison, teams completed 41 of 72 passes for 397 yards and three touchdowns when targeting Scandrick in the Cowboys' first 12 games.
Scandrick, who has been the victim of highlight-reel catches by Chicago's
Alshon Jeffery
and Green Bay's
Jordy Nelson
the last two weeks, is trying to find ways to regain the form he's had most of the season.
"Obviously the last couple of weeks, I would have loved to play better," Scandrick said. "I haven't played up to the standards I set the first 12 weeks. But I don't want to start thinking about like, 'Oh, no.' I don't want to be afraid to make a play or afraid that it's going to happen again.
"I mean, it's not like I'm going against no-name guys, but that's not an excuse. I've got to figure out a way to make those plays. ... Nobody wants it more than me. I've just got to keep grinding and banging away and figure out a way to make it."
With the Cowboys ranked dead last in total defense and having already set the team record for yards allowed, Scandrick has plenty of company among defenders searching for solutions. Career backup quarterbacks
Josh McCown
and
Matt Flynn
have combined for 647 yards and eight touchdowns on 53-of-75 passing against the Dallas defense the past two weeks.
Scandrick mentioned the need for the Cowboys' healthy defensive starters, particularly in the secondary, to do more with injuries eroding the front seven.
"There is no damn fine line," Scandrick said when asked about the balance between trying to do more and attempting to do too much. "I feel like I can't let people catch balls on me or, oh, no, we don't have a shot. Clearly I can't have an off day or somewhat off day, because it's all magnified and you see the results."
October, 20, 2013
10/20/13
7:00
AM ET
Apparently the weather forecast might be a bigger deal to
Chicago Bears
tight end
Martellus Bennett
than anyone else. Considering his success this season, the Redskins might want to hope the forecast changes for Sunday.
Bennett has caught 31 passes for 349 yards and three touchdowns. He's listed as questionable for Sunday's game because of his knee.
"I have, like when the weather is bad I have SAD, like seasonal whatever [seasonal affective disorder]," Bennett said in a conference call earlier this week. "I suffer from weather depression basically, so I just say I'm solar-powered. So if the sun's not out, I'm the first person that everybody comes to like, 'Hey, the sun's not out. No demons today. Make sure you find some kind of sunlight somewhere to go ahead and practice,' you know, because I'm solar-powered."
[+] Enlarge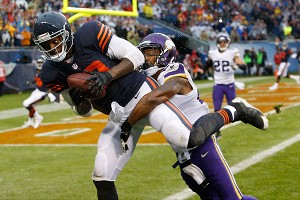 AP Photo/Charles Rex ArbogastTE Martellus Bennett is one of several playmakers who have emerged on the Bears' offense.
OK. Just so you know: The forecast for Sunday is mid-60s and sunny
Bennett has helped transform the Bears' offense, part of a productive passing attack that also features receivers
Brandon Marshall
and
Alshon Jeffery
. Running back
Matt Forte
also is a solid all-around player and an excellent pass-protector.
Anyway, here are a couple other Bennett highlights followed by some Bears' links:
On the Redskins' defense:
I think they have a lot of good players over there. I always look forward to playing against [linebacker London] Fletcher. He's one of the best guys to go against. He's got so much passion and enthusiasm when you play against him that he brings it out of you as well, so I look forward to playing against him. And then [linebacker Brian] Orakpo and [linebacker Ryan] Kerrigan, you know they come with it and then [nose tackle Barry] Cofield has been doing a great job in the middle of the front, so I think their front seven is pretty good."
On how the Redskins cover tight ends and how that compares to what other 3-4 defenses do:
"Honestly, every tight end is different. I have no clue what they will do against me because every single game, every team that I've played against, they've been playing me different than they've played other tight ends. I know last year when I played against them they had London on me a lot and then [linebacker Perry] Riley Jr. had the duty the second time, so I look forward to playing against them … We'll see how it starts off this week."
On quarterback Jay Cutler:
"I think his biggest thing is he's just trusting everybody that's around him from the receivers to the offensive line to the coaches. I think that's the biggest thing for him this year; he can trust everybody to do their job and he can feel like he doesn't have to do a whole lot. It doesn't feel like the whole team is on his shoulders. If he throws the ball up, he's got four or five guys that can go get it. The offensive line is going to protect him so he can just focus on his drops and stepping up in the pocket. I think his biggest thing is just trusting the other guys around him and letting his body and his athletic ability take care of everything else."
And now for some other Bears reading:
Chicago linebacker Lance Briggs says Robert Griffin III hasn't lost a step. Heck, even if Griffin does lose a step he's still plenty fast enough. Here's what Briggs said about Griffin after seeing the Dallas game: "I don't know, that second half, that burst was there. That burst looked pretty good. Don't be deceived. Don't be deceived at all. He's playing better and better each week. Watching him in that second half against Dallas, I saw him pull away from some guys running the ball."

The Bears are starting rookies at right tackle (Jordan Mills) and right guard (Kyle Long). It hasn't hurt them at all.

Chicago receiver Brandon Marshall said quarterback Jay Cutler is doing a great job as a leader. "Jay's doing an amazing job of not only doing the things he needs to do, but he's getting everyone lined up," Marshall said. "He's walking us through routes, showing us how he would like it. The trickle-down effect has been good from his leadership."
October, 16, 2013
10/16/13
5:40
PM ET
ASHBURN, Va. --
Washington Redskins
cornerback
David Amerson
was limited in practice, three days after suffering a concussion in the 31-16 loss at the
Dallas Cowboys
on Sunday. But Redskins coach Mike Shanahan said he's hopeful that Amerson will be fine Thursday.
Amerson said earlier on Wednesday that he has not felt any lingering affects from the concussion, which occurred thanks to a blindside hit on a second-half kick return. The Redskins can't afford to lose Amerson in a week where they're facing two big receivers in 6-foot-4
Brandon Marshall
and 6-foot-3
Alshon Jeffery
. At 6-foot-1, Amerson is the Redskins' tallest corner.
Meanwhile, backup nose tackle
Chris Neild
was limited with a calf injury. Linebacker
Brandon Jenkins
(ankle), center
Will Montgomery
(knee), corner
Jerome Murphy
(ankle) and tight end
Logan Paulsen
(knee) all practiced in full. Long snapper
Nick Sundberg
underwent surgery to repair the meniscus in his right knee and now faces a five-month recovery.
For Chicago, tight end
Martellus Bennett
(knee), defensive end
Julius Peppers
(not injury related) and corner
Charles Tillman
(knee) did not practice. Linebacker
James Anderson
(back), defensive tackle
Stephen Paea
(toe), safety
Anthony Walters
(hamstring) and safety
Major Wright
(knee) were limited.
August, 24, 2012
8/24/12
3:16
PM ET
The
New York Giants
play their third preseason game of 2012 at 8 p.m. on Friday night against the
Chicago Bears
in East Rutherford, N.J. With a scant 12 days before the regular-season opener against the Cowboys, here's what I'll be watching ...


Most closely:
The offensive line in the run game. Everybody wants to see rookie running back
David Wilson
, and so do I, but I'm more interested to watch how the line blocks for him. I remain of the belief that last season's running-game woes for the Giants were a line problem and not a running backs problem, and the two preseason games so far have looked the same, with the line getting pushed back and unable to open holes for the backs. Wilson needs space in which to work if he's going to show off that explosiveness that made him a first-round pick. He could ascend to the backup role behind
Ahmad Bradshaw
, and he should get plenty of snaps tonight to show whether he's worthy of more carries. But he'll need at least some help from the big folks in front of him.
On the other side of the ball:
I assume the Giants will put
Corey Webster
on
Brandon Marshall
, but who knows? Maybe the hazing of
Prince Amukamara
's not done yet and they'll leave him out there on Marshall in the hope that
Jay Cutler
can make him look bad. In all seriousness, Amukamara is going to get picked on by Cutler, even if he's covering
Alshon Jeffrey
or some other non-Marshall receiver. While
Terrell Thomas
is still recovering from his knee problems, Amukamara is a starting cornerback for the Giants, and I'm interested to see how he's handling that responsibility and all of the struggles he's had on and off the field this preseason.
If I think of it:
Back to the line for a second, I'm interested to see how
Sean Locklear
does at left tackle filling in for
Will Beatty
, since it appears as though he's going to have to do that plenty. I'm interested to see whether
Eli Manning
mixes it up this time and throws to some No. 3 wide receiver candidates after throwing it to
Victor Cruz
all night last Saturday. With
Michael Boley
still out with a hamstring injury, we'll get to see more of
Keith Rivers
and the other linebackers. I'll miss watching
Jayron Hosley
, who's out with turf toe, but am interested to see how the return game looks in his absence.
August, 19, 2012
8/19/12
12:48
AM ET
As much as everybody tries to read meaning into the on-field results of preseason games, the only thing that truly matters to the teams is getting through them healthy. For that reason, the
Washington Redskins
'
33-31 exhibition loss
to the Bears in Chicago on Saturday night was a painful one. Outside linebacker
Brian Orakpo
and strong safety
Brandon Meriweather
both left the game in the first quarter with injuries -- Meriweather to his knee, Orakpo to the same pectoral muscle he tore last year. Redskins coach Mike Shanahan said after the game that both would have MRIs on Sunday, and obviously when you lose two defensive starters you have to be concerned. Inside linebacker
London Fletcher
also was a late scratch from the starting lineup Saturday, and Shanahan didn't say much about Fletcher when asked postgame.


So it was a troubling night for the Redskins because of what was happening on the trainer's table, not so much because of what was happening on the field. Remember, we absolutely cannot make long-term predictions based on these games. We don't know what we're watching. Some teams game-plan for opponents in preseason, other teams don't. Much of the decisive action comes against third-teamers that won't see the field all year. All we can do is evaluate one night's performance for what it is, and to that end ...
1. Robert Griffin III is still learning.
And this is fine, of course. It is to be expected. The hype around the Redskins' rookie quarterback has been intense and exciting, but on occasion it can seem to ignore the important fact that Griffin is a rookie who must learn and get used to the challenges of the NFL game. In the preseason opener last week in Buffalo, the Redskins worked hard to protect Griffin, limiting his throws and his reads to the quickest possible, and he looked very good. He makes smart decisions and displays the kind of poise and leadership you want to see from your franchise quarterback. But the Bears' Cover 2 made things more challenging for Griffin on Saturday, as did Chicago's
Julius Peppers
-led pass rush, and Griffin looked shakier in Game 2. He was 5-for-8 for 49 yards, was sacked three times and fumbled on one of those sacks.
Fred Davis
missed a block on the fumble snap, and rookie running back
Alfred Morris
admitted to reporters after the game that he'd failed to pick up the blitz, but Griffin also needed to protect the ball better while running from the pressure. In general, he looked like a rookie who needs to show more composure against the rush. And again, at this stage in his career, there's nothing wrong with that at all.
2. The secondary looked like a mess.
Bears quarterback
Jay Cutler
had a field day from the start. He found big
Brandon Marshall
up the right sideline for 41 yards after Marshall blew past
Cedric Griffin
. It looked as though cornerback
DeAngelo Hall
was playing free safety on that play, perhaps as part of this weird plan to convince Hall he can be used the way Green Bay uses
Charles Woodson
. It didn't work. Later, Marshall caught a 20-yarder on
Josh Wilson
. This time, Meriweather was providing the safety help but overshot the tackle. Orakpo got hurt in coverage on
Devin Hester
, and I still can't figure out what he was doing so deep.
Alshon Jeffery
had a big catch a little bit later on, and it looked like he had linebackers in coverage as well. I understand the safeties are new and they're moving the cornerbacks around a lot, but the Redskins' coverages Saturday did not look cohesive while the first-teamers were on the field. I thought
Madieu Williams
showed some good things, including an open-field tackle of
Earl Bennett
.
3. Brandon Banks showed something as a returner,
with a 91-yard punt return, and
Aldrick Robinson
flashed his incredible speed as a receiver, bursting into another gear on his 49-yard catch-and-run touchdown. Weird thing is, Robinson doesn't show much as a returner and Banks hasn't shown enough as a receiver. If you could combine them, you'd have something. But the Redskins might not be able to keep both.
4. Morris got the start at running back
over
Evan Royster
with
Tim Hightower
and
Roy Helu
hurt. Early on, Morris showed why Shanahan likes him. He makes one cut and then gets upfield quickly, which is essential for success in Shanahan's zone-blocking run game. He also has that good forward body lean, which helps him pick up yards after contact. The sixth-round pick from Florida Atlantic had 34 yards on 10 carries. Royster was the third-down back even when Morris was in the game, and he had 20 yards on two carries.
Tristan Davis
had 10 carries late but did little with them and isn't likely to be a factor when this running back mess gets sorted out. Morris is a factor, right now.
5. Kirk Cousins.
Yes, he looked great. He was a stunning 18-for-23 for 264 yards and three fourth-quarter touchdowns, including one to newly converted tight end
Niles Paul
, the one to Robinson and one to
Dezmon Briscoe
. The Redskins like Cousins a lot. But no, as anyone who's really paying attention knows, there's no quarterback controversy in Washington and there's not about to be one. The Redskins traded three first-round picks and a second-rounder to get Griffin. They did not do that for Cousins. Their plan for Cousins is to develop him as a backup and, ideally, trade him for something of value down the road the way Andy Reid and the Eagles did with
Kevin Kolb
. Preseason performances like this one can only help with that latter goal. But remember, the performance was against backup defensive players. Cousins never saw Peppers.