NFC East:

Alterraun Verner
March, 12, 2014
Mar 12
12:45
PM ET
Revis
When the
Tampa Bay Buccaneers
let it be known that they were looking to trade cornerback
Darrelle Revis
, the
New York Giants
were one of the many, many teams that called to ask what the price would be. Ian Rapoport of NFL Network reported this Wednesday, and it is true, according to a person with knowledge of the situation. The Giants figured the price would be too high, but they called anyway because this is Revis we're talking about and... well, what if the price
wasn't
too high? Wouldn't that be great?
But it was, as you might expect. Even if the Bucs weren't asking much, Revis would have to redo his contract in order to get a deal done, and he was unwilling to do that. So the conversations ended quickly. Tampa Bay is unlikely to find a trade partner for Revis by 4 p.m. Wednesday, when they owe him a roster bonus, so he'll likely be cut Wednesday afternoon and free for anyone to sign.
We know the Giants have called around on the top cornerbacks, but we also know they balked at
Alterraun Verner
's price, which turned out to be not so bad. (
Verner signed with Tampa Bay
for four years and $25.5 million.) This makes me think it's unlikely they pursue Revis as a free agent. They have the money and cap space to do it, but the bidding is likely to get up near the $10 million-per-year mark, and I don't imagine the Giants wanting to play in that neighborhood.
I don't like to write that something won't happen, because you look silly if 95 things change and it actually does. But if you're dreaming of Revis in Giants blue, I'd encourage you to tone down your expectations.
March, 9, 2014
Mar 9
2:50
PM ET
You have to be careful this weekend with what you hear and where you hear it. The NFL's legal tampering window opened at noon ET on Saturday, so while no free agent can sign with a new team until 4 p.m. ET on Tuesday, teams are allowed to talk to agents for free-agent players, and talk they do. Reports Saturday indicated the
New York Giants
had reached out to the representatives for Tennessee cornerback
Alterraun Verner
and Baltimore defensive lineman
Arthur Jones
.
Verner
The calls could mean any number of things. Take Verner, for example, who is likely to be one of the most sought-after and highly paid cornerbacks on the free-agent market. The Giants could be looking around to see whether they can afford to spend on a cornerback this offseason, and calling the agent for the top one to see where the market is going is one way to find out. Green Bay just re-signed
Sam Shields
on Saturday for four years and $39 million with at least $12 million guaranteed. So if the Giants want Verner (or another top cornerback), it's fair to assume they will need to offer $9 million or $10 million a year to get him.
That's a significant price to pay, especially for a team with so many significant needs on the offensive side of the ball. But the idea of making
Prince Amukamara
the No. 2 cornerback again isn't a bad one for the Giants. That is not to say Amukamara is a No. 2 corner. I think he's a very good player -- not a "shutdown" type of guy, but a good, smart technician who knows the position and works hard at it and will contribute more good than bad. A borderline No. 1 at least. Adding a corner who is better than he is would make the defensive backfield very strong. Defensive back is a position on which the Giants have long shown a willingness to spend big resources (early draft picks or free-agent dollars), and so it wouldn't be out of character for them to throw money at a cornerback early in free agency.
As for Jones, who was a defensive end in Baltimore's 3-4 front, he'd be a defensive tackle in the Giants' scheme and could be an option if they believe
Linval Joseph
is leaving as a free agent. Pro Football Focus ranked Jones the No. 12 overall 3-4 defensive end last year. He'll be 28 in June and he's a Syracuse guy, and you know how the Giants like those Syracuse guys.
Much more to come, obviously.
February, 18, 2014
Feb 18
6:40
PM ET
The Redskins released corner
DeAngelo Hall
a year ago, taking a chance that they'd lose him to another team. The reality is that he wasn't close to going anywhere else; no team showed a strong enough interest. And when he returned, the defensive coaches were rather happy. They knew what he added and wanted to keep him around.
Hall rewarded them by playing one of his best seasons, arguably the best since joining the Redskins because of his consistency. He competed against the top receivers and fared well:
Calvin Johnson
,
Brandon Marshall
,
Dez Bryant
. The Redskins
rewarded him with a new four-year deal
, which is worth $4.25 million per year, according to NBC Washington. Would another team have paid him that much? Tough to say and I really don't know.
Of course, the key always is guaranteed money. Last year's top corner signing in free agency,
Sean Smith
, signed a three-year, $18-million deal with Kansas City.
Aqib Talib
signed a one-year, $5-million deal to stay in New England last offseason. Most other corners settled for prices far below that figure.
The Redskins could have opted to throw big money at another corner: Talib could hit the open market; Tennessee's
Alterraun Verner
is a potential free agent as well. Yes, it would be good to have another young corner to pair with second-year cornerback
David Amerson
, to have two players who could grow together. But that's not always possible -- there's no guarantee they'd come here or even be free by that point -- and the Redskins have plenty of other needs on defense.
[+] Enlarge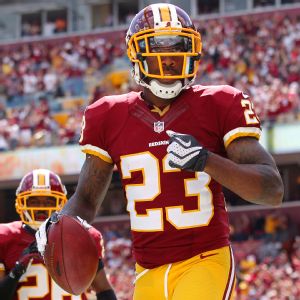 Geoff Burke/USA TODAY SportsDeAngelo Hall had 78, four interceptions and three forced fumbles for the Redskins last season.
Had they opted for one of the top corners on the market, the Redskins would have needed to pay more than what they'll be giving Hall. That would limit their ability to fix other areas. They had a strong option in Hall, who can still play at a solid level. He knows the defense; he's become a leader in the secondary. Perhaps if they didn't have so many needs it would make sense to spend bigger at this spot. But they do have those needs and they had a ready solution at corner. They don't have that at, say, inside linebacker or safety. They HAVE to sign players there (or draft one).
The Redskins still would like to retain linebackers
Brian Orakpo
and
Perry Riley
and defensive lineman
Chris Baker
. For a defense that struggled last year, that's a lot of players to bring back. But, aside from Riley, the other players had strong years so it makes sense. And Riley played well in 2012.
The question I have: How much longer can Hall play well? There's no reason to believe he's on the verge of a major decline in 2014. His play late in the season suggests that's not the case. But how many more years can he be that sort of player?
At some point, though, Hall could always move to safety (if there's still a need). Yes, his skillset can translate: He'd have excellent range and, despite the perception of him, he's done a good job as a corner against the run. But it's far different when you're trying to make those plays from the middle of the field than on the side. He'd also have to learn the defense from a new perspective; as a safety you need to know everyone's job, for example. It's a tough transition, but one that Hall, who is a smart player, could make in a few years if need be.
The Redskins still need to fill some holes at corner.
Josh Wilson
, a starter last year, will be free next month. But Amerson and Hall need to be their starters. Wilson was good against the run from the slot, but the Redskins can upgrade. They have
Richard Crawford
coming off a knee injury; I liked his progress last summer in slot coverage. He was more patient and mirrored the receiver's movements well. But it's tough to rely on him for this role without seeing him after his knee surgery.
They also might re-sign
E.J. Biggers
, but he's still best used as a fourth corner who can provide some versatility. He lined up at safety last season, but that was as much a result of what the Redskins didn't have in the secondary. He needs to stick at corner, but would provide good depth.
Hall developed a reputation as a me-first guy many years ago. For some fans he'll always be that guy. That's fine; but in watching him, I would disagree. There are plenty of corners I've covered who are more me-first than Hall. Yes, he draws some foolish penalties at times but he also plays with passion. It's a fine line.
Overall, Hall still adds value to the Redskins. The defense had many problems in 2013; he was not one of them.
January, 27, 2014
Jan 27
8:00
AM ET
It was an eventful Pro Bowl for the
Philadelphia Eagles
' representatives.
Quarterback
Nick Foles
was named offensive MVP after completing 7 of 10 passes for 89 yards and a touchdown.
Foles threw a go-ahead touchdown pass to
Cleveland Browns
tight end
Jordan Cameron
in the fourth quarter. Foles entered a 14-14 game just before the fourth quarter. On his second full drive, he found Pittsburgh wide receiver
Antonio Brown
deep to get "Team Sanders" into the red zone. He hit Cameron on a corner route to make it 21-14.
Wide receiver
DeSean Jackson
caught the first touchdown of the game from
Indianapolis Colts
quarterback
Andrew Luck
. Luck got the ball back on a flea flicker and threw a jump ball into the end zone. Jackson was there with two defenders. He tore the ball from the grasp of
Tennessee Titans
cornerback
Alterraun Verner
for the 36-yard score.
It wasn't all good news. Eagles running back
LeSean McCoy
, the NFL's leading rusher in 2013, left the game in the second half with what was announced as an ankle injury. He didn't return to the game, but that didn't mean much considering the nature of the game. The nature and severity of the injury were not immediately known.
Before getting hurt, McCoy lost a fumble. Jackson had a ball taken out of his hands for an interception.
Eagles left guard
Evan Mathis
got plenty of playing time for
Team Rice
along with McCoy. Mathis played both guard positions, and helped Carolina running back
Mike Tolbert
win the game -- 22-21 -- with a 2-point conversion with 41 seconds left in the game.
Perhaps Mathis' finest moment was on Twitter. With Foles in the game, Mathis tweeted, "Throw a pick, @NFoles_9! Is that weird? #Pro Bowl #TeamRice."
After Baltimore kicker
Justin Tucker
missed a 67-yard field-goal attempt on the game's final play, the NBC cameras caught Foles talking with Saints quarterback
Drew Brees
.
"We've got to get a picture with you, me and Justin," Foles said.
Foles, Brees and Tucker are all graduates of Westlake High School in Austin, Texas.