January, 26, 2012
1/26/12
10:00
AM ET
EAST RUTHERFORD, N.J. -- It wasn't easy, and it kind of went against everything he's about. But as
New York Giants
punter
Steve Weatherford
stood next to kicker
Lawrence Tynes
on the Candlestick Park field Sunday afternoon and watched Baltimore's
Billy Cundiff
miss the kick that ended the Ravens' season, Weatherford kept his cool.
"In a situation like that, I'm not going to be like, 'Whoa, Lawrence, did you see that?'" Weatherford recalled Tuesday. "So I was just kind of looking out of the corner of my eye to see if he was watching, and he was, very serious, very quiet. I didn't say anything."
Four hours later, with the Giants about to line up the overtime field goal that would win them the NFC Championship Game, Weatherford (who's the holder for Giants field goals) was not quite as willing or able to control himself. As Tynes tells it:
[+] Enlarge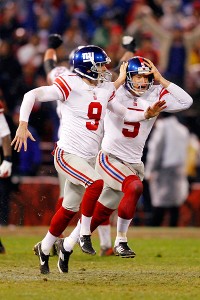 Chris Faytok/The Star-Ledger via US PresswireKicker Lawrence Tynes, left, celebrates with Steve Weatherford after kicking the game-winning field goal in the NFC Championship Game.
"He was animated. We got that penalty and moved back, which was great because now we had grass, and he's jumping around and pointing and saying, 'Lawrence, this is a Super Bowl spot right here! We're going to the [expletive] Super Bowl! Then he ran over and was yelling the same thing at [Giants coach Tom] Coughlin, and Coughlin was like, 'OK, get back out there.' And he comes back and he's like, 'Let's [expletive] make this kick! We're going to the Super Bowl!"
Good thing for Weatherford and the Giants that Tynes had been in this situation before. Neither the sight of Cundiff's 32-yard miss hours earlier nor the hyperactive lunacy of the man charged with securing the snap at the moment could rattle the Giants' kicker. His second career overtime NFC Championship Game winner was true and sent Weatherford sprinting around the field screaming celebratory profanities into Fox's cameras.
"Just unbridled joy," Weatherford said. "That was my soul. You saw my soul on TV."
This was Weatherford's fourth career conference championship game. He was on the Saints team that lost the NFC game to the Bears five years ago and the Jets teams that lost the AFC title games each of the past two years. So he'd been close before. He says the fact that this year's Super Bowl is in Indianapolis, about 30 minutes from his hometown of Crown Point, Ind., makes it even more dreamlike.
"I'm glad it's with this franchise," Weatherford said.
The franchise is glad, too. The as-it-turns-out-overblown story of the Giants' offseason was the one about all of the needs they didn't address in the draft or in free agency. But the signing of Weatherford turned out to be a big one. He was signed, ostensibly, to compete for the job with
Matt Dodge
, the ultimate goat from 2010's most painful Giants loss. But anyone who'd followed Weatherford's time with the Jets knew it wouldn't take much for him to unseat Dodge. He did, and went on to have a huge year for the Giants -- a major upgrade at a position that's a lot more important than most fans want to believe it is.
Before he was the holder on the game-winning kick, Weatherford amassed 557 gross punting yards in the NFC Championship Game. Mark Simon of ESPN Stats & Information, who obsesses about punters, tells me that's an all-time single-game postseason record. And yeah, he punted 12 times, but this was the kind of game that punting can win.
The 49ers'
Andy Lee
was the best punter in the league this year, and San Francisco led the league in both average starting field position and opponents' average starting field position. You can't beat the 49ers unless you have a good punting game, and Weatherford went quite literally toe-to-toe with Lee on Sunday and came out ahead. It's a major reason the Giants were even in position to kick the overtime game winner. As the Giants' offense stalled time and again throughout the second half and overtime against the ferocious 49ers' defense, Weatherford kept doing what he could to make sure and pin the 49ers' offense as deep as possible.
"He's been great all year," said Tynes, who's as relaxed and calm as Weatherford is hyper and cuckoo. "I think that was one of the big underrated things we did, bringing in a guy like Steve who does what he does so well and so consistently."
December, 30, 2009
12/30/09
9:00
AM ET
By
Matt Mosley
| ESPN.com
I thought the NFC East got the worst end of the deal in the Pro Bowl voting process. There were several players left off the team. Here's the Beast All-Snub Pro Bowl team for 2009:
Brent Celek, Eagles tight end:
I don't have any problem with 49ers tight end
Vernon Davis
being the starter because he averaged 12.2 yards per catch and had 12 touchdowns. But Celek averaged nearly 2 more yards per catch than
Jason Witten
and had seven more touchdowns. He didn't have as many catches, but he was certainly more productive in the red zone.
Steve Smith, Giants wide receiver:
Had 97 catches for 1,163 yards and seven touchdowns.
Sidney Rice
averaged more per catch but he had 20 fewer catches and one less touchdown. Smith will probably get in as an alternate, but that's not good enough.
Chris Snee, Giants right guard:
He's had a better season than center
Shaun O'Hara
and he's a better player. If the Giants were only going to get one player, it should've been Snee over O'Hara.
Sheldon Brown, Eagles cornerback:
I thought he deserved it over
Dominique Rodgers-Cromartie
from the Cardinals. But he had eight fewer pass deflections than Rodgers-Cromartie and one less interception. But with all of the injuries he's played through, I thought Brown should've been on the Pro Bowl team.
Donovan McNabb, Eagles quarterback:
I admit that
Aaron Rodgers
has had a pretty strong season, but it bothers me that he's taken 50 sacks. McNabb has taken 19 fewer sacks and he does a better job of protecting the ball when he's sacked then Rodgers. It's been an outstanding season for McNabb, but Rodgers does have the better overall numbers.
Tony Romo, Cowboys quarterback:
Romo had almost identical numbers to Rodgers and he takes a lot fewer sacks. I wouldn't have had a problem with Romo going instead of Rodgers. Romo has played his best football in December.
Mat McBriar, Cowboys punter:
San Francisco's
Andy Lee
had 21 more opportunities to punt the ball, but he had nine fewer punts downed inside the 20-yard line. McBriar is the master at forcing returners to fair catch the ball at their own 10-yard line. Coaches and players don't pay enough attention to special teams. McBriar had a better season than Lee and deserved to go to the Pro Bowl. Lee had the better net average, but he had a lot more kicks returned against him than McBriar.
London Fletcher, Redskins linebacker:
It's almost not worth bringing up. The guy's had another huge season with 134 tackles, but he was once again left off the list. He's been a great player in the league for many years. This should have been his season. Shame on the coaches and players for not righting this wrong.
Andre Carter, Redskins defensive end:
He's had 11 sacks and three forced fumbles. Some people make the argument that
Albert Haynesworth
's the reason Carter had a big year, but Haynesworth missed several games down the stretch.