May, 8, 2014
May 8
2:00
PM ET
By
Andy Jasner
| ESPN.com
With a variety of needs, it's difficult to predict how the
Philadelphia Eagles
will pick in the first round of the NFL draft Thursday night.
Barr
If they decide to wait on wide receiver and cornerback and take a pass-rusher at No. 22, UCLA's
Anthony Barr
would be an ideal fit. The Eagles might also need to trade up to grab Barr, according to the Philadelphia Daily News.
"I don't think he's (Barr) sliding," NFL Network analyst Mike Mayock told the Philadelphia Daily News. "I think that's more of a media perception. I think he could go as early as 11 to Tennessee. I think Dallas would love him at 16.
"This draft is not deep in edge-rushers. Barr has only played the position for two years and needs to get stronger at the point of attack and needs to learn the position from the perspective of learning how to pass rush. But he has great talent. He's the prototype 3-4 outside linebacker. I don't think there's any way he gets into the 20s."
The Eagles finished 20th in the league in sacks last season, and veteran
Trent Cole
led the way with eight.
If the Eagles select Barr, Auburn's
Dee Ford
or Louisville's
Marcus Smith
, among others, it would be a major coup. This type of talent is tough to locate in free agency.
"The NFL has become such a pass-first league," Mayock told the Philadelphia Daily News. "If your sub-package is on the field 60-70 percent of all the snaps, it doesn't matter as much as it used to (if a linebacker can drop into coverage), because if you're a 3-4 base team, you're probably a four-down (lineman) team in your nickel, which is what the Eagles do.
"It's gotten to the point that, regardless of what position a kid played in college or what scheme he played in, it's about how good he is at getting to the quarterback. With his hand in the dirt or standing up, it doesn't matter."
May, 6, 2014
May 6
9:30
AM ET
IRVING, Texas -- With the draft finally within site, unless there is some sort of rain delay, it's time for Five Wonders to return.
We'll keep them focused on the draft.
** I wonder if the Cowboys are in never-never land with the 16th pick when it comes to first-round defensive linemen. That's what an 8-8 finish will do for you. You're stuck right in the middle and have to do too much to move up significantly and won't get enough (some of the time) to move down big either. After
Jadeveon Clowney
and
Khalil Mack
, there is a drop-off on right defensive ends.
Anthony Barr
is a project and somebody I believe the Cowboys would pick at No. 16. Will he be there at No. 16? The rest of the options available, like a
Kony Ealy
,
Scott Crichton
,
Kareem Martin
or
Demarcus Lawrence
look more like second-round picks. That's why I think if the Cowboys move up it's only a couple of spots for a specific player. The more likely option is to move back where they'd have better choices at the right value. Now if only some team would be willing to move up.
** I wonder what the reaction of people who live in the best-player-available world would be if the Cowboys took North Carolina tight end
Eric Ebron
in the first round. If Ebron is there at No. 16 and is the best player, then the Cowboys must take him, right? If you live in the best-player-available world in which there is no gray area, then Ebron is your guy. Hooray. But after taking
Gavin Escobar
in the second round last year and seeing
Jason Witten
make another Pro Bowl in 2013, do the Cowboys need a first-round tight end? You might hate the word "need" but I don't. Need has become the four-letter word in draft circles. If they take Ebron, they are saying the Escobar pick was a mistake and Witten is on his final legs. Ebron is a terrific talent, but the Cowboys can't pick him. I do think, however, the Cowboys would take a tight end (more of a blocker than receiver) later on in the draft.
** I wonder how much scheme versatility will factor into the Cowboys' decision making Thursday-Saturday. The elephant in the room is that Jason Garrett must win now. He is in the final year of his contract. If he doesn't win, then Jerry Jones doesn't have to fire him. He just needs to pick a new coach. But let's say Jerry falls in love with a coach who has a 3-4 background or an offensive coach who wants to bring in a 3-4 coordinator. Can the Cowboys make the switch again? They felt they had the tools to move from a 3-4 to a 4-3 somewhat seamlessly and we saw how that worked in 2013. If the Cowboys picked
Aaron Donald
in the first round, then would he fit in a 3-4 scheme next year? He doesn't look like a 3-4 player. It is a fatalistic view to have going into a draft, but the Cowboys could find some defensive prospects that offer versatility in a 3-4 or 4-3, like Barr, Ealy, Lawrence and possibly
Ryan Shazier
.

**I wonder if third round is the area in which the Cowboys target an offensive lineman. Of the linemen not named
Zack Martin
who visited Valley Ranch before the draft, almost all of them are in that Rounds 3-4 neighborhood like
Gabe Jackson
,
Trai Turner
,
Jack Mewhort
and
Billy Turner
. To be clear, in just about every mock I've been asked to participate in, I have the Cowboys taking Martin at No. 16. If they go offense there, I think they need (there's that word again) to go defense with the second- and third-round picks, provided the grades match up. I'm breaking all ties in the defense's favor. I'll add this note: The last middle-round (Rounds 3-5) offensive lineman to pan out for the Cowboys was
Doug Free
(fourth round) back in 2007. And it took him well into his third season to get on the field. Since then the Cowboys have missed on
Robert Brewster
(third, 2009) and
David Arkin
(fourth, 2011). I'll give them partial credit for
Sam Young
(sixth, 2010) since he's still in the league. Their best middle-round offensive lineman in the last 10 years has been
Stephen Peterman
(third, 2004) and his playing time came with the
Detroit Lions
after he was cut.
**I wonder if the extra time in the draft has led teams to overanalyze things. The
New Orleans Saints
attempted to bust up the boredom by spending some time in Las Vegas. Some other teams took a week's break earlier in the process. The Cowboys altered their schedule some but not that much. Too often we hear teams talk about the importance of watching the players play and not putting as much stock into the combine or pro days. And every year there are guys that come out of nowhere, like Pitt quarterback
Tom Savage
, and small-school gems, like
Pierre Desir
. Maybe they will be great finds. Who knows really? The extra time served up plenty of interest, which the NFL craves, and allowed for more mock drafts than ever before, but did it really serve the teams well? We'll find out in a couple of years.
May, 3, 2014
May 3
12:00
PM ET
May, 1, 2014
May 1
1:45
PM ET
IRVING, Texas -- Another lively chat Wednesday with more than 100 questions from you guys wanting to know this, that and everything about the
Dallas Cowboys
.

In the chat we talked about:
To read the whole chat,
click here.
Let's talk about the whole 'need vs. best player' debate some more:
Kyle from Virginia asked:
With Will McClay playing a bigger role in this draft, do you see Dallas taking the best player available regardless of position more often this year or just filling their needs? I am hoping they are focusing on the long-term, not just the upcoming season.
Here is my answer:
I'm not being a wise guy here, but the answer is: Yes. We always speak in this perfect world of taking the best player available, but you have to factor in need. The key is to not make the need overwhelm the evaluation process so you're inflating a player's worth. I do believe the Cowboys look at the draft as a multi-year deal not specific to one year, but need will always play a part in the process. It just has to. You can't eliminate it.
To elaborate, much of the draft operates in a gray area. Ideally everything is crystal clear. I'm sure in the past I've said, 'You always take the best player available.' Heck, I probably said it two weeks ago, but I'd like to add two caveats:
You always take the best player in the first round. You always take the best player when the best player's grade is much higher than the player you are going to take.
It's clear the Cowboys need defensive line help, though I think the signings they've had in free agency helps steer them away from reaching for a player at No. 16. If they are unable to get one of their top defensive linemen at No. 16, be it
Anthony Barr
,
Aaron Donald
or whomever, then don't reach for the next-best defensive linemen if you don't believe he is better than somebody at another position.
That's why I've had the Cowboys taking
Zack Martin
in the mock drafts I've been asked about. The Cowboys look to be in no-man's land at No. 16 when it comes to the top defensive linemen. Too low for Donald and Barr. Too high for Ealy or Easley. If they trade back in the first round, then it becomes a little more palatable to take one of the lower-ranked guys.
In 2009, the Cowboys should have drafted
LeSean McCoy
in the second round. They had a first-round grade on McCoy but instead of taking him they traded down to get third- and fourth-round picks from the
Buffalo Bills
.
At the time the Cowboys had
Marion Barber
on a big-time deal and drafted
Felix Jones
in the first round in 2008. They also liked
Tashard Choice
. They probably thought they were stacking it up at the position if they took McCoy. So what? You had a chance to get a first-round player with a pick in the 50s. Do it.
We want everything to be black and white when it comes to the draft, but it's not that easy.
April, 19, 2014
Apr 19
12:00
PM ET
IRVING, Texas -- Part 2 of the
Dallas Cowboys
' Twitter mailbag is ready.
In it we discuss:
Why the Cowboys would even consider drafting offense in the first round.
Why the Cowboys could draft offensive line in the first round.
Why the coaching staff could look a lot different.
Why I think the Cowboys would pass on Teddy Bridgewater.
If you want to see Part 1,
click here.
Away we go:
April, 18, 2014
Apr 18
12:00
PM ET
IRVING, Texas -- Part 1 of the
Dallas Cowboys
' Twitter mailbag is ready.
In it we discuss:
What I would do with the 16th pick in the draft if I was the general manager.
What about a quarterback in the second round?
What about Orlando Scandrick and Morris Claiborne?
What about the salary-cap implications of letting Kyle Orton go?
Away we go:
February, 25, 2014
Feb 25
2:00
PM ET
PHILADELPHIA -- The NFL scouting combine is wrapping up Tuesday in Indianapolis. Here's how some of the players we identified as possible
Philadelphia Eagles
picks fared in the annual NFL job fair.
Wide receivers
[+] Enlarge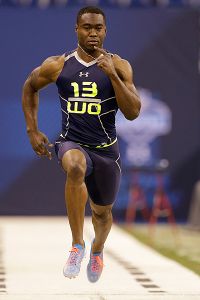 AP Photo/Nam Y. HuhBrandin Cooks might be out of the Eagles' reach after his fast time in the 40-yard dash at the combine.
Brandin Cooks
of Oregon State might have moved up beyond the Eagles' grasp by running the 40-yard dash in 4.33 seconds. That was the second fastest time overall, behind only running back
Dri Archer
. Combined with Cooks' incredible numbers from last season -- 128 catches, 1,730 yards -- the 5-foot-10, 189 pounder likely sealed his first-round status.
Kelvin Benjamin
of Florida State was as big as advertised -- 6-5, 240 pounds. His 40 time of 4.61 wasn't especially impressive, but did we mention he's 6-5?
Odell Beckham Jr.
, the LSU wideout projected to the Eagles in Mel Kiper Jr.'s most recent (pre-combine)
mock draft

, ran a 4.43. That increases his added value as a possible return man.
Vanderbilt's
Jordan Matthews
, who goes 6-3, 212 pounds, ran the 40 in 4.46, and also impressed by doing 21 bench press reps. Receivers don't have to lift bales of hay, but upper-body strength helps when blocking or trying to get off the line against press coverage.
Edge rushers
Dee Ford
, the Auburn defensive end projected to the Eagles by NFL Network's Mike Mayock, proclaimed himself a better player than
Jadeveon Clowney
, then did not participate in drills because of a medical issue. Ford said he was told not to work out because of a 2011 back injury. You have to wonder if that concern will drop Ford on draft boards.
Anthony Barr
of UCLA is considered the second best outside linebacker prospect after Buffalo's Kahlil Mack. The Eagles would only have a shot at Barr if he slipped a bit. His disappointing bench press result (15 reps) probably wasn't enough to overshadow his 4.66 speed. (Mack ran a 4.65 and did 23 reps.)
Stanford's
Trent Murphy
worked out with the linebackers, not the defensive linemen, and remains an intriguing option for the Eagles. The 6-5, 250-pound Murphy ran a 4.86.
Defensive backs
The top two safeties, Lousiville's
Calvin Pryor
and Alabama's
Ha Ha Clinton-Dix
, ran identical 40 times of 4.58. They didn't separate themselves from each other, but the blazing speed at cornerback could potentially sway a DB-needy team or two to go that route and drop the safeties a few spots.
Justin Gilbert
of Oklahoma State is one of those corners. Gilbert ran a 4.35 Tuesday. At 6-0, 202 pounds, that gives him an enviable combination of size and speed.
Michigan State corner
Darqueze Dennard
was
projected to the Eagles

by Todd McShay. After running a 4.42, the 5-11, 199-pound Dennard might also have moved up beyond the No. 22 spot.