NFC East:

anthony hargrove
June, 21, 2013
6/21/13
9:45
AM ET
By
ESPN.com staff
| ESPN.com
Dallas Cowboys
The
Cowboys have cut ties
with defensive lineman Anthony Hargrove.
DeMarcus Ware came in at No. 12
on NFL Network's list of the top 100 players.
New York Giants
Ralph Vacchiano of the New York Daily News
: "Victor Cruz spent his offseason sitting for photo shoots, walking on red carpets, and even posing with a giant donut for National Donut Day. While his teammates were working hard at the Meadowlands, he was a fixture on the celebrity scene. That's what the public saw during Cruz's long contract stand-off with the Giants over the last four months. Sean Donellan saw something different. He saw Cruz sweat."
Free-agent linebacker Desmond Bishop said Thursday the
Giants have expressed interest
.
Philadelphia Eagles
Offensive coordinator Pat Shurmur addresses
quarterback Matt Barkley's progress
this offseason.
Geoff Mosher of Sporting News
: "[Chip] Kelly could be the next Bill Walsh -- or the next Steve Spurrier. The Eagles, who have never won a Super Bowl, are willing to take that risk to find out."
Washington Redskins
In case Robert Griffin III isn't ready to go,
Kirk Cousins is preparing
as if he'll be the starter at quarterback in Week 1. Cousins: "Robert's looking awfully good for only being whatever it is, six months into the injury. He's moving around really well, and I have high expectations for him. I know he has even higher expectations for himself, and we'll just play it as it goes. But my mindset has to be that I need to approach it like I'm gonna start Week 1."
Speaking of Griffin, the
quarterback is No. 15
on NFL Network's top 100 list.
May, 17, 2013
5/17/13
10:12
AM ET
The
Dallas Cowboys
' signing of defensive lineman
Anthony Hargrove
on Thursday got buried under the at-long-last resolution of the
Doug Free
matter. But
as Calvin Watkins writes on ESPNDallas.com
, it says something about where the Cowboys are in terms of their defensive line. As Dallas transitions to a 4-3 front this year, there has been some concern raised about depth. The starting quartet of
DeMarcus Ware
,
Anthony Spencer
,
Jason Hatcher
and
Jay Ratliff
appears very good, but should one of those guys get injured or need a rest, things get dicey behind them. That's where Hargrove comes in, as the Cowboys believe he can play end or tackle on a 4-3 line.
But Hargrove is going to turn 30 before the start of the season, and since the team didn't address the defensive line in the draft, it's worth wondering about the future there, as Calvin does in his post. Spencer and Hatcher could both conceivably be gone next year. Ratliff's about to turn 32 and always seems to be banged up. Ware has worn down a bit toward the end of recent seasons, and a move up to the line could exacerbate that. Calvin lists
Tyrone Crawford
,
Sean Lissemore
,
Rob Callaway
and
Kyle Wilber
as young defensive linemen who could factor into the starting mix as early as next year. Lissemore is the most proven of that group, but one of the interesting subplots on the defensive line in Dallas this year will be whether any of them can show enough to instill confidence that they'll play significant roles in the future. The extent to which any or all of them do will affect what the Cowboys do about the defensive line next offseason.
In the meantime, I agree with Calvin that the Cowboys' defensive line appears to have been built for 2013 success without much of an eye toward what lies beyond. You can't fix every problem every offseason, and much of the Cowboys' draft this year was focused on offense due to their belief that they'll be better on defense with better health. Look for defensive line to be a major focus in the 2014 offseason, regardless of the way 2013 goes.
May, 16, 2013
5/16/13
4:16
PM ET
The
Doug Free
situation has finally reached its resolution. According to Calvin Watkins,
Free has accepted a pay cut
and will remain with the
Dallas Cowboys
in 2013.
ESPN's Ed Werder reports
that Free agreed to a 50 percent cut, which would reduce his 2013 salary from $7 million to $3.5 million and save the Cowboys room against this year's cap. Ed also reports that Free is now scheduled to be paid $3.5 million in each of the next two years, with only this year's salary guaranteed.
Free
Obviously, these numbers are much more palatable to the Cowboys than were Free's original contract numbers. Since signing his four-year, $32 million free agent deal after a strong 2010 season, Free has played as poorly as any starting tackle in the NFL. The Cowboys hoped a move from the left side to the right side in 2012 would help things, but it did not, and had he not agreed to the reduction, he likely would have been released. The fact that the 2014 money is not guaranteed is significant, as releasing Free prior to this agreement would have dumped a significant amount of "dead money" onto next year's cap.
The pay cut could allow the Cowboys to sign a free-agent tackle such as
Eric Winston
, and even if they don't, it's a lot easier on their budget and on common sense to pay Free $3.5 million than $7 million this year. It's possible he's the starting right tackle again and also possible he could share time with or lose the job outright to
Jermey Parnell
. If he has to be a backup "swing" tackle, his salary for a job like that is at least closer than it was to reasonable.
The Free contract goes down as a boondoggle for the Cowboys because of the way Free has played since signing it. At the time, Free was coming off a fine season as Dallas' starting left tackle and Cowboys fans were panicked about the idea of failing to re-sign him. The deal is in line with what top tackles on that year's market were getting, and he'd played like a top tackle. But obviously, his failure to live up to that season and that deal have put the Cowboys in a bad spot. They obviously didn't want to just release him, and even if they had they couldn't have recouped the salary-cap savings until after June 1. So while this compromise doesn't rid them of their Free problem, it at least makes it a bit of an easier problem with which to deal.
Calvin also reports that the Cowboys are signing veteran defensive tackle
Anthony Hargrove
for depth at that positon.
May, 2, 2012
5/02/12
12:22
PM ET
The big news today in the NFL is, once again, out of New Orleans, where two current Saints defensive players and two former ones have been suspended for their alleged role in the Saints' bounty programs. Saints linebacker
Jonathan Vilma
has been suspended for the entire season and defensive lineman
Will Smith
has been suspended for the first four games. Former Saints defensive lineman
Anthony Hargrove
, who was in camp with the
Philadelphia Eagles
last year and is now with the Packers, is suspended for eight games, and former Saints linebacker
Scott Fujita
(now with the Browns) is suspended for three.
This all assumes that these suspensions hold up, and we have yet to hear from the NFLPA, which has been arguing for weeks that the league had insufficient evidence to support claims that the players were complicit in administering the bounty programs or that they acted on bounty offers during the games in question. But assuming Vilma and Smith are suspended at all, that's a nice little break for the
Washington Redskins
and rookie quarterback
Robert Griffin III
, who are scheduled to open the 2012 regular season against the Saints in New Orleans on Sept. 9. While a road game in New Orleans remains a difficult challenge for anyone, especially a rookie quarterback, the Saints' defense obviously becomes somewhat less fearsome if Vilma and Smith aren't on the field.
The other three teams in the NFC East also play the Saints this year, though all are scheduled to do so after Smith's suspension expires. The Eagles open their season Sept. 9 in Cleveland against the Browns, who will be without Fujita if his suspension is upheld.
September, 3, 2011
9/03/11
6:25
PM ET
Click
here
for a complete list of the
Philadelphia Eagles
' roster moves.

Surprise move:
It's not a huge surprise that nickel cornerback
Joselio Hanson
was released, considering how deep the Eagles were at cornerback after their frenzied first week of free agency. But I do think people are surprised that they couldn't get anything for him in a trade before releasing him. It seems no team wanted to compensate the Eagles and also assume Hanson's contract, which had $7.6 million left over the next three years. He was an extremely effective nickel corner last year and surely will end up on someone's roster (Cleveland? Arizona? St. Louis? The Giants?) before long.
It was a bit of a surprise to see the Eagles cut defensive tackles
Anthony Hargrove
and
Derek Landri
and keep
Cedric Thornton
, but ultimately I guess they believed Landri and Hargrove weren't big enough to play the position in Jim Washburn's scheme. Very small but very effective former CFL star
Phillip Hunt
made the team at defensive end, though. And cutting
Sinorice Moss
and
Johnnie Lee Higgins
leaves the Eagles looking for help in the return game.
No-brainers:
Keeping five safeties (
Jarrad Page
,
Kurt Coleman
,
Nate Allen
,
Jaiquawn Jarrett
and
Colt Anderson
) and six linebackers (
Casey Matthews
,
Jamar Chaney
,
Moise Fokou
,
Akeem Jordan
,
Brian Rolle
and
Keenan Clayton
) makes some sense because they have questions at those positions and will hold onto depth until they sort out roles. Tight end
Donald Lee
probably can help someone, but with all of the options the Eagles have at receiver, there isn't much room in the game plan for many two-tight end sets.
Mike McGlynn
started 14 games for the Eagles last year, but it was clear from the start of camp that there was no place for him on the new offensive line.
What's next:
The Eagles are likely to poke around and look for help at linebacker and kick returner, but they're set at almost every position and extremely deep at most. If I'm their front office, I begin focusing my attention on whatever potential resolution there might be to the
DeSean Jackson
contract situation.
September, 3, 2011
9/03/11
3:29
PM ET
I don't completely understand the phenomenon that is NFL cutdown day. More specifically, I don't understand the fans' fascination with it. But I recognize that said fascination exists, and that it's awkward for you all to be discussing this on yesterday's post. So here's a new post, written expressly for the purpose of providing you with a fresh comments section in which to discuss things like
Kellen Clemens
' release from the
Washington Redskins
. I hope you enjoy it.
Once the cuts are in, I will have a post for each team, breaking it all down. Meantime, based on various reports, we've heard:
And more, of course, as most of you know who are tracking these same reports. More later. I promise.
August, 25, 2011
8/25/11
10:41
PM ET
The plan was for the
Philadelphia Eagles
' starters to play three quarters of Thursday night's preseason game against the Browns. But
Michael Vick
took such a beating in the first half, and it was raining so hard at halftime, that it just didn't make any sense to run him back out there. And while it's easy to look at the big picture and say the Eagles looked a lot better in this
24-14 exhibition victory
than they did last week against the Steelers, the fact is the offensive line's play in the first half had to be extremely disconcerting to their fans and their coaches.

The issues Thursday were at and to the right of center. Rookie
Jason Kelce
got the start with the first team at center in place of veteran
Jamaal Jackson
, and he did little to make you think Jackson's job is or should be in jeopardy. Kelce had a holding penalty and a bad exchange with Vick, and he and fellow rookie
Danny Watkins
were repeatedly shredded by rookie
Phil Taylor
and the Cleveland defensive line. As a result, Vick was under pressure throughout the first quarter and didn't have time to find his wide receivers downfield.
Running back
LeSean McCoy
continued to look excellent as a runner and as a great check-down option for a harried Vick in the passing game. And if the line is going to be this shaky all season, McCoy could catch 100 balls. But the line has to get better, or it could sink this promising Eagles season.
Center can be fixed, of course, because they can just put Jackson back in there until Kelce is ready. And
King Dunlap
is only a fill-in starter at right tackle until
Winston Justice
and/or
Ryan Harris
are healthy. But Watkins was the first-round pick, and he's going to start. And he's going to have to block better and communicate better with whoever is out there to his right and left, or Vick is going to be knocked around a lot.
Now, as we keep saying, it's only preseason, and the Eagles still have more than two weeks of practice time in which to fix these problems. I am by no means saying they cannot or will not fix their issues. But while the result of this game doesn't matter any more than the result of last week's game did, there are some specific issues that came up, good and bad, and the poor play of the right side of the offensive line was the one that stood out the most.
Some others:
1. Better work by the linebackers this week.
The Eagles' defense this season will be based on aggressive upfield pursuit by the defensive line, which means the linebackers will have to be more effective and responsible in coverage. We saw that Thursday night, especially from
Jamar Chaney
and rookie middle linebacker
Casey Matthews
. Last week was rough on Matthews, but the Eagles seem to have done a good thing for him this week, replacing him with
Brian Rolle
and/or
Brandon Hughes
on passing downs and allowing him to focus on playing the run more. Matthews' first-quarter highlight was a big stop on
Montario Hardesty
up the middle, and in general the linebackers in this game seemed to be in the right place and for the right amount of time much more reliably than they were against the Steelers.
2. Mike Patterson helps.
Back in action less than a month after suffering a seizure on the practice field, Patterson was a big addition to the defensive tackle rotation. He picked up an early sack, drawing a nice ovation from the pre-rainstorm crowd at Lincoln Financial Field, and along with
Cullen Jenkins
,
Derek Landri
and
Anthony Hargrove
, he helped deliver somewhat consistent pressure up the middle as the game went along. If
Antonio Dixon
makes it back from his injury, the Eagles are going to have a very deep, very talented defensive line rotation that will allow them to keep everyone as fresh and aggressive as Juan Castillo and Jim Washburn want them to be throughout the games.
3. Vick was better but tough to evaluate.
He didn't throw three interceptions, as he did last week, and in general he did a better job of identifying and reacting to the blitz. His inability to get the ball to his receivers wasn't his fault, as discussed above, but he did a good job of finding McCoy and, every now and then, taking off running when all else had failed. We're not likely to see him in the final preseason game, so this was his last warm-up before the regular season. But he'll surely hope
Jeremy Maclin
is back and fully healthy by then, since that will help matters all around.
4. The cornerbacks all did nice things.
Nnamdi Asomugha
was his swarming, suffocating self, taking receivers out of the game.
Asante Samuel
came up with an interception.
Dominique Rodgers-Cromartie
blocked a kick. As they are on the defensive line, the Eagles are deep in the secondary, especially if
Jarrad Page
and
Kurt Coleman
can continue to make the contributions they're making at safety. In general, the defense was much more intense and directed this week. Again, we don't know what we're looking at in the preseason. The Eagles might have planned for this game, and the Browns might not have. But from a confidence standpoint, the Eagles had a lot more about which to feel good on defense than they did after
Ben Roethlisberger
took them apart seven nights earlier.
5. The Eagles are deep at running back, too.
Ronnie Brown
continues to look like a one-year steal, and
Dion Lewis
like a guy who could make it not matter if Brown leaves after one year. If McCoy is going to be leaned on heavily, the Eagles can feel good about their ability to give him breaks and keep him fresh.
I also thought both rookie kickers looked good and that in general most of the individual evaluations off this game had to be position. But the offensive line play in the first half was so alarming that it had to be the story of the night, and all eyes will be on the right side of that line once the games start for real.
August, 25, 2011
8/25/11
11:50
AM ET
The
Philadelphia Eagles
' most recent preseason game left some people with some ... concerns. Especially on defense, where
Ben Roethlisberger
picked apart the pass rush and
Rashard Mendenhall
found a whole bunch of running room up the middle. The fear is that new defensive line coach Jim Washburn and his "Wide 9" concept leaves too many gaps in the line and too many places for a running back to find that room.
But it can't be that simple, because Washburn's lines in Tennessee weren't routinely gashed by opposing running backs. Last year was the first year in since 2006 that the Titans didn't finish with a top-10 defense against the run. Washburn's linemen are taught to play the run on the way to the quarterback, and the Wide 9 doesn't prioritize pass defense over run defense to its detriment, conceptually.
The issue, as raised by Bob Grotz in
this preview of Thursday's preseason game
, is likely a personnel one. Run-stopping defensive tackle
Mike Patterson
hasn't played in either of the first two preseason games, having suffered a seizure in an early-August practice and been treated for a brain condition.
Antonio Dixon
has been out with a back injury. These two defensive tackles were projected as starters, maybe even after the team brought in free agents
Cullen Jenkins
and
Anthony Hargrove
. Without them, the defensive line rotation has not run the way it is supposed to run, and that likely has more to do with the defense's apparent susceptibility to the run than anything scheme-related.
Patterson is back for Thursday's game, having been cleared by doctors to play. Dixon remains out, which is a shame, but at least allows the team to evaluate Hargrove and
Derek Landri
, who both may not have spots on the final roster. They'll start Patterson and Jenkins, most likely, and the hope is that that pairing will take some of the pressure off the much-maligned linebacker corps and rookie
Casey Matthews
.
The Eagles clearly have some issues to work out in the couple of weeks remaining before their Sept. 11 season opener in St. Louis. They have a bunch of new players adjusting to new concepts under Washburn and new defensive coordinator Juan Castillo. This is going on in several places around the league, with varying results, in the wake of the lockout that wiped out the bulk of the offseason. Whether they get it together in time in Philadelphia remains to be seen. But given the talent and depth they have at cornerback and on the defensive line, there's really no reason to panic yet that they're not going to be able to stop the run. They just need to get all of their players in there so they can do it.
August, 8, 2011
8/08/11
1:00
PM ET
BETHLEHEM, Pa. -- Call Andy Reid impatient if you want, but like most NFL coaches, the
Philadelphia Eagles
' head coach is no great fan of the walk-through practices that have taken the place of what used to be the second of his two training camp practices per day.
[+] Enlarge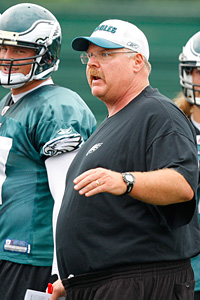 Jim O'Connor/US PresswireHead coach Andy Reid enters the season with a roster full of Pro Bowlers and high expectations.
"It's like being stopped at a red light with a bunch of cars in front of you," Reid told me after Friday's walk-through. "You want to just hurry up and get where you're going, but there's nothing you can do about it."
The Eagles, you see, have big plans. Reid is in his 13th season as their coach, and although the first 12 have been mostly excellent, each has ended without a Super Bowl ring. The team's urge to change that this season is obvious and inescapable. It's on the ever-shifting roster, which added five Pro Bowlers during a wild first week of free agency that made the Eagles the talk of the league. It's in the eyes of quarterback
Michael Vick
, who knows last season proved he was good enough to deliver and therefore ratcheted up the pressure to do just that. It's all over the high-energy practices that have featured fights and trash-talking worthy of a Week 16 division matchup. The Eagles know what's at stake and what they must do, and they're eager to get to it.
"This town wants a Super Bowl," linebacker
Jamar Chaney
told me, referring of course to Philadelphia, not Bethlehem. "The Phillies win. The Flyers win. They want the Eagles to do the same thing. And not just win, like, have a good season. They want you to win a Super Bowl."
The players and coaches hear the fans and would like them to know they feel the same way. Juan Castillo, who's in his first season as defensive coordinator after 13 as the team's offensive line coach, has a cut just above his nose from where he actually head-butted linebacker
Keenan Clayton
while yelling at Clayton to make a point during practice last week. Yeah, Clayton was still wearing his helmet. Yeah, Castillo wants this pretty badly.
"Coach Reid has been to the playoffs nine out of 12 years," Castillo said. "That's tradition, but it's not good enough. Before we finish here, we want to win the Super Bowl. Because we don't want to be sitting around when we get older, watching ESPN and having them talk about how we were so close and we never got it done."
So yeah. If it's not too much trouble, the Eagles would like to get this thing going as soon as possible.
THREE HOT ISSUES
[+] Enlarge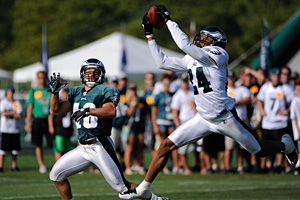 Howard Smith/US PresswireThe addition of Nnamdi Asomugha, 24, gives the Eagles three starting-caliber cornerbacks.
1. Can you have too many cornerbacks?
When the Eagles signed
Nnamdi Asomugha
the day after acquiring
Dominique Rodgers-Cromartie
and they already had
Asante Samuel
, the first question everybody asked was whether they'd keep all three excellent cornerbacks. The answer, to this point, seems to be yes. Rodgers-Cromartie has made it clear he doesn't mind sitting behind either of the other two, and Asomugha has made it clear that he's happy to play slot corner when all three are on the field if the other two would prefer to play outside. So although there was some early talk about possibly dealing Samuel (and that remains a possibility if somebody blows them away with a great offer), the odds favor the Eagles' keeping all three and just making triple-sure that all the receivers they play against are covered.
2. Will Vick have his receivers?
As exciting as things have been during the early practices, you can't escape that Vick is throwing to second-string and third-string receivers. Sure,
Jason Avant
has looked like a star. But he's supposed to be the No. 3 wideout behind
DeSean Jackson
and
Jeremy Maclin
. Jackson just showed up Monday after missing the first week-plus in a contract dispute. Maclin has been in camp for a week but has yet to practice as he continues to recover from an illness that neither he nor the team will discuss. If the team can't get Jackson happy and Maclin healthy soon, their top two receivers run the risk of starting the season behind or maybe not on the roster. No matter how many new defensive players they've signed, that would be impossible to overcome.
3. Who are the linebackers?
The Eagles have beefed up on the defensive line and in the secondary. They've even added a couple of starters on the offensive line and Pro Bowl backups at quarterback and running back. But they did nothing at linebacker except allow
Stewart Bradley
to leave via free agency. That means rookie
Casey Matthews
, the team's fourth-round pick in April's draft, is currently the starting middle linebacker with Chaney and
Moise Fokou
on the outside. The coaches have been saying very nice things about Matthews, but no pre-draft projection I know of had him as a 2011 starter -- especially on a team that expects to win the Super Bowl. Don't be surprised if the Eagles bring in a veteran to add a little depth and/or experience at the position. Matthews could start Week 1, but it's hard to imagine that the Eagles don't have a backup plan.
D-LINING THEM UP
[+] Enlarge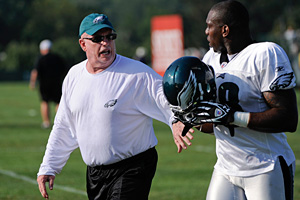 Howard Smith/US PresswireNew defensive line coach Jim Washburn, left, brings an attacking style that end Trent Cole, right, is excited about.
For all the talk about the rotation at cornerback, the Eagles have put together remarkable depth on the defensive line as well. New defensive line coach Jim Washburn has been using
Trent Cole
and
Juqua Parker
as his starting defensive ends in early practices, with newcomers
Cullen Jenkins
and
Anthony Hargrove
at the defensive tackle spots. But one would have to think that
Antonio Dixon
, who has been missing practice with a knee injury, would start in Hargrove's place if healthy, which means Hargrove would join newly signed defensive end
Jason Babin
on the second-team defensive line. Add in
Trevor Laws
,
Darryl Tapp
and, if healthy,
Mike Patterson
, and Washburn has plenty of options on a line that will have a different mission this year than it has in recent seasons. "We used to do a lot of reading, and now we're attacking, getting after the ball a lot," Cole told me. "Go to the ball every time, get the quarterback every time. I think they took a lot of the thinking out of it. Just go play ball."
O-LINING THEM UP
The offensive line also has a new coach in Howard Mudd, and he has changed the way they play line on that side of the ball, too. "It's a whole new thought of blocking your man," guard
Todd Herremans
told me. "Instead of meeting him at a spot, you're going to get to them before they get to that spot. It's more of an aggressive approach." Herremans said he's working on changing his ways, and left tackle
Jason Peters
and center
Jamaal Jackson
must as well. Rookie right guard
Danny Watkins
and right tackle
Ryan Harris
are new, and rookie
Jason Kelce
could wrest the starting center spot from Jackson. So there's a lot going on with the offensive line, and it bears watching, because keeping Vick healthy is probably the key to the entire Eagles season.
OBSERVATION DECK
Assuming Nate Allen's knee is healthy, he'll start at one safety spot, but it'll be interesting to see how the other one shakes out. It looks as though the Eagles would like to give rookie Jaiquawn Jarrett a chance to start, but it's tough to evaluate Jarrett during practices that don't allow hard hitting, because that's his thing. Also in the mix are Kurt Coleman, Marlin Jackson and newly signed veteran Jarrad Page.

As many weapons as the Eagles already have on offense, and as good as Brent Celek is, it'd be easy to overlook the signing of tight end Donald Lee. But when I was there, they were lining Lee up one-on-one with defensive ends like Babin and having him block them without help. He did a pretty good job, and if you're wondering how he might be deployed, that could be your answer.

Vince Young looks very much like a quarterback with a lot to learn about his new team's offense. So much so, in fact, that you wonder whether Young or Mike Kafka would be the starter if Vick were to suffer an injury early in the season.

Fourth-round draft pick Alex Henery has a great big leg. But after all the work they did in free agency and everything that's riding on this season, it does seem a little odd for the Eagles to potentially leave the outcome of a big game in the hands (or on the foot) of a rookie place-kicker.

Chaney played middle linebacker last season when Bradley was hurt. And when you ask which he'd prefer, he answers that he'd rather be back there than outside. But the Eagles think that his speed is his greatest asset and that having him on the strong side makes the best use of that. He could be the middle linebacker of the future or a fall-back option if Matthews can't handle it. But right now they appear to prefer him on the outside.
August, 6, 2011
8/06/11
12:43
PM ET
BETHLEHEM, Pa. -- Big Saturday morning crowd here at Lehigh, and they were treated to quite a show as the
Philadelphia Eagles
offered one of the more spirited training camp practices I've seen.
One of the highlights came late in the practice when defensive end
Darryl Tapp
jumped, deflected a
Mike Kafka
pass into the air, caught it and ran it back about 70 yards for a touchdown. The play was good enough on its own to be a highlight, but what really made it memorable was the sight of a red-shirted
Michael Vick
racing off the sideline and chasing Tapp to the end zone.
"I saw him out of the corner of my eye and thought, 'I'd better run'," Tapp said. "He's ... a little bit faster than I am."
[+] Enlarge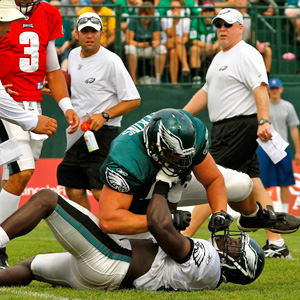 AP Photo/Alex BrandonThere were a few scuffles at Eagles practice Saturday, including one involving Danny Watkins and Moise Fokou.
It was that kind of high-energy day for the Eagles. The sun hid behind clouds and kept the heat at bay, so the practice ran long and no one seemed to tire out. There were three fights (all quickly broken up, one by hyperenthusiastic defensive coordinator Juan Castillo), several circus catches, plenty of patented
Asante Samuel
trash-talking and an especially bouncy performance by newly signed defensive tackle
Anthony Hargrove
, who practiced as if he'd had four extra cups of coffee before taking the field.
"I don't know what happened out there today," Vick said. "Just something in the air, I think. Just one of those days where, on both sides of the ball, we were like, 'We're going to win every down,' and guys played that way."
A couple of thoughts:
I'll have more on the Eagles in the coming days, as my notebook and recorder are loaded. Much of it will appear in the Eagles edition of "Camp Confidental," which is currently scheduled for Monday. It looks as though my next stop will be Giants camp either Sunday or Monday. I'll keep you posted.
August, 3, 2011
8/03/11
10:45
PM ET
Back home in New Jersey after a long day on the road home from Redskins camp, combing through the day's p.m. news items and ready now to ask our favorite question: How was your day...

Dallas Cowboys?
"Painful."
Say what you want about
Terence Newman
, but if his
groin injury
turned out to be serious, the Cowboys would have a problem. Remember, they weren't out hunting for cornerbacks. They were in the
Nnamdi Asomugha
market because of how good Asomugha is -- not because of what they think of Newman and
Mike Jenkins
. They'd have cut Newman to make room for Asomugha, but their plan after Asomugha signed with the Eagles was to keep Newman and spend on safety. Now, Newman's hurt, and if it's the kind of thing that could linger into the season, the Cowboys and their already-stretched budget could need to find an answer at corner when they still haven't answered safety all the way.
Abram Elam
remains the strongest possibility for the other starting safety spot opposite
Gerald Sensabaugh
, especially with
Brodney Pool
returning to the Jets, but he isn't signed yet.

New York Giants?
"Unsettled."
Kevin Boss
is reportedly in Oakland,
meeting with the Raiders
, who lost tight end
Zach Miller
to the Seahawks on Tuesday and are surely legitimately interested in Boss. This is good news for Boss, as it will help him get more money, either from the Giants or the Raiders. But it's bad news for the Giants, who are also up against the cap and would have limited options to replace him if he were to go. If they have to spend more to keep him, it's hard to believe they'll also be able to sign
Steve Smith
, and losing Smith would seriously hurt them at wide receiver. And if they lose Boss, they could sign Smith more easily, but they may not want to up their offer to Smith because of concerns over his knee. So the Giants have reason to be nervous about the state of
Eli Manning
's passing targets at this point. The
Osi Umenyiora
situation also remains unsettled, after an odd day on which Umenyiora's options for getting satisfaction about his contract
appear to be dwindling
or dried up.

Philadelphia Eagles?
"Scary."
The day began with defensive lineman
Mike Patterson
collapsing at practice
and leaving the field in an ambulance. We learned later in the day that Patterson was dehydrated and was doing fine at the hospital, where he was being kept for further tests to make 100 percent sure before they let him go back out and practice football in the heat. First-round pick
Danny Watkins
, who's a firefighter and presumably has EMT training, was apparently instrumental in taking charge and making sure Patterson got the aid he needed. An unforeseen benefit of drafting Watkins, to be sure. As for signings, the Eagles added a couple of guys, including defensive tackle
Anthony Hargrove
, most recently of the Saints, to beef up the interior of Jim Washburn's defensive line.
Jeremy Maclin
was in camp but didn't practice or talk to reporters as he continues to recover from the illness that kept him from attending the camp's first five days. And
DeSean Jackson
continues to hold out, with no end in sight there.

Washington Redskins?
"Productive."
Rain in the morning in Ashburn cooled things off, and the Redskins extended practice by about a half-hour to let
John Beck
run 11-on-11 drills with offensive coordinator Kyle Shanahan calling plays for him through the speaker in his helmet. I don't know what to tell you on Beck. You watch from the sidelines and you see the ball wobble and the receivers reach behind them to catch it and you just don't come away very impressed. Then you talk to Kyle and Mike Shanahan about him and they rave about how great he looked. I'm completely ready to admit those guys know 800 times as much about evaluating quarterbacks as I do, but man. I didn't think the ball was supposed to wobble that much. I guess we'll see. Sounds like they're really serious about giving Beck at least a real good shot at winning the starting job.
My day? Well, thanks for asking. Very nice day. Good, enjoyable, informative interviews with both Shanahans, Beck,
London Fletcher
,
O.J. Atogwe
and others as I wrapped up my last day at Redskins camp. I will be sharing it with you in the coming days, even as I'm visiting other camps. And the Redskins edition of our "Camp Confidential" series is scheduled to run Saturday, so look for that. Now, though, I am tired and looking forward to taking tomorrow off. I will be chatting with you all again Friday from Lehigh.
But before I go, I really must ask: How was your day?