September, 2, 2014
Sep 2
7:59
AM ET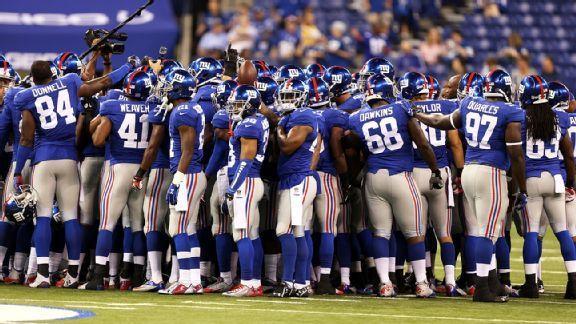 ESPN.com
New York Giants
reporter Dan Graziano makes his game-by-game picks for the 2014 season.
Week 1: at Detroit Lions
The Giants are coming off a mess of a preseason, undermanned and overwhelmed, with the offensive line still a mess and the new offense not clicking at all. No one will pick them to win this game. Except me. Prediction: Win
---
Week 2: Arizona Cardinals
This one's a comedown off the Week 1 surprise, as Arizona's banged-up defense still manages to flummox Eli Manning and collect a few interceptions. It's a bummer of a home opener as reality begins to set in. Prediction: Loss
---
Week 3: Houston Texans
Houston's defense is as liable as Arizona's to make life miserable for Manning and the offensive line. But Houston has bigger questions on offense than even the Giants, and this is a win for the New York defense against Ryan Fitzpatrick. Prediction: Win
---
Week 4: at Washington Redskins
The short week and Washington's stellar crew of offensive weapons prove too much for the Giants to overcome. Will Beatty still sees Brian Orakpo in his nightmares. Prediction: Loss
---
Week 5: Atlanta Falcons
The pattern continues, and the Giants overcome two Osi Umenyiora sacks to outscore the Falcons with a furious Manning comeback in the final minutes. The Giants poke their heads over the .500 mark as they make the turn into the most brutal stretch of their schedule. Prediction: Win
---
Week 6: at Philadelphia Eagles
The Giants don't have Matt Barkley to kick around this time when they visit the City of Brotherly Love. Chip Kelly and the Eagles show them what a truly innovative offense looks like. Prediction: Loss
---
Week 7: at Dallas Cowboys
The season-long debate about what gives when an anemic Giants offense meets a pathetic Cowboys defense tilts in Dallas' favor in the first meeting. Tony Romo & Co. have more than enough weapons to outscore Manning and his bunch, and the Giants hit the bye with a 3-4 record. Prediction: Loss
---
Week 9: Indianapolis Colts
After a long break before the Monday night home game, the Giants get taken apart by Andrew Luck, Hakeem Nicks & Co. at MetLife Stadium for a third straight loss. The offense is starting to run more smoothly, but it still doesn't have enough playmakers to outscore one of the league's better offenses. Prediction: Loss
---
Week 10: at Seattle Seahawks
You're kidding, right? Prediction: Loss
---
Week 11: San Francisco 49ers
The Giants have obviously handled the Niners in recent years and in some high-profile situations. But by this point in the season, San Francisco's defense is back to full strength, and the 49ers can't afford to lose ground to the Seahawks by failing to beat the team Seattle just beat the week before. Prediction: Loss
---
Week 12: Dallas Cowboys
A sixth straight loss is by no means out of the question here, as Romo and his crew still have the potential to outscore anyone in a given week. But from this far out, I'll forecast that something goes wrong for Romo late in this game, and the Giants get a gift. Prediction: Win
---
Week 13: at Jacksonville Jaguars
This is where the schedule starts to soften up, when the Giants start playing teams that insist on not starting their best quarterback. It's unfortunate they're 4-7 at this point and just about out of the playoff hunt, but they will get it going against the bottom-feeders. Prediction: Win
---
Week 14: at Tennessee Titans
I think the Titans are going to be dreadful this year, and by December they won't be very difficult for anyone to beat, even at home. A third straight victory keeps the Giants' hopes alive. Prediction: Win
---
Week 15: Washington Redskins
Have to be honest: The NFC East is so unpredictable that, when doing these predictions, I just decided to give the Giants a 3-3 division record with victories in all three home games and losses in all three road games. It's as fair a way as any to do it, I believe. Prediction: Win
---
Week 16: at St. Louis Rams
After moving back to .500 with four straight wins, the season falls apart at the hands of the St. Louis pass rush. An offensive line that has once again been the Giants' biggest problem all year can't protect Manning in a must-win game. Prediction: Loss
---
Week 17: Philadelphia Eagles
Tom Coughlin's teams can always find a way to play for pride. The Giants' playoff hopes are extinguished, but they still manage to end the season on a high note and with a .500 record. Prediction: Win
---
Predicted Record: 8-8
August, 24, 2013
8/24/13
11:20
PM ET
ARLINGTON, Texas -- The Cowboys had a hard time getting much of an advantage at Cowboys Stadium with a 17-15 regular-season record in the $1.2 billion home.
Playing under the AT&T Stadium name for the first time, the Cowboys were able to overcome a tepid start to beat Cincinnati 24-18.


What it means:
The Cowboys got what they wanted in their final showing of the preseason from their regulars on offense and defense.
The Cowboys have not played their starters in the last preseason game since 2006, and Jason Garrett will not want to risk the likes of
Tony Romo
,
Dez Bryant
,
Jason Witten
,
DeMarcus Ware
,
Sean Lee
and
Brandon Carr
on Thursday against Houston.
To avoid their first losing preseason since 2001, however, the Cowboys will have to beat the Texans.
First-team offense gets in end zone:
In their first five drives of the preseason, the Romo-led offense failed to get in the end zone. They started 0-for-2 on Saturday before Bryant took matters into his own hands with five catches on a 12-play drive that ended with Romo hitting Bryant on a bullet fade over cornerback
Dre Kirkpatrick
.
The Cowboys closed the first half with an eight-play drive that covered 52 yards with
Miles Austin
being the featured target. Austin had a 23-yard gain on a third-and-6 and closed the drive with a 12-yard score going across the back of the end zone for a Romo throw.
Offensive line moves:
For the fourth time in four preseason games, the Cowboys rolled out a different combination on the offensive line with
Doug Free
playing right guard,
Jermey Parnell
at right tackle and
Mackenzy Bernadeau
at left guard. Only left tackle
Tyron Smith
and center
Travis Frederick
played in their original positions.
Romo was sacked on the first play of the game for an 8-yard loss and the running game averaged only 2.5 yards per carry in the first half. The first-team line played a series into the third quarter before calling it a night.
Will this be the combination the Cowboys roll out for the Sept. 8 opener against the
New York Giants
? Possibly, if
Ronald Leary
is unable to return from surgery to his right knee. The Cowboys are confident Leary, who has never played in a game, can return in time, but they might choose to go with this grouping.
Defense continues to take it away:
The offseason emphasis continued with two first-half takeaways from a defense that might bend but has yet to break.
For the third time in four preseason games, the Cowboys came up with a takeaway on their first drive of the game. Safety
Barry Church
poked the ball free from wide receiver
Marvin Jones
and cornerback Brandon Carr came up with the loose ball at the Dallas 4.
In the second quarter, rookie cornerback
B.W. Webb
came up with a pick of Bengals quarterback
Andy Dalton
on a seam throw to receiver
Mohamed Sanu
. Undrafted safety
Jeff Heath
forced a fumble in the third quarter.
The first-team defense did not allow a touchdown in three preseason appearances totaling roughly three quarters.
Digital board gets plunked:
In the first football game at AT&T Stadium, on Aug. 21 2009, Tennessee's A.J. Trapasso hit the center-hung digital board with a punt. It was not hit again by a punt until Saturday, when Cowboys punter
Chris Jones
hit it in the first quarter.
There have been 274 regular-season punts at AT&T Stadium since its opening that have not hit the board.
It might bear watching this year.
On Jones' re-kick, Cincinnati's
Brandon Tate
scored a 75-yard touchdown for the Bengals' only first-half points.
Who didn't play:
Cornerback
Morris Claiborne
(knee) missed his fourth straight preseason game -- and third because of injury -- but the hope is that he can practice some next week and possibly play in Thursday's finale against Houston. WR
Cole Beasley
(foot), RB
Lance Dunbar
(foot), S
Matt Johnson
(foot), S
Eric Frampton
(calf), LB
Brandon Magee
(concussion), LB
Ernie Sims
(groin), OL
Ryan Cook
(back), OG Ronald Leary (knee), OG
Nate Livings
(knee) and DE
Anthony Spencer
(knee) did not dress for the game.
What's next?:
The Cowboys will have to pare down their roster from 88 to 75 by Tuesday's deadline, two days before they play their fifth and final preseason game of the summer. Former head coach Wade Phillips (2007-10) makes his return to AT&T Stadium on Thursday as Houston's defensive coordinator. The final cut to 53 players is Aug. 31.