December, 29, 2013
12/29/13
4:25
PM ET
EAST RUTHERFORD, N.J. -- Thoughts on the
Washington Redskins
'
20-6 loss
to the
New York Giants
on Sunday.

What it means:
The end of the Mike Shanahan era, as he will be fired shortly, perhaps as early as Sunday night, according to multiple reports. Shanahan's tenure will end with a 24-40 record after a 3-13 finish this season. It became clear in the past three weeks that Shanahan would not be coaching the Redskins in 2014 thanks to multiple stories that emerged painting quarterback
Robert Griffin III
in a bad light, among other things. That brought a return of the circus atmosphere Shanahan said had ended. But it's tough to pin his ouster on Griffin's influence with owner Dan Snyder. One of Shanahan's complaints, according to the reports, was his dislike of Griffin's supposed close relationship with Snyder. Rather, Shanahan's ouster can be justified from a football decision. In a bottom-line business, a 3-13 mark in a fourth season is tough to overcome. The Redskins last finished 3-13 in 1994, Norv Turner's first season.
Quarterback watch:
Kirk Cousins
played a full game against the best defense he's seen in his NFL career, and the results weren't pretty. Cousins was inaccurate on a number of throws on this wet, dreary day -- too wide on some, high on others and inside on yet some more. It was a bad all-around day for Cousins, who also threw two interceptions (one off a high pass to
Santana Moss
, which could have been caught). Another pick was dropped -- actually a couple of more were in danger of being intercepted -- and he also lost a fumble in the red zone. Cousins showed he's still a young, developing quarterback. There's nothing wrong with that. But he has not shown that he's worthy of being traded for a high pick by any means. Nor that there's any reason to think anyone but Griffin should be the starter in 2013. Cousins has some skills that you like and other aspects he must overcome. A couple of passes were dropped, but Cousins really struggled, completing 19 of 49 passes for 169 yards.
Record day:
Receiver
Pierre Garcon
became the third receiver in NFL history to catch at least five passes in all 16 games. Jacksonville's
Jimmy Smith
(2001) and Pittsburgh's
Antonio Brown
(also 2013) are the other two. There are better receivers in the NFL than Garcon, but you have to admire his consistent play this season -- as a pass-catcher and run-blocker.
End of another era:
Linebacker
London Fletcher
played his last NFL game. Linebacker
Brian Orakpo
, who was inactive because of a strained groin, corners
DeAngelo Hall
and
Josh Wilson
, linebacker Perry Riley and safety
Reed Doughty
also will become free agents. All have been with Washington for at least four seasons. Any new coach will have a lot of holes to fill, which is what happens when a team goes 3-13.
Next up:
Search for a new head coach.
July, 8, 2013
7/08/13
2:50
PM ET
So I think this is a good deal for the
New York Giants
, this
$43 million for five years
for wide receiver
Victor Cruz
. It's a lot closer to the number they wanted to pay him when this whole thing began than it is to the number he wanted. So in that respect, it's a "win" for the team. It's a lot of money to commit at wide receiver, especially with
Hakeem Nicks
heading into the final year of his own contract. But with Cruz locked up, the Giants can now franchise Nicks next year and keep him off the market if they so choose. If they hadn't signed Cruz long term, they may have been in the position of having to decide which wideout to franchise. Now, they'll have some degree of control over both.
That said, it's not as though Cruz is going to have a tough time making his mortgage payments. He's not going to make
Mike Wallace
money, or even
DeSean Jackson
or
Miles Austin
money, but the deal puts him in the average-annual-salary neighborhood of guys such as
Antonio Brown
and
Pierre Garcon
. Hardly an insult, especially considering Cruz is strictly a slot receiver who gets beaten up a bit when he moves outside and doesn't really contribute as a blocker.
On top of the financials, though, this deal is a sweet one for Cruz because it keeps him in New York, where he obviously wants to be. Cruz is serious about football and about continuing to put up the kinds of numbers he put up the past two years and about trying to win another Super Bowl. But aside from all of that, Cruz also likes the idea of being a star. He has his clothing line. He has plans to do some sort of TV show. He's got his Chunky Soup commercials. He's in on this Jay-Z Roc Nation deal. The young man likes the perks of stardom, and as long as Los Angeles is without an NFL team, New York is the place to be if you want to maximize that stuff.
So it's all set up for Cruz now. He's got the contract, the quarterback, the fellow star wideout who'll draw defenses' attention. He's got the big market and the opportunities that go with it. All he's got to do is to keep playing like the star he wants to be.
Cruz's numbers the past two years are star-caliber numbers, make no mistake. If you catch 168 passes for 2,628 yards and 19 touchdowns over two NFL seasons, you're a big-time producer, whether you're doing it out of the slot or on the outside or lining up in the backfield. Numbers are numbers, and Cruz has numbers. He also has delivered in big spots in playoff games and a Super Bowl. He has been everything the Giants want and need him to be.
But he's got to keep building on it. Three years from now, we've got to be looking back at those 2011 and 2012 reception and yardage numbers as the start of something big. We've got to be able to look at last year's nine drops as a fluke and not the beginning of a chronic problem. We've got to be looking at Cruz as a guy who can speed past defenses and make magic happen after QB
Eli Manning
gets the ball in his hands, who forces defenses to pay attention to him even though an elite-caliber talent like Nicks is beating people up on the outside and downfield.
If that's who Cruz is over the life of this new contract, then he's got every right to be any level of New York sports star he wants to be. If not -- and if the issues that cropped up in 2012 turn out to be closer to what he really is than the mind-boggling achievements of 2011 -- then the Giants could be looking back on this contract as a mistake.
Cruz wanted to be paid like a star and to stay in the market that can help make him one. He's set on both fronts. His mission now is to keep playing like a star. And if he does that, then he, the Giants and everyone connected with this situation will look back on this as a very happy day.
May, 30, 2013
5/30/13
10:40
AM ET
I get a lot of questions about
Dallas Cowboys
wide receiver
Miles Austin
. It seems every time a receiver of any note is potentially available, fans want to know whether the Cowboys will or should sign him to replace Austin. I usually respond with a question, specifically, "What does everybody dislike so much about Miles Austin?"

Austin
Todd Archer feels the same way, and has
this piece on ESPNDallas.com
to remind everyone of how valuable Austin still is to the Cowboys' offense, even with the emergence of
Dez Bryant
as a star and the drafting of
Terrance Williams
in the third round in April:
Dig deeper into what Austin did last year when he caught 66 passes for 943 yards and six touchdowns.

He outperformed the leading wide receivers on 16 other teams in catches, yards or touchdowns, including pass-catchers in Arizona (Larry Fitzgerald), Baltimore (Anquan Boldin), Seattle (Sidney Rice), Washington (Josh Morgan) and Pittsburgh (Mike Wallace, Antonio Brown). Aside from Arizona, there is not a poor quarterback throwing to anyone in that bunch.

In a division with Bryant, Victor Cruz, Hakeem Nicks, Jeremy Maclin and DeSean Jackson, Austin had the fourth-most catches and touchdowns and was third in yards. And he put up those numbers on an offense that had Jason Witten set an NFL record for catches in a season by a tight end (110) and Bryant explode for 92 catches for 1,382 yards and 12 touchdowns.
The knocks on Austin seem to be that he's always got some kind of nagging injury that either keeps him from playing or limits his production, and that he hasn't lived up to his brilliant 2009 numbers. Valid points both, but sometimes I think we have to step back and think about what our expectations for these guys really are and what they should be. Austin remains one of the Cowboys' starting wide receivers. Even if Williams comes quickly, the best arrangement for the Dallas offense when it goes to three wide receivers will be Bryant and deep-threat Williams on the outside with the versatile Austin moving inside to play the slot. Austin can play anywhere, and produces better than your average No. 2 wide receiver. I think it's probably a good idea for fans to remember he is still a very valuable guy, and stop rushing to get rid of him.
October, 5, 2012
10/05/12
3:00
PM ET
I want to be careful about making too much of a thing of the lingering foot and knee injuries that will keep
New York Giants
wide receiver
Hakeem Nicks
out of a third straight game Sunday. I expect Nicks to recover and play excellent football for the Giants at some point this year, and I believe the Giants have proven that they can cover for injuries as well as any team in the league. I do not think he nor they are doomed.
However, Nicks' stubborn inability to get healthy has raised questions from my regular readers and Twitter followers about what the Giants are or should be thinking about their future at wide receiver. Nicks' contract runs through 2013, at which time he would be eligible to become an unrestricted free agent. The Giants' other star wide receiver,
Victor Cruz
, is eligible for restricted free agency at the end of this season. The Giants could control Cruz with a franchise tag if they chose to, but that's insanely expensive and doesn't address the long-term issue at hand.
And that issue is this: Can the Giants realistically expect to keep both Nicks and Cruz long-term? And if not, which should they pick?
[+] Enlarge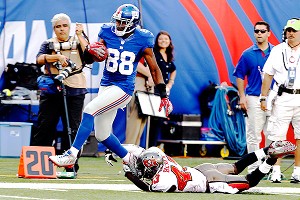 William Perlman/The Star-Ledger via US PresswireThe Giants' Hakeem Nicks is one the league's top receivers, but he's missed games due to injury in every season of his four-year career.
If you read me regularly, you know I believe Nicks is the better player. He has the size, the hands, the skills, the makeup and the work ethic to be one of the best all-around wideouts in the game, and there have been games and stretches during his career in which he has played as such. The last time he played, in Week 2's victory over Tampa Bay, he had 199 receiving yards on 10 catches and was NFC Offensive Player of the Week. He's a craftsman who's constantly, obsessively working to get better at every aspect of the position, and he's exactly the kind of player in whom you'd feel comfortable investing long-term.
Except, of course, for this little matter of the injuries. Nicks is no stranger to leg problems. He missed two games in his rookie season, three in his second season and one last year, and this year's count is already up to three. He also missed training camp this season due to the foot bone he broke in spring practice. No matter how highly you think of him (and I do think quite highly of him), this is his fourth year and he's had injuries in all four that have cost him games. That stuff matters when assessing a player's value.
Cruz had to miss the bulk of the 2010 season with a hamstring injury. But he has been healthy since then, and had the Giants known at the time what they had in him, they might have tried to keep him out only a couple of weeks rather than putting him on injured reserve that October. Cruz was third in the NFL in receiving yards last season, and so far this year he's tied for the league lead in receptions and sixth in receiving yards. He is an excellent player who connects with quarterback
Eli Manning
, fits the Giants' system perfectly and is, like his friend and teammate Nicks, a hard worker with a strong makeup in whom a team would have no qualms about investing long-term.
In an ideal, salary-cap-free world, the Giants would surely like to keep both of them. Manning has spoken about how great it is to have two star wide receivers who are unselfish and team-oriented, and if they broke up this duo there's no guarantee they'd find a replacement who'd fit as perfectly. But there is a cap, and that means teams must make tough choices. And the Giants may find themselves having to choose between their star wideouts.
Pittsburgh Steelers
wide receiver
Antonio Brown
, a star in his third season, is the player whose contract gets most commonly mentioned when Cruz's situation is brought up. The Steelers gave Brown a five-year, $42.5 million extension (with an $8.5 million signing bonus) this offseason. The Steelers have a similar situation, as they have another star wideout in
Mike Wallace
who held out this offseason and wants a long-term deal. Remains to be seen whether they'll give it to him or if the Brown deal indicates they've already made a different choice.
If the Giants were to lock up Cruz this season or this coming offseason, it likely would take a deal similar to Brown's. And that might price them out of the Nicks market at the end of the 2013 season. But if Nicks is going to continue missing games with injuries every season, his price might go down, or the Giants might decide the injury questions are enough to warrant making the tough decision in Cruz's favor. If they had to make the call this week (which they obviously don't), my guess is they'd probably pick Cruz, whose health seems more reliable. That may not be fair, and it's more than possible that Nicks will be the better player and long-term investment. But as his injuries linger, the effect they're sure to have on the way the team perceives him and his future in New York cannot be ignored.
October, 5, 2012
10/05/12
1:30
PM ET
»
NFC Final Word
:
East
|
West
|
North
|
South
»
AFC
:
East
|
West
|
North
|
South
Five nuggets of knowledge about Week 5:
Keystone showdown:
The
Philadelphia Eagles
have won six of their last eight games against the
Pittsburgh Steelers
, though the teams have not played since a 15-6 Eagles victory in Philadelphia in Week 3 of the 2008 season. The Eagles have won just twice in six tries in Pittsburgh dating to 1968. If the Eagles win in Pittsburgh on Sunday, they'll be 4-1 for the first time since 2006. If the Steelers lose, they'll be 1-3 for the first time since 2006.
[+] Enlarge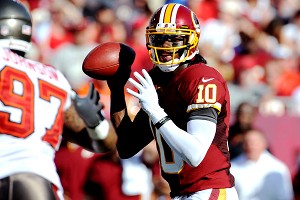 Al Messerschmidt/Getty ImagesRobert Griffin III has plenty more comebacks to complete before he catches Matt Ryan.
Sweat the short stuff?
The Eagles and the Steelers rank first and second in lowest completion percentage allowed on passes thrown 15 or more yards downfield this season, according to ESPN Stats & Information's "Next Level" numbers. Philadelphia is allowing a 28.0 completion percentage on such throws, and the Steelers are allowing 33.3 percent. But both teams have wide receivers --
DeSean Jackson
,
Jeremy Maclin
,
Mike Wallace
and
Antonio Brown
-- who are skilled at catching the ball short and making something happen afterward.
Fourth-quarter magic:
Washington Redskins
rookie quarterback
Robert Griffin
III authored the first game-winning drive of his pro career Sunday in Tampa Bay.
Atlanta Falcons
quarterback
Matt Ryan
, who's in his fifth NFL season, delivered his 17th in Atlanta's victory over Carolina. No quarterback has led more game-winning drives since the start of Ryan's 2008 rookie season. Don't turn this game off if it's close in the fourth.
Going longer later:
Those Next Level numbers from ESPN Stats & Info show us that the Redskins allow Griffin to take more shots downfield as the game goes along. His average target depth in the first quarter is 1.5 yards, third in the league. In the second quarter, that grows to 6.6, which is 21st in the league. And in the third and fourth, Griffin's average target depth is 9.4 yards, which is ninth in the league. What's odd about it is that they've only been trailing at halftime in one of their four games so far -- the loss to the Bengals in Week 3.
Bothering the QB:
The
New York Giants
probably will bring intense pressure on
Cleveland Browns
rookie quarterback
Brandon Weeden
in Sunday's game. The Giants ranked just 17th in the league in sacks through four weeks after ranking third last year, but according to ESPN Stats & Info, they are putting opposing quarterbacks under duress on 20.7 percent of drop-backs, and that figure is the fourth-best in the league. The Giants have played against
Tony Romo
,
Josh Freeman
,
Cam Newton
and
Michael Vick
, all of whom are mobile quarterbacks who can get out of the way of a pass rush, so that probably explains -- at least in part -- how they could be getting to quarterbacks but not knocking them over. Weeden is attempting 42 throws per game, so the Giants will have chances to take their shots.
October, 5, 2012
10/05/12
8:00
AM ET
I don't know. Do you guys like the
film breakdowns
? Or no? I've enjoyed doing them, but I'm certainly not experienced enough at it to have attained a certainty that I know what I'm doing. If you want more of them, want less of them or are okay with the one or two per week on a specific subject, I'm eager to hear your feedback. First, though, please, have some links.
Philadephia Eagles
Steelers wide receiver
Antonio Brown
called Eagles rookie cornerback
Brandon Boykin
a "candy bar," which in spite of the fact that candy bars are wonderful is apparently not a compliment.
Boykin wisely declined to engage
.
Right tackle
Todd Herremans
is
upset with himself
for the way he played and recovered from early mistakes during the Eagles' victory on Sunday night.
Dallas Cowboys
Dez Bryant
says he thinks
Tony Romo
still believes in him. I don't know why he can't just ask Tony, but whatever.
Tim MacMahon details
what makes Bryant so frustrating.
The Landry Hat poses the question, in light of recent stories about the Cowboys wanting to extend Romo's contract, of
why Romo would even want to be a Cowboy anymore
. My two-part answer: (a) The money's going to be real, real good; (b) Everybody's still way, way, waaaaay overreacting to the most recent game.
Washington Redskins
Redskins players say the
pass rush could be the key
to stopping
Matt Ryan
and the Falcons' offense Sunday. They say "key," I say "only hope." Potato, potahto.
Just because they're dealing with injury and personnel-deficiencies in the secondary doesn't mean the Redskins are giving up trying.
As Rich Campbell writes
, they're moving people around to all kinds of different places these days, especially when they go to the nickel.
New York Giants
Wide receiver
Hakeem Nicks
will miss
his third game in a row
Sunday due to lingering foot and knee injuries, which is a real shame. Not that they can't beat the Browns without him, but the last time Nicks played he was NFC Offensive Player of the Week, and he's a pleasure to watch.
The Giants' pass rush hasn't been what they expect it to be so far this year, and as a result their pass-rushers say they're
not having any fun
. That's sad. Perhaps
Brandon Weeden
can help.
August, 18, 2011
8/18/11
11:11
PM ET
Observations from the Eagles' 24-14 preseason loss at Pittsburgh.

I'm going to start with the good news, Eagles fans. Ready?
LeSean McCoy
looked really good,
Jason Babin
got a sack and
Michael Vick
made one heck of a tackle on
Troy Polamalu
after his third interception of the first half.
Mike Kafka
threw the ball extremely well in the fourth quarter after everybody stopped caring.
Oh, and the coaches now have a whole bunch of really awful-looking, mistake-riddled tape on which to base some real serious lessons this week in meetings and practice.
Other than that, pretty ugly. We can sit here and say everything we want to say about how it's only preseason, the games don't count, some teams devise game plans while others go vanilla and it's a bad idea to draw sweeping, upsetting conclusions based on preseason games. All of that stuff is true and must be said before we delve into what we saw. But the fact is that the Eagles looked bad, in almost every possible way, in Thursday night's exhibition loss to the Steelers. And since I am tasked with offering you an evaluation of what I saw, I have no choice but to detail the ugliness.
1. Bad matchup.
The Eagles' new defense, under Juan Castillo and Jim Washburn, is predicated on aggressiveness, especially by the defensive line. This makes
Ben Roethlisberger
the worst possible quarterback for the Eagles to face. He dances through and around pressure, stays upright far longer than he's supposed to, keeps plays alive forever and generally feasts on defenses that don't show enough patience. All of this was on display Thursday, as Roethlisberger was three steps ahead of Castillo and the Eagles' defense at every turn. He drew them offsides with a hard count. He stepped up to avoid pressure. He pump-faked. He handed the ball off to
Rashard Mendenhall
and watched him gash the Eagles' backup defensive tackles and suspect linebacker corps. The Eagles helped him out, as when
Asante Samuel
guessed wrong on a route and
Antonio Brown
got past him and caught a 29-yard touchdown pass. And I'm willing to bet, when they gather for their defensive meetings in the coming days, the Eagles hear a little bit about how to control their aggressiveness a little bit better.
2. Casey Matthews may not be the answer.
The Eagles' defensive play calling was very basic, perhaps because they're trying not to overtax their rookie middle linebacker. This is a key element of preseason evaluation. The Steelers looked as though they devised specific offensive plays to beat the Eagles, and the Eagles looked as though they did not prepare specifically for the Steelers. Happens all the time in preseason, and it's a big reason not to draw big conclusions from these games. But even with the basic play calling, Matthews looked slow and confused at times, and physically overmatched at others. The decision to start Matthews at middle linebacker is a surprising one by the Eagles, especially in light of all of the work they did to upgrade at other spots on defense. You wonder if the way he played Thursday might make them look around to see if there's a veteran on the market who can help, but on the other hand, they don't seem to be placing a very high value on the linebacker position in general. On one third down in the first quarter, they loaded up with three safeties and four cornerbacks, leaving
Jamar Chaney
as the only linebacker on the field. Their strengths are at corner and defensive end, so they'll lean on those. But when you have a back who can get through the line as quickly as Mendenhall can and it's up to the linebackers to make a play to stop him ... that's where Matthews and the Eagles look shaky.
3. Asante Samuel has to learn to play without Quintin Mikell.
Samuel bit on a move and a fake that Brown and Roethlisberger didn't make on that 29-yard touchdown. It was a pure guess, and a bad one -- the kind that's worth taking if you know you have a responsible veteran safety backing you up. But the safeties were elsewhere on that play, and the new scheme plus the absence of the veteran Mikell (who signed with the Rams) could mean Samuel has to take more responsibility for playing the receiver he's covering instead of trying to jump a route to get an interception.
4. Vick was very, very, very not good.
The bad throws were one thing, but the worse part was that he just didn't do a good job of reading the defense. He struggled against the blitz, which was supposed to be his area of focus this preseason. He never saw
Ryan Clark
on his first interception. He threw behind
Chad Hall
on the second. And the third was a bad decision -- he shouldn't have thrown the ball downfield after that play broke down as badly and as many times as it did. "Obviously, tonight, I didn't make the best decisions," Vick told Fox's Pam Oliver during a fourth-quarter sideline interview. That included the hit on Polamalu, which was very impressive but must have terrified his coaches. No reason for Vick to take a risk like that in a game whose outcome doesn't matter. He's too important to the Eagles to try something like that, and he's at least as lucky he didn't get hurt as the Eagles are that this game didn't count.
5. The defensive line misses its starting tackles.
Antonio Dixon
and
Mike Patterson
are out due to injury and illness, and that's part of why the run defense looked so vulnerable. I imagine the linebackers will look better once they're at full strength in the middle of the line. But if those guys are going to be out for an extended period of time (as is surely possible with Patterson, at least), this could continue to be a problem.
6. Ronnie Brown is going to be a huge asset
in the backup running back role. He's a starting-quality running back whose role is to give the electrifying McCoy a rest. So, when McCoy is on the sideline, the Eagles are still going to be better at running back than many of their opponents are when their starting back is playing. Brown looks great so far this preseason, which brings up another as-yet unmentioned point: The work-in-progress offensive line didn't look too bad. Okay, so Point 6 wasn't really a bad-news point. But hey, it's true.
7. Can Howard Mudd really not coach from the press box?
Poor guy really has a hard time getting around on those bad legs of his. Don't know why they wouldn't let him coach from up there. Unless he doesn't want to. I admit I don't know.
In conclusion, it's like this: As the Giants did Saturday, the Eagles looked lousy in almost all respects Thursday. So I point this out, as I did with the Giants on Saturday. What I am
not
saying here is that the Eagles are in trouble as a result of anything we saw Thursday. The sky is not falling. This game matters not at all, except as a potential learning opportunity. Did it point to some potential trouble spots? Sure. But it doesn't mean the team isn't as good as people thought it would be. It just means the Eagles had a bad night in August. Kind of like the Steelers had last week against the Redskins. And you saw how they bounced back from that.