NFC East:

Antonio Cromartie
April, 1, 2014
Apr 1
12:15
PM ET
IRVING, Texas -- The
DeSean Jackson
trade talks that never went anywhere got ESPN Insider Field Yates to think about
some trades that should happen.

Claiborne
Yates has one for the
Dallas Cowboys
, sending cornerback
Morris Claiborne
to the
Arizona Cardinals
for defensive tackle
Dan Williams
.
He writes:
Dallas Cowboys trade cornerback Morris Claiborne to the Arizona Cardinals for defensive tackle Dan Williams

Why it works for Arizona: Claiborne's NFL struggles are hard to figure after he starred at LSU, but his natural abilities are still enticing. The team added depth in the secondary with Antonio Cromartie this offseason, but Claiborne would bring higher upside playing alongside former LSU teammates Patrick Peterson and Tyrann Mathieu. Peterson also happens to be a free agent next offseason, and while the Cardinals are angling to keep him around long term, a rejuvenated Claiborne would give them insurance in case Peterson ends up elsewhere.

Why it works for Dallas: Claiborne is the Cowboys' third cornerback right now and has disappointed. The team has had better luck adding cornerbacks in free agency than through the draft and is desperate for big bodies along the defensive line. Williams has just one year left on his deal, but he presents an intriguing size and strength combination next to Henry Melton, a penetrating interior force. It may not be the most natural fit in what Dallas does defensively due to Williams' lack of quickness, but his ability to clog space would provide an upgrade against the run.
Maybe this
could
happen but it definitely
won't
happen, and we're not talking about any salary-cap issues that could hinder a deal. The Cowboys are not about to give up on Claiborne, whom they moved up to the sixth pick in the 2012 draft to select. And Williams does not bring enough value in return. He's in the last year of his contract. The Cowboys control Claiborne's rights for another two years.
This is a huge year for Claiborne, who has yet to flash the potential most people thought he had coming into the draft. Maybe it has been health. Maybe it has been scheme. Maybe it has been a lack of confidence. Maybe it's all of the above.
But for the Cowboys to get the benefit of the trade up to get him, Claiborne has to come through in a big way in 2014. For them, not for the Cardinals -- or anybody else.
September, 6, 2013
9/06/13
1:52
PM ET
FLORHAM PARK, N.J. -- After sitting out Thursday, wide receiver
Santonio Holmes
returned to practice Friday and participated in positional drills, the walk-through and a red-zone drill, the latter on a limited basis. It all occurred during the 30-minute window open to the media.
Holmes, 11 months removed from foot surgery, is expected to play Sunday against the
Tampa Bay Buccaneers
, but he likely will be on a play count. He missed the entire preseason, and the
New York Jets
don't want to over-work him, especially with a Thursday night game next week.
Cornerback
Antonio Cromartie
(hip) participated in practice and will play. The biggest question surrounds nose tackle
Kenrick Ellis
, who missed the last three preseason games with a back injury. Ellis was limited in positional drills, and his status is up in the air. Even if he plays, he'll likely serve as a backup to
Damon Harrison
.
Injured quarterback
Mark Sanchez
made an appearance on the practice field. Wearing his red jersey No. 6, he stood with the offense and watched various drills. After the red-zone period, Sanchez fist-bumped
Geno Smith
, an indication that he's being supportive of the rookie starter. This will mark only the third game in Sanchez's career that he won't start. He missed a game in 2009 because of a knee injury, and he was benched for a game last season.
December, 24, 2011
12/24/11
2:41
PM ET
EAST RUTHERFORD, N.J. -- Well, I'd be lying to you if I said the
New York Giants
have looked good. In most significant ways, they have been dominated by the Jets in the first half of their crucial Week 16 game here at MetLife Stadium. But no matter what happens, the Giants can always count on their passing game to save them. And so, with 2:27 left in the first half, facing a third-and-10 from his own 1-yard line,
Eli Manning
found
Victor Cruz
just past the first-down marker. Cruz juked two Jets defenders and was gone, 99 yards for what may turn out to be the most significant Giants touchdown of the year.


Of the 182 yards the Giants gained on offense in the first half, 99 came on one play. Other than that play, they have struggled to do anything against the Jets' defense. They have six rushing yards, and their efforts to pick on Jets star cornerback
Darrelle Revis
with
Hakeem Nicks
have resulted in frustration. Revis broke up a would-be touchdown pass on third down earlier in the game and the Giants had to settle for a field goal.
But when Cruz caught that ball at the 12-yard line, he found himself between
Kyle Wilson
and
Antonio Cromartie
, and neither could bring him down. So the Giants took a
10-7
lead shortly before halftime.
They were able to hold it because their defense has been getting stops today, and got a big one toward the end of the half. Each of the Giants' past five opponents has converted at least 50 percent of its third downs. But the Jets are just 2-for-8 on third down Saturday, and
Jason Pierre-Paul
's 7-yard sack of
Mark Sanchez
just before halftime may have pushed
Nick Folk
out of field-goal range. Folk missed the kick that would have tied the game with time ticking off the clock.
All in all, the Giants have to be ecstatic with the way things have gone. They haven't been able to do anything on offense other than one play. They have allowed the Jets 185 yards but only seven points. And they are leading at halftime. If they can continue to play this bend-but-don't-break defense and get one or two more big plays on offense, then a couple of hours from now they may well leave here knowing for sure that they'll still have a chance to win the division next week.
December, 24, 2011
12/24/11
10:54
AM ET
As you get ready for this afternoon's "road" game against the Jets, here's one reason for
New York Giants
fans to feel good and one reason for concern.


Feeling good:
The Giants are at their best when they can draw some sort of external motivation. They're a big "Nobody believed in us" bunch. And they're not great fans of the way the Jets have carried themselves since Rex Ryan took over as Jets head coach three years ago. The Giants believe their more conservative, buttoned-up, just-play-the-game style is a better way to approach their business than the Jets' boisterous swagger. The Giants have taken joy in beating the Jets in preseason games during the Ryan era. So there's little doubt that, coming off of last week's flop against the Redskins, the Giants will be fired up to beat the Jets in the stadium the two teams share. There should be little doubt about the Giants' ability to get "up" for this game.
Cause for concern:
Well, the Giants' own defense remains their biggest cause for concern. Unless it's going to look completely different than it has at any point over the past six weeks, the Giants are going to continue to struggle on third downs and continue to give up points.
Mark Sanchez
's offense isn't nearly as explosive as some of the offenses that have taken apart the Giants during their current 1-5 stretch, but neither was the Redskins offense that did whatever it wanted to do against them last week. The Giants' best hope is to win a shootout, and the problem there is the trouble their receivers could have with very good Jets cornerbacks
Darrelle Revis
and
Antonio Cromartie
. If
Eli Manning
can hit some big plays down the field early against those guys, it could set an encouraging tone for the Giants. If not, it could portend a long day.
September, 8, 2011
9/08/11
11:22
AM ET
IRVING, Texas --
Dez Bryant
wanted to make something clear before chatting with the media: He doesn't talk about his opponents.
It didn't take much to get Bryant to bend his policy a bit. How can you not discuss the Jets'
Darrelle Revis
, who is widely recognized as the NFL's best cornerback?
"To tell the truth, I'm not the type of guy to single anybody out -- no DB, nothing like that," Bryant said. "But it's hard not to, because he's great."
That isn't an indication that Bryant is intimidated by a trip to Revis Island. Bryant pointed out that "some guys made plays on him, some nice plays."
Bryant respects Revis and
Antonio Cromartie
, a former Pro Bowler who both makes and gives up a lot of big plays, but Bryant relishes the challenge of facing a pair of premier corners.
"I'll tell you that they are great," Bryant said. "They're some great DBs, probably the best. I mean, [they] are the best. But we're all up for this matchup between our wideouts and their DBs. It's going to be great."
Revis' ability to be physical with receivers is what most impresses Bryant.
"That's how he plays the game, being physical all day," Bryant said. "Much respect for him. When you go against him, you've got to be on top of your game and know what you're doing, because if you make a mistake, hey, there's no telling. He might jump in front of it and pick it off."
Bryant happens to pride himself in being able to overpower most corners. That's one of many reasons the Bryant/Revis battles might be the most intriguing matchup in the NFL this week.
"Call it what you want," Bryant said, smiling. "Call it what you want."
July, 25, 2011
7/25/11
3:25
PM ET
»
NFC
:
East
|
West
|
North
|
South
»
AFC
:
East
|
West
|
North
|
South
»
Unrestricted FAs
A look at the free-agent priorities for each NFC East team:
Dallas Cowboys

1. Re-sign left tackle Doug Free.
He is coming off his first season as starting left tackle, but Free handled the move well and is viewed as the starting left tackle of the Cowboys' future. More importantly, with rookie
Tyron Smith
slated to start at right tackle and probably not yet ready to play on the left side, Free is the Cowboys' left tackle of the present. If he were to go elsewhere, the Cowboys would be scrambling to find a tackle, and it could mess with all of the other plans they need to make and execute before training camp begins. Expect Free to draw lots of interest, and his price tag to be higher than the Cowboys probably were hoping.
2. Fill holes in the secondary.
The plan seems to be to move
Alan Ball
back to cornerback, so while you'll hear the Cowboys connected to free-agent cornerback
Nnamdi Asomugha
, they're more likely to focus on bringing in a safety or two. There's a chance they re-sign their own guy,
Gerald Sensabaugh
, and then go get a free agent such as
Eric Weddle
,
Michael Huff
or
Quintin Mikell
. But if Sensabaugh were to leave, Dallas would be in the difficult position of having to sign two safeties.
3. Find defensive ends.
With
Stephen Bowen
and
Jason Hatcher
set to be free agents, the Cowboys need a couple of starters at defensive end, too. They could bring both guys back, but it's not as if the defensive line was a position of strength for Dallas in 2010, so they'll probably at least look elsewhere. The Packers'
Cullen Jenkins
would be a nice fit, though there will be competition for him from within the division, as you'll see below in the Redskins' section.
Top five free agents
: OT Free, G
Kyle Kosier
, DE Bowen, DE Hatcher, S Sensabaugh
New York Giants

1. Figure out which of their own guys to keep.
With
Ahmad Bradshaw
,
Barry Cofield
,
Mathias Kiwanuka
,
Steve Smith
and
Kevin Boss
all set to potentially go free, the Giants have to prioritize and figure out which guys they're keeping. The top priority is probably going to be Bradshaw, an emerging star at running back, and it appears they'll let Cofield walk while trying to bring back Boss. They think the injury situations with Kiwanuka and Smith will help keep those guys' prices reasonable. But before the Giants hit the market, they'll need to get their own free-agent house in order.
2. Get at least one linebacker.
The Giants have ignored this position over the past couple of years, and they seem to believe
Jonathan Goff
can handle the middle linebacker spot. They'd probably be better off moving him back outside and exploring the middle linebacker market, which includes
Stephen Tulloch
,
Barrett Ruud
and
Paul Posluszny
. But if they're set on keeping Goff in the middle, perhaps someone such as
Manny Lawson
or
Nick Barnett
could be a fit. It's one thing not to prioritize a position, but it's another to ignore it completely, and the Giants have been doing that with linebacker, to their detriment.
3. Some offensive line insurance.
There were lots of injuries along the line in New York last season, and although it didn't kill them, it was a potential sign of things to come. The Giants hope
Will Beatty
will soon be ready to take over at left tackle for a declining
David Diehl
, but they must watch out for the health of
Shaun O'Hara
at center. And if they have to cut
Shawn Andrews
to sign some other guys, they'll need to replace him with a tackle who can provide depth.
Top five free agents
: RB Bradshaw, DE/LB Kiwanuka, TE Boss, DT Cofield, WR Smith
Philadelphia Eagles

1. Settle the Kevin Kolb situation
. If they can get the great deal for him that most believe they can (i.e., a first-round pick plus), the Eagles will deal Kolb and look for a reliable backup quarterback who can play if and when
Michael Vick
gets hurt. If they can't get good value for Kolb, they'll probably keep him to serve as said reliable backup. A trade is most likely, but whatever happens, the Eagles will probably settle this soon after the league year begins.
2. Sign a cornerback.
The starting spot opposite
Asante Samuel
is open, and no one on the current roster appears able to fill it. That's why you've heard, and will continue to hear, the Eagles connected with Asomugha. Philadelphia must rank among his most likely destinations at this point. If they don't get him, they'll look down the list at guys such as
Johnathan Joseph
,
Ike Taylor
and
Antonio Cromartie
. And there's a chance they could get a cornerback for Kolb. But they'll get one somewhere.
3. Re-sign Stewart Bradley.
Sure, they could let Bradley go and play
Jamar Chaney
at middle linebacker. Chaney looked, at least, capable in that spot last season and may be the Eagles' future at the position. But if Bradley leaves, the Eagles' problems will be about more than just the alignment of the linebackers. They'll actually be short on bodies and will need to play the free-agent field to find a replacement. Bradley's had injury problems, but when healthy, he's the Eagles' best linebacker and could be a key cog in whatever new defensive alignment Juan Castillo and Jim Washburn are cooking up.
Top five free agents
: LB Bradley, S Mikell, G
Nick Cole
, RB
Jerome Harrison
, CB
Ellis Hobbs
Washington Redskins

1. Fill out the defensive line.
Whether they add a free-agent nose tackle such as
Aubrayo Franklin
or look at defensive end options like Jenkins, the Redskins must figure who their starting defensive linemen are. They like their linebacking corps, and although they also need a cornerback, they love their safeties with
Oshiomogho Atogwe
in the fold next to
LaRon Landry
. But their good, young outside linebackers will need big, space-eating ends in front of them to open up lanes to the passer. And they'll also need to get some sort of pass rush from the line, whether it's from the nose or the ends.
2. Re-sign Santana Moss.
The Redskins are making noise about pursuing a big-time wideout such as
Santonio Holmes
or
Sidney Rice
. But the reality is that it's going to be tough to convince receivers to sign in Washington while they're not viewed as a contender and the quarterback situation remains so cloudy. Moss likes it in Washington. The Redskins like him. And he's a nice guy to have around to help out young receivers
Anthony Armstrong
and
Leonard Hankerson
-- not to mention inexperienced quarterback
John Beck
.
3. Resolve the Donovan McNabb and Albert Haynesworth situations.
They don't want either player on the team anymore, but the question is how to get rid of them. They might be able to dump McNabb for a late-round draft pick, but if they can't, they'll probably just cut him and let him find his next job on his own. Haynesworth has trade value in a league where many 4-3 teams are looking for interior defensive line help. Don't expect the Redskins to cut Haynesworth, because they don't want to do him any favors and they don't want him free to sign with former Tennessee D-line coach Washburn in Philadelphia. If they can't get value for him, don't be surprised if Haynesworth remains on the team all season and has a hard time getting into games.
Top five free agents
: WR Moss, OT
Jammal Brown
, CB
Carlos Rogers
, LB
Rocky McIntosh
, QB
Rex Grossman
July, 25, 2011
7/25/11
10:04
AM ET
I know you're impatient. It's one of the things I like best about you. Because it's one of the things that keeps you coming back for more.
Free agency is nearly upon us, after months of waiting, and you want to know (among other things) what your team is going to do first. Well, if you have an ESPN Insider subscription, you can check out what the Football Outsiders think. They've done a list of
the first thing each team should do
once free agency opens. And while I can't give it all away (because we want you to buy the Insider access), I can offer a little glimpse into what they had to say about the NFC East teams.

Dallas Cowboys
: "Sign S
Michael Huff
." As we have discussed here
ad nauseum
, the Cowboys will need at least one safety and maybe two, depending on what happens with
Gerald Sensabaugh
. The Outsiders point out that they didn't act in February, when guys like
O.J. Atogwe
were available, and they didn't draft one. So they'll have to hit the market.
Eric Weddle
is the best option, but everyone thinks he'll stay in San Diego. Huff is a fine consolation prize, especially given the fact that he's worked with new defensive coordinator Rob Ryan before and might be able to help other players with the transition to a Ryan-coached defense.

New York Giants
: "Sign LB
James Anderson
." You know where I stand on the Giants and linebackers -- i.e., that they've consistently ignored the position to their detriment over the past couple of years. Anderson is a fine strongside solution and there are many others out there. The trick for the Giants will be how quickly they can get their in-house free-agent situations settled. I might have put "Re-sign RB
Ahmad Bradshaw
" here if I were the Outsiders, and again ... you know how I feel about the Giants and linebackers.

Philadelphia Eagles
: "Sign CB
Nnamdi Asomugha
." On this, the Outsiders and I heartily agree. The drop-off from Asomugha to the second-best cornerback available (
Johnathan Joseph
?
Antonio Cromartie
?
Ike Taylor
?) is significant, and the Eagles, armed with enough money to make it happen, should jump at the opportunity to fill their biggest need with the best player on the market. (Note: "Trade QB
Kevin Kolb
" could have been the answer here, but Brian McIntyre, who wrote this piece, already used "Trade for QB Kevin Kolb" in the
Arizona Cardinals
' blurb, so that was taken care of.)

Washington Redskins
: "Sign DE
Cullen Jenkins
." There was some thought a couple of weeks back about pairing brothers Cullen and
Kris Jenkins
on the offensive line in Washington. Kris has since retired, and nose tackle remains a huge need for the Redskins. But adding a pass-rushing end the caliber of Cullen might help, since it might be easier to find a space-eating nose tackle on this market than a pass-rushing one.
Anyway, those are the Outsiders' thoughts. As always, I welcome yours.
June, 22, 2011
6/22/11
11:01
AM ET
In light of the word that the proposed new NFL labor deal would make players with four years of service time into unrestricted free agents, there has been some support in the comments for a free-agent rundown as it pertains to our little division here. We're going to do it position-by-position, over the next couple of days, and because the biggest-name guy in the field is a cornerback, we're going to start with cornerbacks.
NFC East teams in need
[+] Enlarge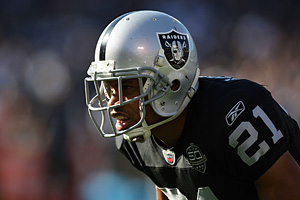 Jed Jacobsohn/Getty ImagesNnamdi Asomugha is the big prize in this year's free-agent class.
Cowboys
: Dallas plans to move
Alan Ball
, who flopped as a safety, back to the cornerback position, where they already have
Mike Jenkins
and
Terence Newman
as starters. Assuming all of those guys are on the team, the Cowboys could decide to stand pat and focus their energies on upgrading at safety. But one of the starters may have to be cut to create cap room, and if that happens, expect the Cowboys to be big-game hunters on the corner market.
Eagles
: They need another corner to play opposite
Asante Samuel
, and they've said they plan to be aggressive in free agency. That could mean playing at the top end of this pool, but even if they don't land the big fish, expect Philadelphia to come up with someone on this list.
Redskins
:
Carlos Rogers
wants out and the team seems inclined to grant him his wish. But while Redskins fans may be sick of Rogers, he's not a bad player and he will need to be replaced.
Top five potential unrestricted free-agent cornerbacks
1. Nnamdi Asomugha
. The prize of the offseason free-agent market. Probably the second-best corner in the league behind
Darrelle Revis
. Asomugha will draw interest from all three of the above-named NFC East teams plus plenty of teams (Baltimore? Houston?) outside the division. Whoever does sign him will use a lot of cap space to do it, which is why, as much as Dallas might want him, he might make more sense in Philly.
2. Johnathan Joseph
. Some talk that the Bengals will make him their franchise player, but if they don't, the 27-year-old rising star stands to ride Asomugha's coattails to a big payday somewhere outside of skimpy-spending Cincinnati. A fine fallback for the Eagles or Redskins. Cowboys? Sure, but my hunch is, if they don't get Nnamdi, they spend elsewhere and either keep the corners they have or go further down this list for a replacement.
3. Antonio Cromartie.
Remains to be seen if the Jets will keep him (or if they'll pursue Asomugha as well!). Cromartie comes with plenty of baggage, as his attitude and effort were in serious question at the end of his time in San Diego. Doubt he'd fit in a place like Dallas or Washington, where peace and quiet are going to be important to the short-term and long-term plans.
4. Chris Carr
. He's said he'd like to return to Baltimore and that he'd be willing to play some safety in order to do that. Lots of turnover is expected in the Ravens' secondary, and depending on how other things shake out, Carr could be a surprise entry onto the market and a nice fit in Philadelphia or Washington, neither of which is too far from Baltimore. His fellow Baltimore corner,
Josh Wilson
, would be an intriguing name on the market as well.
5. Ike Taylor
. Known more as a physical corner than a traditional cover type such as Asomugha, Taylor is a perfect fit right where he is, in Pittsburgh. But there have been rumblings lately that he's seeking a big payday, and Washington seems like it could use an infusion of toughness and a championship-seasoned veteran presence on defense.
Predictions that mean nothing:
Asomugha to the Eagles, Taylor to the Redskins, Cowboys stand pat at corner and spend on safety.
March, 16, 2011
3/16/11
12:00
PM ET
By
Matt Williamson, Scouts Inc.
| ESPN.com
Scouts Inc.'s Matt Williamson examines the biggest weakness of each NFC East team and offers some potential solutions.
Outside of the ball-hawking
Asante Samuel
, the Eagles are extremely light at corner. The Eagles gave up a whopping 31 touchdown passes last season.
Ellis Hobbs
will retire, but the Eagles are set with their nickelback in
Joselio Hanson
.
[+] Enlarge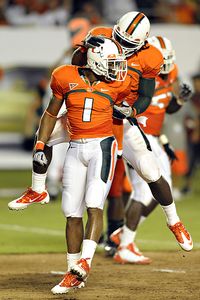 Steve Mitchell/US PresswireThe Hurricanes' Brandon Harris could be a good fit in Philadelphia.
They really need to a find a starter. Depth here isn't bad.
Trevard Lindley
could step up as he matures, and
Dimitri Patterson
has starting experience. But when Patterson is on the field, the offense targets him.
Obviously, the free-agent corner everyone is thinking about is
Nnamdi Asomugha
. Hey, I can't argue with adding a truly elite cover man like Asomugha. But wow, is he going to be expensive. It is easy for me to spend the owner's money -- and who knows what is going to happen with the salary cap. Asomugha will turn 30 in July; Samuel will turn 30 during the 2011 season.
The next best option would be the Bengals'
Johnathan Joseph
, who would be a big upgrade opposite Samuel. Joseph still has upside. He is very gifted but needs to stay healthy. Pittsburgh's
Ike Taylor
and the Jets'
Antonio Cromartie
are well-known players, but Taylor could be starting to decline slightly and is older than Samuel while Cromartie doesn't like to tackle. Still, either player would help immediately.
Baltimore has two corners who played well last year --
Chris Carr
and
Josh Wilson
. The Eagles probably wouldn't have to break the bank on either, and Wilson in particular is quite intriguing.
Although I have a hunch that Andy Reid will use the 23rd selection in the first round on an offensive lineman like Florida's
Mike Pouncey
or Wisconsin's
Gabe Carimi
, there are three corners worth considering with that pick. Colorado's
Jimmy Smith
is the most physically gifted, and
Aaron Williams
from Texas has excellent size. However, the player I would target is Miami's
Brandon Harris
. In fact, Harris is such a good fit that I would consider moving up to assure that he became the Eagles' property.
Scouts Inc. watches games, breaks down film and studies football from all angles for ESPN.com.
June, 18, 2010
6/18/10
11:50
AM ET
Virtually in concert, the
New York Jets
praised the FieldTurf in the new Meadowlands stadium after Wednesday's public practice.
A day earlier,
New York Giants
receiver
Domenik Hixon
suffered a season-ending knee injury when he crumpled to the ground untouched on a punt return.
The Giants seem less certain than the Jets
about the artificial surface's culpability.
"I was right there when it happened and I saw it right away," Giants safety
Antrel Rolle
told ESPNNewYork.com reporter Ohm Youngmisuk on Thursday. "And I was, like, 'Damn, it don't look good.' He didn't make a cut or anything. It just got caught in the turf."
Said receiver
Steve Smith
of the turf: "I thought it was real slippery. We were all slipping and stuff. Hopefully it settles in when more people do stuff on it."
Giants general manager Jerry Reese said the FieldTurf wasn't to blame. FieldTurf spokesman Chip Namias also refuted Rolle's opinion.
"With all due and sincere respect to Antrel Rolle, who is a wonderful player, he is simply not medically trained or qualified to make such a statement," Namias said. "The people who run NFL teams are ultra conscientious, and there's a very good reason why 21 of the 32 member clubs use FieldTurf."
Rolle also complained about the surface being hot on the bottoms of his feet and claimed several of his teammates had a similar experience. Slippage was another concern.
Giants coach Tom Coughlin stopped short at blaming the turf, but suggested it was an issue.
"You can speculate on whatever you want," Coughlin said. "Fact of the matter is it was an injury that occurred when he was not hit. He was running up the field and we are just going to leave it at that."
The Jets acted plenty confident in the surface
Wednesday. Quarterback
Mark Sanchez
, recovering from offseason knee surgery, participated fully in the workout.
"The turf is great," Sanchez said of the turf. "I didn't have any slippage. [Antonio] Cromartie did, but he's so athletic that he's like when a dog falls, they get up so quick, you almost don't see it."
Jets punter
Steve Weatherford
and outside linebacker
Calvin Pace
raved about the turf. Running back
LaDainian Tomlinson
told me "It's a fast track. Guys are going to really enjoy playing on it." Cornerback
Darrelle Revis
noted it could stand to be broken in more.
"It's new turf," Jets inside linebacker
Bart Scott
said. "It takes a while for this stuff to harden up and mat down. There's going to be loose rubber until you run over it a couple times. ... But you just have to make the adjustment. Early on you may have to go with shorter spikes, and then as it hardens up you can go with longer spikes.
"But I think it's still top-notch. It's soft. It's level. There's no divots. There's no seams. You just have to break it in."