September, 22, 2014
9/22/14
12:00
PM ET
EAST RUTHERFORD, N.J. -- His older son was playing in the game of the day, a Super Bowl rematch out in Seattle. But for some reason Archie Manning came to New Jersey on Sunday to watch
Eli Manning
and the
New York Giants
beat the
Houston Texans
. It was a better day for Eli than it was for Peyton. Archie's younger son was a cool 21-for-28 for 234 yards, two touchdowns and (gasp!) no interceptions as he helped deliver the Giants' first victory of the season.
"Eli likes this offense," Archie Manning told our man Ian O'Connor on his way out of MetLife Stadium. "This is going to be good for him."
[+] Enlarge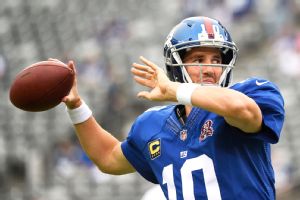 Alex Goodlett/Getty ImagesEli Manning, a career 58.6 percent passer whose best was 62.9 percent in 2010, completed 75 percent Sunday and is up to 65 percent for the season.
This offense is one in which the free-agent running back,
Rashad Jennings
, ran for 176 yards on 34 carries Sunday. It's one in which Manning is holding the ball an average of .41 seconds less per dropback than he did in 2013, averaging less time per dropback before the throw than all but two quarterbacks in the league (
Peyton Manning
and
Ben Roethlisberger
), according to Pro Football Focus. When it's on and clicking, it's a zippy, rhythm-driven, no-huddle assembly line of an offense designed to make its quarterback feel comfortable with the ball in his hands. And the past two weeks, Eli Manning has looked quite comfortable in his new offense.
"That is the way it's supposed to work," Manning said after Sunday's game. "We got the ball out quick. The receivers made catches. They had good runs after the catch. It was efficient. We mixed it up. I thought last week we made some steps to get better, and this week was even stronger."
Remember in training camp when Giants quarterbacks coach Danny Langsdorf said the goal was for Manning to complete 70 percent of his passes and we all had a great big chuckle about it? Well, after completing 66.7 percent of his passes in a Week 2 loss to Arizona, Manning completed 75 percent Sunday and is up to 65 percent for this young season. He's a career 58.6 percent passer whose career best was 62.9 percent in 2010, so this is significant progress. And though it's a small sample size and there are undoubtedly hiccups to come, the shorter, quicker-hitting passing game is obviously designed to help Manning's completion percentage improve.
The keys to making it work include Manning's post-snap footwork, which is timed to his receivers' routes depending on the play call (he has re-committed to this after struggling with it in the preseason), and his pre-snap reads, which have been sharp the past two weeks.
"He's seeing things really well before the snap," wide receiver
Victor Cruz
said. "We know exactly what's going on, exactly what to do out there. It's just a matter of us going out there and executing."
It helped that the Giants got the lead against Houston. It unquestionably helped that Houston's best offensive player,
Arian Foster
, was injured and didn't play in the game. There are games to come against tougher teams and tougher defenses that will be much tougher to beat, and the fact that the offense has clicked the past two weeks doesn't mean anything is fixed or the Giants are going to the Super Bowl. But it's worth noting, as we evaluate this season of change and transition for the Giants, that Manning might be adapting to the new offense better than it looked as though he might.
"He plays a very, very solid mental game, a very outstanding mental game," Giants coach Tom Coughlin said. "And he did that today."
October, 4, 2013
10/04/13
10:15
AM ET
DALLAS -- In town for an event honoring
Dallas Cowboys
owner Jerry Jones, former NFL quarterback Archie Manning praised not only his son Peyton for his fast start to the season but
Tony Romo
as well.
Romo meets Manning and the
Denver Broncos
Sunday at AT&T Stadium.
"We're proud of him," Archie Manning said. "They've gotten off to a good start, like all quarterbacks he's worked hard; everybody wants to get off to a good start. The good news is he's played long enough to know this can't last forever and it gets tougher and tougher and he knows all of those things. Hopefully they can stay healthy. I don't want to see anybody get hurt, and I hope they can play at a high level."
Manning is off to one of the best starts in league history for a quarterback. He's got 16 touchdowns and no interceptions, leads the NFL in at least seven passing categories and has more touchdowns than every other team in the league.
Roger Staubach, a Hall of Fame quarterback with the Cowboys, is also impressed.
"He's amazing, got some real good receivers in Denver and he's an extremely smart quarterback," Staubach said. "He studies like crazy and he knows what's going on over there and he's making it look easy. You never know. You get a different matchup and people start watching film and seeing some of that and you see he has tendencies, but he is the best right now in the league. He and [Tom] Brady and [Aaron] Rodgers, and I have Tony in my top 5."
Archie Manning and Staubach didn't ignore the works of Romo, who is third in completion percentage and fourth in passer rating.
"He's played good for years," Archie Manning said of Romo. "I think we're all guilty of making quarterbacks like tennis players and golfers. Quarterbacks play as good as their team plays, and Tony, if protected and his receivers do the job and gets a little running game, he plays a great quarterback as good as anybody."
April, 3, 2012
4/03/12
4:25
PM ET
So I have this idea, since everybody loves draft talk and speculation so much, to go through each team's picks and the history of players taken at those spots. It doesn't mean much, since there's no way to know if the guy your team takes in the sixth round is going to become anything or not, but I thought it'd be fun, so I'm going to do it for each of our division's four teams. We'll go in first-round order, so we'll start with the Redskins, who have seven picks.
The Redskins have the No. 2 pick in the draft, which as you might expect has produced a number of great players, including 13 Hall of Famers. But in doing this exercise, I learned that the Redskins this year also have the pick (No. 102) that produced both Johnny Unitas and Nick Buoniconti. The Redskins' second pick in this year's draft is No. 69, which is noteworthy because the Redskins likely made the best No. 69 pick of all time when they drafted Hall of Famer Russ Grimm in 1981. Enjoy.
PICK 2
(second pick of first round)
Last five players taken
2011 --
Von Miller
, LB, Broncos
2010 --
Ndamukong Suh
, DT, Lions
2009 --
Jason Smith
, T, Rams
2008 --
Chris Long
, DE, Rams
2007 --
Calvin Johnson
, WR, Lions
Redskins' history of No. 2 picks

2000 --
LaVar Arrington
1962 -- Norm Snead
1953 -- Jack Scarbath
Hall of Famers picked No. 2
Marshall Faulk
(1994),
Eric Dickerson
(1983),
Lawrence Taylor
(1981), Tony Dorsett (1977), Randy White (1975), Tom Mack (1966), Joe Namath (1965, AFL), Bob Brown (1964), Merlin Olsen (1962), Les Richter (1952), Y.A. Tittle (1951), George McAfee (1940), Sid Luckman (1939)
Other notables
Reggie Bush
(2006),
Julius Peppers
(2002),
Ryan Leaf
(1998),
Tony Mandarich
(1989),
Cornelius Bennett
(1987), Archie Manning (1971)
Last quarterback taken No. 2

1999 --
Donovan McNabb
, Eagles
PICK 69
(sixth pick, third round)
Last five players taken
2011 --
Rob Housler
, TE, Cardinals
2010 --
Jared Veldheer
, T, Raiders
2009 --
Jason Williams
, LB, Cowboys
2008 --
Jacob Hester
, FB, Chargers
2007 --
Buster Davis
, LB, Cardinals
Redskins' history of No. 69 pick
1998 --
Skip Hicks
1981 -- Russ Grimm
Hall of Famers picked No. 69
Russ Grimm (1981), Jack Christiansen (1951)
PICK 102
(seventh pick, fourth round)
Last five players taken
2011 --
Jordan Cameron
, TE, Browns
2010 --
Darryl Sharpton
, LB, Texans
2009 --
Donald Washington
, DB, Chiefs
2008 --
Jeremy Thompson
, DE, Packers
2007 --
Brian Robison
, DE, Vikings
Redskins history of No. 102 pick
1996 --
Stephen Davis
1984 -- Jimmy Smith
Hall of Famers taken N0. 102
Nick Buoniconti (1962), Johnny Unitas (1955)
PICK 109
(14th pick, fourth round)
Last five players taken
2011 --
Colin McCarthy
, LB, Titans
2010 --
Corey Wootton
, DE, Bears
2009 --
T.J. Lang
, T, Packers
2008 --
Mike McGlynn
, G, Eagles
2007 --
Stephen Nicholas
, LB, Falcons
Redskins history of No. 109 pick

2001 --
Sage Rosenfels
1990 -- Rico Labbe
1988 -- Jamie Morris
Hall of Famers taken No. 109
Don Maynard (1957)
PICK 141
(sixth pick, fifth round)
Last five players taken
2011 --
D.J. Williams
, TE, Packers
2010 --
Joshua Moore
, DB, Bears
2009 --
Kenny McKinley
, WR, Broncos
2008 --
Gary Barnidge
, TE, Panthers
2007 --
Greg Peterson
, DT, Buccaneers
Redskins history of No. 141 pick
1971 -- Conway Hayman
Hall of Famers taken No. 141
None
PICK 173
(third pick, sixth round)
Last five players taken
2011 --
Byron Maxwell
, DB, Seahawks
2010 --
Anthony Dixon
, RB, 49ers
2009 --
Javon Ringer
, RB, Titans
2008 --
Dominique Barber
, S, Texans
2007 --
Michael Coe
, CB, Colts
Redskins history of No. 173 pick
2006 --
Reed Doughty
1970 -- Roland Merritt
1969 -- John Didion
Hall of Famers picked No. 173
None
PICK 213
(sixth pick, seventh round)
Last five players taken
2011 --
Brandyn Thompson
, DB, Redskins
2010 --
Willie Young
, DE, Lions
2009 --
Paul Fanaika
, G, Eagles
2008 --
Chauncey Washington
, RB Jaguars
2007 -- Chase Pittman, DE, Browns
Redskins history of No. 213 pick
2011 -- Brandyn Thompson
1986 --
Kurt Gouveia
Hall of Famers picked No. 213
None
September, 20, 2010
9/20/10
1:59
PM ET
By
Matt Mosley
| ESPN.com
Let's take a quick look at some of the commentary that's rolling in from around the country. This is a division in turmoil:

Cowboys
Eagles
Giants
Redskins

September, 8, 2010
9/08/10
12:22
PM ET
By
ESPN.com staff
| ESPN.com
April, 13, 2010
4/13/10
9:55
AM ET
By
Matt Mosley
| ESPN.com
And no, I'm not talking about their lack of a Super Bowl ring. Soon after the Eagles sent
Donovan McNabb
to the Redskins for a second-round draft pick in 2010 and a potential third-rounder in 2011, the folks at Football Outsiders
broke out their calculators and went to work
.
Aaron Schatz, the patron saint of FO's similarity scores system, compared McNabb's past three seasons to the three-year spans of quarterbacks who put up similar numbers. Dan Marino's 1990-92 seasons quickly caught Schatz's attention. And Archie Manning,
Brett Favre
, Phil Simms and Jim Kelly were also in the mix. This information is so privileged that we make you pay (a reasonable amount) for it via Insider status. But here's an excerpt from Schatz's fascinating study, which was published April 5:
When you look at their numbers, you wonder whether McNabb will give the Redskins that much more than they got from Jason Campbell, writes Schatz. Let's imagine McNabb's 2010 season will look like the average performance of those 10 similar players in the season following the three-year span listed above. Those players averaged 13 games, primarily because of injuries, but we prorated the average to 16 games. We then compared these expected numbers to Campbell's stats in 2009.

The McNabb comparables ended up with a better touchdown-interception ratio (22-to-14, compared to Campbell's 20-to-15); the yardage (3,411 for the McNabb comparables to 3,618 for Campbell) and completion percentage (60.8 for McNabb comparables, 64.5 for Campbell) don't match what Campbell did this past season. Yes, McNabb averaged more than 8 yards per attempt this past season, but that was a yard more than what he averaged in 2007 or 2008, and he doesn't get to bring DeSean Jackson with him to Washington.
Of course, Campbell had the lowest average per attempt in the league in '09, in part, because he was playing behind an inferior offensive line that forced him to unload the ball early. But FO's research seems to indicate that McNabb's presence alone won't lift the Redskins into the playoff conversation.
In '09, he was surrounded by a talented receiving corps and he played behind a decent offensive line. Perhaps Mike Shanahan's commitment to the running game will take pressure off McNabb, but I'm not sure this will go smoothly. What do you guys think?
February, 5, 2010
2/05/10
12:13
PM ET
By
Matt Mosley
| ESPN.com

Manning

Manning
FORT LAUDERDALE, Fla. --
New York Giants
quarterback
Eli Manning
has kept a low profile this week while his older brother Peyton prepares for Sunday, but he did make a promotional appearance Thursday. Eli grew up in New Orleans as a huge Saints fan,
but he told reporters
that he's lost that rooting interest over the years. And there's no doubt that he'll be pulling for the Colts on Sunday.
"No question about it," the Giants' quarterback said. "If you think about it, I've been cheering for the Colts and Peyton for the last 12 years. And having been in the NFL six years myself and having played against the Saints a few times, you kind of quickly lose your home-team loyalty in a sense when you start playing for another NFC team."
"I keep up with the Saints a little bit, and a lot of my friends are big Saints fans. But for this game, it's a no-brainer: I'll be rooting for Peyton and the Colts."
We've heard stories for years about how Peyton and Cooper Manning beat up on their little brother, but Eli came up with a couple I hadn't heard Thursday. Apparently Peyton and Cooper took part in mocking their father's old team at one point in the 80s.
"They were at Saints games and my mom was there with Cooper and Peyton and she looked down and they were wearing the 'Aints' bag over the head," Eli said. "They didn't really know what they were doing; they just thought it was funny to put a bag over your head."
Wish we could've seen the look on Olivia Manning's face.
October, 18, 2009
10/18/09
8:17
PM ET
By
Matt Mosley
| ESPN.com
| | |
| --- | --- |
| | |
| | Matt Stamey/US Presswire |
| | New York defensive back C.C. Brown was continually victimized by New Orleans quarterback Drew Brees on Sunday. |
Posted by ESPN.com's Matt Mosley
NEW ORLEANS -- I tried to ignore the fact the Giants built their 5-0 record against some rather questionable competition. But in the aftermath of a
48-27 drubbing by the Saints
, questioning the Giants' status in the NFC is fair game.
Coach Tom Coughlin better hope the Saints are the best team in the league because they made it look easy against the (former) top-rated defense in the league. Moments after the game, at least one Giants defender was trying to recall if Saints quarterback
Drew Brees
was ever touched Sunday. Nope, Brees was long gone by the time linebacker
Chase Blackburn
recorded the first sack.
This was supposed to be a battle of NFC heavyweights, but in all honesty, the Giants didn't belong on the same field as the Saints. Time after time, Brees dropped back and threw to whomever Giants safety
C.C. Brown
was covering. And when that finally got old, he tossed a couple of touchdowns in cornerback
Kevin Dockery
's direction.
Brees was 23-of-30 for 369 yards and four touchdowns. He released the ball before there was anything close to a pass rush, in part, because receivers were allowed to race across the field unattended. He targeted
Marques Colston
and
Lance Moore
a combined 15 times -- and they caught 14 of those passes for 244 yards. Playing without injured linebacker
Michael Boley
, the Giants looked old and slow.
For reasons that were not explained after the game, the Giants allowed the Saints to lure them into a shootout. We'll never know what could've happened if offensive coordinator Kevin Gilbride had slowed the game down with the running game, although I suspect the Saints would've prevailed. Under Sean Payton, the Saints had been notoriously bad -- Brees called them "awful" -- coming off the bye week. On Sunday, though, they were brilliant on offense and opportunistic on defense.
In wins over the Buccaneers, Chiefs and Raiders, the Giants were able to mask some of their weaknesses on defense. They signed Boley to a lucrative free-agent contract because he's capable of covering athletic tight ends and running backs in the open field. They knew Brown didn't have the coverage skills of
Kenny Phillips
-- out for the season with a knee injury -- but they hoped he could elevate his game. On Sunday, he looked completely lost. Even when he was in position, Saints wide receivers treated him as nothing more than a nuisance.
"We had two people in spots a couple of times on the deep ball and didn't make a play," Coughlin said after the game. "They would go up and get the ball and we're standing on the ground. We've got to locate the ball and get up as if the ball is ours."
Brown finished with a team-leading 13 tackles, but too many of them came after huge gains by the Saints. I kept trying to figure out why the Giants didn't give recent addition
Aaron Rouse
a chance to play. It seemed punitive to let Brown endure the Brees-led onslaught.
But to be fair, Brown had plenty of help. A somewhat questionable pass interference call on cornerback
Corey Webster
in the second quarter gave the Saints a 35-yard penalty and first-and-10 at the Giants' 12-yard line. They quickly made it 27-10 and the Giants were pretty much done.