July, 11, 2014
Jul 11
9:53
AM ET
Some
Washington Redskins
news and notes for Friday morning:
Griffin
Briles on RG III:
Baylor coach Art Briles watched his former quarterback,
Robert Griffin III
, work out earlier this week. He saw a guy he used to see with regularity. "I think it's as fresh and uplifting as I've seen him in a long time quite honestly," Briles said on the SiriusXM Blitz Wednesday
via Dan Steinberg of the Washington Post
. "The thing about ACLs: I've always thought they take a complete year to get over. And I think he rushed himself a little bit, just because that's the way Robert is. He's always going to be determined to do more than is humanly possible."
Briles' prediction? "So I think this year, I do think we'll see a very healthy RG III. I think we're gonna see a guy that's happy playing the game, that has a fire and attitude that you need to have a chance to be successful, because that's who he is."
Revisiting Week 1 2013:
Steinberg also wrote about former Redskin Chris Cooley saying that Griffin should not have started the 2013 opener. It wasn't because of Griffin's health, but rather his readiness. Griffin was cleared by doctors and was ready physically. But it's clear in hindsight he was not prepared to play in an NFL game. Mike Shanahan did a bad job of managing Griffin, from not pulling him in the Seattle game despite his gut feeling to do so and to being afraid of how his moves were perceived by the young quarterback. If you have a conviction on something, do it. Instead, Shanahan did not and instead we got the mess of last December.
Jackson
More on Jackson:
ESPN980's Chris Russell exchanged texts with safety
Tanard Jackson
, who told him his fourth suspension was not like the others, that it had nothing to do with marijuana. It's hard to buy any story from a guy in his position, regardless if you want to or not. Maybe it's true; maybe it's not. Bottom line: Whatever Jackson thinks, the NFL's ruling is the one that matters. They ruled he tested positive for violating the NFL's substance of abuse policy. It's over.
Power rankings:
The Redskins ended the 2013 season ranked No. 31 in ESPN's power rankings. The rankings suggest they'll be better over the next three years -- but not by a whole lot. The
panel of experts ranked Washington No. 24

for what it could do over the next three years. That's a dropoff from last season and it stems from a fall at quarterback and coaching. They dropped 12 spots at quarterback and 19 at coaching from this time last year. The knock on Griffin traces back to his knee injury and a subpar season. And going from Mike Shanahan to first-time head coach Jay Gruden caused a tumble (of course, had Shanahan returned after such a bad season they might have fallen far regardless). It's not as if Gruden's hire was considered a great one at the time, so until he proves himself there will be split opinions on him. They also were knocked for the front office. The Redskins need Griffin to rebound and they'll climb in the rankings, but they also have to do a much better job building the defense. If Griffin plays well, the offense is in excellent shape. But the defense needs more help and will need several new parts after this season.
January, 3, 2014
Jan 3
2:30
PM ET
The pairing of quarterback
Robert Griffin III
and his college coach, Art Briles, does not look like it will take place.
Two days after losing to Central Florida in the Fiesta Bowl, Briles tweeted that, "Contrary to reports and rumors I am a Baylor Bear -- 2013 Big 12 Champs."
Griffin
Coaches say things like that all the time, not wanting to make it appear to recruits that they might leave. But Briles followed that up by releasing a statement on Baylor's Web site. Also, several sources had said in recent weeks that the Redskins weren't pursuing him, knowing it would put Griffin in a tough spot with the perception that he perhaps got one coach fired and another hired. Multiple players said it would not be wise, with one saying it was a potential "[bleeping]" disaster.
But it's doubtful Briles would tweet what he did and then release a statement if he felt there was a chance he'd leave Baylor.
Here's the full statement:
"I have no desire to pursue other coaching positions. As I've said many times, I am both humbled and honored to be the head coach at Baylor University, and believe we have something special going here. I look forward to leading the Bears onto the field next fall at McLane Stadium and defending our Big 12 championship that our players and coaches worked so hard to win this season.
"There is tremendous excitement for our program's future, and I look forward to many more great seasons at Baylor. There is tremendous commitment from our University leadership, athletic administration, coaches and student-athletes -- it truly is a great time to be a Baylor Bear."
As for Bill Cowher, the Redskins have denied that they've even spoken to the former Pittsburgh head coach, and multiple sources said he would not be returning to coaching. Cowher told "CBS This Morning" that there was nothing to the reports he was planning on coaching again. He also said the "door is never closed."
December, 31, 2013
12/31/13
9:45
AM ET
ASHBURN, Va. --
Washington Redskins
general manager Bruce Allen called the coaching list an open one, saying there's a spot for all sorts of backgrounds. Allen said they will talk to people who have no head coaching experience, who are currently college coaches and some whom he's never met.
"I want to hear what their dreams are, what they can do, the fire in their belly to coach the Washington Redskins, to inspire the kids on this football team," Allen said.
Among the names that likely will be on their list, as well as other teams: ex-Chicago coach Lovie Smith, Cincinnati offensive coordinator Jay Gruden, and Cincinnati defensive coordinator Mike Zimmer. Former Green Bay coach Mike Sherman, currently the offensive coordinator in Miami, was a possibility, but a bad finish with the Dolphins might have changed that as his job is reportedly in jeopardy. The Redskins would be interested in Jon Gruden, too, though it does not sound as if he shares that interest. Seattle offensive coordinator Darrell Bevell is another name who will surface for most vacancies.
One note: Being on a list and being a strong candidate are two different things. They likely will have 10 to 12 names on the list before it gets pared down.
Other names that could surface: Baylor's Art Briles, for the obvious connection to quarterback Robert Griffin III – which could keep him off the list as well --and Texas A&M's Kevin Sumlin. They've also talked to Bill Cowher, but, that too does not appear to be of mutual interest.
Allen said he has no blueprint for what systems he wants the coach to run. Defensively that could mean a return to the 4-3. Offensively it could mean going to a different blocking scheme.
"It's the person who has the understanding and the knowledge of what he wants to teach the players," Allen said. "As I said at the beginning, we're going to look for someone who is a leader first and it could be on the offensive side of the ball, defense or special teams. There have been a couple special teams coaches who have made great head coaches. We're going to keep an open mind."
This will be the sixth head coach hired under owner Dan Snyder. None have lasted more than four years and none have finished better than .500. Allen tried to play down the lack of success in Snyder's ownership.
"I can't speak for the prior years. I can speak for Mike's years, and Dan was very supportive of all of Mike's wishes and ideas," Allen said. "This is the Washington Redskins. This is a very high-profile team. When the
Dallas Cowboys
or the Washington Redskins are in first place it's a lot of news, and when they're in last place it's a lot of news. I think coming into this environment, knowing that there is a nucleus, I think it will be a very attractive position to coaches."
December, 26, 2013
12/26/13
5:45
PM ET
ASHBURN, Va. -- Kyle Shanahan isn't ready to give up his job just yet. But he knows that if the
Washington Redskins
have another offensive coordinator next season, they'll survive.
And that includes quarterback
Robert Griffin III
. It's never easy for a young quarterback to have to learn a second offense in his first three NFL seasons. But Shanahan said it's not that big a deal.

"Robert's a smart guy," Shanahan said. "Robert's going to be able to learn any system that someone gives him. Systems are a little bit overrated. This isn't physics or anything. It's football, and it can be tough if you don't work at it, but Robert works at it. He'll give it his full effort and if you do that you're going to pick stuff up.
"So I don't think it matters from that standpoint. It's just about improving yourself from technique standpoints, seeing the game, reps, and just getting more comfortable with whatever it is that's asked of him."
Of course, if it's a coach he's already familiar with, such as Baylor's Art Briles, the transition wouldn't be hard at all.
Shanahan also said the Redskins have the makings of a top-five offense next season. They're ranked ninth this season after finishing fifth in total yards in 2012. Shanahan pointed out, too, that they turned over the entire starting lineup by their third year in Washington. And, of course, there was the salary-cap penalty, which he said forced them to go younger.
Shanahan mentioned all this after being asked how having another consistent threat opposite receiver
Pierre Garcon
would help the offense.
"A lot of these guys are young players who haven't cost a lot of money, who make the future very bright for this organization," Shanahan said. "You've got a guy like
Jordan Reed
who comes back and has a chance to be one of the better tight ends in the league.
[Leonard] Hankerson
is a big deal. That's just the people we already have. When you have those people already, if they can stay healthy, you've already got a top-five offense and then hopefully there's money next year to be spent, you add a couple more players … It makes all the difference in the world."
December, 18, 2013
12/18/13
5:15
PM ET
ASHBURN, Va. -- The
Washington Redskins
placed
Robert Griffin
III's locker next to
London Fletcher
for a reason. They wanted him to learn. Now Fletcher, who said he's 99 percent sure he's retiring after the season, wants Griffin to take some advice.
Fletcher
Griffin
He wants Griffin to get away and take a deep breath after the season.
"The amount of expectations that he had coming in and the way he performed last year, he exceeded those expectations," Fletcher said. "I don't think he changed his approach. There are a lot of people that pull and tug at him. Really, this is a time for him to exhale. This is a time to reevaluate different things and say what do I need to get to be the player that he knows he can be, the player everyone knows he can be. Take some time to clear his head and decompress from everything that's happened. He's been on a whirlwind since his senior year at Baylor."
Griffin has been through quite a bit this season, returning from knee surgery in training camp and playing in the season opener without benefit of a preseason. Griffin was inconsistent during the season and, lately, has had to deal with several anonymous stories discussing his family and knocking his character.
Griffin merely called the latest story false -- a Bleacher Report article that said, in part, that his father, Robert Griffin Jr., was lobbying owner Dan Snyder to hire Baylor coach Art Briles.
It's taken a toll on Griffin, who said he agrees with Fletcher's advice.
"I do take that advice from some people," Griffin said. "It could push you over the edge and really frustrate you. I have to do what Fletch told me and exhale and let it all go. You have to let the people know you're defending you and you can't try to defend yourself or your family in these situations. It's unfortunate that people don't understand that, but people who know me and know my parents, know my family and know what goes on around here -- they have to defend me."
December, 8, 2013
12/08/13
9:48
PM ET
I just don't see how Mike Shanahan survives, nor do I think he should. This situation has eroded that much and it's not even a matter of which side is right or wrong. I thought for a while it could be salvaged, but after this weekend it can't. It's not just about the playoff loss to Seattle last season and the distrust that developed over the play calling in that game. It's a general distrust on both sides over the source of all these leaks. It's not workable.

[+] Enlarge

AP Photo/Evan VucciMike Shanahan's days in Washington may be numbered.

Will Dan Snyder fire Shanahan this week? That's tough to say. But at this point, why not make your move? It's clearly going to happen after the season at the very least. If it continues the atmosphere will be bad for the final three weeks. It's hard to imagine after Sunday that Snyder doesn't know what he wants to do. This isn't about trying not to live up to his impatient image anymore; nobody would blame Snyder for making a move. That doesn't mean it's all one person's fault and the coach still has strong support in most corners of the locker room. That's been evident all season. But after three double-digit loss seasons out of four and with the issues between coach and quarterback, there really isn't a decision to be made. Move on.

All the leaks and stories that have come out lately were supposed to stop under this regime. This is what happened in the Jim Zorn era, only that time there was clear player dissatisfaction. Some of the stories emanated with them. Some from the coaches. Some from the front office. It was ugly. It's ugly again. It's back to what it's been too many times in the Snyder era, an atmosphere that is not conducive to winning. The locker room is terrific and has been. This is not a divided team.

I know players will be disappointed. But they're just as responsible for what's happened as the coaches. "I'm a guy that's backing [Shanahan] 100 percent," Redskins linebacker Brian Orakpo said. But is he worried about moves being made? "Who knows man? It's the NFL. Having been through it already who knows. I just have to keep playing." A couple of months ago I thought we'd be talking about a team ready to go on a playoff run. Instead, it's a coaching search. I was far from alone in my assessment.

The problem with starting over is not just bringing in a new staff, it's new offensive and defensive systems. Not many coaches run the stretch zone scheme the way Shanahan does. That means the bulk of the line will be gone because they fit something rather specific. And if a new coach comes in and wants to return to a 4-3 front? I hear the cheering now, but you need to know this has never been about the scheme they play. It's about the talent they've accrued to fit that scheme. If they switched to a 4-3 tomorrow they'd need to make major changes. If they stay in a 3-4 they'll need to make changes. Heck, it's probably a good time to undergo this transition defensively because of the need to make multiple moves regardless.

I've heard Art Briles name floated. Maybe Snyder pursues him and hires him. That doesn't mean it would be a good move. I don't think the quarterback needs that sort of attention, with the thought being that he got one coach fired to hire another. Briles has never coached in the NFL and would not be prepared for what he would be about to face. Forget defenses, which will be much more complex, it's about dealing with issues he never had to in college. You would need a strong organization to make it work with a college coach. That's not Washington. Chip Kelly is not the rule. Heck, Steve Spurrier had pro experience before he arrived in Washington. Snyder will need to do better than Briles.

The Redskins played a game Sunday and were embarrassed. Logan Paulsen: "Stunned, embarrassed. Those are all good words. We just got taken out behind the woodshed and got the belt taken to us. It's awful. No one expected this." Santana Moss: "They beat our [butts] man and it was embarrassing."

[+] Enlarge

Geoff Burke/USA TODAY SportsDexter McCluster, lower left, returned seven punts for 177 yards and a touchdown.

Embarrassing would describe the special teams, too. Do I need to go into detail here? They allowed 300 return yards! Yes, I used an exclamation point because that's an astonishing number. That goes on top of the 347 yards they gained as a team. They returned a punt 74 yards for a touchdown and a kickoff 95 yards. Punt returner Dexter McCluster returned seven punts for 177 yards. That's ridiculous. Field conditions played a part and McCluster's running style did as well. He is not a dancer; he's a glider who cuts and goes. That made it easy for him to weave through tremendous gaps.

But Niles Paul was sickened by what he saw once again on special teams. It's not about special-teams coach Keith Burns and whatever he's teaching them. At some point effort and intensity must enter into play. They haven't, not as a group. I don't know how you can say you have the right players if you don't have guys buying into what they're asked to do on special teams. Here's Paul: "Hopefully they get it and understand this is your role this year, whether you become a starter next year is neither here nor there. This year your role is special teams and you should give the effort you're being paid to give. ... Reed [Doughty] has held meetings talking about effort. We haven't called anybody out. That's not the type of team we want to be. It almost comes down to us having to do that. It feels like everyone's not on the same page and it's frustrating. ... Coaching has never been an issue. The issue we've had is the effort from players. You can't have four or five guys out there giving effort and no one else is giving the same. You get what we had today, an embarrassment." There's that word again.

What else to really say about this game? It's one of the ugliest losses that I've seen because of the timing of certain stories and future implications. Jamaal Charles was terrific, though he had big gaps to cut through. Charles worked well on a slick field. Defenders had a tough time cutting; he did not. Meanwhile, the Redskins' offense was bad. The quarterback didn't play well. The line didn't create openings. It was 45-10.
November, 18, 2012
11/18/12
6:45
PM ET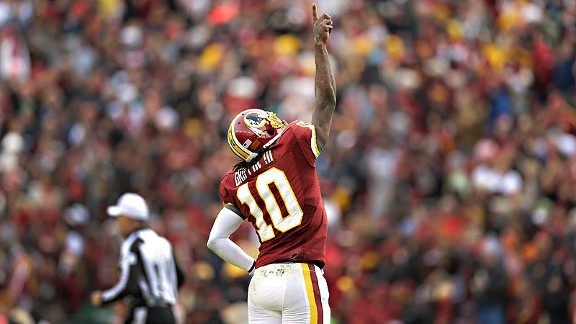 AP Photo/Patrick SemanskyRedskins quarterback Robert Griffin III inspires confidence in his teammates.
LANDOVER, Md. -- On Nov. 15, 2010,
Philadelphia Eagles
quarterback
Michael Vick
played the game of his life and beat the
Washington Redskins
59-28 on "Monday Night Football." That night, the Redskins didn't look as though they belonged on the same field as the Eagles, and the reason was Philadelphia's dynamic quarterback. He could do it all -- elude oncoming rushers, speed around the edge to pick up a first down with his legs, and of course, throw the ball a mile down the field into the hands of his speedy wide receivers.
It has been just a little bit more than two years since that night, and in Sunday's 31-6 loss, it was the Eagles who did not look as though they belonged on the same field as the Redskins. The main reason may well have been Washington's dynamic quarterback,
Robert Griffin III
. He completed 14 of 15 passes for 200 yards and four touchdowns. He ran for 84 yards on 12 carries. He got away from the rush when he needed to, and he burned the Eagles deep at key points in the game.
"Except for that one incompletion," Redskins coach Mike Shanahan deadpanned, "I thought he did OK."
Griffin was unquestionably the best player on the field in this ugly game -- a bright spot amid the messiness you'd expect to find when a couple of 3-6 teams get together in Week 11. Sure, the Redskins' defense did some good things, picking off Eagles rookie quarterback
Nick Foles
twice in the first quarter and setting the tone early for their plans to deliver the Eagles their sixth consecutive loss. And yes,
Alfred Morris
ran for 76 tough yards of his own against an Eagles defensive front hell-bent on stopping him. But Griffin was the class of this game -- a beacon of competence with flashes of outright excellence.
"I'm tired of talking about Robert," said Redskins wide receiver
Santana Moss
, who caught Griffin's 61-yard touchdown heave that extended the lead to 24-6 in the third quarter. "Robert's not going to change. He's going to go out there and be special. He brings that special-ness. I don't even know if that's a word, but that's what he brings to our offense."
Griffin does appear to be the kind of player for whom it's worth trying to invent new words. And while Moss' effort might not be the pinnacle of vocabulary innovation, it's probably not the last time someone on Griffin's team will try. It was a big week all around for the Redskins' rookie, who was voted a team captain by his veteran teammates earlier in the week and enjoyed watching his alma mater beat top-ranked Kansas State on Saturday night.
"The Baylor Bears won [Saturday], in case you all didn't know that," a smiling Griffin said. "And Coach [Art] Briles, he always used to tell me there's a difference between playing fearless and playing stupid. If that had been an interception, that pass to Tana, it would have been stupid. Instead it was fearless. It's a fine line."
It's one Griffin walks with remarkable ease, week in and week out, in the way in which he carries himself both on and off the field. He is 22 years old and already the kind of franchise quarterback who brings to his team the most important things a franchise quarterback can bring. Stability. Confidence. The innate ability to instill and communicate that everything will be all right if his teammates and coaches will simply trust him. And those teammates and coaches have bought in. The Redskins at this point are a team that believes in its quarterback to make the play they need him to make at the appropriate time. And on Sunday, he once again justified that belief.
"I'm a 22-year-old kid to the rest of them, and for them to vote me their captain shows what they think of me as a leader," Griffin said. "That means a lot, and I'm extremely proud to be their captain."
The Redskins are 4-6 and remain a long shot to make the playoffs. The Eagles are 3-7, but the difference between the teams right now feels much more significant than a single game in the standings. After Sunday's game, in which the Eagles could do nothing right and the Redskins were able to cover their own mistakes with enough big plays to win, the difference feels like a gulf. The main reason for that is at quarterback, where the Redskins currently feel as though they're set for years to come, and the Eagles are dealing with questions.
Foles looked very much like a rookie in this game, going 21-of-46 for 204 yards and two interceptions. He missed a lot of throws, made a couple of questionable decisions and never seemed able to get into a rhythm. A lot of that has to do with the same kind of shaky, mistake-prone offensive line play that limited Vick in the season's first nine games, but Foles is a third-round pick who needs work. And since he is a third-round pick (as opposed to the No. 2 pick overall), there are many more questions about his ability to develop into a franchise quarterback than there are about Griffin's.
The Eagles' season is lost. Vick's concussion sounds serious enough to keep him out a while longer, and it seems a worthwhile idea to play Foles anyway and see what he can do. Perhaps he can play well enough in the final six games to help the Eagles answer some questions about what they have at their most important position as they head into an offseason packed with critical decisions. Perhaps he plays poorly enough that they decide they need to shop for their franchise quarterback in the 2013 draft.
These are the issues and questions with which the Eagles are dealing, just two years after Vick's signature game sold Andy Reid on the idea that he could deliver that elusive championship. The Redskins believe they have that most critical of questions answered with Griffin. And Sunday's game brought that key difference between these two teams into crystal-clear focus.
April, 28, 2011
4/28/11
10:43
PM ET
Five years ago,
Danny Watkins
was a fireman in Canada.

Watkins
On Thursday, the
Philadelphia Eagles
made him the 23rd pick in the NFL Draft. Five of his Canadian firefighter friends were at the draft with him, voicing their support.
Like his teammate,
Phil Taylor
, Watkins went higher than expected and gives the Bears two first-round picks in 2010 after having just one in Big 12 history (2009, Jason Smith).
Watkins is a solid tackle that some have called the safest pick in the draft. From the hockey rink to the fire station in Canada to junior college in California and eventually major college football in Waco, Texas, it's been quite a ride for the 6-foot-3, 310-pounder.
The next step starts in Philadelphia.
July, 27, 2010
7/27/10
12:00
PM ET
By
Matt Mosley
| ESPN.com
Eagles quarterback
Kevin Kolb
received a number of messages before his first practice today,
but one text message really stood out
. His former mentor and teammate,
Donovan McNabb
, was texting to wish him luck on the first day of training camp. That seems like good karma for both players, and it speaks to how classy McNabb has handled this entire situation.
"He told me to take one practice at a time and be patient," Kolb said Tuesday following the first practice of training camp. "And I said, 'Yeah, I hear you. It's a long season.' That's what I was saying before. You kind of get caught up in the whole realm of the whole season and whatever expectations. Just take it one practice at a time at this time of year and that will help you get a lot better."
I was fortunate enough to have dinner with Kolb's former college coach, Art Briles, last night and he's convinced that the quarterback will be a huge success with the Eagles. Briles stopped by OTAs last month and told Kolb to open up his shoulders a little more when he's making throws to his left. Briles and coach Andy Reid spent an hour trading stories after that practice.
The Beast will try to get in touch with Kolb this afternoon to see how his first practice went.
June, 8, 2010
6/08/10
6:13
PM ET
By
Matt Mosley
| ESPN.com
PHILADELPHIA -- How much can one man overreact to a single OTA session? Well, we're about to find out. I've spent the past several hours observing and talking to Eagles players and administrators. You can read about my conversation with quarterback
Kevin Kolb
in Thursday's column. I also spent time with first-round pick
Brandon Graham
and general manager Howie Roseman. Tight end
Brent Celek
is next on the agenda. Now, here are some quick-hit observations after a day with the Eagles:
It doesn't take long to realize which team the Eagles are gunning for in the NFC East. On one wall in his new office, Roseman has the Dallas Cowboys' depth chart posted. (Looks like Doug Free and Alex Barron are co-starters). Roseman says the Eagles aren't obsessing with the Cowboys, but those last two losses aren't far from his mind. For the record, he has the Saints' and Colts' depth charts posted next to the Cowboys'. "That's who we have to go through based on last season," said Roseman.
Rookie safety Nate Allen looks a lot bigger than what I imagined. He's listed at 6-1, 210 pounds. And I'm told that he's beefing up as we speak. Roseman and coach Andy Reid love the fact that Allen played quarterback in high school and they believe he has the aptitude to make an immediate impact. Roseman expressed disappointment over Marlin Jackson's season-ending injury, but he added, "We didn't take a guy at No. 37 to be on the sideline. We drafted him there so that he could play immediately." Still, Roseman was watching film of a veteran safety who's currently on the street when I entered his office. The Eagles aren't planning to sign anyone immediately, but they'll be ready if someone else is injured.
Former Florida tight end Cornelius Ingram, who is returning from an ACL tear, is an impressive looking player. He's been a little shaky with his hands, but he could be an enormous target for Kevin Kolb. When he opened up on one play down the seam, he appeared to have pretty good speed. I think having a second tight end to go along with the talented Celek would help the Eagles. Right now, the Redskins appear to have the best tandem in the division with Chris Cooley and Fred Davis.
Former Florida standout Riley Cooper doesn't look like a fifth-round pick. He was plucking throws from Kolb no matter where he put them, and he and Hank Baskett had excellent days. I'm told, though, that Jeremy Maclin put on a show Monday. He's added some muscle to his lanky frame and people within the organization believe he's about to make a similar leap to what DeSean Jackson did in his second season.
Roseman headed me off at the pass before I could ask about Jackson's absence. He would only say that Jackson's had an excellent offseason and that this week's workouts were "voluntary." Kevin Kolb was very complimentary of Jackson, but he did note that his absence allowed a couple other receivers to flash this week. I asked Kolb if he knew Jackson was planning to skip this week. He paused and said, "I had an inclination." He added that he was sure Jackson had "a good explanation." ESPN's Adam Schefter reported that Jackson's absence wasn't related to concerns about his contract. But we haven't been given any other explanation.
I had no clue it was this gorgeous in Philly in early June. If Reid could've guranteed Jackson this 78-degree weather, perhaps he wouldn't have retreated to Southern California, where's he reportedly spending the week.
Baskett was the MVP of today's session. He made several tough catches in traffic, including an acrobatic play along the sideline with three defensive backs in the area. Kolb simply threw it up high and Baskett made a play.
Speaking of Kolb, he's been remarkably sharp this week. He and Celek are close friends, and they've brought that chemistry to the field. He fired a pass down the middle of the field that Celek collected without ever having to break stride. There are going to be throws that Kolb doesn't make as well as Donovan McNabb, but he's showing excellent touch on passes in the middle of the field. And the fact that he's hitting his targets in stride will give them an opportunity to make plays. Kolb said he's never been a position before in which he had this many reliable targets. By the way, Jason Avant might be one of the most underrated players in the game. He catches everything, and he's capable of making the spectacular play as well.
Former LSU running back Charles Scott has good quickness, but he'll have to work on his concentration. On a screen pass, he was looking upfield and dropped the ball.
I still have my doubts about Moise Fokou as a starter at linebacker, but he was excellent in coverage Tuesday. He raced down the center of the field and broke up a pass to Celek 25 yards from the line of scrimmage. It was a big-time play and defensive coordinator Sean McDermott was the first to rush over and congratulate him. Keep your eye on seventh-round pick Jamar Chaney out of Mississippi State. That's the one guy Roseman kept bringing up. The Eagles couldn't believe they were able to get him at that point in the draft. And so far, he looks like he belongs.
The Eagles have made first-round pick Brandon Graham a highlight tape of some of the top defensive ends in the league who share his relatively small frame. He's become a big fan of Denver's Elvis Dumervil and he's trying to take some of his moves to the practice field. Graham already knows how to get leverage, but he's used to offensive tackles taking angles against him. He said it's been adjustment to face tackles who are dropping straight back. It's made it more difficult to turn the corner, so he's trying to refine his inside moves. Graham's calling his new move the "chop, dip and rip."
With Asante Samuel absent this week and Ellis Hobbs sitting out team drills because of a neck injury, Dimitri Patterson and Joselio Hanson were the starting cornerbacks. Macho Harris also received plenty of reps at cornerback. And if you're looking for a darkhorse in training camp, check out the redemption of safety Quintin Demps. He was in the dog house with Reid last season, in part, because of his mouth. Now, he's taking a much more mature approach and I think he could earn some playing time. Former secondary coach Brian Stewart told me last season that Demps had immense potential, but he didn't take advantage of his opportunities. At this point, he's saying all the right things. And Roseman and Reid have both taken notice.
This is my first time to attend an Eagles practice when Donovan McNabb wasn't present. Very strange to look out there and see Kolb running the show with the first team. But he doesn't seem fazed by all the hoopla surrounding the trade. You can sense how much respect he has from his teammates as he walks around the facility. Some of the rookies actually seem a little nervous around him, which is a bit odd given his lack of experience. But he sort of has a swagger to him that suggests he's ready for this challenge. I'll have a lot more on Kolb in Thursday's column. His college coach, Art Briles, dropped by to see him last week and gave him a few pointers on throwing to his right. Much, much more to come.