NFC East:

aubrayo franklin
July, 27, 2011
7/27/11
6:31
AM ET
Of all the Giants' free agents, the most likely to leave was always
Barry Cofield
, for whom they believe they have procured young replacements in each of the past two drafts. And on the first day he could, Cofield did in fact
decide to leave the Giants ... for the division-rival Redskins
.

Cofield
Rich Campbell of the Washington Times tweeted this morning that Cofield's deal in Washington is for six years and $36 million, with $12.5 million guaranteed. He wanted a big contract, the Giants told him they didn't want to pay him what he wanted and Washington did.
So he jumps. I'm not totally clear on how Cofield, who was a 4-3 defensive tackle in New York, fits into the Redskins' 3-4 defense. They need a nose tackle and a defensive end, and I imagine he could play either or both. I remember Redskins defensive coordinator Jim Haslett telling me last year that he planned to use
Albert Haynesworth
(another former 4-3 defensive tackle) in both roles depending on the situation, and so maybe he has a similar plan for flexible usage of Cofield. The Redskins' next defensive line move is likely to tell us more about how Cofield fits in -- i.e., if they get a nose tackle, he can expect to play a lot of end, and if they get
Cullen Jenkins
, Cofield can probably expect to play the nose a lot. My guess is it's the latter, and that this takes Washington out of the hunt for a guy like
Aubrayo Franklin
.
Cofield will help, there's no doubt. Washington will get plenty of pass rush from outside linebackers
Brian Orakpo
and
Ryan Kerrigan
, but it can't hurt to have somebody on the line who knows how to get into the backfield from the interior. More work to do on that defense yet, but Washington has procured a good player it can use in a variety of ways. Time will tell if it overpaid or if the Giants were right to let him walk.
Linval Joseph
and/or
Marvin Austin
will have to step forward to replace Cofield in New York.
July, 25, 2011
7/25/11
3:25
PM ET
»
NFC
:
East
|
West
|
North
|
South
»
AFC
:
East
|
West
|
North
|
South
»
Unrestricted FAs
A look at the free-agent priorities for each NFC East team:
Dallas Cowboys

1. Re-sign left tackle Doug Free.
He is coming off his first season as starting left tackle, but Free handled the move well and is viewed as the starting left tackle of the Cowboys' future. More importantly, with rookie
Tyron Smith
slated to start at right tackle and probably not yet ready to play on the left side, Free is the Cowboys' left tackle of the present. If he were to go elsewhere, the Cowboys would be scrambling to find a tackle, and it could mess with all of the other plans they need to make and execute before training camp begins. Expect Free to draw lots of interest, and his price tag to be higher than the Cowboys probably were hoping.
2. Fill holes in the secondary.
The plan seems to be to move
Alan Ball
back to cornerback, so while you'll hear the Cowboys connected to free-agent cornerback
Nnamdi Asomugha
, they're more likely to focus on bringing in a safety or two. There's a chance they re-sign their own guy,
Gerald Sensabaugh
, and then go get a free agent such as
Eric Weddle
,
Michael Huff
or
Quintin Mikell
. But if Sensabaugh were to leave, Dallas would be in the difficult position of having to sign two safeties.
3. Find defensive ends.
With
Stephen Bowen
and
Jason Hatcher
set to be free agents, the Cowboys need a couple of starters at defensive end, too. They could bring both guys back, but it's not as if the defensive line was a position of strength for Dallas in 2010, so they'll probably at least look elsewhere. The Packers'
Cullen Jenkins
would be a nice fit, though there will be competition for him from within the division, as you'll see below in the Redskins' section.
Top five free agents
: OT Free, G
Kyle Kosier
, DE Bowen, DE Hatcher, S Sensabaugh
New York Giants

1. Figure out which of their own guys to keep.
With
Ahmad Bradshaw
,
Barry Cofield
,
Mathias Kiwanuka
,
Steve Smith
and
Kevin Boss
all set to potentially go free, the Giants have to prioritize and figure out which guys they're keeping. The top priority is probably going to be Bradshaw, an emerging star at running back, and it appears they'll let Cofield walk while trying to bring back Boss. They think the injury situations with Kiwanuka and Smith will help keep those guys' prices reasonable. But before the Giants hit the market, they'll need to get their own free-agent house in order.
2. Get at least one linebacker.
The Giants have ignored this position over the past couple of years, and they seem to believe
Jonathan Goff
can handle the middle linebacker spot. They'd probably be better off moving him back outside and exploring the middle linebacker market, which includes
Stephen Tulloch
,
Barrett Ruud
and
Paul Posluszny
. But if they're set on keeping Goff in the middle, perhaps someone such as
Manny Lawson
or
Nick Barnett
could be a fit. It's one thing not to prioritize a position, but it's another to ignore it completely, and the Giants have been doing that with linebacker, to their detriment.
3. Some offensive line insurance.
There were lots of injuries along the line in New York last season, and although it didn't kill them, it was a potential sign of things to come. The Giants hope
Will Beatty
will soon be ready to take over at left tackle for a declining
David Diehl
, but they must watch out for the health of
Shaun O'Hara
at center. And if they have to cut
Shawn Andrews
to sign some other guys, they'll need to replace him with a tackle who can provide depth.
Top five free agents
: RB Bradshaw, DE/LB Kiwanuka, TE Boss, DT Cofield, WR Smith
Philadelphia Eagles

1. Settle the Kevin Kolb situation
. If they can get the great deal for him that most believe they can (i.e., a first-round pick plus), the Eagles will deal Kolb and look for a reliable backup quarterback who can play if and when
Michael Vick
gets hurt. If they can't get good value for Kolb, they'll probably keep him to serve as said reliable backup. A trade is most likely, but whatever happens, the Eagles will probably settle this soon after the league year begins.
2. Sign a cornerback.
The starting spot opposite
Asante Samuel
is open, and no one on the current roster appears able to fill it. That's why you've heard, and will continue to hear, the Eagles connected with Asomugha. Philadelphia must rank among his most likely destinations at this point. If they don't get him, they'll look down the list at guys such as
Johnathan Joseph
,
Ike Taylor
and
Antonio Cromartie
. And there's a chance they could get a cornerback for Kolb. But they'll get one somewhere.
3. Re-sign Stewart Bradley.
Sure, they could let Bradley go and play
Jamar Chaney
at middle linebacker. Chaney looked, at least, capable in that spot last season and may be the Eagles' future at the position. But if Bradley leaves, the Eagles' problems will be about more than just the alignment of the linebackers. They'll actually be short on bodies and will need to play the free-agent field to find a replacement. Bradley's had injury problems, but when healthy, he's the Eagles' best linebacker and could be a key cog in whatever new defensive alignment Juan Castillo and Jim Washburn are cooking up.
Top five free agents
: LB Bradley, S Mikell, G
Nick Cole
, RB
Jerome Harrison
, CB
Ellis Hobbs
Washington Redskins

1. Fill out the defensive line.
Whether they add a free-agent nose tackle such as
Aubrayo Franklin
or look at defensive end options like Jenkins, the Redskins must figure who their starting defensive linemen are. They like their linebacking corps, and although they also need a cornerback, they love their safeties with
Oshiomogho Atogwe
in the fold next to
LaRon Landry
. But their good, young outside linebackers will need big, space-eating ends in front of them to open up lanes to the passer. And they'll also need to get some sort of pass rush from the line, whether it's from the nose or the ends.
2. Re-sign Santana Moss.
The Redskins are making noise about pursuing a big-time wideout such as
Santonio Holmes
or
Sidney Rice
. But the reality is that it's going to be tough to convince receivers to sign in Washington while they're not viewed as a contender and the quarterback situation remains so cloudy. Moss likes it in Washington. The Redskins like him. And he's a nice guy to have around to help out young receivers
Anthony Armstrong
and
Leonard Hankerson
-- not to mention inexperienced quarterback
John Beck
.
3. Resolve the Donovan McNabb and Albert Haynesworth situations.
They don't want either player on the team anymore, but the question is how to get rid of them. They might be able to dump McNabb for a late-round draft pick, but if they can't, they'll probably just cut him and let him find his next job on his own. Haynesworth has trade value in a league where many 4-3 teams are looking for interior defensive line help. Don't expect the Redskins to cut Haynesworth, because they don't want to do him any favors and they don't want him free to sign with former Tennessee D-line coach Washburn in Philadelphia. If they can't get value for him, don't be surprised if Haynesworth remains on the team all season and has a hard time getting into games.
Top five free agents
: WR Moss, OT
Jammal Brown
, CB
Carlos Rogers
, LB
Rocky McIntosh
, QB
Rex Grossman
July, 18, 2011
7/18/11
8:00
AM ET
Yeah, shameless self-promotion time. I'll be on "First Take" on ESPN2 each of the next two mornings, debating Skip Bayless on First and Ten. Show airs from 10 am to noon ET on Monday and Tuesday, and I have a stellar suit-and-tie combo picked out for today so none of you fashion critics who like to rip my wardrobe on the video mailbags can say anything. You'll just have to sit there and admire.
Meantime, though, you
know
I'm not going to forget the links.
Dallas Cowboys
Yeah,
Tony Romo
made it interesting, but he
lost to Jack Wagner
on the final hole of the American Century Celebrity Golf Championship in Lake Tahoe. I love doing Romo golf updates because they make everybody crazy. Non-Cowboys fans don't like Romo, and Cowboys fans don't like that he spends so much time on golf. And you know me. I like to needle as many people as I can.
Expect a lot of this stuff this week: Tom Orsborn takes a look at
what the Cowboys will need to do
once the lockout ends and free agency begins. That's about to happen, folks, in case you haven't been following Adam and Mort.
New York Giants
Can you imagine if
Osi Umenyiora
really
held up the whole collective bargaining agreement negotiation because
he's unhappy with his contract with the Giants? Who'd want him on their team? Who'd want to play with him. He'd be the most hated man in the NFL until the day he retired. I can see the point, technically, that he signed on to a lawsuit because of this one personal issue. But can you imagine if the whole deal was done but couldn't get settled because Osi's mad at Jerry Reese? I mean, can you
imagine
???
Serena Sanderson is expressing a point of view popular among Giants fans -- that
the offensive line is, in fact, very old, but that it doesn't matter
. OK then. If you guys say so.
Philadelphia Eagles
For months we've heard the Eagles will be aggressive in free agency once it starts. Jonathan Tamari says to
hold on a minute there
, and explains that going crazy on the free-agent market isn't really the way the Eagles do things. He also points out that: "Any Eagles spending in the next few weeks will be done with the knowledge that
Michael Vick
and
DeSean Jackson
are each out of contract after the season, and
LeSean McCoy
's deal expires after 2012." And that is all true. But I will say this, because another thing I really like to do is play devil's advocate: This is the Eagles' go-for-it season. They may well decide to make 2011 moves that play a little bit fast and loose with future seasons, if they really believe they're close enough that one or two big additions will put them over the top. Not saying they will, just that they could -- and that all the noise they've made about their big, aggressive plans might reflect that. One thing we all have in common is we can't wait to find out.
You want me to get you excited, Eagles fans? Click on
this link
, and when you're done giggling, come on back. Yeah, that's right. Those are pictures of an NFL training camp being set up.
Washington Redskins
Truth here,
from Jason Reid
, about Dan Snyder and the Redskins' shady boasts about their season-ticket waiting list. I understand supply and demand, and why you'd want to maintain the illusion of scare supply to maintain high demand. I get it. But misleading your customers is bad, especially when you're dealing with some of the most loyal customers in your business. At this point, nobody's fooling anybody anymore.
Mike Jones
did a chat over the weekend at
The Washington Post
, and there's a good bit of information in it. Scroll down to where he's asked who are the first three outside free-agent signings the Skins will make, and he seems to predict
Cullen Jenkins
,
Aubrayo Franklin
and
Marshal Yanda
. Gotta say, that would be a pretty impressive haul. I'm sticking with my prediction that Yanda stays in Baltimore, but if they can get Jenkins and Franklin for the D-line? That defense starts to look a lot better.
July, 8, 2011
7/08/11
12:02
PM ET
The latest grades handed out over at Pro Football Focus are
for 3-4 defensive linemen
, and there are three players on the list of interest to the Cowboys and Redskins, the two NFC East teams that run 3-4 defenses. One is a Cowboy. The other two are free agents. These are their stories:
Jay Ratliff
. PFF ranked the Cowboys' nose tackle the No. 1 nose tackle in the league over the past three seasons, but the first thing it said about him in its summary was that he was "a little overrated." It seems his overall grade, which put him a notch ahead of New England's
Vince Wilfork
, was helped tremendously by the great season he had in 2008, and the graders believe he hasn't been as good in the two years since. New defensive coordinator Rob Ryan has said he plans to keep Ratliff at the nose, rather than move him to defensive end, and the Cowboys' hope is that they can get him back to playing the way he did in '08.
Cullen Jenkins
. Came in at No. 3 on the list of 3-4 defensive ends and is a free agent of great interest to both the Cowboys and the Redskins (as well, potentially, as the Eagles, since he has 4-3 experience too). Jenkins is a pass-rushing end, and putting him on the line in front of someone like
Brian Orakpo
or
DeMarcus Ware
(with
Ryan Kerrigan
or
Anthony Spencer
coming from the other outside linebacker spot) could create serious matchup problems for the passing offenses in the NFC East. The Cowboys and Redskins each will be looking for at least one new defensive end, and Jenkins is at or near the top of their wish lists.
Aubrayo Franklin
. Ranked No. 5 on the nose tackle list, Franklin is known as a great run defender but not much against the pass. The Redskins need to find a nose tackle, and if Franklin's their guy they could go get space-eating ends and just trust the outside linebackers to handle the pass rush. It's hard to imagine they could get both Franklin and Jenkins, but if the budget has room and they could convince both guys to come, that'd be the kind of coup that could vault Washington's defense to the top of the division. Assuming they have any money left over to sign the cornerback they need, that is.
July, 5, 2011
7/05/11
3:37
PM ET
We chatted.
As predicted, it was epic
. I can't even imagine how brilliant these chats are going to be once the lockout ends. We may need to order in extra containers for all of the excess awesomeness. Meantime, here's a little recap of some of today's highlights:
Barry Cofield of the New York Giants
checked in and asked: "Dan, am I being unreasonable to be asking for the type of contract that
Chris Canty
and
Rocky Bernard
are getting? I know we all play the same position, but I think Reese feels that my stats are better because I only have a guard to worry about, whereas Chris or Rocky takes on a guard & center most of the time."
Dan Graziano
: I don't think you're being unreasonable, and I think some team will give you the contract you're looking for. But I don't think it'll be the Giants, who seem to have pegged your value somewhat lower than you have and made some plans to move on.
Joe from New Jersey
asked which tandem would have more sacks this season:
Brian Orakpo
and
Ryan Kerrigan
in Washington or
DeMarcus Ware
and
Anthony Spencer
in Dallas?
DG
: Ware/Spencer, though I like the question. I'll take the Cowboys' duo on the chance that Rob Ryan coaches something out of Spencer and Kerrigan needs a little bit of time to adjust to the LB spot.
Generic Eagles Fan from Philly
wrote: "Does anyone else realize that our team will always be the same under Andy Reid? Somewhere between 9 and 11 wins, maybe a first round victory, then a second round loss because of some fundamental flaw...like QB who chokes or lack of secondary. Are there any moves the Eagles make in the offseason that take them past upper middle class?"
DG
: First, I think a lot of teams would sign up for the between-9-and-11-wins-every-year deal. But the problem the past two years is that the defense has crumbled late. And as simple as it sounds, they need to add personnel. If they get a stud CB and make a tweak or two at LB and D-line, they can make a deep playoff run. Their offense is certainly good enough. It's defense that has sunk them at the end of the past two seasons.
Jonathan from NYC
wondered why the Redskins would pursue free-agent defensive tackle
Aubrayo Franklin
rather than try 376-pound
Anthony Bryant
, who has 60 pounds on Franklin, at the nose tackle spot.
DG
: I guess it depends what they want, and how sold they are on Bryant as an every-down starter. Franklin has interior D-line experience and versatility. But yeah, if they like Bryant enough they could beef up at the ends, add a CB and maybe an ILB and go with him. Your logic is sound.
And
Diran from New York
asked why I thought the Cowboys should commit to the run when they have
Tony Romo
,
Dez Bryant
,
Miles Austin
and all those fun passing-game weapons.
DG
: Well, because their backs are also very good. And when you commit to the run, you have a better chance to control the game. It's more reliable. Assuming you really do commit to it.
Seriously, think about stopping by next week. We take questions from everyone -- from Generic Eagles Fan to Barry Cofield himself! Who else's chats get that kind of range?
June, 27, 2011
6/27/11
12:49
PM ET
Our position-by-position series on potential four-year unrestricted free agency in the NFC East took the weekend off, but it's back, baby, and better than ever with a look at the defensive tackle position.
NFC East teams in need
Redskins:
Not sure if you heard or not, but
Albert Haynesworth
balked last year at the idea of playing nose tackle in Jim Haslett's new 3-4 defense. And since they weren't able to find a non-Haynesworth answer in 2010, the Skins remain on the lookout for someone who can fill that crucial role on their defensive line. Haslett's scheme puts a premium on versatility, which means he likes to be able to shift the defensive linemen around depending on the play and the responsibilities it requires. But that said, a big, dominant nose tackle would be a nice anchor for the pieces that are still being put in place.
[+] Enlarge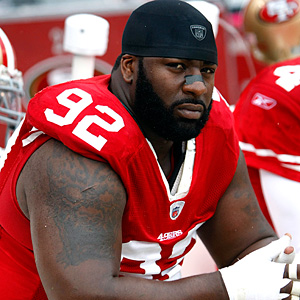 AP Photo/Paul SakumaIf the Redskins want to spend the money, Aubrayo Franklin would be a nice fit for their 3-4 defense.
Giants
: Linebacker remains a bigger need, but if the Giants don't bring back free agent
Barry Cofield
, they may need to add someone at this spot.
Linval Joseph
(2010 draft pick) and
Marvin Austin
(2011 draft pick) represent (the Giants hope) their future at the defensive tackle spot. But unless you're
Ndamukong Suh
, it takes a little while to develop into a top-flight NFL talent on the interior of the defensive line. If Cofield leaves, the Giants cold use some veteran help there.
Eagles
:
Antonio Dixon
is an emerging star, and the team believes new defensive line coach Jim Washburn will coach improvement out of
Brodrick Bunkley
,
Mike Patterson
and
Trevor Laws
. I don't get the sense that Philadelphia considers this a position of need, though there has been some noise about Washburn wanting to reunite with Haynesworth, who was a star for him when both were in Tennessee.
Top five potential unrestricted free-agent defensive tackles.
1. Aubrayo Franklin.
The top available 3-4 nose tackle in this class, Franklin would be a perfect fit for Washington and is almost certainly at the very top of its wish list. The 49ers will attempt to keep him, but the Redskins have money to spend.
2. Cofield.
It's unclear what the Giants intend to do about Cofield, who believes the drafting of Austin is a sign that they plan to move on. It could be, or it could have been just a way to give them coverage in case he leaves and some leverage in their contract negotiations. With
Mathias Kiwanuka
and offensive keys such as
Ahmad Bradshaw
,
Steve Smith
and
Kevin Boss
needing new deals, the Giants will have to make some tough choices, and parting ways with Cofield could be one of them.
3. Brandon Mebane.
A 4-3 run-stopper who showed enough as a pass-rusher to play on three downs in Seattle last year, Mebane will have to prove his legs are fully healthy. But assuming he does, he'll be right there with Cofield as 4-3 teams look to beef up inside.
4. Anthony Adams.
He might not be on the open market for very long. The Bears' decision to cut teammate
Tommie Harris
in March was likely tied to their efforts to re-sign their best run-stuffing defensive lineman.
5. Pat Williams.
He's 38 years old and this time last year was talking retirement. But there's no doubt that the longtime Vikings star could help a contending team that could put him into a rotation that would ease the burden on his body. You also have to think he could help as a mentor for young defensive linemen. At the right cost, he might fit what the Eagles or Giants are looking for, if those teams do end up looking for defensive tackle help.
Predictions that mean nothing:
Redskins sign Franklin, Giants bring back Cofield, Eagles add a cheaper veteran such as Williams (if he's cheap) or
Remi Ayodele
.
June, 17, 2011
6/17/11
12:00
PM ET


In this edition of the NFC East video mailbag, we take not one but two Redskins questions. And you get to see the bag itself!
May, 26, 2011
5/26/11
11:58
AM ET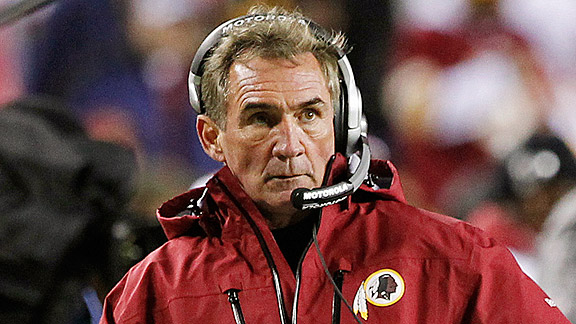 Geoff Burke/US PresswireThe lockout threatens to disrupt the momentum Mike Shanahan built heading into the offseason.
The Redskins are a critical part of NFL labor strife lore. Under Joe Gibbs, they survived the strikes of 1982 and 1987 better than any team in the league, winning the Super Bowl at the end of each of those disrupted seasons. The
New York Times
did a big story on this a couple of months back, examining the reasons Washington was able to go 8-1 in '82 and 3-0 with replacement players in '87 and weather those labor storms to become champions. Not coincidence, say those who were involved, as much as it was about Gibbs and the way the veteran cores of those teams held things together.
Knowledge of this history has led some to suggest (facetiously, of course) that 2011 could be the Redskins' year. Hey, they always win the Super Bowl when there's a work stoppage, so this is just what they need, right? If there'd been a lockout two years ago, Jim Zorn would be wearing a ring right now and Mike Shanahan would be coaching the Cowboys. Or something like that.
Well, unfortunately for the Redskins, while history may well be on their side, reality is not. Not this time. Given their current circumstances, the Redskins are surely more likely than any other NFC East team to suffer damage as a result of the lockout. Given where they are right now in the development of their franchise, the Redskins might be hurt worse by this lockout than any team in the whole league.
This is a critical season for Mike Shanahan as Washington's coach. Sure, it's only the second year of his five-year deal, and for that reason job security is the last thing he's worried about. But this year is critical for other reasons -- reasons that pertain to Shanahan's goal of building the Redskins back into contenders.
Shanahan's first season was a bumpy one, and his midseason handling of
Donovan McNabb
and the quarterback situation in general raised eyebrows among people who'd expected a man with his résumé to deal with such things more artfully. But on balance, the 2010-11 season served a key purpose for Shanahan. It established him as the unquestioned leader, face and voice of the franchise. The skirmishes with McNabb and
Albert Haynesworth
were merely the most public manifestations of Shanahan's assertion of himself. Zorn had been weak and overmatched in the head coach role, and it was important for Shanahan to establish right away that he would be neither.
Critical to that effort was the subversion by team owner Daniel Snyder of his own out-front persona. As a condition of taking the job, Shanahan insisted that he be given control over football matters and that Snyder not meddle in personnel decisions to the extent that he had in the past. Against all expectations, Snyder actually pulled this off. The 2010-11 season was his quietest as Redskins owner, and his disappearance into the background helped Shanahan do the things he needed to do in order to deliver his new-sheriff-in-town message.
[+] Enlarge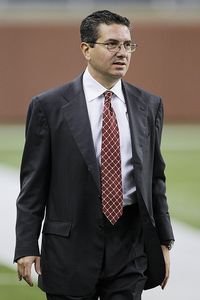 AP Photo/Paul SancyaDaniel Snyder has stayed out of the limelight since Shanahan came aboard.
The lockout could wipe out some of that momentum. Shanahan's assertion of leadership and Snyder's step into the background are vital to the Redskins' near-future success, but one year wasn't enough to lock those things in. With Shanahan unable to coach, the risk rises that he ends up starting from or near scratch once his players return to Ashburn. With Shanahan and GM Bruce Allen unable to make personnel moves, the risk rises that Snyder gets itchy and impatient and backslides into his old ways. He could decide to go nuts once free agency opens against the advice of the football minds he hired and promised to leave alone. Not saying this is what will happen, mind you, just that the "pause" button the league has pressed on its offseason increases the risk.
It's also preventing the Redskins from doing a number of vital housekeeping things. They need to move on from McNabb and figure out what their 2011 quarterback situation really is. If it really is
John Beck
, then he'll need to know he's not just a Shanahan smokescreen and get in to practice huddles so his teammates know it, too. If it's to be
Carson Palmer
or someone not currently on the roster, then they need to get on with that as well.
They need to resolve the Haynesworth situation, of course. He needs to go, certainly, and dispatching him will be as cathartic a move as Shanahan's ever made. But the lockout will end with Haynesworth still on the team, along with all the distractions he brings, and his mere presence will be a story for as long as it takes them, post-lockout, to get rid of him.
They need to keep working on Jim Haslett's 3-4 defense, because
as we discussed here Monday
the second year is a crucial one for the install of a 3-4. They need a nose tackle, and they need to know how realistic it is to get someone like
Aubrayo Franklin
in free agency -- a move that probably would help them more than a splashier play for someone like
Nnamdi Asomugha
, though they need to know about him, too. And as they've seemed to since the Art Monk days ... sheesh, they still need help at receiver.
The Redskins have a lot they need to do -- more than most teams, really, given where they are in this particular chapter of their history. Because of that, when I'm asked which team in this division I think will be hurt most by the lockout, my answer's easy. This won't be 1982 or 1987 for the Redskins. This year's work stoppage is a huge problem for them.