December, 13, 2013
12/13/13
8:00
AM ET
IRVING, Texas -- As the
Cowboys
walk to the team meeting room every day, they are met with pictures of Dallas' five Super Bowl winners. Each collage has a team photo and pictures of smiling players, coaches and executives from winning NFL championships.
At Lambeau Field, the photos from the great moments in Packers history line the wall from the tunnel to the locker room. When the stadium was renovated years ago, they took a row of old bricks and moved it to the new tunnel so players can say they walk over the same ground as the greats who played at Lambeau Field.
With a loss Sunday, though, either team will need even more help to just make the postseason.
[+] Enlarge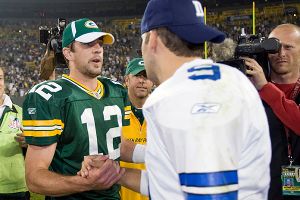 AP Photo/David StlukaCowboys QB Tony Romo, right, and Green Bay's Aaron Rodgers know the burden that comes with playing for franchises trying to recapture past glory.
Like the
Pittsburgh Steelers
and
San Francisco 49ers
, the Cowboys are constantly chasing ghosts from past teams.
The Packers and Cowboys have combined for 18 NFL championships (Green Bay 13, Dallas five) and nine Super Bowls (Green Bay four, Dallas five). They produced one of the NFL's iconic games -- the Ice Bowl -- in the 1967 NFC Championship. They were coached by legends in Tom Landry and Vince Lombardi. They rekindled the rivalry in the 1990s, meeting in the playoffs from 1993 to 1995.
The current teams carry something of a burden with them because of the successful pasts.
"We always look at it as a sense of pride and energy to tap into," Green Bay coach Mike McCarthy said. "We think it's very important to have that and recognize it and honor it, so I always refer to it as there's pride in the bricks of Lambeau Field and it's something we need to tap into. We talk to our current team about it and how important it is to win and represent the
Green Bay Packers
the right way."
Jason Garrett does not talk about the expectations laid out from the likes of Roger Staubach, Bob Lilly, Tony Dorsett, Randy White, Mel Renfro, Michael Irvin, Troy Aikman and Emmitt Smith. He talks about the standard those players and teams set.
"You want to be in a place where there's a high standard for achievement," Garrett said. "I think that's a good thing. That brings the best out in people. What we try to do each and every day is be our best. Come to work as players and coaches and put our best foot forward and get ready for our challenges each week and again, embrace the past. That's a good thing. ... That drives us. That's part of what drives us to achieve, really, each and every day, and certainly each season."
Tony Romo
is constantly measured against Staubach and Aikman.
Aaron Rodgers
is measured against Bart Starr and Brett Favre, but he has the Super Bowl ring that Romo is still looking for, having beaten the Steelers at AT&T Stadium in Super Bowl XLV.
Rodgers has 23 teammates on the roster with a Super Bowl ring.
Romo hopes one day to have his own, so he and his teammates can have their pictures on the wall holding the Lombardi Trophy.
"You want to be a part of a storied franchise," Romo said. "It just makes it important. You want a challenge. You want it to matter, and you want it to be important. That's what's great about this organization and great about our fans."
October, 19, 2012
10/19/12
1:30
PM ET
»
NFC Final Word
:
East
|
West
|
North
|
South
»
AFC
:
East
|
West
|
North
|
South
Five nuggets of knowledge about Week 7:
Blasts from the past:
Yes, it's a passing league, as you hear all the time. But the
Washington Redskins
haven't got the memo. Rookie quarterback
Robert Griffin III
(379) and rookie running back
Alfred Morris
(538) have combined for 917 rushing yards in Washington's first six games. That's the highest combined rushing yardage total by two rookie teammates through six games in the Super Bowl era, according to ESPN Stats & Information. And it goes back further than this for the Redskins. Washington as a team has rushed for at least 100 yards in each of its last 12 games. The second-longest such streak in the league is two games, by the
New York Giants
and the
St. Louis Rams
. In conclusion, the Redskins like to run the ball, and for many reasons pose a different game-planning challenge than any other team the Giants have faced or will face this season.
[+] Enlarge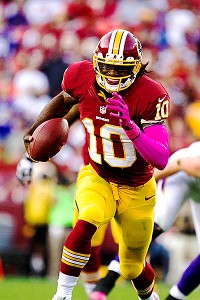 Paul Frederiksen/US PresswireWashington QB Robert Griffin III has a chance to earn a rare achievement with a win over the Giants on Sunday.
Upstart vs. champ:
If the Redskins win, Griffin would be the fourth rookie quarterback to defeat a defending Super Bowl MVP quarterback head-to-head. Really interesting list.
Colt McCoy
of the Browns beat
Drew Brees
and the Saints in 2010. Dieter Brock of the Rams beat Joe Montana and the 49ers in 1985. And of course, Kent Nix of the Steelers beat Bart Starr and the Packers in 1967. But seriously, no way you clicked on this blog today expecting a Dieter Brock note. Guy was 34 in 1985, but it was his only year in the league.
Burgundy kryptonite:
In two games against the Redskins last year (both losses), Giants quarterback
Eli Manning
threw four interceptions and no touchdowns. ESPN Stats & Information tells us that Washington is one of six teams against which Manning has thrown more interceptions than touchdowns in his career. The others are Tennessee, Minnesota, Chicago, Baltimore and Buffalo.
Giants can run, too:
Giants running back
Ahmad Bradshaw
is the only player in the league who has rushed for at least 100 yards in each of his last two games. The last Giant to rush for 100 or more in at least three games in a row was
Tiki Barber
in 2006. Bradshaw has 16 rushes of at least 10 yards so far this year, in 92 attempts. Last year, he had 16 such rushes in 171 attempts. The Giants' offensive line is a much better run-blocking unit than it was a year ago. Their average yards per rush before first contact is 2.75, which is the fifth-best figure in the league. Last year, the Giants' average yards per rush before first contact was 1.89, which was second-worst in the league.
Got to go deep:
Last year, on throws that traveled 20 or more yards downfield,
Dallas Cowboys
quarterback
Tony Romo
posted a 53.2 completion percentage, 21.6 yards per attempt, 10 touchdowns and only one interception. This year on such deep throws, Romo is 4-for-18 (22.2 percent) for 8.5 yards per attempt, one touchdown and one interception. The two bits of good news on this are that the Cowboys' offensive line looked much better last week in Baltimore and could start to give Romo more time to throw, and that Carolina's pass defense is allowing a 54.5 completion percentage on throws 20 or more yards downfield -- the second-worst such mark in the NFL.
April, 6, 2012
4/06/12
2:31
PM ET
Continuing our borderline relevant, hopefully fun and interesting look at the history of the specific draft picks our division's teams hold this year, we look at the
Philadelphia Eagles
, who have nine picks in this year's draft. Some interesting stuff you turn up in an exercise like this. For instance, some pretty good recent history at the Eagles' first two picks. And if you think the Eagles have to take a quarterback early if they're thinking about the future, scroll all the way down. They might be able to wait until their very last pick to find the next Bart Starr!
PICK 15
(15th pick, first round)
Last five players taken
2011 --
Mike Pouncey
, C, Dolphins
2010 --
Jason Pierre-Paul
, DE, Giants
2009 --
Brian Cushing
, LB, Texans
2008 --
Branden Albert
, T, Chiefs
2007 --
Lawrence Timmons
, LB, Steelers
Eagles' history of No. 15 picks
2003 --
Jerome McDougle
Hall of Famers picked No. 15
Alan Page (1967), Jim Taylor (1958)
Other Notables
Albert Haynesworth
(2002)
PICK 46
(14th pick, second round)
Last five players taken
2011 --
Orlando Franklin
, T, Broncos
2010 --
Linval Joseph
, DT, Giants
2009 --
Connor Barwin
, DE, Texans
2008 --
Jerome Simpson
, WR, Bengals
2007 --
LaMarr Woodley
, LB, Steelers
Eagles' history of No. 46 pick
1983 -- Jody Schulz
Hall of Famers picked No. 46
Jack Lambert (1974)
PICK 51
(19th pick, second round)
Last five players taken
2011 --
Da'Quan Bowers
, DE, Buccaneers
2010 --
Toby Gerhart
, RB, Vikings
2009 --
Andy Levitre
, G, Bills
2008 --
Malcolm Kelly
, WR, Redskins
2007 --
Steve Smith
, WR, Giants
Eagles' history of No. 51 pick
None
Hall of Famers picked No. 51
Rickey Jackson
(1981)
PICK 88
(25th pick, third round)
Last five players taken
2011 --
Johnny Patrick
, DB, Saints
2010 --
Andre Roberts
, WR, Cardinals
2009 -- Ladarius Webb, DB, Ravens
2008 --
Bruce Davis
, LB, Steelers
2007 --
Andy Alleman
, G, Saints
Eagles' history of No. 88 pick
1984 -- Evan Cooper
Hall of Famers picked No. 88
Bob Hayes (1964)
PICK 114
(19th pick, fourth round)
Last five players taken
2011 --
Cecil Shorts
, WR, Jaguars
2010 --
Dennis Pitta
, TE, Ravens
2009 --
David Bruton
, DB, Broncos
2008 --
Reggie Corner
, DB, Bills
2007 --
Marvin White
, S, Bengals
Eagles' history of No. 114 pick
1967 -- Bob Van Pelt
Hall of Famers picked No. 114
None. Closest I found was Steve Largent, who was picked 117th. Sorry.
PICK 153
(18th pick, fifth round)
Last five players taken
2011 --
Jeremy Kerley
, WR, Jets
2010 --
Andrew Quarless
, TE, Packers
2009 --
Cornelius Ingram
, TE, Eagles
2008 -- Matt Slater, WR, Patriots
2007 --
Kevin Boss
, TE, Giants
Eagles' history of No. 153 pick
2009 -- Cornelius Ingram
1967 -- Bob Hughes
Hall of Famers picked No. 153
None. No one at all in the 150s. Or the 140s, for that matter.
PICK 172
(second pick, sixth round)
Last five players taken
2011 --
Brandon Fusco
, C, Vikings
2010 -- Brent Bowden, P, Buccaneers
2009 --
David Buehler
, K, Cowboys
2008 -- Thomas Brown, RB, Falcons
2007 --
Legedu Naanee
, WR, Chargers
Eagles' history of 172nd pick
2005 --
Scott Young
1999 --
Cecil Martin
1984 -- Joe Hayes
Hall of Famers picked No. 172
None.
PICK 194
(24th pick, sixth round)
Last five players taken
2011 --
Markell Carter
, LB, Patriots
2010 --
Ramon Harewood
, T, Ravens
2009 --
Brandon Gibson
, WR, Eagles
2008 --
Ryan Mundy
, S, Steelers
2007 --
David Irons
, CB, Falcons
Eagles' history of 194th pick
2009 -- Brandon Gibson
1996 --
Steve White
Hall of Famers picked No. 194
None. Closest I found was
Shannon Sharpe
, who was picked No. 192 in 1990.
PICK 200
(30th pick, sixth round)
Last five players taken
2011 --
Ross Homan
, LB, Vikings
2010 -- Charles Scott, RB, Eagles
2009 -- DeAndre Wright, CB, Giants
2008 -- Joe Mays, LB, Eagles
2007 --
Melila Purcell
, DE, Browns
Eagles' history of 200th pick
2010 -- Charles Scott
2008 --
Joe Mays
1984 -- Manny Matsakis
Hall of Famers picked No. 200
Bart Starr (1956)
January, 16, 2012
1/16/12
8:00
AM ET
Hey, so, bad news for all of you Eagles, Cowboys and Redskins fans. If you thought last week on the blog was Giants-heavy... you ain't seen nothing yet. Links.
New York Giants

Ian O'Connor points out that Eli Manning has now beaten Brett Favre and Aaron Rodgers in playoff games in Green Bay, and that the only reason he didn't take out Bart Starr too is that he's too young to have had the chance. "
Manning plays better than better quarterbacks
," Ian writes, and while that's a nice way to put it, it seems pretty clear by now that Manning is a fairly great quarterback in his own right.
The play of Sunday's game may have been Hakeem Nicks' catch of Eli Manning's Hail Mary pass as time ran out in the second quarter. Brandon Jacobs said he saw Packers players walking to the locker room with their heads down and
"pretty much knew they were done."
Not sure about that, but the play had a strong whiff of significance. Kevin Seifert had just told me that the Packers specialized in scoring right before the end of the first half and then getting the ball to start the second half and scoring again. The opposite happened in this game. The Giants scored right before the end of the first half and the Packers turned the ball over on the first drive of the second. Game-changing stuff, that.
Philadelphia Eagles

The 700 Level looks at the likelihood of Steve Spagnuolo returning to the Eagles as
defensive coordinator
. With rumors now abounding that Gregg Williams will leave the Saints to join Jeff Fisher in St. Louis, you can add New Orleans to the list of interested Spagnuolo suitors. It won't be easy for the Eagles to get him, and there's also the troubling little fact that their defensive coordinator job is not, currently, open.
Sheil Kapadia wonders if Eagles defensive line coach Jim Washburn could
go to St. Louis with Fisher
, since the two had success together in Tennessee. Another reminder that the issues on the Eagles' defensive coaching staff are complicated and intertwined and don't seem to present any simple solutions.
Dallas Cowboys

Hudson Houck isn't saying the Cowboys will or should move Tyron Smith from right tackle to left tackle. But Smith's first NFL position coach, now retired, says that Smith could be "
very, very good
" at left tackle if such a move were made. With a new offensive coordinator and offensive line coach coming in, I imagine that decision has yet to be made. But it would seem to make a pile of sense, given Doug Free's struggles on the left side this past year.
Two weeks may be enough time to have softened some fans who were bitterly disappointed by the way the Cowboys' season ended. Blogging the Boys has a post expressing "
rampant and disproportionate optimism
" about the Cowboys' future and direction. Kind of refreshing, really.
Washington Redskins

Rich Tandler watched Saturday's Saints-49ers playoff game with an eye on some
potential offseason targets
for the Redskins, including Saints receivers Marques Colston and Robert Meachem. Mike Shanahan will definitely be looking for a No. 1 receiver this offseason, but as Rich suggests, the Saints' guys come with questions about whether they'd perform the same way in a different system.
Rick Snider
ponders the idea
of the Redskins bringing in Peyton Manning to play quarterback for them next year. Some say it's farfetched. I'm not sure it is. But I know they'd have to be sure he's healthy before they decided to do it, and I'm not sure how anybody's going to be able to be sure of that.
January, 13, 2012
1/13/12
8:00
AM ET
Friday the 13th, huh? Well, we'll get through it together. Or something like that. Links.
New York Giants
Johnette Howard writes of
Corey Webster
, and
how much has changed
for both him and the Packers since that game four years ago when he intercepted Brett Favre in overtime.
Packers defensive lineman
B.J. Raji
says the Giants' offensive line is "
not the toughest
" against which he's played. Meh. I'm sure he's right, but why do these guys keep saying stuff like this?
Philadelphia Eagles
LeSean McCoy
went on the NFL Network and said the team is sticking by coach Andy Reid and that
next year will be the Eagles' year
. Why didn't he tell us this five months ago? Really could have covered the season a lot differently if we'd known.
Next
year. Not this year.
Next
.
The
Minnesota Vikings
are striking out like crazy in their efforts to find a new defensive coordinator, and Tom Pelissero suggests a possible target that will cause Eagles fans to spit their milk and Cheerios through their noses: Juan Castillo.
Seriously, read it.
Dallas Cowboys
Looks as though the "offensive coordinator" part of Bill Callahan's title is a formality, as all of the coverage of the Cowboys' Thursday announcement indicates that head coach Jason Garrett will continue calling plays. Regardless, former Jet Damien Woody has
lots of good stuff
to say about the Cowboys' new offensive line coach.
The Cowboys also will be in the market for a veteran backup quarterback, as
Jon Kitna
has told them
he's retiring
. This is not a surprise.
Washington Redskins
This is day-old news but bears mentioning: Redskins linebacker
London Fletcher
has won this year's
Bart Starr Award
for outstanding character and leadership. Fellow NFC East players
Nnamdi Asomugha
and
Jason Witten
were also finalists.
What will the teams at the top of the draft do about quarterback -- even the ones who already have one?
Dan Daly muses
on that and what it could mean for the Redskins' pursuit of their new signal-caller.
June, 22, 2010
6/22/10
11:45
AM ET
By
Matt Mosley
| ESPN.com
Notable players
: LB Chuck Bednarik, WR Tommy McDonald, SE Pete Retzlaff, LB Maxie Baughan, QB Norm Van Brocklin, FB Ted Dean, DE Marion Campbell, CB Tom Brookshier
[+] Enlarge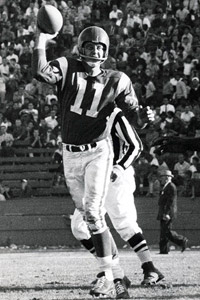 David Boss/US PresswireNorm Van Brocklin quarterbacked the Eagles to the 1960 championship.
Analysis:
Because we reward championships -- even when there weren't a lot of other teams. The Eagles beat Vince Lombardi's Packers in the championship game at Franklin Field, and that's saying something. Bednarik remains an iconic part of the franchise's history. In a win over the Giants in 1960, he famously knocked out Frank Gifford with a punishing blow. Gifford didn't get up that day, and he also missed the following season.
Van Brocklin was at the end of the career, but he made his final season count by delivering bombs to McDonald and Retzlaff. McDonald, a Hall of Famer, averaged more than 20 yards per catch in 1960. He scored a 35-yard touchdown in the Eagles' classic 17-13 win over the Packers. The Eagles won their other two titles in the late 1940s under coach Greasy Neale, but the '60 team made more of an impact in the community. It's only appropriate that the Eagles will break out the kelly green jerseys for the season opener against the Packers. Too bad they can't play at Franklin Field (they supposedly looked into it).
Most impressive win
: Definitely the title game against the Packers. In his second season as head coach of the Packers, Vince Lombardi had Jim Taylor, Bart Starr, Paul Hornung, Max McGee, Jerry Kramer and Forrest Gregg on offense. This was a dynasty in the making, but the Eagles forced the Packers to wait a year before Green Bay won the NFL title in '61.
Best player
: McDonald was a burner, but I'll go with Bednarik because he gave the team its identity. He played center and linebacker.
Honorable mention
2004
:
Donovan McNabb
and
Terrell Owens
formed one of the top combinations in the league, and
Brian Westbrook
was dangerous as a dual threat. This was a superb team -- as evidenced by its playoff run without the injured T.O.
1980
: Eagles fans have fond memories of Wilbert Montgomery carving up the Cowboys in the NFC title game for 194 yards and a touchdown. Nose tackle Charlie Johnson helped anchor a dominating defense.
2002
:
Duce Staley
ran for 1,000 yards and had 500 yards receiving. The Eagles were deep enough that they made it to the NFC title game during a season in which
A.J. Feeley
had to start five games because McNabb was injured. I don't have to remind you what happened against Tampa Bay in the playoffs. By the way, the Eagles dominated the Bucs in a 20-10 win earlier that season.