July, 16, 2014
Jul 16
6:45
AM ET
The realities of the situation are different -- one is life or death; the other a game -- but the lessons transfer. So Ben Kotwica tapped into what he learned in Iraq when he became a football coach.
Kotwica, the Redskins special teams coach, spent seven years in the Army, serving as a combat attack helicopter commander. He earned multiple medals during his time in the Army: the Army Achievement Medal, the Army Commendation Medal, the Meritorious Service Medal and the Bronze Star.
[+] Enlarge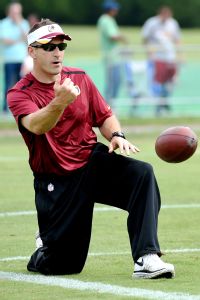 Photo by Jonathan Newton/The Washington Post via Getty ImagesRedskins special teams coach Ben Kotwica earned multiple medals during his time with the Army.
He's entering his second full season as a special teams coach and seventh overall in the NFL.
"You can have a plan going in, you can have an operational order, whether in Bosnia or Korea or Iraq, but the enemy has a vote," Kotwica said. "You have a plan going in that might work, but again the enemy has a vote, so whether it's in the desert of Iraq or on a football field on Sunday, you have to have the ability to make adjustments and instill that confidence in your soldiers or players that the job will get done."
During the spring workouts, Kotwica certainly came across as a tough commanding voice. After a disastrous season in 2013 for the Redskins' special teams, they certainly could use a strong tone -- and a kick in the rear.
Even Redskins coach Jay Gruden joked that, "I'm never going to overstep my boundaries with coach Kotwica."
Kotwica said being a commander or leader in the Army is akin to coaching. That's why, when he left the Army, he turned to coaching -- Bobby Ross was coaching at West Point and hired him.
"I seized on that opportunity and it's been great," he said. "I thoroughly enjoyed being in the military and this has been a great run."
The Redskins hope that run continues. Kotwica takes over a unit that was beaten down, not just because of coaching but because some players did not buy in the way others had. Some younger players contributed little or nothing to these units.
"Anytime you try to form a unit or an organization you want to instill a culture," Kotwica said. "There are things I brought from my military background. I put an apply within sign on my front door. We're taking all applicants. I think guys have bought into that."
June, 21, 2014
Jun 21
2:00
PM ET
1. I've mentioned
Washington Redskins
outside linebackers coach Brian Baker a number of times and wanted to give you more of a feel for him as a coach, just by listening to him during practice with his players. A few things I noticed: He's constantly teaching and reminding players when what they've done is right or wrong. It's constant. He even chastised one player (wasn't quite sure who) for not having his eyes on him when he was speaking.
2. During pass-rush drills, he reminded the players, "don't let them control your body! Keep your elbows tight!" It's a point of emphasis. At one point, he told rookie
Trent Murphy
, "Give me one good one 93; I need one good one before we move on!" Murphy gave it to him. Baker worked with players on where their hands should be on the blocker at the snap (obviously not low, but he worked on getting the hands right before the snap, too). Baker: "You can't let him get into your chest. The closer you are the higher you put your hands."
[+] Enlarge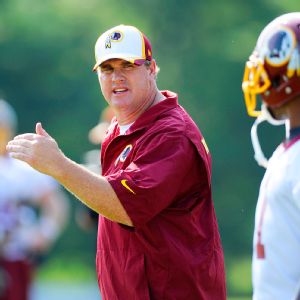 AP Photo/Nick WassJay Gruden had his coaches concentrating on special teams during the Redskins' minicamp.
3. And, finally, I like that Baker does not have a one-size-fits-all approach to pass rushing. He worked with
Brandon Jenkins
on his footwork off the snap when positioned at right outside linebacker. It's a little different than on the right side and he wanted to make sure he stayed on the right path from the get-go. But he also told Jenkins, "You can't get it to look like everyone else. You've just got to get it right. Make it work for you." He also worked with Jenkins on accelerating at the top of the rush -- it's where you win.
4. I don't know what sort of difference one outside linebackers coach can make, but I also know it can't be overlooked. He's a legit coach.
5. Redskins coach Jay Gruden incorporated more of his coaches in special teams drills. It's not as if other coaches in past years did nothing here, but it was noticeable this past week. Secondary coach Raheem Morris worked with the flyers in punt coverage while receivers coach Ike Hilliard showed them how to get off a jam. Baker helped with the tackling drills. Gruden said it enables special teams coach Ben Kotwica to get more out of his allotted 10-15 minutes. There is a definite increased emphasis on special teams, starting from early in the offseason.
6. The Redskins now know
they'll face
quarterback
Ryan Fitzpatrick
in the season opener against Houston. Not sure it's a big surprise and not sure it really matters. Fitzpatrick was 9-5 as a starter from Nov. 14, 2010 to Oct. 30, 2011 -- that includes the 23-0 shutout of Washington. Since then, Fitzpatrick is 10-23 as a starter. Of course, his first NFL start came against Washington, a 24-9 loss while with Cincinnati in 2005. Fitzpatrick has thrown 106 touchdown passes to 93 interceptions in his career.
7. Three months later
DeSean Jackson
remains
a big topic in Philadelphia
. It started, again, with running back
LeSean McCoy
saying Jackson's release caught everyone's attention. It let them know if you don't buy in, you will be cut. Kelly refuted that notion. "I don't send messages to other players by how I deal with other players," Kelly told Eagles reporters. "And how LeSean McCoy interprets things … LeSean has a beautiful mind. Sometimes trying to analyze that mind I don't wrap myself around that too much. Or bother myself too much with that. However LeSean interprets things is how LeSean interprets things." The
Eagles do think they have enough speed
minus Jackson to still thrive.
8. There was a big to-do over
the Patriots having a Jets playbook
and that led to a discussion over whether it made a difference. Some who have covered the NFL a long time insist it means nothing; others who have covered it a long time insist it does. With players switching teams all the time, I doubt it's a big secret what's in various playbooks and coaches study so much tape that there shouldn't be many surprises. The bigger issue is when you know another coach's tendencies. I say that because some coaches here in the past felt that part of the success they had against Giants quarterback
Eli Manning
stemmed from having their playbook. But it also helped that they felt offensive coordinator Kevin Gilbride didn't change a whole lot. Tendencies mattered more.
9. One player who must have a strong year for Dallas: cornerback
Morris Claiborne
. The Cowboys traded up to get him with the sixth overall pick in 2012, but his impact has been poor. Claiborne has picked off two passes, has battled nagging injuries and lost his starting job last year. This is the time of year for player optimism and Claiborne is no different.
Everyone is saying the right things about Claiborne
, as you would expect. But they like that he's competing. One nugget: Claiborne pulled a rookie corner off the field in order to face receiver
Dez Bryant
in practice. "Me and him talked about it before we even started up that we want to be the best and we want to go against each other," Claiborne said. "We feel like we both compete at a high level. I get good work when I go against him and it's vice versa. When I'm not up there, he's telling me to come. We're trying to help each other so we can be the best for our team."
10. The Redskins nearly had
Antrel Rolle
in the 2005 draft, but he went one pick ahead of them at No. 8 to Arizona, so they drafted
Carlos Rogers
instead. Rolle, a corner when he came out,
continues to improve at safety
. Giants safeties coach Dave Merritt said of Rolle, "Before, as far as formations, he didn't see formations. He didn't really see the route concepts. Now, the last two years, it's all coming together for him and he's feeling more comfortable. So with Antrel's ability to continue to learn and grow, he hasn't really scratched his ability as a safety yet. Last year was a glimpse of what Antrel could actually become."
June, 17, 2014
Jun 17
8:30
AM ET
The
Washington Redskins
enter their final week of offseason work with a three-day minicamp. It'll look a lot like their OTA practices, but the difference is that this week is mandatory. With temperatures expected in the 90s, or near them, over the next three days, it'll be good preparation for Richmond later this summer.
Here are some things -- but certainly not all -- that I'll be looking for over the next three days:
Griffin
Robert Griffin III's finish:
It's tough when you watch someone just once a week to accurately gauge their progress. Griffin has had some good moments and not-so-good ones, but watching over three days will reveal more about where he's at in terms of his passing. Has he remained consistent with his fundamentals? Is the accuracy more consistent? What we still won't see until games begin is the ability to extend plays, which is a huge part of his game. But a good week for Griffin would propel him into the final month before camp with a lot of momentum, capping what has been a productive offseason for him. Don't know what that will mean for the season, but he'll exit this offseason feeling much, much different than he did a year ago at this time for a variety of reasons.
Offensive design:
During the OTAs, we saw a lot of situational football – red zone, third downs, two minutes, etc. Hoping we get to see even more, to get a better sense of who the Redskins might be this season. Thus far, Griffin has operated a lot under center and in shotgun during certain situations. Coach Jay Gruden sounds intent on developing him, so this helps. (Not that the other staff didn't want to develop him; it had Griffin as a rookie and then with no offseason. Tough to develop a player who can't practice. How it would have handled it I don't know.)
Rookie improvement:
Rookie tackle
Morgan Moses
knows the issue he has with staying low and has worked on it since the OTAs started. Over three days, how much improvement will he show? How about
Trent Murphy
? His spin move has been terrific (mostly against young players); how much else will he show?
Bashaud Breeland
seems to have improved and, with Tracy Porter's durability an issue, he could be a plus for the Redskins. But is he still grabbing too much? It's hard with the running backs to tell a whole lot, so Lache Seastrunk's true impact won't be known until the games start. Thus far he hasn't stood out. Is guard
Spencer Long
looking more comfortable?
Hatcher
Defensive looks:
How are they using their personnel? Will they really be doing a lot of different things this season? Or is it just offseason chatter? Won't know for a while on that, but we'll get to see more of what they plan to do. In some cases it's not about having different looks, it's about – they hope – having better rushers with the addition of Murphy and Jason Hatcher.
Offensive line:
There will be an interesting battle along the line this summer, even if it's just for one of the backup positions (especially at guard). If the Redskins keep nine offensive linemen, that means two players from this group might not make it:
Mike McGlynn
,
Adam Gettis
,
Josh LeRibeus
,
Maurice Hurt
and
Tom Compton
. This assumes
Chris Chester
keeps his job (not a lock). And they're not going to cut Long or Moses. Remember, they signed McGlynn in free agency and his ability to play center helps. The others have some work to do.
David Amerson's progression:
He's had a quiet camp and I mean that in a good way. It's not like he's messing up or getting beat and looks lost. Does that continue this week? Amerson's continued improvement (plus a lack of cap room) is among the reasons the Redskins are not one of the teams who have inquired about recently released corner
Brandon Flowers
, according to a source.
DeSean Jackson:
Needs to make sure he exits these three days with a good hamstring. If he's fully recovered, it's always impressive to watch his speed. He's not the fastest player I've ever covered (Darrell Green), but he is explosive.
Coordinator chatter:
We should get our first chance to interview special teams coach Ben Kotwica this week, as well as defensive coordinator Jim Haslett. Will be nice to finally hear more of what they think about their groups after the spring workouts end.
June, 3, 2014
Jun 3
4:20
PM ET
Another day of leftover notes:
Strong column:
Jason Reid of the Washington Post
had a strong take on the #Redskinspride movement
initiated last week, when the Redskins asked fans to tweet to Senate majority leader Harry Reid (do I need to say there's no relation?) regarding their thoughts on the team name. If the Redskins want to win the name debate, occurrences like this won't help. Rather, it will just enflame the opposition and keep them mobilized and desirous to fight back. There have been too many missteps along the way. But for those of you who want the issue to go away -- yet also want them to win -- it'll be tough to separate those desires. Just imagine how big it will become if they somehow made the Super Bowl again?
Both sides claim victory:
Redskins president and general manager Bruce Allen told Jason Reid that, "our fans have spoken very loudly in support of what we've been doing. We got a very good response from our fans. Thousands of fans responded, including hundreds of Native Americans, saying we are their favorite team. I do think that's the message we've been hearing." Last week, Harry Reid's digital director Faiz Shakir told multiple outlets they were thrilled by the response. Here's the thing: The majority of people are against changing the name, at least according to polls in the past. So the Redskins will always enjoy a certain level of support. But my hunch is the more this stays in the news, and the more people perceive that the Redskins are handling it poorly, the more who will be swayed the other way. I'm not smart enough to know if/when it will change, but we all know some grow so weary of a topic they just want it to go away at any cost.
Moses' impact:
For rookie right tackle
Morgan Moses
to play, or at least start, he'll have to improve his fundamentals. He has to learn to play more with his knees bent, and not his waist. And how to move his feet in addition to his arms. Then he has to combine that with learning the playbook and everything else. It takes time, which the Redskins are happy to give him. "There's a lot to learn as far as offensive line play," Redskins coach Jay Gruden said, "picking up line stunts, all the run schemes that we have -- inside zones, outside zones and then the pass protections we have. We have nine or 10 already and maybe more. So it's a grind for them mentally ... . Lucky for us, we've got a solid line and he is going to contribute when he is ready. There is no exact date on that either."
Gruden's philosophy:
Jay Gruden is much more like Joe Gibbs when it comes to delegating responsibility than he is to Mike Shanahan, his predecessor. Gruden won't just stick with the offense; sounds like he's been watching the defense more this week. But offense is his baby and he does not plan to interfere with defensive coordinator Jim Haslett or special teams coach Ben Kotwica. Of course, it is his right; he's the one who bears the ultimate responsibility. Still, it won't be his focus. Going from an offensive coordinator to head coach is enough to handle right now. "I'm letting Coach Haslett coach the defense, Coach Kotwica to coach the special teams and I'm really hands-on with the offense right now," Gruden said. "Part of the reason I hired the guys that I hired is I could count on them to run their specific groups. It's been a very smooth process so far."
March, 5, 2014
Mar 5
8:00
AM ET
The Redskins did not release Adam Carriker with the intent of re-signing him to a lesser deal, a team source said. But as ESPN980's Chris Russell first reported, there's also the chance of Carriker getting another look in June. Yes, I've heard that, too, from Carriker himself.

Carriker

Carriker said he was told that to get fit and get healthy and he would get another chance to see if he was worth another shot in June. That does not mean he'll be re-signed at that time, but he'd at least get a workout. "I'm optimistic," Carriker said.
Carriker still has his fans at Redskins Park; they know his work ethic and they don't want to count him 100 percent out. I think the feeling is that this remains more of a longshot than anything, but just in case.
And I wouldn't be surprised if there are some at Redskins Park who aren't as optimistic, which is why they don't think ultimately he'll be back. I think if the organization was overly optimistic about his chances, he'd be signed back much sooner. But this is a way to show respect to someone whose work ethic you value. Carriker will continue to pour himself into getting better and if things look good in June, then his situation will be reconsidered. If not? Then he came much closer than someone in his situation ever would have. The way he works makes it easy to root for a comeback and that's why Carriker still has fans at Redskins Park.
Sav Rocca's release wasn't surprising either. At 40 years old, he's not going to become a more consistent punter. The Redskins have some options, in case they don't like Robert Malone. New special teams coach Ben Kotwica was Malone's coach for two games with the New York Jets last season (Kotwica was the assistant special teams coach in 2012 when Malone lasted all season). But the Redskins signed Malone before Kotwica, so I'm not sure what he thinks of him. But considering the Jets released Malone...
And, for the first time this offseason, I actually watched a punter. Malone had a 46.3-yard average in his two games last season, which is pretty good. However, in the game I saw him punt (Week 2 against New England), he was too inconsistent. Four of his nine punts had a hang time of less than 4.0 seconds. I only timed seven punts because two were inside-the-20 attempts, which is not as much about hang time. On those two kicks, one was for only 21 yards to the 20. So of his seven punts that required good hang time, only three were good (and they were all around 4.5 seconds, which is excellent). That explains a net average of 37.1 for the season and 37.8 for his career.
For what it's worth, Malone punted in Tampa Bay in 2010 under Raheem Morris. He, too, got rid of Malone, though it's common for punters to take time to mature in the NFL.
Malone is only 26 so one day perhaps he will find that consistency. Leg strength is not a problem here. But I'd keep looking for another punter. Pat McAfee and Donnie Jones will be free agents next week. McAfee had a net of 38.5 last season (46.0 gross); Jones had a 40.5 net (44.9 gross). Redskins defensive coordinator Jim Haslett was with Jones in St. Louis.
Jawan Jamison's release was not surprising. I just never saw anything from him to suggest holding onto him another year. At least Chris Thompson offers something because of his speed. That always gets you a longer look. And I liked Jamison's film at Rutgers; he was a good fit in this system and he did a good job in protection. But he did not show up to camp with an NFL body and he just never offered reason to believe he could help.
January, 17, 2014
Jan 17
8:39
AM ET
In less than a week, new
Washington Redskins
coach Jay Gruden has put together a good portion of his staff. Gruden's staff will include several holdovers, including Sean McVay (promoted from tight ends coach to offensive coordinator), Chris Foerster (offensive line), Jacob Burney (defensive line), Raheem Morris (secondary) and Jim Haslett (defensive coordinator). But they still have hires to make. Here's an updated list:
Head coach:
Jay Gruden
Offensive coordinator:
Sean McVay
McVay is highly respected by his players and comes across as older than his 27 years. He won't call plays, so he'll be able to ease into this position. Still, it's a lot of responsibility and there will be a transition and learning period. There always is.
Quarterbacks:
Vacant (Gruden, a former quarterback, will no doubt work with this position)
Running backs:
Vacant (Earnest Byner interviewing Friday)
Wide receivers:
Vacant
Tight ends:
Vacant (Wes Phillips interviewed for the job Thursday)
Offensive line:
Chris Foerster
He has experience in different blocking schemes, though he works best in the zone blocking system. Players have spoken highly of him over the years. His lines the past couple of years have not been the most talented individually, but still had more success than anticipated. We don't know how much the young linemen have developed or if any will be future starters (but keep in mind that Joe Bugel did not develop any young players in his second stint in Washington either. Just some perspective.).
Defensive coordinator:
Jim Haslett (has not been officially announced)
Like many, I'm surprised by this move given how the defense has played and the natural inclination to clean house, especially if a staff is unsuccessful. My guess: Haslett is surprised, too, or at least would not have predicted this on the day Mike Shanahan was fired. They improved down the stretch the past two years, but even this year their points per game -- the stat they point to the most -- did not dramatically improve (they were 30th for the season; 25th from Weeks 9-17). They finished 18th in total yards allowed -- 10th in the second half of the season (they faced five top-10 offenses in the first half and two in the second). Excuses can be made that explain some -- certainly not all -- of their deficiencies. The salary cap, head-coach meddling (though certainly there may have been some "suggestions" that worked; we never hear about those). After a while, excuses get old. But clearly the front office felt they were legitimate and perhaps they felt keeping Haslett, a former head coach, would be beneficial to a first-time head coach, one with whom he has a relationship. But it's now time for this defense to finally produce at a greater and more consistent level.
Defensive line:
Jacob Burney
He's helped
Barry Cofield
become a solid nose tackle and the front has been solid against the run; I like how
Chris Baker
has developed, but
Jarvis Jenkins
has not done enough in the pass game. Overall, the pass rush needs to improve.
Inside linebackers:
Kirk Olivadotti
Had a great reputation when he was here the first time around. This is an excellent hire, but he will be limited to just working with the inside linebackers. He worked with
Perry Riley
as a rookie and will have another starter to train inside with the loss of
London Fletcher
.
Outside linebackers:
Brian Baker
Don't know a whole lot about him other than he's a veteran coach who has worked with Haslett in the past. He's coached linebackers in three of his 17 NFL seasons, serving as Cleveland's outside linebackers coach last season, but he played linebacker at the University of Maryland. Cleveland's linebackers did not produce as hoped. Dallas did not retain him after the 2012 season when it changed coordinators. His last three seasons have been spent in a 3-4 scheme.
Secondary:
Raheem Morris
Energetic and enthusiastic. I'm sure he felt he'd be someone's coordinator by now, but he'll instead enter his third season as Washington's secondary coach. It's not as if the secondary play the past two years would have helped him land a coordinator's job. That's not all on him, however, as there's little doubt they have to upgrade the talent base. And what matters is this: general manager Bruce Allen wanted to keep him around. Fletcher gave him a strong endorsement on Twitter after Gruden was hired.
Special teams:
Ben Kotwica
Have heard good things from people who used to work with him. In New York he had to replace a legendary coach in Mike Westhoff. That won't be the case in Washington so those players who remain from last year will be more eager to buy what he's selling.
January, 15, 2014
Jan 15
2:05
PM ET
The
Washington Redskins
continue to fill out more of their coaching staff and officially named Brian Baker as their outside linebackers coach. It's the same role he filled in Cleveland last season.
Orakpo
Baker coached for three seasons in St. Louis with Jim Haslett, who is expected to stay as the Redskins' defensive coordinator. Baker has coached with Dallas, Carolina, Minnesota, Detroit and San Diego since entering the NFL in 1996. He's spent the past three years coaching in the 3-4, the scheme that Washington has run since 2010. Though Dallas played it differently than the Redskins, Baker's experience in Cleveland last season will prep him for the Redskins' style. Both originated from the Pittsburgh style of 3-4 under coordinator Dick LeBeau.
The big question is whether Baker will get to work with linebacker
Brian Orakpo
, a pending free agent. Haslett is high on Orakpo and his contributions to the defense -- and not just as a pass-rusher. If Orakpo returns it would give Baker one outside 'backer in his prime and another about to enter it in
Ryan Kerrigan
. He'll also have to groom
Brandon Jenkins
, who played sparingly as a rookie (largely due to his lack of special teams prowess).
Baker played at the University of Maryland and served there as a student coach and graduate assistant from 1984-85.
The Redskins interviewed
New York Jets
special teams coach Ben Kotwica on Tuesday and plan to interview ex-Redskin
Earnest Byner
on Friday, presumably for the vacant running backs coach position.