August, 6, 2011
8/06/11
10:25
PM ET
If there's a team that's had a worse couple of post-lockout weeks than the
New York Giants
have had, I can't find one. The latest round of lousy news hit Saturday night with the announcement that first-round draft pick
Prince Amukamara
had
broken a bone in his left foot
and would need surgery. The team says he's out indefinitely, but you have to think this is going to cost the rookie (who just signed his contract two days ago) at least two months, after which he'll have to play on a surgically repaired foot with a screw in it.
Amukamara, like all 2011 rookies who missed out on minicamps and OTAs because of the lockout, was already going to have a tough time getting up to speed, and this sets him back further.
[+] Enlarge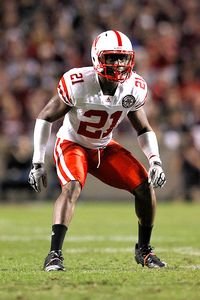 Aaron M. Sprecher/Getty ImagesPrince Amukamara, who was the 19th pick in April's draft, has a broken bone in his left foot.
Now, sure, the Giants can absorb a hit at cornerback. They still have
Terrell Thomas
,
Corey Webster
and
Aaron Ross
at the position. But with reserve
Bruce Johnson
having already blown out his Achilles earlier in the week, they're much thinner there than they planned to be. Amukamara was the 19th overall pick in the draft, and surely a big part of the Giants' plans for this season.
The Giants also announced that
Ben Patrick
, the tight end they signed earlier this week, has decided he no longer wants to play football and would be placed on the reserve/retired list. You'll remember Patrick as the tight end the Giants signed shortly before their own starter,
Kevin Boss
, left to sign with the Raiders. Patrick apparently was looking forward to playing with Boss and didn't want to be on the team if he wasn't.
So that's two cornerbacks and two tight ends the Giants have lost in a span of about three days, and that'd be rough for any team. But the Giants were already having a pretty rough go of things, as salary-cap concerns have impaired their ability to add outside free agents of significance and hurt them in their efforts to sign their own. They managed to bring back running back
Ahmad Bradshaw
on their terms when he ran out of options, and they got
Mathias Kiwanuka
to return on a team-favorable deal in part because of the injury from which he's recovering. But they lost Boss and still haven't re-signed
Steve Smith
(who's also recovering from injury and likely won't be ready for the start of the season even if he does re-sign). Boss and Smith have been two of
Eli Manning
's most reliable targets in the passing game over the past two seasons, and to this point it's tough to imagine
Domenik Hixon
,
Ramses Barden
or
Travis Beckum
as capable replacements.
Oh, and there's still the
Osi Umenyiora
contract dispute. The disgruntled defensive end still isn't practicing as he continues to demand either a trade or a new contract and the team continues to insist he play for the contract he currently has.
If you want to be optimistic, you can say that maybe the Giants are getting all of their rotten luck out of the way early and maybe not much else will go wrong the rest of the way. But considering how few names of potential consequence remain on the free-agent market for a team that's missed the playoffs each of the past two seasons, it's hard to see how the Giants recover from all of the losses they've sustained since free agency started.
August, 5, 2011
8/05/11
12:12
PM ET
The Giants' passing game suffered a difficult blow Friday with the news,
courtesy of Adam Schefter
, that the Raiders signed tight end
Kevin Boss
to a four-year, $16 million contract. The Giants had been working to sign both Boss and wide receiver
Steve Smith
, two of quarterback
Eli Manning
's most trusted and reliable targets. But while Smith remains unsigned (and in the process of recovering from knee surgery), Boss is headed to Oakland, leaving the Giants looking for a replacement.
Boss
They have
Travis Beckum
and the recently signed
Ben Patrick
on the roster, but Beckum is unproven and Patrick is more of a blocker than a receiver.
Bo Scaife
of the Titans is also on the free-agent market, though if they couldn't get Boss under the salary cap it's hard to see them swinging a deal for Scaife, who has reportedly drawn interest from the Rams and Bengals, among other teams. (UPDATE: Scaife has reportedly agreed to terms with the Bengals, so scratch that option.)
The Giants have two very good receivers in emerging star
Hakeem Nicks
and
Mario Manningham
, and running back
Ahmad Bradshaw
is a weapon in the passing game as well. But with questions swirling around Smith's health and contract status, and with Boss now gone, the offense has some question marks at some spots that had been among its most reliable. Add in the still-unsettled
Osi Umenyiora
contract dispute, and the first week of camp hasn't exactly gone beautifully for Big Blue.
August, 2, 2011
8/02/11
11:15
PM ET
Time once again for our nightly check-in, where we look back over the 24 hours that have just transpired and ask the open-ended question: How was your day ...

Dallas Cowboys?
"You know, fine."
Got to be getting old watching the Eagles sign half the world, but the Cowboys did finally lock in one of the two starting safeties they need, bringing back
Gerald Sensabaugh
on what appears to be
his third one-year contract
. Wonder what that says about a guy. They keep wanting him back, but ... not
that
much. I'd be surprised if
Abram Elam
weren't the Cowboys' next move, and after that, maybe a No. 3 receiver. But everybody who's been harping on the Cowboys to sign free agents seems to forget how many good players they already have. Rob Ryan's coaching could be enough to fix what went wrong on defense last season, even with similar personnel. And the offense is loaded with talent. The Cowboys don't need star-caliber pieces. They just need to fill holes. They'll do it. By the way, they also
signed another kicker
-- Kai Forbath, who was really good at UCLA but is hurt now and might or might not be a factor in the
David Buehler
/
Dan Bailey
kicking competition that has the Metroplex riveted.

New York Giants?
"Restful."
The Giants' players had the day off,
to their coach's chagrin
, but the front office made itself busy with minor moves, such as
signing defensive tackle
Gabe Watson
, who'll be a solid backup or rotational guy in the middle of the line, and
bringing back
Michael Clayton
to help the receiver depth. Nothing new on
Osi Umenyiora
, who still wants a new deal or out and isn't any more likely today than he was yesterday to get either. Nothing new on
Steve Smith
or
Kevin Boss
, although the signing of
Zach Miller
by the Seahawks could get the Raiders interested pretty quickly. The Giants signed
Ben Patrick
on Monday to give them insurance in case Boss left, but they're not similar players. Patrick doesn't block the way Boss does, and they surely want Boss back.

Philadelphia Eagles?
"Oh, you know. Typical, three-signing day."
The Eagles were off, too, but they were at it again, agreeing to new deals with
Ronnie Brown
as a backup running back,
Ryan Harris
as a right tackle and
Jarrad Page
to add to their safety mix along with all the young guys they have back there. All three came on one-year deals because apparently the whole league wants to play for the Eagles now and will take anything to do it.
Jeremy Maclin
also
arrived in camp
after missing the first five practices due to an illness the team won't discuss, so hopefully he's OK. And nothing new on
DeSean Jackson
, who has to be wondering how much money is left for him.

Washington Redskins?
"Humbling."
Yes, they're paying attention in Ashburn to what's happening at Lehigh with the Eagles. The whole league is. And if you're the Redskins, it can't escape your attention that your current starters at quarterback and running back are
John Beck
and
Ryan Torain
while the Eagles'
backups
at those spots are
Vince Young
and Ronnie Brown. But hey.
Rex Grossman
showed up Tuesday
, which means it might not
have
to be Beck.
Phillip Buchanon
showed up, too, although we also learned he's suspended for the first four games of the season. Once he's back, I think the Redskins' defense has a chance to be good. The offense, with question marks at quarterback, running back, receiver and offensive line ... that's another story.
My day was good. Spent some more time at Redskins camp. Had some nice conversations with
Barry Cofield
,
Trent Williams
,
DeAngelo Hall
,
Lorenzo Alexander
and others, and in the coming days I will be filling you in on the insight I gleaned from those conversations. I like getting out and talking to the players and coaches. I learn more from those conversations than I do from watching practice, although I know you guys want to know what I saw in practice. But yeah, my day was real nice. Looking forward to one more morning in Ashburn before I head home and then out to see the Eagles.
How was your day?