January, 16, 2014
1/16/14
10:00
AM ET
IRVING, Texas -- With the NFL's game of musical chairs involving head coaches just about over -- except for the uber-patient
Cleveland Browns
-- let's look at the effect the new names in new spots will have on the
Dallas Cowboys
.
The Cowboys will face three teams with new head coaches in 2014: Jay Gruden with the
Washington Redskins
, Bill O'Brien with the
Houston Texans
and Ken Whisenhunt with the
Tennessee Titans
.
In 2013, the Cowboys went 1-4 against teams with new coaches. The lone win was the October meeting against Chip Kelly's
Philadelphia Eagles
, but they returned the favor in the more-important Week 17 rematch that won the NFC East.
The Cowboys also lost to Kansas City's Andy Reid, San Diego's Mike McCoy and Chicago's Marc Trestman.
Gruden and O'Brien will be head coaches for the first time in the NFL. Whisenhunt had a six-year run with the
Arizona Cardinals
.
The Cowboys went 0-3 against Whisenhunt. Two of the losses came in overtime and the third was by a point. And they were three of the strangest losses. In 2008, they lost on a blocked punt for a touchdown in overtime. In 2010 they lost in part because
David Buehler
missed an extra point. In 2011 they lost in overtime in a game in which many believe Jason Garrett iced
Dan Bailey
at the end of regulation.
(Personal aside: I don't believe that was the case. The play clock was running down and Garrett called the timeout at the request of special-teams coaches Joe DeCamillis and Chris Boniol. Bailey's first miss of that season at San Francisco came with the operation rushed because of the play clock. Now back to your regularly scheduled programming.)
O'Brien was the
New England Patriots
' offensive coordinator in 2011 when
Tom Brady
beat the Cowboys on a final-minute touchdown pass 20-16. The Texans have the top pick in the draft and a team that could be in line for a quick turnaround.
Gruden was the
Cincinnati Bengals
' offensive coordinator when Bailey won the game on a last-second field goal after
Andy Dalton
was limited to 206 yards passing. The Redskins folded under Mike Shanahan and have a ton of needs, but the return of a healthy and motivated
Robert Griffin III
could change their fortunes quickly.
The Cowboys could have six more games against teams that will lose assistant coaches in 2014.
As of Thursday, the only assistant the Cowboys have lost is Boniol, who oversaw one of the best kickers in the NFL. Maybe that will change too. Maybe.
November, 19, 2013
11/19/13
9:00
AM ET
IRVING, Texas -- Refreshed off the bye week, Five Wonders is back and ready for action.
We'll start with this mini-wonder: Does anybody more than wonder whether the Dec. 29 meeting between the
Dallas Cowboys
and
Philadelphia Eagles
at AT&T Stadium will be to win the NFC East?
I wonder it, but only if the Cowboys beat the
New York Giants
this week.
On to the wonders:

• I wonder if the season is on the line Sunday against the New York Giants. The Cowboys would still be alive because of the state of the NFC East, but at 5-6 and reeling it would be hard to see a turnaround. They would have lost three of four and the only win came on a 90-yard drive in the final minute against the
Minnesota Vikings
. The Cowboys carry emotional baggage with them no matter how much Jason Garrett attempts to keep them in the present. Injuries have piled up again. Questions about the scheme have rumbled on both sides of the ball. There is a lot on the line this week. The Giants have won four in a row to claw back into the race after a 0-6 start. Their wins have not come against the best quarterbacks but winning breeds confidence and the Giants have confidence. Maybe the feeling comes from the 32-point loss to the
New Orleans Saints
before the bye, but the Cowboys sure seem fragile mentally right now as well as physically.
[+] Enlarge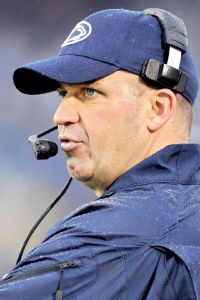 Abby Drey/Centre Daily Times via Getty ImagesIf the Cowboys fail to make the playoffs this season, Penn State coach Bill O'Brien could be an interesting choice to replace Jason Garrett.
• I don't believe owner and general manager Jerry Jones wants to replace Garrett. I truly believe he wants Garrett to be the Cowboys' head coach for a long time. But if the Cowboys don't make the playoffs this season, it would not surprise me if Jones made a move. That would be four straight seasons without a playoff appearance. Jones can sell anything, but selling a status quo wouldn't be easy. One thing I don't wonder about is if Lovie Smith would get an interview. I believe he would. But here's another guy I wonder about: Penn State coach Bill O'Brien. I don't know all of the particulars of the buyout at Penn State, but O'Brien was tempted by the NFL last season. His background with Bill Belichick and
Tom Brady
gives him a plus, and how he has handled the mess that has enveloped Penn State gives him a few more pluses. His time running the Patriots' offense, however, means more to me. The Cowboys drafted
Gavin Escobar
to be more of a "12 personnel" team but the Cowboys have not been creative enough in getting people involved. They are running the same plays they did with
Anthony Fasano
and
Martellus Bennett
as the second tight end and they were not able to produce. O'Brien made the
Rob Gronkowski
-
Aaron Hernandez
package work well with Brady. Do I believe O'Brien would get an interview? I don't know any of it, but I would have him on the list. Not that Jones would listen to me.
• The Cowboys drafted
Kyle Wilber
with the idea that he could play outside linebacker in a 3-4. With the move to the 4-3, he was moved to defensive end. Now he is playing some outside linebacker again because of an injury to
Justin Durant
. I wonder if Wilber is a man without a position. When
Anthony Spencer
went down in training camp with a knee injury, Wilber got the first look and then saw
Ben Bass
take some of his snaps. Then it was
George Selvie
who took them later on. When
DeMarcus Ware
got hurt in the season, Wilber took over but then saw
Jarius Wynn
take over the starting spot. Wilber always was a tweener, but the coaches have yet to feel like he can handle the full-time duty. If they did, they wouldn't be moving him around so much, especially because the defensive end spot is much more valued in this scheme than strong side linebacker.
• I wonder if we'll see a more engaged
Bruce Carter
now that
Sean Lee
is out of the lineup. There is no other way to say it then this: Carter has been a disappointment this season. The Cowboys did not need him to be
Derrick Brooks
in this defense, but they needed him to be productive. He had two sacks in the first two games. He had a pass deflection and a quarterback pressure. He has just two pressures and a pass deflection in the last eight games. He has one tackle for loss. The weak-side linebacker spot is designed to be the playmaker in this defense. When the Cowboys lost Lee last year to a toe injury, Carter stepped up his game before an elbow injury KO'd him for the year. The Cowboys need that Carter and not the Carter that ended the New Orleans game. We can pick on just about everybody on defense from that game, but Carter was ready for that game to end sooner than it did.
•
Back in June I wondered
if people were sleeping on just how effective
Lance Dunbar
would be when the season started. I pegged him in for 30 catches out of the backfield. I saw his speed and elusiveness as being a big part of a revamped offense. I was wrong. While not as big a disappointment as Carter, Dunbar has not been able to deliver on offense. He has four catches for 21 yards and 15 carries for 48 yards. Some of it is injury. Some of it is ball security. Some of it is scheme. Jerry Jones said he wanted to see Dunbar more involved. Bill Callahan said he would like to get Dunbar more involved. Sometimes there's just not enough of the football to go around. Dunbar has seen his role taken by
Cole Beasley
to a degree because of the use of the "empty" package. Maybe things change in the final six games, but I would be surprised.
January, 14, 2013
1/14/13
10:15
AM ET
We have been discussing this
here for some time
. But with the rest of the outside world beginning to catch on (
Read: Peter King, No. 9 in "Ten Things I Think I Think
") and with Twitter followers now asking me for explanations instead of just calling me names, it's worth revisiting the question of why people are turning down the
Philadelphia Eagles
' head-coaching job. Over the weekend, Notre Dame's Brian Kelly became the third high-profile college coach (along with Oregon's Chip Kelly and Penn State's Bill O'Brien) to decide to return to his college job in spite of interest from the Eagles.
Peter muses that it's because the Eagles are "a team trending downward," but I don't think it's that simple. First of all, in the NFL, where at least one team goes from first place to last place every single season, there's sort of no such thing as a team trending downward. Any team is capable of a rapid turnaround given the right coach, quarterback and circumstances, and the NFC East is no longer a division that requires 11 or 12 wins.
And while I have been (unfairly) criticized on Philadelphia sports talk radio in recent days for my (accurate) opinion on this, that opinion has (of course) become distorted and presented to the angry Philadelphia public as "no one wants the Eagles job." That is not what I have written, nor do I believe it is the case. Someone will coach the Eagles in 2013, and there are candidates who would jump at the job this minute if it were offered to them. It's one of only 32 jobs in the world of its kind, and regardless of the flaws it offers the chance for a coach to live out his lifelong dream of running an NFL team on Sundays.
What I do believe is that, for several important reasons, the Eagles' head-coaching job is not as appealing as the Eagles and their fans wish it to be. And I think the fact that these three college coaches, O'Brien and the Kellys, decided after thinking about it that it wasn't the right NFL job for them explains why. They were willing to listen; they just didn't like what they heard.
So again, the three reasons someone who has a great college coaching job with control over the program and fans who adore him for what he's accomplished there might not want to leave to coach an NFL team in Philadelphia:
1. The Eagles have a GM in place.
This is nothing against Howie Roseman personally or professionally. He could turn out to be the greatest GM in NFL history for all any of us knows. But it's the fact that someone holds that position and will continue to hold it that gives a candidate pause. If you're a college coach used to control, you likely have an image in your head of what your dream NFL job looks like, and it likely includes a higher level of control over the draft and personnel matters than the next Eagles coach is going to have. Owner Jeffrey Lurie has made it clear publicly, and undoubtedly in these interviews, that Roseman and the new coach will report directly to him and that the new coach will be expected to work in harmony with Roseman. Whether the candidate likes Roseman or not is irrelevant. Being told up-front that you have limited (if any) say in the construction of your roster isn't an enticement.
2. The Eagles do not have a quarterback in place.
Michael Vick
has nine toes out the door.
Nick Foles
is a 2011 third-round draft pick that the last coach, Andy Reid, liked but who was passed over a couple of times by everyone else. Even if the new coach likes Foles, he'd have to admit he's still a question mark. And if you have a question mark at quarterback in the NFL, you have a problem. Granted, most of the teams with head-coaching vacancies have this same problem (which is a big reason why they have head-coaching vacancies). But it'd be naive to think it's not a significant enough problem to convince a high-profile college coach he's better off staying where he is. The defense needs a rebuild, too, but that's not the same level of issue for coaches as quarterback is right now.
3. Pressure.
There's no market like Philadelphia for pressure. There may be more pressure in other markets, but Philly has the market cornered on bitterness and negativity. The fact that the Eagles have never won a Super Bowl has taken over as the only thing about which Eagles fans care. Correcting it is the only way an Eagles head coach could win them over. And you can sit there and say that a good coach should relish such a challenge, and you may well be right. But not everyone's wired the same way. The pressure and expectations in Philadelphia, as well as the increasingly negative atmosphere around the team, would naturally be a concern of anyone who took the job. Whoever does take it will go in with his eyes open to the nearly impossible expectations he'll immediately carry, and it'll take a special sort of person to handle all of that and succeed there.
So there you have it -- my best, most logical and thorough explanation of why the best and brightest college coaching minds aren't climbing all over each other for the Eagles' head-coaching job. In the end, you may be happy about that. Maybe Gus Bradley is a star on the rise. Maybe Brian Billick is rejuvenated and improved in a second time around. Maybe there's somebody out there you don't even know about yet who's going to be better than all of the candidates we've seen so far. I'd just caution against dreaming too big, that's all. The Eagles are going to have to take a chance on someone and hope he's a hit.
January, 9, 2013
1/09/13
2:05
PM ET
We live in impatient times, and these days I hear a lot about the idea that the
Philadelphia Eagles
might be moving too slowly in their search for a new head coach. Truth is they fired the last one only nine days ago, but in the era of instant gratification and 24-hour news cycles, nine days seems like nine years. They're missing out on the good assistants, some fear. They're letting the market direct them instead of vice versa.

I think this is silly talk. The Eagles obviously wanted Chip Kelly and pursued him hard. Had he said yes to their offer instead of deciding Sunday to stay at the University of Oregon, we'd be talking about whom he was hiring for his staff and what kind of offense he planned to run. The fact that he turned them down does not mean they should simply offer as much as possible to their second choice to get the thing over with. As GM Howie Roseman told
the team's website
, the goal is not to do this quickly, but rather to do it correctly.
You can't fault the Eagles for being careful with this. They've talked to offensive coordinators, defensive coordinators, special-teams coordinators, college head coaches ... they're even talking to Lovie Smith, who has nine years of head-coaching experience that includes a Super Bowl appearance. No reason not to turn over every stone. No reason to lock yourself into offensive coaches versus defensive ones. Find the guy you think is the best leader and give him the responsibility for putting the proper pieces in place around him.
I understand impatience, but the fact is only two of the seven head-coaching vacancies that were created the day after the season ended have been filled.
Geoff Mosher of CSNPhilly.com
was mentioning on Twitter earlier Wednesday that the time table isn't unusual. Geoff points out that there were seven openings last season, and as of Jan. 9, only one of those had been filled -- by Romeo Crennel, who has since been fired as Chiefs coach and replaced by fired Eagles coach Andy Reid. Geoff writes that four of the seven teams that hired new head coaches last year hired them on Jan. 20 or later.
So I get that it feels slow, but I would submit that the Eagles didn't get their top choice (or choices, if you want to throw Bill O'Brien in there) and are regrouping, as they should, instead of jumping for a quick solution. In the end, when you look back, it won't feel as though it took that long. Especially if they end up with the right guy.
January, 2, 2013
1/02/13
3:38
PM ET
Les Bowen of the Philadelphia Daily News is in Arizona this week because that's where Oregon is paying in the Tostitos Fiesta Bowl on Thursday night and you may have heard something about Oregon coach Chip Kelly being a possibility to succeed the fired Andy Reid as the Philadelphia Eagles' head coach. There's been a lot of speculation about the manner in which the offense Kelly uses at Oregon might translate into the NFL should he get a coaching job in Philadelphia or anywhere else, and Kelly
addressed this in a news conference
, per Les:
"Anything you do has to be personnel-driven," Kelly said, when asked a question about offensive adaptations flowing out of the college game into the NFL. "You've gotta be able to adapt to the personnel that you have. There's a lot of great offenses out there, but does it fit with the personnel you have? I think the key is being sure what you're doing is giving your players the chance to be successful."
This is the key thing to remember when making conclusions about the way a coach like Kelly might operate if he got an NFL job. People are quick to assume that the style a coach employs at the college level would be the same style he'd try to implement in the pros. And it's possible that some coaches are like that. But I submit to you that the successful ones are not, and that if Kelly has appeal to the Eagles or any other NFL teams, it's in part because he's viewed as an offensive innovator -- the kind of guy who would look at his NFL roster and design an offense based on the abilities of the players at his disposal. If he's not that kind of guy, then they shouldn't hire him, because there's no way to be sure he'll always have the sort of personnel he needs to run the offense he wants to run.
I think Kelly's probably a smart enough coach to know he's not going to succeed in the NFL simply by transplanting his Oregon offense there. And if he did come to Philadelphia and decide he liked Nick Foles, I think you could be fairly confident he'd find a way to put Foles in a position to succeed, even if it didn't look like what Kelly is doing right now at Oregon.
I'm also not sure the extent to which this matters, since I don't know where Kelly ranks on the Eagles' list of preferred candidates. They're in Atlanta tomorrow to interview Falcons assistants (though not offensive coordinator Dirk Kotter, who just signed an extension and took himself out of the running for head coach jobs), and they're planning to interview Denver offensive coordiator Mike McCoy as well. And the names of college coaches Doug Marrone of Syracuse and Bill O'Brien of Penn State have surfaced as well. They can't interview Kelly, even if they want to, until after Thursday night's bowl game.
The Eagles are at the beginning of a long, complicated process, and it's not worth getting overly fired up over any particular name at this point. But if the coach ends up being Kelly or some other college coach, you'd be making a mistake to assume you knew what he was going to run once he got to the pros.
January, 9, 2012
1/09/12
8:00
AM ET
Man, the NFL really sets this whole thing up nicely, doesn't it? Of course the NFC East is still alive for at least one more week. Every division is. Eight playoff teams remain, and there's one from each division. Almost as if they planned it that way.
Anyway, the NFC East champs looked as good as any team that played this weekend, and they of course lead off the Monday links.
New York Giants
The Giants rushed for a season-high 172 yards in their playoff victory over Atlanta, but
Ian O'Connor writes
that the run that got it all started was a 14-yard scamper by a very unlikely candidate -- quarterback Eli Manning. "Unlikely" is putting it mildly, since Manning only had 15 rush yards, total, during the regular season. But Ian's point is a good one -- that Manning has a knack for making the play the Giants need him to make when they need him to make it.
The Giants' players have done a lot of talking the past few weeks, and they clearly feel more confident in themselves than they have at any point this year. That all starts early this week. Before he even left the postgame locker room, defensive end Jason Pierre-Paul
guaranteed a victory
over the Packers next week at Lambeau Field. Pineapples for everyone!
Philadelphia Eagles
Les Bowen has been pretty consistent about pointing out a key, oft-ignored element of the Steve Spagnuolo situation: That even if the Eagles do want to make him their defensive coordinator,
they're likely to have competition for his services
.
We gave you the link to the Cowboys' "Stay or Go" post from ESPNDallas.com a few days ago.
Philly.com is doing the same thing for the Eagles
, allowing you to go on there and vote on which players you think should be back next year and which won't. Eagles management is not offering fans the same opportunity -- just the Philly.com web site. But it's a pretty complete list. Andy Reid's on there, even though we know he's coming back. Jeffrey Lurie's on there, even though there's no indication he's stopped wanting to own the team. And Swoop, the mascot, is on there, in case you think it's all Swoop's fault.
Dallas Cowboys
Jason Garrett has begun the process of
meeting with his assistant coaches
, many of whom he inherited when he took over as head coach from the fired Wade Phillips. Garrett flexed some muscle last offseason in making tough decisions about players he'd inherited and didn't want, and you wonder if he might want to put his own stamp on the coaching staff now that he's got a full season under his belt.
Cowboys linebacker and Penn State alum Sean Lee issued a statement over the weekend about new Penn State coach Bill O'Brien. I mean, I guess he's saying he supports the new coach, but it's
not exactly a ringing endorsement
from a former player who would have liked to see one of his former coaches get a shot at the top job. Feels like a lot of Penn State people taking this perspective are missing the point.
Washington Redskins
Mike Shanahan and the Redskins' coaching staff
will coach the South team in the Senior Bowl
later this month in Mobile, Ala. Not every draft prospect will be there, of course, as many are juniors. But coaches generally enjoy the Senior Bowl as an opportunity to get an up-close look at some guys who might be able to help them. The Redskins have several needs on both sides of the ball, and working closely with some of the top seniors could help them turn up a mid-round gem or two.
Lots of people have asked me about Adam Carriker, who is well liked by fans and teammates and coaches and
says he wants to come back to the Redskins
next year. But Carriker is going to be an unrestricted free agent, and his return is therefore uncertain. I'm not sure I agree with the idea that Jarvis Jenkins is the issue, since I think they planned to use both guys in a rotation last year and could fit both into their scheme. I think the issue has more to do with London Fletcher being a top priority and the decisions that need to be made at offensive line, safety, wide receiver and several other places. They could conceivably run out of room in the budget for Carriker, is all.