June, 22, 2010
6/22/10
11:00
AM ET
By
Matt Mosley
| ESPN.com
Notable players
: QB
Troy Aikman
, RB
Emmitt Smith
, FB
Daryl Johnston
, WR
Michael Irvin
, G
Nate Newton
, C
Mark Stepnoski
, OT
Erik Williams
, TE
Jay Novacek
, DT
Russell Maryland
, LB
Ken Norton
, DE
Charles Haley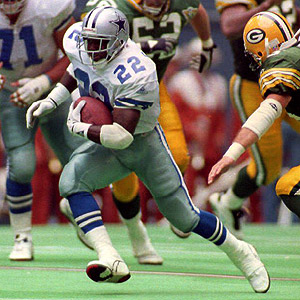 Tim Roberts/AFP/Getty ImagesEmmitt Smith held out to start the season, but once he returned, it all came together for the Cowboys.
Analysis
: I could make the argument that the '94 team that lost to the 49ers in the NFC title game was the best, but I'll save that one for another day. In '93, Jimmy Johnson and the Cowboys had an enormous target on their backs and the team began the season with Smith in a holdout. Disgusted by an 0-2 start without Smith, Jerry Jones quickly signed the running back to a new contract. The Cowboys ran off seven straight wins and finished the season 12-4.
Dallas sent 11 players to the Pro Bowl after the season, and they could've had a few more on defense. If not for Smith's holdout, this was the type of team that might have made a run at a perfect season. The Triplets were unstoppable, and the Cowboys had perhaps the best offensive line in the league. The Roger Staubach teams of the '70s were formidable, but I just don't think they were as deep as Johnson's teams of the early '90s.
The Doomsday defense from the late '70s trumps the defense from the early '90s, but the Triplets surpassed what Staubach, Tony Dorsett and Drew Pearson accomplished.
Most impressive win
: It's too easy to say the Super Bowl, so give me the overtime victory in the Meadowlands over the Giants to end the regular season. The win gave the Cowboys the division title and a wild-card bye week. In that 16-13 win, Smith had one of the best individual efforts in club history. Playing with a separated shoulder, he rushed for 168 yards and caught 10 passes.
Best player:
How can you not go with the guy who won the NFL's MVP award, the Super Bowl MVP and the rushing title in the same season? Let's go with Emmitt.
Honorable mention
1977
: The Super Bowl champions were dominant on both sides of the ball. Dallas began the season 8-0. The Broncos didn't belong on same field in the Super Bowl. Ed "Too Tall" Jones, Harvey Martin and Randy "Manster" White put the "Doom" in Doomsday.
1992
: You almost forget how Jimmy Johnson could send waves of pass-rushers at quarterbacks.
Tony Tolbert
had more sacks than Haley in '92. And Maryland and
Leon Lett
were just beginning to figure things out. The collection of talent was remarkable. The Triplets truly began to impose their will on opponents.
1971
: Some of the great defensive players from the early days -- Bob Lilly, Chuck Howley, Lee Roy Jordan -- finally got their championship. The offense scored 29 points per game and the Cowboys won by an average of 13.1 points per game.
November, 30, 2009
11/30/09
8:00
AM ET
By
Matt Mosley
| ESPN.com
The Dallas Morning News asked 20 current and former staffers to come up with the top 50 Cowboys in the organization's first 50 years. Coaches, players, owners and administrators were all considered.
Here's the list
. And it should come as no surprise that
the late Tom Landry finished No. 1 overall
. I don't know how it could be any other way.
Here's the breakdown of the top 10:
1. Tom Landry
2. Roger Staubach
3. Emmitt Smith
4. Bob Lilly
5. Troy Aikman
6. Tony Dorsett
7. Randy White
8. Michael Irvin
9. Mel Renfro
10. Tex Schramm
Owner/general manager Jerry Jones checks in at No. 17, one spot ahead of safety Cliff Harris.
Jason Witten
is the highest-ranked current Cowboys player at No. 29 -- and I have no problem with that. He's been one of the top tight ends in the league since his 2003 rookie season.
DeMarcus Ware
is No. 36, but he'll probably end up much higher -- when the DMN does its 75-year list. Quarterback
Tony Romo
checks in at No. 47 and left tackle
Flozell Adams
rounds out the list at 50. I like the fact that Danny White cracked the top 30. He took a lot of abuse, but if he wins one of those three NFC title games, his legacy is completely different. His reputation also took a hit during the strike, but that doesn't change what he accomplished on the field.
I think Charles Haley ended up at No. 31 because he was only with the Cowboys from '92-'96, but the fact that he was a big part of three Super Bowl titles should've put him higher on the list. His behavior off the field is well-documented, but he was a brilliant pass-rusher who deserves to be about five spots higher.
I also think Cornell Green's too low at No. 25. I've had a lot of former players tell me that Green was one of the best defensive backs in league history. He got his hands on everything, but he dropped a lot of potential interceptions. I'm shocked that the late Mark Tuinei, the left tackle on those 90s Super Bowl teams, didn't receive a single vote. That makes no sense to me. Kicker Rafael Septien received a few votes, but a man who played 15 seasons at offensive tackle was shut out?
The selection panel came up with only a single vote for the great defensive coordinator, Ernie Stautner. Linebacker Ken Norton and defensive tackle Leon Lett didn't show up on the list, but both are worthy. Some people will argue that
Terrell Owens
should've been on the list. I'm not buying that one because he was only with the Cowboys for three seasons and the team didn't win a playoff game during that time.
It's pretty remarkable that two Hall of Famers -- Bob Hayes and Rayfield Wright -- didn't even crack the DMN's top 10. The only thing I'd change about the top 10 is that I'd probably put Bob Lilly in front of Emmitt Smith. I know that sounds crazy to some of you, but this list was about "greatest Cowboys," not the greatest NFL players. When I think about the players that have defined this franchise, Lilly comes before Smith in my opinion. They don't call him "Mr. Cowboy" for nothing.
What did you guys make of the list?
December, 18, 2008
12/18/08
11:40
AM ET
By
Matt Mosley
| ESPN.com
Posted by ESPN.com's Matt Mosley
No matter where you stand on the Dallas Cowboys, you have to admit that Texas Stadium is one of the most iconic venues in all of sports. From an aerial view, it's hard to distinguish the NFL's new state-of-the-art facilities, but the hole-in-the-roof has provided an enduring image for Cowboys fans and haters. On Wednesday, the NFC Beast stopped by Valley Ranch and talked to former and current players about what Texas Stadium has meant to them. Former running back Calvin Hill, who now works in player development for the Cowboys, was in his third year with the club when the new stadium opened in 1971. Wide receiver Roy Williams played at Odessa Permian (Texas) High School and remembers his first high school playoff game in the famous stadium.
Calvin Hill, RB, 1969-74
"I'd torn my knee up in the last game at the Cotton Bowl. I figured I'd be allowed to watch [the first game in Texas Stadium] from a box upstairs, but they didn't let me. They said I could sit in the stands with my wife. I spent the game driving around Denton, and I was pissed. The first time we practiced in there, I just remember it being so pristine. It was like an opera house. I remember Bob Lilly saying to one of the coaches, 'Can we spit in here?'" When it rained, we'd go over to Texas Stadium to practice because we didn't want to mess up the practice field. I remember looking up in the stands and seeing Tex [Schramm] and Gil [Brandt] sitting out of the rain. Lilly kept talking about how stupid we were to be out in the rain while those guys were sitting up there enjoying themselves. I put a lot of sweat equity in that building. I hurt my knee in my last game there and I remember dislocating my elbow. At the time, I think we wanted a building that rivaled the Astrodome, which was called "The Eighth Wonder of the World." There were rumors that [ownership] had run out of money, and that's why we had that hole in the roof. At one point, they were having a little trouble moving the [luxury] boxes and they gave me the chance to have one in lieu of the $50,000 signing bonus they owed me. I didn't take them up on that offer. I remember coming in after one game at Texas Stadium and LBJ was standing in the locker room. The one thing I recall is thinking, 'I had no clue his hair was so white.'" Like a lot of presidents, he'd aged a tremendous amount in a relatively short period of time."
Roy Williams, WR, 2008-present
"Playing there in high school meant a lot to me. Seeing those name tags above your locker made you feel like a Dallas Cowboy. I remember scoring a touchdown. I ran down the left sideline and then around the goal post to the other side of the field. I didn't want to stop running. I just wanted to stay out there forever. And I still have that name tag at home."
November, 12, 2008
11/12/08
9:00
AM ET
By
Matt Mosley
| ESPN.com
Posted by ESPN.com's Matt Mosley
On Tuesday afternoon, the NFC Beast radio show had a chance to visit with Cowboys Hall of Famer Bob Lilly on ESPN 103.3 FM. Here's the exclusive audio from the interview.
Lilly's new book, "A Cowboy's Life," was just released. It's the story of how a kid from Throckmorton, Texas, grew up to be one of the greatest defensive tackles in the history of the league. I've had the pleasure of getting to know Lilly pretty well over the years, and he's a fascinating guy. After his playing days were over, Lilly became an accomplished photographer.
At TCU, he was considered one of the strongest players in the nation. But he didn't start lifting weights until the late 1960s. Before that, he said players used to buy their own weights and bring them to the practice facility. He used to watch Mickey Mantle do interviews on TV in front of what appeared to be a spacious locker. But when he arrived at the Cowboys' practice facility in 1961, he was shocked to find the same lockers he had in junior high.
Lilly was kind enough to grant us an interview during what has been a difficult couple of weeks. He buried his brother, Larry, recently after an extended illness. Lilly said promoting his new book has been therapeutic for him as he grieves.
I read half the book Tuesday night, and it's pretty entertaining. If you're trying to come up with the greatest all-time Cowboy, the conversation has to begin and end with Lilly.