October, 11, 2012
10/11/12
4:22
PM ET
Among the issues that have surfaced for the
Philadelphia Eagles
in the early part of this season are special teams issues, and one of those is on punt returns, where rookie
Damaris Johnson
hasn't consistently brought much to the table. This has led to obvious questions about whether
DeSean Jackson
, who as recently as 2010 was the best punt return man in the NFL, might have a chance to return to the role.
Per Sheil Kapadia
:
"He's always ready to go. I mean, he's like a pinch-hitter. He's ready to go. We just have to call his number," special-teams coach Bobby April said. "Most of our punt returns have not been traditionally field punts. They've been up closer to the 50-yard line where you have to worry about a lot of things and you have to spread yourself a little bit thin. It's tough to make just an all-out concentration on the punt return in that phase of the game."

Jackson scored four touchdowns on punt returns from 2008 to 2010, but in 2011, he was terrible. According to Football Outsiders, the Eagles had the 27th-ranked punt return unit in the NFL. Of course, Jackson has admitted that his contract situation contributed to struggles in all aspects of his game last year. With a new deal in hand, he's been very good as a receiver in 2012.

"You never know," April said. "You may get your wish this week. You may get it in two weeks, you never know. But he's always ready to go."
I certainly think it's possible we see Jackson return a punt or two this year, but it's worth considering that he's having a very good year so far as a wide receiver. And considering that the Eagles' offense is one of the lowest-scoring units in the league so far, it would seem unwise to do anything that might jeopardize his continued contribution there as the offense struggles to get on its feet. I think what the Eagles are getting out of Jackson so far this year is just fine, and that they have reason to believe Johnson can develop into a more reliable punt returner if given time. My sense is that patience will reign here, and that it should.
August, 3, 2012
8/03/12
8:00
AM ET
Friday links. They are in a particular order, but I'm going to make you guess what it is. Winner gets absolutely nothing. Go.
Dallas Cowboys
The Cowboys have big problems on the interior of the offensive line, as they did last year and actually kind of did before all of this year's injuries set in. So they're bringing in
a bunch of guys they had last year
for workouts and to see if they can help. I wish them luck with that.
The good thing the Cowboys have going for them on the offensive line is second-year tackle
Tyron Smith
, who was a complete animal last year as a rookie right tackle and is, in practices,
impressing the league's best pass-rusher
.
Philadelphia Eagles
The additions of
DeMeco Ryans
and
Mychal Kendricks
, the late-season development of
Brian Rolle
and
Casey Matthews
and the strong training camp performance so far of
Jamar Chaney
made some of the linebackers the Eagles used last year expendable, so they
traded
Moise Fokou
and
Greg Lloyd
to the Colts for cornerback
Kevin Thomas
and a pick. They needed the cornerback depth more. Trade happened while I was in the car on Route 78 East, so that's why I didn't mention it until now.
Special teams coach Bobby April says the
punting competition is dead even
between
Chas Henry
and former Cowboys punter
Mat McBriar
. They need to see these guys punt in games. McBriar looks great. The only question is if the health of his foot holds up. If it does, he's likely to beat out Henry.
Washington Redskins
John Keim's
Thursday practice report
is characteristically comprehensive, and includes notes on the cornerback situation as well as that of
Chris Cooley
.
Mike Shanahan believes that
Robert Griffin
III brings enough skills on the field and in the locker room to help cover up potential weaknesses in other areas of the team,
Jason Reid writes
.
New York Giants
The
Terrell Thomas
injury situation has reached a confusing stage at which even Giants coach Tom Coughlin says he
doesn't know what to believe
anymore. And it sounds like there's no definitive answer coming until the middle of next week.
Eli Manning
is a
funny guy
. He said he told
David Carr
to take his shirt off while running post-practice sprints so the Giants could get some of the same coverage the Jets are getting. The Giants like to bag on the Jets. The Jets make it easy. And yes, Manning really is a funny guy.
August, 2, 2012
8/02/12
1:01
PM ET
BETHLEHEM, Pa. -- After the
Philadelphia Eagles
' morning walk-through here Thursday, special teams coach Bobby April said that rookies
Damaris Johnson
and
Brandon Boykin
were on top of the depth chart at
punt returner and kick returner
, respectively. This has been a question many of you have asked, and much of the time that question has been tied to the status of wide receiver
DeSean Jackson
, who is one of the best punt returners in the league but has been used as such less and less in recent years.

Jackson
Coincidentally, I was speaking with Jackson after the morning walk-through, and I asked him whether he'd be doing more or less punt returning this year.
"This year, I'll probably be doing it a little bit less, just because I'm focusing on wide receiver a little bit more," said Jackson, who returned 50 punts as a rookie in 2008, 29 in 2009, 20 in 2010 and 17 last year. "But that doesn't mean I'm not gong to do it. Coach [Andy] Reid will spot me here and there for a punt return, you know, like we did in the Giants game. If we need a big return, put me back there and hopefully end the game with a walk-off touchdown."
Jackson is, of course, referring to the December 2010 game in which the Eagles came from way behind against the Giants and won it when he returned a punt for a touchdown as time ran out. He has not returned a punt for a touchdown since that day, but he doesn't fear that he'll get rusty.
"It's second-nature to me," Jackson said. "So I feel like, once I know how to do it, I'll always know how to do it. Like riding a bike. So it's a great position to be in, my fifth year now and just having some leeway with getting out of doing it full-time, just spotting me here and there to keep me fresh at wide receiver. I definitely like that."
So there you have it. He'll go in and return a punt if they need a game-winning touchdown, but otherwise, for now at least, it looks like Damaris Johnson.
July, 25, 2012
7/25/12
8:00
AM ET
Yes, six weeks from tonight, the Giants and the Cowboys will begin the NFL season at MetLife Stadium in East Rutherford, N.J. It's coming. It may be coming slowly, but it's coming. Meantime, you can always count on the links.
Dallas Cowboys
Man, Sean Lee sure
gets it
about Penn State. In spite of his loyalty to his alma mater, Lee actually believes the most important part of this whole sad mess is the victims, and he's fine with the heavy sanctions and the removal of the Joe Paterno statue as long as it all helps make sure nothing similar ever happens again.
Dez Bryant's college coach says "
we were with him all the time every step of the way
" at Oklahoma State. Obviously, that's tough for the Cowboys to do, but the trick to fixing what ails Bryant is finding ways to better monitor what he's up to when he's not with the team. Not sure how that can work for a grown professional athlete (as opposed to a collegiate one), but that's surely at least part of the team's goal.
New York Giants
Ohm's position-by-position camp preview
looks at tight ends
, including the possibility that Christian Hopkins is this year's Jake Ballard. We've not touched on Hopkins much here when discussing the Giants' tight ends, but given the team's and Eli Manning's record of developing guys on the roster into productive players, we can't overlook Jerry Reese's assertion that Hopkins might be one this year.
Not catching one single pass during his rookie season is not what Jerrel Jernigan expected, and he tells Paul Schwartz that troublesome stat
got his attention
. Jernigan understands he's not at Troy anymore, and says he wants to work to earn that No. 3 receiver spot vacated by Mario Manningham.
Philadelphia Eagles
The Eagles
announced this morning
that they have signed former Cowboys punter Mat McBriar to a one-year contract. This is interesting because they appeared to like punter Chas Henry last year during his rookie season and because the reason the Cowboys hadn't yet brought back McBriar was health. One of the best punters in the league before last season's foot injuries, McBriar obviously showed the Eagles he's healthy enough to kick during camp. The move could simply be for camp depth and/or to push Henry. But given McBriar's track record when healthy, it at least raises the possibility that the Eagles could make a change at the position this year.
Special teams coach Bobby April says the team may use DeSean Jackson less as a
punt returner
this year. Not for nothing, but Jackson's punt-return totals over his four-year career have been, in order, 50, 29, 20 and 17. So it kind of looks as though they've been using him less as a punt returner
every
year. And honestly, if you're going to cut his returns from 17... why put him back there at all? Personally, I think he's the best in the league and should return every punt. But they just signed him and, I'm sure, don't want to get him hurt if they can help it.
Washington Redskins
Brandon Meriweather says "
don't nobody have a job yet
" at safety for the Redskins, but the strong safety spot is actually his to lose. As Mike Jones writes, this is a big question-mark area for the Redskins as they open training camp today.
Chase Minnifield's agent says the reason for the move the Redskins made Tuesday to cut Minnifield was related to a procedure he had done recently on his knee, and that Minnifield
isn't going to be able to play
for anyone this season. The Redskins hope to get Minnifield through waivers and put him on injured reserve so they can try and work him into the mix again next year. They do like him, but they knew his knee was the big question mark going in.
December, 21, 2011
12/21/11
1:54
PM ET
Mistakes have killed the
Philadelphia Eagles
all year. A talented team that outplayed opponents for large chunks of games they would eventually lose, these Eagles have themselves to blame for the 6-8 predicament in which they find themselves. But as much as they shot themselves in the foot in the first half of the season, they still have life. They need to win their final two games and get some help from the Jets and the Giants (in that order), and they can still be division champions.

That's why their coaching staff continues to obsess and fret about mistakes. This is from special teams coach Bobby April,
via the Philadelphia Inquirer
, on a unit that has had three turnovers and a blocked punt in its past two games:
"Those were major, major gaffes and without a dominant performance by the defense in both games, really dominant, and really a dominant performance by the offense, we probably," April began, then quickly shifted gears, "you can't do those two things in a game and generally win. Those are major gaffes, you just can't have a blocked punt."
The Eagles are without any margin for error at this point in the season, and they are a team that threatens to go down in history as extremely error-prone. They made very few errors in their Week 8 victory over the
Dallas Cowboys
in Philadelphia, and they know they need to keep errors to a minimum Saturday in Dallas if they're to have any chance of extending their season to Week 17. Special teams mistakes are the kind of thing that keep a talented team out of the playoffs, and while this is a relatively recent development, the offensive and defensive coordinators of the Eagles have spent more than their share of time pulling out more than their share of their own hair over avoidable mistakes.
December, 21, 2010
12/21/10
1:00
PM ET
By
Matt Mosley
| ESPN.com
»
NFC Decisive Moments
:
East
|
West
|
North
|
South
»
AFC
:
East
|
West
|
North
|
South
It's difficult not to choose
DeSean Jackson
's 65-yard walk-off punt return for a touchdown to end the game against the Giants, but we'll give it a try. That play doesn't happen without a perfectly executed onside kick by the
Philadelphia Eagles
with 7:28 left in the fourth quarter.

Giants coach Tom Coughlin insists that his players were warned about an onside kick, but you couldn't tell by looking at them. Veteran kicker
David Akers
approached the ball just like he was planning to kick it deep, but then induced a perfect lob wedge that rookie wide receiver
Riley Cooper
fielded without any problem.
Replays showed that Giants reserve receiver
Duke Calhoun
already had begun his retreat as Akers made contact with the ball. Apparently the warning didn't get through to the return unit. Once
Michael Vick
jogged onto the field with his team trailing 31-17, the Giants were in big trouble. He led two quick scoring drives, which set up Jackson's dramatic return.
Eagles special teams coach Bobby April has received a lot of (deserved) criticism for the way his units have played, but the kickoff coverage group completely duped the Giants at a critical time in the game. And that's why the onside kick is our decisive moment of the week. And depending on where the Eagles go from here, it may end up being one of the most decisive moments of the season.
December, 19, 2010
12/19/10
8:08
PM ET
By
Matt Mosley
| ESPN.com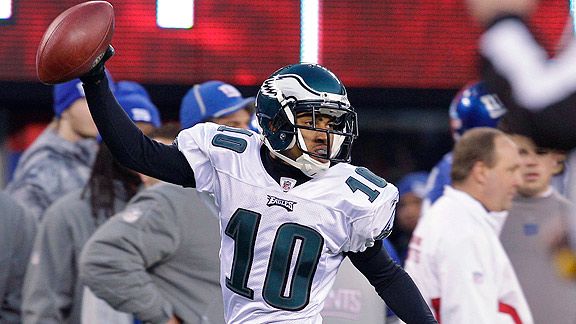 AP Photo/Kathy WillensDeSean Jackson celebrates on his way to the winning touchdown against the Giants.
EAST RUTHERFORD, N.J. -- The
New York Giants
spent the better part of three quarters making Eagles quarterback
Michael Vick
look pedestrian. They battered him with a variety of blitzes as the Giants took what appeared to be a commanding 31-10 lead in the fourth quarter.
What happened next will be talked about by Eagles fans for years to come. And no matter how hard they try, the Giants won't be able to purge a stunning
38-31
loss from their memories. Anyone who says they saw this coming should be labeled a liar because nothing in Vick's game Sunday suggested he was about to slip on his cape midway through the fourth quarter.
The Eagles (10-4) now have sole possession of first place in the NFC East and the Giants (9-5) will have to rally to make the playoffs. All hope is not lost, but now's not a good time to convince Giants fans of that. When quarterback
Eli Manning
threw an 8-yard touchdown pass to tight end
Kevin Boss
with 8:17 left in the fourth quarter, the Giants held a 31-10 lead. New York defensive coordinator Perry Fewell had put together a brilliant game plan to confuse and frustrate Vick, but one play provided the Eagles a shred of hope.
Vick found tight end
Brent Celek
racing down the seam and delivered a perfect pass over the outstretched arms of Giants defensive end
Justin Tuck
, who had dropped back in coverage. Celek seemed so surprised to be in the open field that he frantically changed directions several times for no apparent reason.
What happened next probably will be left out of the Tom Coughlin biography, if he chooses a generous author.
The Giants' coach said his players were warned about a potential onside kick, but apparently it wasn't enough of a concern to send out the hands team. And when the ageless
David Akers
induced a perfect hop, rookie wide receiver
Riley Cooper
caught the ball with no Giants player in sight. Replays showed that Giants reserve wide receiver
Duke Calhoun
didn't seem overly interested in making a play on the ball. The Eagles' sideline erupted and you could sense that something remarkable might happen.
"[Special teams coach] Bobby [April] did a great job with that," said Eagles coach Andy Reid, who was drenched in Gatorade by center
Mike McGlynn
during his postgame address to the players. "That was a surprise onside. In other words, we didn't have our hands people in there, you know our onside kick people in there."
Down the hall, Coughlin was defending his decision to stay with the normal personnel.
"There were still seven and a half minutes to go and they were down two scores, so we didn't think it was necessary to do that at the time," Coughlin said. "There was no reason for us not to make a better play on the ball. We didn't have anybody even around the ball."
Coughlin further explained that having the normal personnel in the game gave the Giants a chance for a better return. And if someone could remind me of the last time the Giants had a big kickoff return, perhaps that explanation would hold water.
Given new life, Vick simply took over the football game. On the second play after the onside kick, Vick scrambled up the middle for 35 yards to the Giants' 9-yard line. And on third-and-goal from the 4, Vick raced around the right side for a touchdown. Everyone in the stadium knew he was going to run the ball, but it didn't matter. Doubt had come to visit the Giants' sideline and a false start penalty helped kill what could've been a game-sealing drive.
The Eagles got the ball back on their 12-yard line with three minutes and no timeouts left, which was not an issue for Vick. On third-and-10, he scrambled to the left and then raced for 33 yards. I'm not sure if the Eagles were sending in passing plays at that point, because it was obvious he was destroying the Giants with his legs. Vick ran for 94 of his 130 yards in the fourth quarter, and he finally let one of his teammates get involved when he found
Jeremy Maclin
for a game-tying 13-yard touchdown pass.
Things were going so poorly for the Giants at that point that it would've been wise to cut their losses and head to overtime. Instead, they were forced to punt with 14 seconds showing on the clock. Coughlin said rookie
Matt Dodge
had been instructed to punt the ball out of bounds, but he instead sent a line drive toward
DeSean Jackson
, who had time to muff the ball before making the play of the season.
Jackson darted right and then benefited from a crushing block by wide receiver
Jason Avant
. Once Jackson slipped past Dodge, it was obvious that the game was over. As Jackson tends to do, he made an abrupt stop at the goal line and raced to his left in order to milk the clock. By that time, there was pandemonium on the Eagles' sideline.
"Get your butt in the end zone," is what Eagles safety
Quintin Mikell
remembers saying as Jackson put one last dagger in the Giants. Mikell, one of the veterans on this team, said he'd never seen his head coach this emotional after a game.
Asked if he can recall being so emotional after a win, Reid said, "You know, I can't name another one of these. This is a special one. I mean, this is exciting. This was exciting for you guys; it's a great day to be a Philadelphia writer."
Reid admitted that he "goofed" when he didn't challenge a Jackson fumble early in the fourth quarter. At the time, it looked like the play would end any hope of an Eagles comeback. But on a day when the Eagles scored 28 points to win a game in the fourth quarter, Reid's gaffe is only a footnote. Vick can erase a lot of mistakes.
"He just had this determined look on his face," said left guard
Todd Herremans
. "It's like he's saying, 'I'm about to win this game. If you want to help, you're more than welcome.'"
So the Eagles went along for the ride.
October, 19, 2010
10/19/10
1:00
PM ET
By
Matt Mosley
| ESPN.com
»
NFC Decisive Moments
:
East
|
West
|
North
|
South
»
AFC
:
East
|
West
|
North
|
South
We've all seen the violent collision between Eagles wide receiver
DeSean Jackson
and Falcons cornerback
Dunta Robinson
, but it was a play that occurred a few minutes later that helped seal an important win for Philadelphia. The Eagles had taken a 14-0 lead on two huge plays from Jackson in the first quarter, but they seemed to be reeling once he was helped off the field with what we'd later discover was a severe concussion.

The normally reliable
David Akers
had missed a 37-yard field goal on the same possession Jackson was injured and it seemed like the Falcons had an opportunity to get back in the game. But Jackson's replacement on punt returns,
Jorrick Calvin
, had a 44-yard return to the Falcons' 34-yard line that seemed to wake up the fans and players.
Kevin Kolb
connected with
Jeremy Maclin
for an 8-yard touchdown to give the Eagles a commanding 21-0 lead. I believe Calvin's return was a defining moment in the game because it provided the Eagles with a much-needed burst of energy. Bobby April's special-teams unit hasn't been that successful in 2010, but maybe Calvin's return will get it going.
I thought middle linebacker
Stewart Bradley
's sack early in the game pretty much set the tone for the Eagles, but Calvin receives our prestigious "decisive moment" award. By the way, I think Andy Reid should consider allowing Calvin to be the full-time punt returner the rest of the season. Jackson doesn't need to be exposed to additional punishment.
July, 6, 2010
7/06/10
10:19
AM ET
By
ESPN.com staff
| ESPN.com
Dallas Cowboys
David Moore of The Dallas Morning News
examines the Cowboys' specialists
heading into training camp.
Depth continues to be a strength in the
Dallas backfield
.
New York Giants
General manager Jerry Reese was back in his home state of Tennessee recently to share the story of
his journey to the NFL
.
Philadelphia Eagles
Even while on a USO tour in Afghanistan, Eagles
coach Andy Reid was asked
about the trade that sent Donovan McNabb to Washington.
Bobby April talks about the challenges of getting players to understand the
importance of special teams
.
Washington Redskins
The team's official website has put together a
list of FAQs
(and corresponding answers) regarding the Redskins' upcoming training camp.
Rich Tandler of CSNwashington.com takes a look at the
team's quarterback situation
behind McNabb.
March, 31, 2010
3/31/10
2:09
PM ET
By
Matt Mosley
| ESPN.com
The Philadelphia Eagles just announced that restricted free-agent linebacker
Omar Gaither
has signed his one-year tender offer. Gaither, who missed all but five games of the '09 season with a Lisfranc sprain, has started 34 games for the Eagles since being drafted in the fifth round in '06.
The late Jim Johnson benched Gaither in favor of
Akeem Jordan
late in the '08 season. When
Jeremiah Trotter
was released before the '07 season, it was believed Gaither would be an upgrade at middle linebacker. But the young player has never looked comfortable as a starter. If he makes the team in 2010, he'll need to be a valuable part of Bobby April's special teams unit.
We'll keep you posted on the players who
haven't
signed their tenders. The versatile guard/center
Nick Cole
hasn't signed his tender at this point. I think the Eagles would be wise to pay Cole a little money and lock him up for a few seasons, but it doesn't look like it will happen before the April 15 deadline.
February, 16, 2010
2/16/10
6:44
PM ET
By
Matt Mosley
| ESPN.com
Our friends at Moving The Chains blog are in
the midst of their annual season-in-review series
. Sheil Kapadia begins his analysis by discussing
David Akers
' season. There's a reason the man was voted onto the All-Pro team.
And as you saw other kickers falter in the playoffs, it's hard to argue that any team is in a better situation than the Eagles. I'm sure new special teams coach Bobby April would like to see deeper kickoffs from Akers, but he'll settle for a guy who connected on 32-of-37 field goals in '09.
The Cowboys and Redskins are wandering in the place-kicking wilderness this offseason and
Lawrence Tynes
of the Giants is a middle-of-the-pack guy. Meanwhile, former Pro Bowl kicker
Nick Folk
remains on the street. That's one of the most remarkable kicking stories of the NFL season. How did one of the league's best suddenly get the yips?
Some team should at least take Folk to training camp. In fact, I think the Redskins would be wise to go that route.
January, 24, 2010
1/24/10
12:42
AM ET
By
Matt Mosley
| ESPN.com
The good folks at Moving The Chains blog have
tallied the penalties
for the Eagles' 2009 season. Philly had the fourth-most penalties in the league, but 13 other teams lost more yardage. It's pretty remarkable that out of the top 10 teams in total penalties, seven of them qualified for the playoffs.
Pro Bowl left tackle
Jason Peters
led the Eagles in penalties (11) and penalty yardage (178). I was a little surprised that rookie
Moise Fokou
was fourth on the team in penalties with six. He has the potential to be an excellent special-teams player, but he took some silly risks at times. I think new special-teams coach Bobby April will help Fokou in that department.
And how did
Stacy Andrews
have time to register five penalties? At that pace, he would've raced past Peters if given enough reps. It will be interesting to see if Andrews can beat out
Nick Cole
at right guard next season.
Update:
Peters' penalty total includes the playoff game against the Cowboys