August, 7, 2013
8/07/13
11:00
AM ET
Look, I'm not saying
Arrelious Benn
was the second coming of
Herman Moore
, or that the
Philadelphia Eagles
' brave pronouncements about making up for their losses at wide receiver with extra help from their tight end group or their running back group don't make any sense. But with
Jeremy Maclin
and now Benn out for the season with torn ACLs, and with legitimate questions about whether
Riley Cooper
can really spend a full season in the same locker room with NFL teammates after being caught on camera angrily using the worst racial slur there is, the fact is that the Eagles are ridiculously thin at the wide receiver position.
[+] Enlarge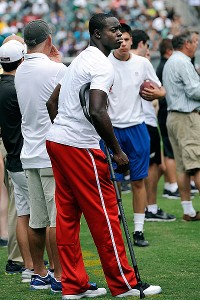 AP Photo/Michael PerezWith receivers Jeremy Maclin (pictured) and Arrelious Benn out for the season, the Eagles could be looking for help from the free-agent pool.
DeSean Jackson
is their best one.
Jason Avant
is a solid, if unspectacular, veteran. But other than those two, the seven remaining healthy wide receivers on the Eagles' roster have a combined total of 96 career NFL catches -- 46 of which belong to Cooper. Could the Eagles get more than expected out of guys like
Damaris Johnson
,
Russell Shepard
and
Greg Salas
? Sure, but it's a shaky bet to make.
Tim McManus looks at 10 wide receivers who are still available on the free-agent market at this very late date, and it's an uninspiring list. The top name is
Brandon Lloyd
, who had 74 catches and 911 yards for the Patriots last year. But something's off with Lloyd that is scaring teams away. Fact is, he'd have been one of the Eagles' top three receivers if he'd signed a month ago, and they weren't interested. I have to think that, if they liked Lloyd, he'd already be on their team.
Laurent Robinson
, the 2011 Cowboys touchdown maker, is also on this list but comes with major injury concerns due to concussion problems. Guys like
Deion Branch
and
Brandon Stokley
have put up decent stats in the league, but not without
Tom Brady
and
Peyton Manning
, respectively, throwing them the ball.
Chad "Ochocinco" Johnson
isn't what the Eagles need as they rebuild under Chip Kelly.
You get the idea. There's not much out there. And I fully understand why the Eagles wouldn't want to sign any of the receivers on this list. But it's Aug. 7, they haven't even played a preseason game yet and their wide receivers are dropping like flies. The reason they had so much volume at the position was to protect against injuries, and certainly there's no guarantee that there won't be any more injuries over the course of the next month. As much as they don't want to, the Eagles probably should hold their nose and take a flyer on someone like Lloyd or Branch or Stokley. Maybe call up the Redskins and find out what their plans are for
Donte' Stallworth
and
Devery Henderson
... something to address what's becoming a problem for a team that already has a huge question mark at quarterback and is hoping to run as many offensive plays as possible.
July, 28, 2013
7/28/13
1:20
PM ET
PHILADELPHIA -- The talk on the radio this morning was of Terrell Owens, which is downright preposterous and actually makes you wonder if there's any real hope for sports discourse. More realistic free-agent options (i.e., guys who have played at least one game in the league in the past three seasons) include
Brandon Lloyd
,
Laurent Robinson
and
Austin Collie
. But as the
Philadelphia Eagles
confront 2013 life without receiver
Jeremy Maclin
, who tore his right ACL in practice Saturday, it doesn't sound as though you should expect them to make any moves like that.
"We have a lot of faith in our skill position group as a whole. That's kind of how we look at it," Eagles GM Howie Roseman said before Sunday's practice. "We're not only looking at the wide receiver group. We look at the running backs. We look at the tight ends. Those are the guys that we have high hopes and expectations for."
[+] Enlarge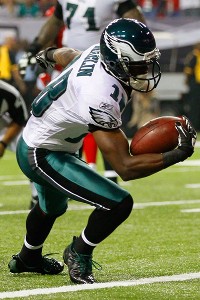 Kevin C. Cox/Getty ImagesDon't expect the Eagles to rush out and sign a free agent to replace injured receiver Jeremy Maclin.
This is obviously the kind of thing a GM says after a major injury like this one, and obviously it's possible it's not true and that Lloyd and Collie will be in for workouts by the end of the day. But I think Roseman's answer here speaks to the big-picture look the Eagles are taking of their roster and of Chip Kelly's first season as their coach. The idea of replacing Maclin by adjusting the responsibilities of the remaining personnel, regardless of position, is much more in line with what Kelly seems to be about than rushing out to find an established replacement would be.
"When we met with Chip originally, he's much more personnel-driven than even I thought just from observing him at Oregon," Roseman said. "So it's going to be based on the guys who are producing at a high level. If that's the tight end position, they'll get more reps. If it's the receiver position, if it's the running back group ... I think that's yet to be determined since we're so early in camp."
We've been talking about this since before the Eagles hired Kelly. The best coaches are the ones who accurately assess their personnel and its capabilities, and design their schemes around those. It's not as though Kelly had some ironclad plan to run a certain specific offense and needs a piece to play the Maclin part in it. Losing Maclin makes the wide receiver group worse, unquestionably, but the depth the Eagles have at tight end (
Brent Celek
,
James Casey
,
Zach Ertz
) and running back (
LeSean McCoy
,
Bryce Brown
,
Felix Jones
,
Chris Polk
) offers Kelly options in the likely event that
Arrelious Benn
,
Damaris Johnson
and
Riley Cooper
aren't enough to replace Maclin's production. Kelly could be sitting in a film room two weeks from now deciding that the backs look so good that the September plan will be to throw it to them as much as possible.
I wrote Saturday that the Eagles won't be able to effectively replace Maclin, and I stand by it. But they're still going to have to play the games and do what they can to score as many points as possible. It appears as though their plan for handling this situation is the same one they've had all along -- to evaluate what they actually do have and be creative with it. Kelly surely isn't scared of that. On the contrary, it appears to be something he relishes.
August, 3, 2012
8/03/12
12:17
PM ET
I promised you more from the time I spent at Washington Redskins training camp earlier this week, and I keep my promises. As long as Camp Confidential was, there were things I learned from watching and interviewing people that weren't addressed in there. So over the coming days, I plan to offer a few more posts based on my own reporting from Redskins camp, on a variety of topics. I hope you enjoy.
ASHBURN, Va. --
Santana Moss
was expecting a call from the Washington Redskins coaching staff this offseason. When his agent called him and told him the team wanted him to lose weight, he chuckled. Way ahead of you guys, he thought to himself.
"Honestly, before they even called me, me and our strength coach already had our plan when it came to what I wanted to do in the offseason," Moss said after Monday's practice. "So I was like, 'You know what? If that's what they want, I'm going to give it to them.' Because I already had my mind made up on that anyway. I feel like, the last few years, I played heavy."
Moss says he was over 200 pounds during each of the past three seasons. He lost 16 pounds this offseason and reported to camp a little bit under 190. At 5-foot-10, he says, that's where he should have been in the first place.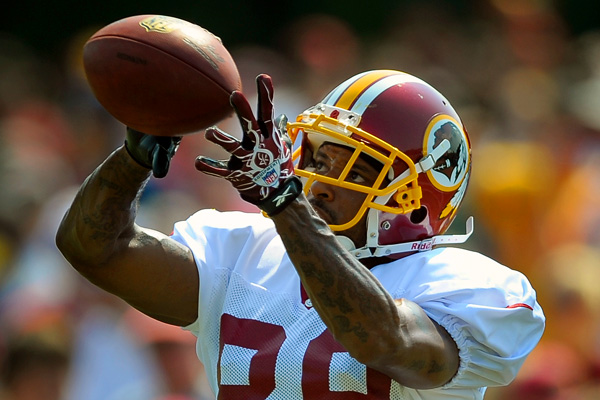 John McDonnell/The Washington Post via Getty ImagesVeteran receiver Santana Moss has come into camp lighter and rejuvenated.
"The one thing I wanted to do was give myself a chance to be dominant," Moss said. "I was productive, so I let it slide away and didn't work hard enough to really get that weight off of me. I felt like I was still dominant. But when I looked at film and watched myself, I was like, 'I'm missing a step here and there from doing the things I can do.' So I just ate right and came with my mind made up."
He has dazzled the coaches and the younger receivers during offseason workouts and training camps. The Redskins are planning to use him as their slot receiver, but he's shown enough that, if guys like
Leonard Hankerson
or
Josh Morgan
struggle with their health or their development, Moss could be used on the outside opposite
Pierre Garcon
in two-receiver sets. He's a smart veteran who's had success in the NFL and feels rejuvenated, and those guys can sneak up on you.
"Santana's been doing a lot of great things," Garcon said. "He's been around the league for about 12 years, so he's got a lot of experience, he knows the playbook and he's been helping me out a lot with all of that. But he's still a great player, and you can see that."
Moss was watching when the Redskins signed Garcon and Morgan and tried to sign
Eddie Royal
during the first hour of free agency back in March. But he says he'd already heard from the coaching staff about what they wanted him to do, so he didn't take those signings as a threat to his spot on the roster.
"As a wide receiver, if you're telling me I'm gone, that's something different. Then I'm going to be motivated to go out and show you up," Moss said. "But if you're telling me, 'These guys are coming in to work with you,' I'm cool with that. I never look at other guys and worry about other guys. I had one of my best years in '05 and then the next year we got Antwaan Randle-El and
Brandon Lloyd
. So I never take it wrong. I look at it as a chance to get better and I go about my business."
And going about all of his business has been easier for Moss minus those 16 pounds.
"It's been the best I think I could have ever done," Moss said. "In the offseason, being so heavy, I didn't condition like I was supposed to. I did enough, and that's it. Now that I got back down to my size, I realize I can run without having to run. I can just go out there and float."
That's a good field on the football field too. Moss could be dangerous this year. Or even "dominant."
March, 6, 2012
3/06/12
1:10
PM ET
It's a line right out of the free-agent playbook.
Mario Manningham
says he wants to stay with the
New York Giants
.
Per Ohm
:
"I don't want to go nowhere," Manningham said. "But if it is somewhere else, that is where my path continues. I want to come back. I can't wait to see what is going on, am I going to be here or not. I want to be here."
Sure, but he doesn't mean that. Because staying with the Giants would mean making a heck of a lot less money than he will make if he takes his talents to the open free-agent market and sells them to the highest bidder. And that matters, folks. In a league built on non-guaranteed contracts in which you're one freak injury away from never playing again, you get what you get when you can get it. And for Manningham, this is when he can get it.
This is a partial list of teams that are looking for starting-caliber wide receivers this offseason:
Washington Redskins
Chicago Bears
Minnesota Vikings
New Orleans Saints
Tampa Bay Buccaneers
San Francisco 49ers
Seattle Seahawks
St. Louis Rams
New England Patriots
New York Jets
Buffalo Bills
Baltimore Ravens
Cleveland Browns
Jacksonville Jaguars
IndianapolisColts
Denver Broncos
San Diego Chargers
And here's a list of the available, non-franchised free-agent wide receivers who probably rank ahead of Manningham:
Vincent Jackson
Marques Colston
Mike Wallace
Reggie Wayne
Brandon Lloyd
Get the picture? Yeah, first list is a heck of a lot longer than the second list. That means, unless Jackson can figure out a way to clone himself and sign with 11 teams, there are still going to be a lot of teams looking for starting-caliber wide receivers once the top guys sign. Manningham is right there in that next group with guys like
Pierre Garcon
,
Robert Meachem
,
Braylon Edwards
... guys like that. And he has the advantage of just having played big in the playoffs and the Super Bowl, which ups a guy's value.
Manningham is positioned to cash in — to sign with a team for No. 2 wide receiver money — maybe even for a little bit more than that. The Giants have
Hakeem Nicks
and
Victor Cruz
and no room under the salary cap, and they're not about to pay Manningham No. 2 wide receiver money to stay. If he'd like to stay for No. 3 wide receiver money, I'm sure they'd be happy to talk to him about it. But that wouldn't be the shrewdest career move on Manningham's part.
So, while it's nice that he's saying what he's saying about wanting to stay with the Giants, Manningham doesn't really mean it. It just wouldn't make sense.
February, 23, 2012
2/23/12
10:11
AM ET
Dallas Cowboys
fans, by and large, seem to want their team to re-sign wide receiver
Laurent Robinson
. He played very well for the team during
Miles Austin
's injury absences and even after Austin was back.
Tony Romo
threw 11 of his 31 touchdown passes to Robinson. Only two wide receivers (and one tight end) in the entire league caught more touchdowns. He says he wants to come back. The team says it wants to have him back. It all makes sense, in the abstract.
But as
Todd Archer points out
, due to the rules and conditions under which Robinson was signed last year, the Cowboys can't re-sign him before the new league year and full-on free agency open March 13. They can talk contract parameters with his agent, but Todd also wisely points out that they probably don't want to give the agent a figure he can go out and shop:
"The conversation with him goes more like, 'What are you thinking and then we'll think about it,'" executive vice president Stephen Jones said.
So, theoretically, if there's a team out there that loves Robinson and thinks he fits its system and wants to throw a bunch of money at him on March 13, the Cowboys are probably going to lose him. While neither Austin nor
Dez Bryant
is extremely costly, the Cowboys have a lot of needs that are more pressing than No. 3 wide receiver. If Robinson is going to get good No. 2 wide receiver money from some other team, my guess is the Cowboys will let him go.
What will help them keep him is the potentially flooded wide receiver free-agent market. The odds are that Robinson isn't going to be able to cash in his breakout season to the same extent he might have if he weren't competing for teams' affections with the likes of
Vincent Jackson
,
Marques Colston
,
Dwayne Bowe
,
Brandon Lloyd
,
Stevie Johnson
,
Robert Meachem
,
Reggie Wayne
,
Mario Manningham
,
Pierre Garcon
,
Mike Wallace
,
DeSean Jackson
and
Wes Welker
.
It's possible the Cowboys and Robinson get something reasonable worked out and he returns as a very good No. 3 wide receiver. But if his price starts to go up much beyond that range, don't be surprised if they let him walk and just try and find next year's Robinson the same way they found last year's.
February, 15, 2012
2/15/12
11:50
AM ET
Wide receiver may be the most intriguing position in free agency this year, especially in the NFC East, where the
Washington Redskins
need a No. 1, the
Philadelphia Eagles
need to figure out what to do with
DeSean Jackson
and the
New York Giants
and
Dallas Cowboys
could be searching for No. 3s to replace
Mario Manningham
and
Laurent Robinson
, respectively.
So, when I came across K.C. Joyner's Insider piece on

free-agent wide receivers
, I read it. He addresses Manningham, Jackson,
Vincent Jackson
,
Dwayne Bowe
,
Marques Colston
,
Steve Johnson
and
Brandon Lloyd
and evaluates them against each other. Again, it's Insider, so I can't give you the whole thing, but here are a couple of highlights of possible NFC East interest:
1. K.C. says Manningham "could end up as the best value acquisition wide receiver" from among this group. He's just 25 years old, and assuming his postseason and Super Bowl performance doesn't inflate his perceived value, somebody could be getting a guy who still has some upside. K.C. cites Manningham's 2010 statistical profile as an indication that this year's postseason numbers aren't a complete anomaly.
2. I'm picking Bowe and Colston as the Redskins' most likely targets. Given their ages (27 and 28, respectively, though Colston will be 29 before the season starts) and size, they fit what Washington is looking for. I'd been thinking Vincent Jackson, and he still could be the guy, but K.C. says he comes with "consistency issues" and "some concern about his ability to deal with a larger target workload." He just turned 29, so he's not out of Mike Shanahan's target age group for free agents, but he's not completely out of it just yet.
3. I don't think DeSean Jackson hits the free-agent market, because I expect the Eagles to franchise him, but he still will be available in trade. He has a unique skill set (especially if he's going to go back to being a punt-return threat), but he also comes with what K.C. calls "more big-dollar bust potential than any other wide receiver in this year's field."
Just my thoughts on K.C.'s thoughts. Lots still to shake out here. But I thought you guys might find it interesting. Which really kind of goes without saying. I generally don't post things that I don't think you'll find interesting.
October, 14, 2011
10/14/11
4:03
PM ET
Calvin Watkins has an item on
ESPNDallas.com
that says the Cowboys could look to trade either running back
Tashard Choice
or tight end
Martellus Bennett
in advance of Tuesday's trade deadline. Both are high-talent guys who haven't panned out and now seem extraneous in Dallas, so it makes some sense to see about getting a good draft pick for one of them. Watkins talked to Choice, who said he'd like to stay in Dallas but whatever, and he seems to think they have reason to keep Bennett around. Choice has shown a flash or two here and there, so a running back-needy team could take a chance, you never know.
Of course, the two biggest names being thrown around on the trade market today are those of
Denver Broncos
receiver
Brandon Lloyd
and
Indianapolis Colts
receiver
Reggie Wayne
. And those are big enough names to catch anyone's attention. It's hard to imagine the Giants, Eagles or Cowboys making a trade to get a big-time receiver, since all three of those teams seem fine with what they have at receiver right now and the price for guys like Lloyd and Wayne is likely to be high. I guess Wayne would be the second-best receiver on the Giants if they got him, but that doesn't feel like a move the Giants would make.
People will connect these names to the Redskins, since Washington's wide receiver corps has plenty of numbers but no real big names. A field-stretching guy would be a nice complement to the precision, route-running possession guys the Redskins have, but prior negative experience with Lloyd (with the Redskins and with Redskins coach Mike Shanahan while both were in Denver) almost certainly makes Lloyd a no-go. And since the Redskins' plan all offseason seemed to be to conserve resources to continue their rebuilding project next spring and summer, I'd be surprised to see them make a big move for a guy like Wayne. Sure, if they win this week and get to 4-1 the temptation will be to "go for it." And they should. But the Redskins are more likely to "go for it" by sticking with the plan that got them to where they are this season -- good defense and an uncomplicated offense designed to minimize the chance for mistakes. I don't think asking
Rex Grossman
to throw downfield more, no matter who they bring in for him to throw to, is in the plan.
But I could be wrong, and we'll surely talk plenty more about this stuff between now and Tuesday.
October, 4, 2009
10/04/09
3:25
PM ET
By
Matt Mosley
| ESPN.com

Posted by ESPN.com's Matt Mosley
DENVER -- Cowboys coaches and athletic trainers were gathered around running back
Marion Barber
(left quad) as he worked out a couple hours before the game. The Beast reported last night that
Tashard Choice
would get the majority of the carries. And unless Barber made some incredible progress, I expect that to hold up.
Here are the inactives for both teams:
Cowboys:
QB
Stephen McGee
(emer.), RB
Felix Jones
, S
Mike Hamlin
, G
Montrae Holland
, C
Duke Preston
, T
Pat McQuistan
, WR
Kevin Ogletree
LB
Curtis Johnson
Broncos:
QB
Tom Brandstater
(emer.), CB
Alphonso Smith
, ILB/FB
Spencer Larsen
, G/C
Ben Hamilton
, DL
Chris Baker
, T
Brandon Gorin
, WR
Brandon Lloyd
, OLB/DE
Jarvis Moss