January, 6, 2013
1/06/13
9:00
AM ET
WASHINGTON, D.C. -- Good morning. Lovely weekend here in our nation's capital. There's a great deal of excitement about the
Washington Redskins
' first home playoff game since 1999. The Redskins will take on the
Seattle Seahawks
at 4:30 p.m. ET at FedEx Field. Here are a few matchup-related notes I have left over from the time I spent with the Redskins earlier in the week:
[+] Enlarge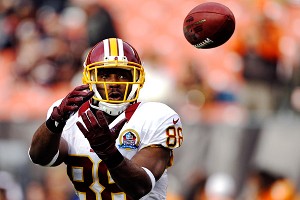 AP Photo/Mark DuncanPierre Garcon and the Redskins receivers will be challenged by a big, physical Seahawks secondary.
1. Redskins WRs versus Seahawks DBs:
The Redskins' wide receivers are big and physical and love to block, but Seattle's secondary has unusual size. Of the six defensive backs 6-foot-3 or taller who started at least 10 games in the NFL this season, three --
Richard Sherman
,
Brandon Browner
and
Kam Chancellor
-- play for the Seahawks. I heard lots of talk this week in Ashburn about how physical those defensive backs are. "They try to beat you up all the way down the field," Redskins offensive coordinator Kyle Shanahan said.
"We just have to keep their hands off of us and make sure we're allowed to run our routes," Redskins wide receiver
Pierre Garcon
said. "Just have to get into their shoulder pads and block them like you would anybody else. They can try to jam us; that's part of the game. We have to be physical. We've shown a lot of physicality this year."
One thing to look for is tighter splits, with the wide receivers playing closer to the line and further from the sideline than normal. Washington showed this in last season's game against Seattle (with less physical wideouts), and there are a couple of potential benefits. It allows the receivers more space in which to operate -- forcing the defensive back to guess which direction they're going as opposed to when they're wide and the sideline limits their range. And it might give a safety at least some hesitation, wondering if the play is a run or a pass and whether those receivers are in tight to run-block. If the Seahawks hesitate in coverage,
Robert Griffin III
has shown he has the ability to make them pay with his downfield accuracy.
2. Redskins' interior offensive line versus Seahawks DT Brandon Mebane:
Watch Mebane's ability to generate pressure up the middle, especially to the "play side," where the run play appears as though it will go. The Redskins' best way of countering the speed of the Seattle defense is likely with cutback runs by
Alfred Morris
(as well as play-action passing, but that goes without saying). If Mebane can penetrate and get to Morris before he cuts back, the Redskins could find their run game limited and their play-action game negatively affected as a result.
The left guard situation is particularly worrisome for Washington. Either starter
Kory Lichtensteiger
is going to be playing hurt or backup
Josh LeRibeus
will be starting in his place. If LeRibeus plays, the Redskins must worry about the timing of the blocks on the cutbacks. Washington started the same five offensive linemen in 15 of its 16 regular-season games, and the ability of that line to work together with comfort and familiarity had a lot to do with the success of the Redskins' top-ranked run game. If LeRibeus isn't in sync with the guys who have been there all season, that could create problems.
3. Redskins DBs versus Seahawks WRs:
Seattle doesn't have a top-flight, game-breaking wide receiver, though
Sidney Rice
and
Golden Tate
have been more than serviceable for rookie quarterback
Russell Wilson
. Last week against the Cowboys, Washington used an unusual number of "zero" blitzes that left cornerbacks on wide receivers one-on-one. The ability of
DeAngelo Hall
to handle
Dez Bryant
in solo man coverage was one of the more surprising aspects of that game, and Redskins coaches say they spent the week challenging Hall to step up his game because of how hot Bryant was. Will Hall be able to muster that same kind of intensity to play Rice or Tate? Will the return of
Cedric Griffin
from his drug suspension change the Redskins' coverages and reduce the need for Hall to play man all game? Wilson runs around outside the pocket like
Ben Roethlisberger
, keeping plays alive for a long time with his legs. The coverage by the Redskins' secondary needs not only to be tight but also persistent. The cornerbacks have to stay with the receivers longer than they're used to due to Wilson's ability to extend plays. This is a new challenge for a defense that has been able to overcome a lot of issues in recent weeks.
July, 6, 2011
7/06/11
9:51
AM ET
Hold onto your pig-shaped hats, Redskins fans, because you just might not believe this. According to a study by our pals at Pro Football Focus,
Albert Haynesworth
ranks as
the third-best 4-3 defensive tackle in the NFL
over the past three years:
Haynesworth
Fair to say things haven't gone exactly to plan in Washington for the former Titan. Staggeringly though, when he's been on the field he continues to be as good a DT as there is out there (even though he may be as scrutinized a defensive player as there is). Despite the pretty low sack totals in Washington, in his first year there, he was a top five defensive tackle and not that far off his best year. Even last year he generated pressure in the sub package defense. If you can get him playing his best then he's a bargain whatever the price.
The key phrase here, of course, is "when he's been on the field." Frankly, I'm a little bit amazed Haynesworth even qualified for the list, since it required players to play "50% of the average snap total of the five highest in that department in the past three years." But his presence on the list underscores the shame of what's gone on in Washington with Haynesworth, who just turned 30 last month and really should have been a difference-making force for the Redskins over the past two seasons.
It also illustrates the reason Haynesworth will be in some demand when the Redskins take him out on the trade market once the lockout ends. There are defensive coordinators and line coaches out there who are convinced they can coach something out of Haynesworth and who are salivating at the idea of bringing him in at a discount and getting some semblance of the guy who dominated in Tennessee in 2008. One of those line coaches is former Titans line coach Jim Washburn, now with the Eagles, who's no doubt sure he can make something special out of Haynesworth. I'm betting Mike Shanahan agrees, which is why I can't imagine any scenario under which the Redskins trade Big Al to Philadelphia.
But he'll go somewhere, and he'll probably play very well wherever it is, giving Redskins fans another reason to pull their hair out.
Incidentally, Philadelphia's
Brodrick Bunkley
ranks seventh on this list for his run-stopping ability alone. And Seattle's
Brandon Mebane
is sixth, which is noteworthy because he's going to be a free agent and will be very high on the wish list of 4-3 teams looking for interior defensive line help.
June, 27, 2011
6/27/11
12:49
PM ET
Our position-by-position series on potential four-year unrestricted free agency in the NFC East took the weekend off, but it's back, baby, and better than ever with a look at the defensive tackle position.
NFC East teams in need
Redskins:
Not sure if you heard or not, but
Albert Haynesworth
balked last year at the idea of playing nose tackle in Jim Haslett's new 3-4 defense. And since they weren't able to find a non-Haynesworth answer in 2010, the Skins remain on the lookout for someone who can fill that crucial role on their defensive line. Haslett's scheme puts a premium on versatility, which means he likes to be able to shift the defensive linemen around depending on the play and the responsibilities it requires. But that said, a big, dominant nose tackle would be a nice anchor for the pieces that are still being put in place.
[+] Enlarge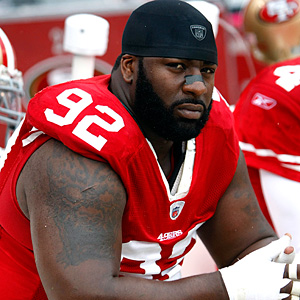 AP Photo/Paul SakumaIf the Redskins want to spend the money, Aubrayo Franklin would be a nice fit for their 3-4 defense.
Giants
: Linebacker remains a bigger need, but if the Giants don't bring back free agent
Barry Cofield
, they may need to add someone at this spot.
Linval Joseph
(2010 draft pick) and
Marvin Austin
(2011 draft pick) represent (the Giants hope) their future at the defensive tackle spot. But unless you're
Ndamukong Suh
, it takes a little while to develop into a top-flight NFL talent on the interior of the defensive line. If Cofield leaves, the Giants cold use some veteran help there.
Eagles
:
Antonio Dixon
is an emerging star, and the team believes new defensive line coach Jim Washburn will coach improvement out of
Brodrick Bunkley
,
Mike Patterson
and
Trevor Laws
. I don't get the sense that Philadelphia considers this a position of need, though there has been some noise about Washburn wanting to reunite with Haynesworth, who was a star for him when both were in Tennessee.
Top five potential unrestricted free-agent defensive tackles.
1. Aubrayo Franklin.
The top available 3-4 nose tackle in this class, Franklin would be a perfect fit for Washington and is almost certainly at the very top of its wish list. The 49ers will attempt to keep him, but the Redskins have money to spend.
2. Cofield.
It's unclear what the Giants intend to do about Cofield, who believes the drafting of Austin is a sign that they plan to move on. It could be, or it could have been just a way to give them coverage in case he leaves and some leverage in their contract negotiations. With
Mathias Kiwanuka
and offensive keys such as
Ahmad Bradshaw
,
Steve Smith
and
Kevin Boss
needing new deals, the Giants will have to make some tough choices, and parting ways with Cofield could be one of them.
3. Brandon Mebane.
A 4-3 run-stopper who showed enough as a pass-rusher to play on three downs in Seattle last year, Mebane will have to prove his legs are fully healthy. But assuming he does, he'll be right there with Cofield as 4-3 teams look to beef up inside.
4. Anthony Adams.
He might not be on the open market for very long. The Bears' decision to cut teammate
Tommie Harris
in March was likely tied to their efforts to re-sign their best run-stuffing defensive lineman.
5. Pat Williams.
He's 38 years old and this time last year was talking retirement. But there's no doubt that the longtime Vikings star could help a contending team that could put him into a rotation that would ease the burden on his body. You also have to think he could help as a mentor for young defensive linemen. At the right cost, he might fit what the Eagles or Giants are looking for, if those teams do end up looking for defensive tackle help.
Predictions that mean nothing:
Redskins sign Franklin, Giants bring back Cofield, Eagles add a cheaper veteran such as Williams (if he's cheap) or
Remi Ayodele
.