NFC East:

Brandon Stokley
August, 7, 2013
8/07/13
11:00
AM ET
Look, I'm not saying
Arrelious Benn
was the second coming of
Herman Moore
, or that the
Philadelphia Eagles
' brave pronouncements about making up for their losses at wide receiver with extra help from their tight end group or their running back group don't make any sense. But with
Jeremy Maclin
and now Benn out for the season with torn ACLs, and with legitimate questions about whether
Riley Cooper
can really spend a full season in the same locker room with NFL teammates after being caught on camera angrily using the worst racial slur there is, the fact is that the Eagles are ridiculously thin at the wide receiver position.
[+] Enlarge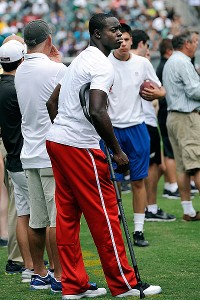 AP Photo/Michael PerezWith receivers Jeremy Maclin (pictured) and Arrelious Benn out for the season, the Eagles could be looking for help from the free-agent pool.
DeSean Jackson
is their best one.
Jason Avant
is a solid, if unspectacular, veteran. But other than those two, the seven remaining healthy wide receivers on the Eagles' roster have a combined total of 96 career NFL catches -- 46 of which belong to Cooper. Could the Eagles get more than expected out of guys like
Damaris Johnson
,
Russell Shepard
and
Greg Salas
? Sure, but it's a shaky bet to make.
Tim McManus looks at 10 wide receivers who are still available on the free-agent market at this very late date, and it's an uninspiring list. The top name is
Brandon Lloyd
, who had 74 catches and 911 yards for the Patriots last year. But something's off with Lloyd that is scaring teams away. Fact is, he'd have been one of the Eagles' top three receivers if he'd signed a month ago, and they weren't interested. I have to think that, if they liked Lloyd, he'd already be on their team.
Laurent Robinson
, the 2011 Cowboys touchdown maker, is also on this list but comes with major injury concerns due to concussion problems. Guys like
Deion Branch
and
Brandon Stokley
have put up decent stats in the league, but not without
Tom Brady
and
Peyton Manning
, respectively, throwing them the ball.
Chad "Ochocinco" Johnson
isn't what the Eagles need as they rebuild under Chip Kelly.
You get the idea. There's not much out there. And I fully understand why the Eagles wouldn't want to sign any of the receivers on this list. But it's Aug. 7, they haven't even played a preseason game yet and their wide receivers are dropping like flies. The reason they had so much volume at the position was to protect against injuries, and certainly there's no guarantee that there won't be any more injuries over the course of the next month. As much as they don't want to, the Eagles probably should hold their nose and take a flyer on someone like Lloyd or Branch or Stokley. Maybe call up the Redskins and find out what their plans are for
Donte' Stallworth
and
Devery Henderson
... something to address what's becoming a problem for a team that already has a huge question mark at quarterback and is hoping to run as many offensive plays as possible.
September, 21, 2011
9/21/11
11:57
AM ET
The
New York Giants
have announced that wide receiver
Domenik Hixon
has a torn ACL in his right knee for the second time in two years. Hixon will undergo surgery and miss the remainder of the 2011 season.
Hixon
It's yet another blow to the already injury-ravaged Giants, who lost slot receiver
Steve Smith
and tight end
Kevin Boss
in free agency and have been struggling to find reliable targets in the passing game. Top wideout
Hakeem Nicks
played Monday night against the Rams in spite of a knee injury he suffered in practice last week, so he should be okay for Sunday's game against the Eagles in Philadelphia, but No. 2 receiver
Mario Manningham
continues to undergo concussion testing, and his status for the game is in doubt. If Manningham can't play, the Giants' top three receivers for the game would be Nicks,
Victor Cruz
and
Brandon Stokley
. The Eagles, in case you hadn't heard, are fairly strong at cornerback.
Hixon injured his knee making a touchdown catch at the end of the first half of the "Monday Night Football" game. He returned to the sidelines briefly but was unable to return to the game. Manningham suffered his concussion making a catch earlier in the same, apparently quite costly drive.
The Giants already have lost starting cornerback
Terrell Thomas
and starting middle linebacker
Jonathan Goff
, among other players on defense, for the season with ACL tears. That has hurt their depth on the defensive side of the ball, and this Hixon injury hurts them in a couple of places, as he'd been returning punts for them.
Aaron Ross
is now the most likely punt returner, though the Giants worry about using him there because the Thomas injury has already pressed him into duty as a starting cornerback.
September, 19, 2011
9/19/11
11:42
PM ET
EAST RUTHERFORD, N.J. -- A few thoughts on the
New York Giants
' eventful
28-16
victory over the
St. Louis Rams
on "Monday Night Football":


What it means
: It's a win, plain and simple, and it's one the Giants needed to get. Were there issues with
Eli Manning
's accuracy and the secondary and more injuries at the receiver position? Oh, yeah, you betcha there were. But the Giants made enough big plays when it counted that they were able to take full advantage of a Rams team that couldn't get out of its own way. What it means is that the Giants are 1-1, and not 0-2, headed into next week's division showdown with the Eagles in Philadelphia.
Heart and soul
: The Giants welcomed their best player and defensive leader,
Justin Tuck
, back after he missed the Week 1 game with a neck injury. The difference he made was clear. The Giants' defensive line may have played fine without him last week, but with all of the weaknesses they have right now in the secondary and at linebacker, they missed his difference-making plays up front.
Receiver shortage:
Hakeem Nicks
recovered from his midweek knee injury enough to make an early difference with a brilliant touchdown catch in the first quarter. But the Rams were able to contain him the rest of the way, and the final drive of the first half was costly to the Giants' receiving corps.
Mario Manningham
suffered a concussion making a key catch on a deep ball, and
Domenik Hixon
injured his knee catching the touchdown. Neither returned to the game. The good news is that
Steve Smith
will be active for Sunday's game. The bad news is that he'll be wearing an Eagles uniform.
Secondary depth
:
Aaron Ross
has struggled since becoming a starting cornerback in place of the injured
Terrell Thomas
, and his struggles continued again Monday, to the point where he was benched for a time in the second half in favor of
Michael Coe
. The good news for Ross is that Coe was even worse, and he was back in the game soon thereafter -- even returning punts! The problem for the Giants in the secondary right now is a lack of depth. Ross is better suited to a backup role and finds himself overexposed as a starter. And with nothing behind him, the Giants have no one who can sub in for him or
Corey Webster
when they're struggling or need a break. They need to use
Antrel Rolle
as a nickel corner and mix and match with extra safeties. They need
Prince Amukamara
to hurry back, and hope.
What of the QB?
: Manning was shaky early on, underthrowing Manningham on some deep balls and missing shorter-range throws. But he got into a rhythm and looked better late. I still think the Giants need to commit to the run game, but they didn't seem to want to do that fully, even though the Rams weren't stopping them. So we'll see what kind of offensive game plan they come up with against the Eagles. The passing game doesn't feel trustworthy right now.
Weak sisters
: It appears as though playing the NFC West teams will be a benefit to teams in the NFC East this year. The division that failed to produce a .500 team in 2010 is off to a rough start once again, and is a combined 2-6 overall and 0-4 against the NFC East after two weeks. The Rams, a preseason pick by many to be a surprise team, have looked awful twice. Monday night they effectively handed the Giants two touchdowns while clearly outplaying them in the first half -- one with a muffed punt and one when
Cadillac Williams
failed to recognize that the lateral he'd dropped was a live ball and
Michael Boley
scooped it up and ran in for a touchdown. The Giants made some plays, but the Rams helped them win this game. It won't always be so easy.
What's next
: The Giants travel to Philadelphia for a Sunday afternoon game against the Eagles, who have beaten them each of the last six times they've played. The Eagles have yet to announce who will start at quarterback, since starter
Michael Vick
left Sunday night's game with a concussion and backup
Vince Young
has yet to play since injuring his hamstring in the preseason.
Mike Kafka
could be the starter for the Eagles against the Giants' pass rush.
September, 19, 2011
9/19/11
8:00
AM ET
I had to check this a few times after I saw it, but it turns out Sunday's overtime victory was the 10th fourth-quarter comeback of Dallas Cowboys quarterback Tony Romo's career. Based on everything I heard and read about Romo a week ago after he gave away that Jets game, I was pretty sure he'd never completed a fourth-quarter pass.
Oh, but the tune is different now that Romo came out of the locker room with a broken rib and went an unbelievable 12-for-15 for 201 yards in the fourth quarter and overtime to lead the Cowboys to victory over the 49ers. Now, it's about Tony the tough guy, and about
the burnishing of a legacy
that needed some serious shining up after last week.
For some reason, when it comes to perceptions of Romo, everything has to be an extreme. He's either incredibly good or incredibly useless, sometimes within the course of the same game. The fact, which is backed up by the numbers, is that he's an outstanding quarterback who hasn't yet delivered a championship and whose biggest flops have come under some very bright spotlights. A supremely accurate passer who's thrown a couple of dumb interceptions at bad times and once fumbled a critical field goal snap in a playoff game.
Romo is unduly harangued for his mistakes, so it probably makes sense that those who do that haranguing would also gush over his triumphs. He was incredible Sunday. He was also incredible for the first three quarters of last Sunday's game. The difference here is that they won this one. If they lose to the Redskins next Monday night at home, I'm guessing the grittiness of this performance will fade from memory amid renewed cries that the guy's a bum. It'd be nice if everybody could relax, but that's not the time in which we live. Romo plays under intense scrutiny, and he will until he delivers that championship. Meantime, life's a roller coaster for Romo and the Cowboys, and Sunday was one of the highs.
You know what never gets too high or too low? What always keeps things in the proper perspective? Yeah, that's right. The links.
More Cowboys
I'm going to say this game was a lot bigger for Dan Bailey than it was for Tony Romo, who already knew he could play in the NFL. After missing that 21-yarder early in the game,
Bailey drilled the game-tying kick from 48
and the winning chip-shot in overtime. Anything that helps the Cowboys' confidence in their kicking game has to be a welcome relief at Valley Ranch.
The Cowboys' defense locked things down in the second half,
writes Carlos Mendez
, whose notebook also includes injury updates on Miles Austin, Felix Jones and Phil Costa. Yikes, the Cowboys have a lot of injuries.
New York Giants
As former Giants receiver Steve Smith becomes more and more a part of the offensive game plan for the Eagles,
the Giants continue to search for his replacement
as their reliable slot receiver, Ian Begley writes. It looks as though Brandon Stokley, signed just last week, will get a chance to show what he can do in that role tonight against the Rams.
Mike Garafolo has a look at Giants defensive end Dave Tollefson, who's been
getting more playing time lately
thanks to injuries to Justin Tuck and Osi Umenyiora and whose nickname, teammate Chris Canty says, is "White Chocolate." These guys spend a lot of time together, is all I have to say.
Philadelphia Eagles
The Eagles are
deep at quarterback
, as they believe it's wise to be in today's NFL, and so they may have a choice of qualified replacements next week if Michael Vick is out with a concussion. Mike Kafka filled in Sunday night, and Vince Young, the nominal backup, continues to work his way back from a hamstring injury.
Philadelphia is still continuing to
build and work on its new defense
, which was outstanding for much of the game but gave up too many costly big plays when it counted. The Eagles believe things will get smoother and better on defense as the season goes along. Atlanta was a very tough test, and in a couple of crucial spots, they flunked it.
And last but certainly not least, your first-place ...
Washington Redskins
More important than the two early interceptions he threw was Rex Grossman's ability to recover from them and still lead the Redskins to victory in the clutch,
writes Rich Campbell
. And he's right, of course. Everybody throws interceptions, and Grossman is one of those guys with whom you seem to sit around waiting for bad things to happen. But he's playing with confidence in this Redskins offense, and the way he played after the interceptions was proof of that. Sure, the Redskins turned to the running game more, but they should have done that anyway. And when Grossman needed to find Fred Davis or Santana Moss or Jabar Gaffney and make a big throw, he made it. More good than bad so far in this young season from Grossman, to be sure.
When Tim Hightower got tired after 15 first-half carries, Roy Helu proved more than capable of filling in and
picking up critical yards
for the Redskins. Washington's depth at running back is impressive, especially when you consider that they didn't even use Ryan Torain, who at one point last year was their starter.
One more game remains in the NFC East, of course, and I'll be there tonight to check out the Giants. Next week, I see all four teams!
September, 18, 2011
9/18/11
4:00
PM ET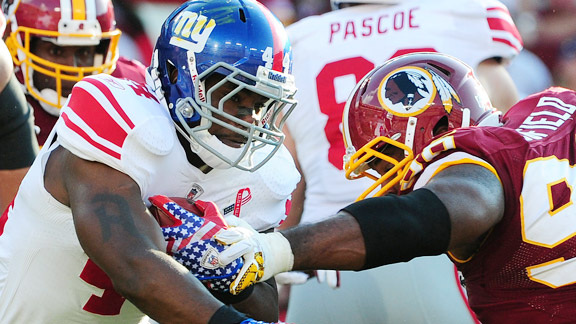 Scott Cunningham/Getty ImagesThe Giants are at their best when they establish the run with Ahmad Bradshaw and Brandon Jacobs.
EAST RUTHERFORD, N.J. -- Of all the questions I had after the
New York Giants
' season-opening loss to the Redskins last week, the one that kept coming back to me was, "Why didn't they run more?" When I went to their practice Friday, I learned that many of the Giants themselves had the same question.
"We're definitely at our best when we're running," left guard
David Diehl
said.
Yet in Week 1, they ran the ball 20 times -- 13 carries for
Ahmad Bradshaw
, six for
Brandon Jacobs
and one for quarterback
Eli Manning
. And sure, they were behind in the second half, but they weren't behind the whole game. The key to running the ball in the NFL is to commit to running it, even when it doesn't seem to be working, and the Giants sometimes seem too willing to stray from that commitment.
"We ran the ball early and established it and then got away from it because the defense saw that we ran the ball early and they were more in tune to stopping the run rather than the pass," Bradshaw said. "We just have to get better running the ball and blocking stuff up and finishing our blocks as well. We have to get better at keeping the seventh or eighth man out of the box and passing a whole lot better."
Maybe, but I don't think it's as simple as teams stacking eight-man fronts to keep the Giants from running. The Giants have a quarterback who's thrown for more than 4,000 yards in each of the past two seasons. They have talented receivers in
Hakeem Nicks
and
Mario Manningham
who can get open quickly enough to burn defenses that are stacked against the run. Although their lack of a reliable slot receiver and tight end might enable teams to lock in on the run more, it's hard to believe the 2011 game plan for stopping the Giants' offense is really going to be "Let Eli Manning chuck it."
The problem the Giants have had on offense for the past couple of years, as Manning and the passing game have emerged, is an inability to establish an identity. They clearly
want
to run. Only six teams in the league had more rush attempts than the Giants did in 2010. But they don't seem to do it with confidence or consistency. They have two great and very different weapons in Bradshaw and Jacobs, yet they don't seem to have consistent, definite ideas about how to employ them. Running the smaller, speedier Bradshaw in third-and-one and fourth-and-one situations in the second half last Sunday rather than the bigger, more powerful Jacobs, raised eyebrows. And the coaching staff didn't have much of an explanation for it.
"The staff and head coach's philosophy is to find the run that gives you the best chance to be successful and attack them accordingly," offensive coordinator Kevin Gilbride said. "That depends on what they are doing and what we are doing and what have you. That particular play, we thought they would load up inside and they did load up inside. We should have had that play easily, but we didn't block it as well as we should have and we didn't get it."
[+] Enlarge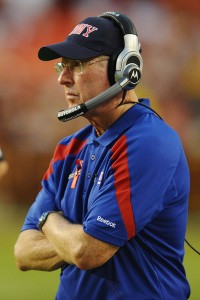 James Lang/US PresswireThe Giants and coach Tom Coughlin have a lot of issues to work through already this season.
The Giants obviously are having a lot of issues right now. Head coach Tom Coughlin pointed earlier in the week to
Victor Cruz
's third-down drop on the first drive of the game, and certainly if that had been a catch, it could have opened up more opportunities to run. They brought in veteran slot receiver
Brandon Stokley
later in the week to help shore things up in the passing game, and they hope he becomes the trustworthy option into which Cruz and
Domenik Hixon
have yet to transform.
Although that would help, the Giants would do better to trust the strengths they already had on offense. Bradshaw and Jacobs are a monster tandem the likes of which very few NFL teams can imitate or defend. The Giants are at their best when they run the ball, and they're equipped to run it a lot and run it effectively. They need to establish a plan for how to run it, and they need to stick to that plan even when it doesn't work right away. The injuries and free-agent losses they've had have thinned out the roster to the point where the Giants need to lock in and lean hard on the more reliable areas of their roster. Right now, Jacobs and Bradshaw represent one of those areas, and the Giants won't be the Giants unless they realize that and start taking advantage of it.
September, 15, 2011
9/15/11
8:00
AM ET
Dallas Cowboys
Blogging the Boys takes an in-depth look at the game Sean Lee played Sunday and the reasons he's emerged as the team's
top inside linebacker
.
It sounds as though the Cowboys could be
contemplating a change at left guard
for Sunday, as Derrick Dockery got some first-team reps along with rookie Bill Nagy, who started Week 1. Nagy is listed on the injury report with a neck injury.
New York Giants
Ralph Vacchiano writes that the Giants' signing of receiver Brandon Stokley has everything to do with their
lack of production from slot receivers
and nothing to do with Hakeem Nicks' injury.
Some
good injury news
for the Giants for a change, as rookie cornerback Prince Amukamara is no longer in a walking boot and working his way back as quickly as he can from his foot injury.
Philadelphia Eagles
Michael Vick spoke of the lessons he took from Sunday's game in St. Louis, including
one about energy drinks
right before the game. Turns out he was jittery and won't be drinking any more of those pregame.
In
this notebook
, Eagles rookie punter Chas Henry says he has room for improvement, and 2010 first-round defensive end Brandon Graham says he's hoping to be back in time for the Dallas game in Week 7.
Washington Redskins
If you thought Rex Grossman used a lot of different receiving options Sunday, you're right, and
Rick Maese says
don't expect that to change.
Two of those options are likely to remain the same every week, though -- tight ends Chris Cooley and Fred Davis, who
excel by creating mismatches
, says Rich Campbell.
July, 28, 2011
7/28/11
10:34
AM ET
John Clayton emails his report that "the
Washington Redskins
have terminated the contract of center
Casey Rabach
, a source said. Rabach, 33, was scheduled to make $3 million this season."

I've heard from some Redskins fans who were hoping for this, as Rabach has obviously slipped in recent years. He's well liked and respected in the locker room and around the team. But as they position themselves for other moves, such as a run at defensive end
Cullen Jenkins
, the Redskins decided the $3 million savings would be worth more to them.
Will Montgomery
or
Kory Lichtensteiger
can slide in as Rabach's replacement, but then only one of those guys can play guard, so the Redskins could still be on the hunt for a new interior offensive lineman, be it a guard or a center. They also need a right tackle, as
Jammal Brown
is a free agent and we've heard no news yet on whether he'll be re-signed. So still more work to do as the Redskins continue their rebuilding project on their offensive line.
They're working on defensive line, too, even with
Barry Cofield
in the fold. I am hearing lots of talk out there today among NFL folks that they're working hard on trying to bring in Jenkins, which would really be a nice move. With Cofield and Jenkins playing in front of linebackers
Brian Orakpo
and
Ryan Kerrigan
, the Redskins could have a somewhat fearsome pass rush. They do appear to be clearing some room for such a pursuit, as defensive end
Phillip Daniels
tweeted this morning that he's been released.
Oh, and on an unrelated note, the agent for receiver
Brandon Stokley
, who tweeted Wednesday that his client had signed with the Redskins, now says he tweeted too soon and Stokley won't be a Redskin after all. So just
Santana Moss
,
Jabar Gaffney
and
Donte' Stallworth
added to the receiving corps so far.
July, 27, 2011
7/27/11
9:54
PM ET
We keep up the best we can as things unfold, but it's always good to step back every now and then and evaluate things from a bigger-picture standpoint. That is why we have "How Was Your Day?" -- a recurring (well, the past two days, at least) feature here on the NFC East blog during this frenzied free-agent season. Each of our four teams is a perpetual newsmaker and is hard at work on a number of fronts. So, as the sun sets in the East, we ask once again: How was your day? ...

Dallas Cowboys?
"Realistic."
We woke to the news that the Cowboys had
re-signed left tackle
Doug Free
, an expected but important move they'd said would be a priority. But while they
made a few more cuts
, got to work on negotiations with first-round pick
Tyron Smith
and let it be known that their
starting center had knee surgery
last month, it felt like a bit of a slow day for the Cowboys -- a day seemingly spent assessing where they are on a number of fronts. They'd have loved to sign safety
Eric Weddle
, but he
got a deal to stay in San Diego
that was enough of a whopper to make them wonder if they'll be able to afford their second or third choices. They've dabbled in talks with
Cullen Jenkins
, but they seem more likely to either bring back their own defensive ends (
Stephen Bowen
and/or
Marcus Spears
) or go after guys like
Robaire Smith
and
Kenyon Coleman
. And while they'd surely liked to have been in the
Nnamdi Asomugha
sweepstakes, they say
their starting cornerbacks
this year are likely to be
Mike Jenkins
and
Terence Newman
again. The Cowboys have many moves to make, but their cap concerns appear as though they'll keep them from the top end of the free-agent market. Which may be fine, but it doesn't make for as exciting an offseason as fans might like. Their next big move could be the re-signing of left guard
Kyle Kosier
.

New York Giants?
"Businesslike."
The Giants woke to the news of
Barry Cofield
agreeing to
a contract with Washington
, and while they were ready to move on without him they can't be happy that he stayed in the division. A few hours later, they learned that their planned meeting between head coach Tom Coughlin and free agent
Plaxico Burress
wouldn't be permitted
until Friday
, and that
Burress would follow it with a trip to Pittsburgh
to meet with the Steelers. But while all of that was going on, the Giants took care of some details. They
gave Coughlin a one-year contract extension
through 2012. They told
Rocky Bernard
he'd be cut since they couldn't rework his contract. They spoke to
Brandon Jacobs
about reworking his, and to free agents
Ahmad Bradshaw
and
Kevin Boss
about returning, though neither of those deals was done by sundown. The Giants also
added a new center
,
David Baas
, to replace
Shaun O'Hara
. They still need to get their own guys (Bradshaw, Boss,
Steve Smith
,
Mathias Kiwanuka
) re-signed and then hunt for a linebacker and more offensive line help, but things seemed to be progressing Wednesday after a Tuesday that saw nothing but subtraction.

Philadelphia Eagles?
"Painfullly patient."
Yes,
Kevin Kolb
is still an Eagle. No, the Cardinals haven't gone in a different direction yet. There still remains the strong chance that
these two teams do a trade
of Kolb for
Dominique Rodgers-Cromartie
and a pick sometime in the next couple of days. But the Eagles are being patient, as they can and should, since they shouldn't deal Kolb unless they're getting exactly what they want or more. He'd have value to them as a
Michael Vick
backup, and that's not a bad worst-case scenario. So while fans may be getting impatient, the Eagles are wise to wait this out. While they waited, they signed all of their draft picks except first-rounder
Danny Watkins
and seventh-rounder
Greg Lloyd
, and Andy Reid fielded (ducked?) questions about whether or not
DeSean Jackson
is
planning a holdout
. There is
talk about
Jason Babin
for defensive end and possible solutions at linebacker, and if they don't get Rodgers-Cromartie they'll still need a cornerback. But the Eagles are proceeding patiently and slowly as activity swirls around other teams.

Washington Redskins?
"Busy!"
They started the day with the Cofield news, then lost out on
Santonio Holmes
when he agreed to re-sign with the Jets. So they drowned their sorrows by adding three new receivers, none of which are as good as Holmes --
Donte' Stallworth
,
Jabar Gaffney
and
Brandon Stokley
.
I like the Gaffney pickup
a lot (they got him from Denver in a trade for defensive lineman
Jeremy Jarmon
), but the others are low-risk, potential upside players who are worth a chance because the Redskins need help at the position. Worst-case,
Anthony Armstrong
and
Leonard Hankerson
play better than expected and they don't need those guys. Their
best move of the day
was getting cornerback
Josh Wilson
, who's young and good and speedy and improving and will replace
Carlos Rogers
as they continue their rebuilding project and suddenly have a very strong secondary. And don't underestimate how excited the Redskins are to have received anything at all in exchange for
Donovan McNabb
. I expected they'd have to cut him. A sixth-round pick and maybe two?
They took that and ran
. Nice, busy, productive day for a team that had a lot of work to do and still does.
My day? Why, thanks for asking. I enjoyed it. Making plans for training camp trips, which will be fun. And I like being on TV, something "First Take" has given me a chance to do a lot this week. Hoping to grab more than four hours' sleep tonight, but we'll see.
How was your day?
December, 27, 2009
12/27/09
5:04
PM ET
By
Matt Mosley
| ESPN.com

Stokley
PHILADELPHIA -- Broncos wide receiver
Brandon Stokley
has been tossed from this game for making contact with an official. Stokley was arguing that interference should have been called on third down. And when he moved his arm in disgust, he appeared to graze the umpire's arm.
Sort of a weak call if you ask me. Stokley was just blowing off a little steam and it was obvious that he didn't intend to make contact with the official. He's now been escorted to the locker room.
Eagles up, 10-0, after
David Akers
' 39-yard field goal.
October, 2, 2009
10/02/09
4:00
PM ET
By
Matt Mosley
| ESPN.com

Posted by ESPN.com's Matt Mosley
»
NFC Final Word
:
East
|
West
|
North
|
South
»
AFC
:
East
|
West
|
North
|
South
Five nuggets of knowledge about this weekend's games:
| | |
| --- | --- |
| | |
| | AP Photo/Tim Larsen |
| | Brandon Jacobs will be looking to lift his 3.4 yards-per-carry average against the Chiefs. |
The Cowboys' secondary has to tackle on Sunday:
One of the big issues in the loss to the Giants was the inability to bring down receivers after they'd made the catch. The Broncos are going to line up in a lot of three-receiver formations and they may even have four out there at times.
Brandon Marshall
's a big, physical player who likes to work the middle of the field, but
Brandon Stokley
and
Jabar Gaffney
will line up in the slot and then try to squirt away from you after fairly short catches.
Terence Newman
and
Mike Jenkins
must do a good job of tackling in the open field.
Orlando Scandrick
had an awful game tackling against the Giants, and that's one of the reasons he's not starting against Denver. Watch out for Denver's
Eddie Royal
in the open field. It's not like quarterback
Kyle Orton
has a rocket arm, but he's efficient. The Cowboys need to do a good job of keeping everything in front of them.
The Giants need to put the Chiefs away early.
Early last season, the Giants struggled a bit with closing out bad teams. They barely beat the Bengals in the first half of the season and then they lost to the Browns. You don't want to give a team like the Chiefs any early hope. The Chiefs will do their best to take away the running game early and that's why
Eli Manning
will try to make a play downfield. If
Hakeem Nicks
(foot) is ready to go, this is a game where he could end up making a huge play. From what I can tell, Manning really wants to get on the same page with the rookie because they were starting to make some major progress late in the preseason. Good news for the Giants: Running back
Ahmad Bradshaw
is out of a protective boot and it looks like he's a go for Sunday.
Don't worry about style points.
The Redskins simply need a win against the Bucs.
Because of a relatively weak schedule, coach Jim Zorn has an opportunity to get this thing headed in the right direction. If the Redskins lose this game, I'm not sure how much longer Dan Snyder can stick with Zorn. The coach looked absolutely lost late in the Lions game. The hitch and pitch on the game's final play was laughable -- especially when
Jason Campbell
could've easily fired the ball into the end zone. Now Zorn and defensive coordinator Greg Blache are fighting over who should take the blame for the Skins' troubles. Well, how about we just point the finger at everyone? This organization isn't on good terms with its fan base right now. And a loss Sunday would cause even further damage. More than anything, Zorn HAS to commit to the running game in the first half. No excuses. If the Redskins can't pound away with
Clinton Portis
against Tampa Bay, then it will be a long afternoon.
I expect Brandon Jacobs to have a big game Sunday.
I think Jacobs is angry about his 3.4 yards-per-carry average through three games -- and that's a good thing for coach Tom Coughlin and the Giants. He wants to come out and punish a young defense Sunday. There's been all sorts of speculation -- some of it from Tony Siragusa -- that Jacobs is tip-toeing around the line of scrimmage instead of running over people. I think it has more to do with Jacobs working to become a more complete back. Offensive coordinator Kevin Gilbride said that Jacobs may be trying to be too "perfect" in finding his holes. But on Sunday, I think you'll see Jacobs return to his punishing ways. He's the player who gives this offense an identity. It's time to get him going.
The Cowboys better realize that Elvis is in the building.
That would be Denver's
Elvis Dumervil
, who has become a pass-rushing force in this league. He's certainly not a big guy, but he has an enormous amount of energy and quickness. With his low center of gravity, he can beat offensive tackles off the snap. Cowboys left tackle
Flozell Adams
has struggled with smaller, quicker players at times -- especially if he's not able to trip them. I would look for Dumervil to move from side to side looking for the most favorable matchups. He's definitely a player the Cowboys will have to identify before each snap.