January, 14, 2013
1/14/13
4:18
PM ET
The
Philadelphia Eagles
announced Monday that they have interviewed former
Arizona Cardinals
coach Ken Whisenhunt for their vacant head-coaching position. Whisenhunt, who coached the Cardinals for six seasons and went to one Super Bowl (famously beating the Eagles in the NFC Championship Game four years ago to get there), is the second former NFL head coach whose name has surfaced in connection with the Eagles in the last two days. CSNPhilly.com reported that they also have interviewed former
Baltimore Ravens
coach Brian Billick.
Combined with the expected interviews of Bengals offensive coordinator Jay Gruden and Colts offensive coordinator Bruce Arians, this brings the number of known interviewed Eagles candidates to 12, including the three college coaches who turned them down and decided to stay at their schools. What's interesting is the variety -- the college coaches, offensive coordinators, defensive coordinators such as Seattle's Gus Bradley and former head coaches in Billick, Whisenhunt and Lovie Smith.
What it says to me is that the Eagles don't have a clear preference among their remaining available candidates and are interviewing as many people as possible to make sure they make the right decision. Some have expressed frustration that the process is taking so long and appears to lack focus, but I don't think either of those is a valid criticism. I think there's no harm in casting a wide net, especially when you don't have a clear top choice (or when your top choice, who in this case I believe was Oregon's Chip Kelly, has already passed). If nothing else, in talking to men who've done the job at the NFL level, the Eagles' decision-makers can get a sense of the different approaches people take to the job and maybe educate themselves about what they like and don't like in a candidate.
Eagles fans haven't been through a coaching search in 14 years, so they can be forgiven for forgetting what it's like. But a lot of times, this is it. And it's only been two weeks since Andy Reid was fired, so really it hasn't taken as long as it may seem. Just because you're hearing different names of different types of candidates doesn't mean anything negative about the search. If anything, it's careful and purposeful, which is good because it's important to get it right.
January, 14, 2013
1/14/13
10:15
AM ET
We have been discussing this
here for some time
. But with the rest of the outside world beginning to catch on (
Read: Peter King, No. 9 in "Ten Things I Think I Think
") and with Twitter followers now asking me for explanations instead of just calling me names, it's worth revisiting the question of why people are turning down the
Philadelphia Eagles
' head-coaching job. Over the weekend, Notre Dame's Brian Kelly became the third high-profile college coach (along with Oregon's Chip Kelly and Penn State's Bill O'Brien) to decide to return to his college job in spite of interest from the Eagles.
Peter muses that it's because the Eagles are "a team trending downward," but I don't think it's that simple. First of all, in the NFL, where at least one team goes from first place to last place every single season, there's sort of no such thing as a team trending downward. Any team is capable of a rapid turnaround given the right coach, quarterback and circumstances, and the NFC East is no longer a division that requires 11 or 12 wins.
And while I have been (unfairly) criticized on Philadelphia sports talk radio in recent days for my (accurate) opinion on this, that opinion has (of course) become distorted and presented to the angry Philadelphia public as "no one wants the Eagles job." That is not what I have written, nor do I believe it is the case. Someone will coach the Eagles in 2013, and there are candidates who would jump at the job this minute if it were offered to them. It's one of only 32 jobs in the world of its kind, and regardless of the flaws it offers the chance for a coach to live out his lifelong dream of running an NFL team on Sundays.
What I do believe is that, for several important reasons, the Eagles' head-coaching job is not as appealing as the Eagles and their fans wish it to be. And I think the fact that these three college coaches, O'Brien and the Kellys, decided after thinking about it that it wasn't the right NFL job for them explains why. They were willing to listen; they just didn't like what they heard.
So again, the three reasons someone who has a great college coaching job with control over the program and fans who adore him for what he's accomplished there might not want to leave to coach an NFL team in Philadelphia:
1. The Eagles have a GM in place.
This is nothing against Howie Roseman personally or professionally. He could turn out to be the greatest GM in NFL history for all any of us knows. But it's the fact that someone holds that position and will continue to hold it that gives a candidate pause. If you're a college coach used to control, you likely have an image in your head of what your dream NFL job looks like, and it likely includes a higher level of control over the draft and personnel matters than the next Eagles coach is going to have. Owner Jeffrey Lurie has made it clear publicly, and undoubtedly in these interviews, that Roseman and the new coach will report directly to him and that the new coach will be expected to work in harmony with Roseman. Whether the candidate likes Roseman or not is irrelevant. Being told up-front that you have limited (if any) say in the construction of your roster isn't an enticement.
2. The Eagles do not have a quarterback in place.
Michael Vick
has nine toes out the door.
Nick Foles
is a 2011 third-round draft pick that the last coach, Andy Reid, liked but who was passed over a couple of times by everyone else. Even if the new coach likes Foles, he'd have to admit he's still a question mark. And if you have a question mark at quarterback in the NFL, you have a problem. Granted, most of the teams with head-coaching vacancies have this same problem (which is a big reason why they have head-coaching vacancies). But it'd be naive to think it's not a significant enough problem to convince a high-profile college coach he's better off staying where he is. The defense needs a rebuild, too, but that's not the same level of issue for coaches as quarterback is right now.
3. Pressure.
There's no market like Philadelphia for pressure. There may be more pressure in other markets, but Philly has the market cornered on bitterness and negativity. The fact that the Eagles have never won a Super Bowl has taken over as the only thing about which Eagles fans care. Correcting it is the only way an Eagles head coach could win them over. And you can sit there and say that a good coach should relish such a challenge, and you may well be right. But not everyone's wired the same way. The pressure and expectations in Philadelphia, as well as the increasingly negative atmosphere around the team, would naturally be a concern of anyone who took the job. Whoever does take it will go in with his eyes open to the nearly impossible expectations he'll immediately carry, and it'll take a special sort of person to handle all of that and succeed there.
So there you have it -- my best, most logical and thorough explanation of why the best and brightest college coaching minds aren't climbing all over each other for the Eagles' head-coaching job. In the end, you may be happy about that. Maybe Gus Bradley is a star on the rise. Maybe Brian Billick is rejuvenated and improved in a second time around. Maybe there's somebody out there you don't even know about yet who's going to be better than all of the candidates we've seen so far. I'd just caution against dreaming too big, that's all. The Eagles are going to have to take a chance on someone and hope he's a hit.
January, 14, 2013
1/14/13
8:00
AM ET
Pretty special weekend of NFL football, was it not? See, you guys don't ever want to believe me, but you really can have fun watching games when you don't care who wins. Anyway, to the business at hand. The Cowboys have tinkered with their coaching staff, the Eagles can't seem to get theirs started, the Redskins begin an offseason of fretting over their franchise player and the Giants (as is their offseason m.o.) are making no noise whatsoever. All this and more in your Monday links.
Washington Redskins
There was a little flare-up at the end of the week about the players' union possibly investigating the Redskins' handling of Robert Griffin III and his injury in their final game, but the NFLPA declined to pursue it. NFL commissioner Roger Goodell said over the weekend that the
league is satisfied
that the Redskins' decision to keep Griffin in the game was cleared with doctors, and so that's that. Also stuff in there about the much-maligned FedEx Field turf and Washington's chances to host a Super Bowl. These last two are addressed independently of each other, but I have to believe they are connected.
Everybody handled themselves well in the wake of the incident, but Redskins left tackle Trent Williams was still
fined $7,875
for shoving Seahawks cornerback Richard Sherman in the face during a postgame altercation last Sunday night. For some reason, it is noted in that story that Sherman was not fined. There is apparently no rule against being shoved in the face by another player.
New York Giants
Again, real tough to find Giants links these days, so
here's Ohm's salary-cap breakdown
from Friday, in case you hadn't seen that already. Takes you through some names of players who might be cap casualties or asked to restructure their deals. The relatively low base salaries of Ahmad Bradshaw and Justin Tuck make me think the talk of them not being on next year's team was premature, but I wouldn't feel comfortable if I were Corey Webster or David Diehl.
Also, since we linked to the others,
here's the final installment
in ESPNewYork.com's "Five Giant Issues" series -- a look at the 2012 performance of Eli Manning. Consistently brilliant in 2011, mortal in 2012. May have been the biggest difference of all between this year's 9-7 team and last year's.
Dallas Cowboys
Anthony Spencer is making it clear he'd be fine with
playing defensive end
in a 4-3 scheme, which the Cowboys will now be playing under new defensive coordinator Monte Kiffin. And I think he's right. I actually think you can make the case that he'd transition better than DeMarcus Ware will, given his size. The issue with Spencer is whether the Cowboys can afford to keep him, given that they project about $18.2 million over the salary cap right now.
Clarence Hill wrote that
Kiffin's performance
could determine the long-term viability of Jason Garrett as the Cowboys' head coach. I think he's right, obviously, and I'm not buying that Garrett had no input in the hire. Rob Ryan wasn't his top choice two years ago, the Cowboys weren't the only team interested in Kiffin this offseason and the switch to a 4-3 likely has as much to do with salary-cap concerns as it does with anything else. They have some young, cheap potential solutions in some key spots.
Philadelphia Eagles
As a third college candidate, Notre Dame's Brian Kelly, told the Eagles thanks-but-no-thanks over the weekend and decided to stay in school, the Eagles remain in need of a head coach. As Les Bowen writes, the way their search has gone so far
leaves us few clues
as to what they're looking for or with whom they'll end up.
CSNPhilly.com reported Sunday that former Ravens coach Brian Billick, who won a Super Bowl title while coaching Baltimore 12 years ago, has been interviewed and is
among the leading candidates
for the job. Interesting, as we haven't heard Billick's name very much as a candidate in the five years since he was fired by the Ravens. I have said before that I don't see the Eagles luring any of the usual-suspect Super Bowl champion coaches (Bill Cowher, Jon Gruden) out of their TV jobs, but Billick is a guy who seems eager for any chance he could get to prove he can coach in the league again.
January, 13, 2013
1/13/13
4:47
PM ET
By
ESPN.com staff
| ESPN.com
The
Philadelphia Eagles
interviewed Brian Billick for their head coaching vacancy, league sources told ESPN NFL Insider Adam Schefter.
The 58-year-old Billick compiled an 80-64 record in Baltimore, guiding the Ravens to four postseason appearances.
The full story
is here
.
November, 5, 2012
11/05/12
11:45
AM ET
It may be easy for you and I to sit here and say
Dallas Cowboys
owner Jerry Jones should give up on the idea of Jason Garrett as head coach, move on and start over with someone else. But it's important to remember that you and I probably wouldn't have hired Garrett to coach the Cowboys in the first place, and Jones did.
A half-season after he fired Wade Phillips as head coach and defensive coordinator, Jones looked at all of the available candidates and selected Garrett. Dan Snyder had beaten him to Mike Shanahan by a year, and the best remaining candidates at the time were either defensive coaches (John Fox, Jeff Fisher) like the one he'd just fired or offensive coaches (Jon Gruden, Brian Billick) whose stock had fallen since their Super Bowl title days. Garrett had just gone 5-3 over the second half of the 2010 season with
Jon Kitna
at quarterback. The team had responded to him, Jones had always thought highly of him, and so he made the decision that Garrett had earned his chance.
[+] Enlarge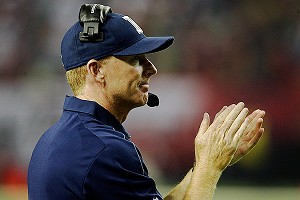 AP Photo/Chuck BurtonIs a strong finish to the season a must in order for Jason Garrett to keep his job as Cowboys coach?
We fast-forward now to the present day. After Sunday night's loss to the undefeated Falcons in Atlanta, Garrett is 3-5 for this season, 4-9 in his last 13 games and 16-16 since taking over as head coach of the Cowboys in the middle of 2010. For the first time since he got the job, he does not have a winning record. Cowboys fans are profoundly disappointed that things have failed to get better over the past two calendar years, and since they believe their team has the talent to play with the league's best teams but isn't beating them, they assume it's a matter of coaching and that Garrett must go.
Now, I don't believe this Cowboys team is as "talented" as everybody wants to rush to believe it is. Sure, there are some excellent players on both sides of the ball. But they don't have the same kind of depth of talent on their roster as the teams to which they've barely lost to the past couple of weeks. And at the positions where they're strongest -- quarterback and wide receiver, for instance -- the Giants and Falcons are even better. The combined record of the five teams to which the Cowboys have lost this season is 32-10, which means they've been beaten by the very best teams in the league. Of their remaining eight games, five are at home and only one is against a team that currently has a winning record. There is reason to believe things so far have been tougher for the Cowboys than things will be the rest of the way.
But those are excuses, this is a results business and the results say Garrett is a .500 coach. So this becomes about evaluating the kind of job he's actually doing. And it's not great. The clock-management issues, the delays in sending in the plays ... these things are easy to spot, as is the fact that the offense (which is Garrett's responsibility) appears to be regressing. The additions of offensive line coach Bill Callahan and the free-agent guards they signed were moves of Garrett's making, and they have not paid off.
Tony Romo
's having a bad year.
Dez Bryant
isn't making the step forward he was supposed to make. There is no run game to speak of with
DeMarco Murray
injured, and it's not as though they were running for 175 yards a game when he was in there.
There are plenty of reasons, if you believe 32 games is a sufficient sample size, to conclude that Garrett isn't doing a good enough job. But only one man's opinion matters, and that man is the guy who hired Garrett in the first place. Just because fans are looking for reasons to fire Garrett doesn't mean they should assume Jerry Jones is, too. Jones has publicly said, many times, that he regrets firing Chan Gailey after only 32 games, and that he's learned lessons about the importance of continuity. Good leaders stand by their plan and their people, and Garrett is Jones' guy and his plan is to give him every chance to succeed.
Jones likes Garrett. Garrett is Jones' hand-picked choice to coach the team. If anything, he's looking for reasons to keep him. Another 5-3 finish that got the team back to .500 would allow Jones to claim that Garrett had done a good job recovering from a tough first half. It would push Garrett's record to 21-19, and Jones could very easily say he's not going to fire a guy with a winning record. A finish better than 5-3 would make the Cowboys a playoff contender, possibly even a playoff team if things broke the way they did last year in the NFC East.
A total flop against the soft second half of the schedule? Say, a 3-5 finish and a 6-10 record for the year? That's the kind of thing that could change Jones' mind. So could the sudden appearance in the coaching free-agent ranks of a highly qualified offensive coach such as Sean Payton or Andy Reid. As much as Jones likes Garrett, he likes Payton as well. And if a coach with Payton's pedigree hits the market, every team with even the faintest of question marks in the head coach's office is going to have to take a long look.
But the key thing to remember, amid the frustration, is that Jones feels differently about Jason Garrett than Cowboys fans do. Jones thinks more highly of Garrett than you ever did, or else Garrett would never have been the coach in the first place. Jones wants Garrett to succeed -- wants to build the Cowboys into a consistent winner around him and with the help of his vision. That might sound crazy and unjustified to you and to me, but it's what Jones has in mind for his franchise. And in order for him to get rid of Garrett, something big is going to have to happen to change his mind. So while you may want Garrett out and you may think it's obvious that he needs to go, you shouldn't assume it's definitely going to happen.
October, 12, 2012
10/12/12
8:00
AM ET
Philadelphia Eagles
LeSean McCoy
would like to be
more involved in the passing game
, since that was always fun back when he used to be. Of course, I think a lot of people would like to be more involved in the Eagles' passing game right about now. Couple of things, though, on McCoy. First, I think he's being asked to stay in and block a lot more this year, and second, the Eagles aren't running very many screen passes this year. I think this is where the
Jason Peters
absence really shows up.
Oh, and
Michael Vick
does have a dog now after all, so you can all stop wondering. Seriously,
Vick released a statement
saying he knows why this is going to bother some people but that it was important for him and for his kids to have a pet. As you know if you read me on this topic the other day, I think this is a man who's done his time, understands the significance of his crimes and should be allowed to live his life the way he wants to live it. But like Vick, I understand there are people who will never agree no matter what.
New York Giants
Giants offensive coordinator Kevin Gilbride says he thinks the 49ers'
Justin Smith
is a great player who "
gets away with murder
" by holding offensive linemen and not getting called for it. So, there's something you can now watch for Sunday.
Ahmad Bradshaw
and the Giants' running game are confident after Bradshaw ran for 200 yards Sunday against the
Cleveland Browns
. But Bradshaw knows the
sledding is going to be tougher
against the 49ers on Sunday.
Dallas Cowboys
They say continuity is the most important thing for an offensive line -- all five players playing together for an extended period of time, getting to know each other's movements and tendencies. Well, the Cowboys' offensive line, which has been horrible all year, is
changing centers again
.
Ryan Cook
is injured and
Phil Costa
is back. Giddyap.
You know the scene in
Airplane
when the passengers are all lined up to beat up the hysterical passenger? And the camera keeps panning back and there's all kinds of people with various weapons, just waiting to get up there and deliver their own special brand of punishment? Sometimes it seems as though the same thing is happening to
Tony Romo
. Former Ravens coach Brian Billick is
the latest in line
, saying
Joe Flacco
's better than Romo. Hey, at least Tony's got
Amani Toomer
on his side, right?
Washington Redskins
Your daily
Robert Griffin
III update says everything
looked fine
Thursday in practice. You know the drill, though. Griffin has more concussion tests to pass before he's cleared to play again Sunday after getting knocked out of last week's game. We could know something for sure today, and if not, tomorrow.
One interesting sidelight to Sunday's Redskins-Vikings game is the return to FedEx Field of Vikings running back
Adrian Peterson
, who tore an ACL in the game there last December but has made a
remarkable recovery
and is running something very much like his old self as the Vikings have started the season 4-1.
December, 11, 2009
12/11/09
5:00
PM ET
By
Matt Mosley
| ESPN.com
Giants defenders have spent the week trying to explain why they were gashed in the running game by the Eagles last month. Safety
Michael Johnson
, who said he expects to play with a groin injury, provided the following explanation:
"Probably somebody out of the wrong gap," he told reporters in the Meadowlands on Friday. "If the defense was supposed to be gap-sound, somebody was in the wrong gap. The ball might pop, but we will just chase them down and make them snap it again. Hopefully our defense will hold up. We didn't play physical enough. This time we will go out there and play a lot more physical. Try to intimidate one-on-one every play. One-on-one battles every play. Try to beat them up. Play aggressive the whole game and win the physical battle."
By the way, it's 29 degrees (feels like 15) in East Rutherford, N.J., this afternoon. And there are winds gusting up to 35-mph. Oh, and Tom Coughlin made his players practice outside. You have to love the approach. The team just built a gorgeous new indoor facility -- and they're out practicing in the elements. I remember that Brian Billick used to receive a lot of criticism in Baltimore for refusing to practice outdoors when you knew the Ravens were going to play games in awful weather.
April, 25, 2009
4/25/09
3:46
PM ET
By
Matt Mosley
| ESPN.com
Posted by ESPN.com's Matt Mosley
NEW YORK -- Welcome to Radio City Music Hall, where a Packers fan just asked former Ravens head coach Brian Billick to sign his throwback Bart Starr jersey. Makes total sense to me. In addition to my normal "expert" analysis on all things NFC East, I'll be your personal tour guide here in New York.

Moments ago, commissioner Roger Goodell and an eight-person entourage swept past me. In private moments, Goodell has admitted to reading my blog on a daily basis, but we've never actually made eye contact. I'm noticing that some reporters have been blessed with "T" stickers, which give them access to where team representatives are turning in picks. For the first time, I've been denied access to that area --- but we'll figure out a way to get down there at some point.

ESPN analyst and noted clothes horse Keyshawn Johnson stopped by my seat a few moments ago to share a few tidbits. He's been saying the Chiefs will take LSU defensive end Tyson Jackson for weeks -- and now everyone's jumping on that bandwagon. Johnson is sporting a Carolina blue sweater vest (in support of Hakeem Nicks?) and tie underneath a three-button suit with no pleats. And he suggested that thin men should no longer wear cuffed pants, which doesn't really apply to me.

OK, I'm going to try to peek in the green room. I received a text from Baylor offensive tackle Jason Smith earlier saying he was headed that way. His entourage (Baylor coach Art Briles and Co.) headed out to Johnny's Pizza last night. Much, much more to come. And for my NFC Beast audience, I'll be hopping on that blog throughout the afternoon.