April, 5, 2013
4/05/13
8:00
AM ET
The Friday links, in reverse order of the age of each team's starting quarterback.
Washington Redskins
Kirk Cousins believes he
can run the read-option
portion of the Redskins' offense but that he has to work harder at certain aspects of it than Robert Griffin III does.
We're all just guessing at this point, but
Keith McMillan's guess
is that Cousins starts six of the Redskins' 16 regular-season games in 2013, with Griffin starting 10 once he's fully recovered from his knee surgery. This strikes me as realistic, but again, no one knows enough to make any good guesses at this point.
New York Giants
Tom Coughlin did an
extensive interview
for an upcoming edition of "CenterStage," which is a popular interview show on the Yankees' television network. In the interview, Coughlin reveals that he sits in the back with the players on the team plane and that he sometimes argues with his GPS.
The New York Daily News already has reported that the Giants have offered Victor Cruz more than $7 million per year. Now they are reporting that Cruz is asking for "
closer to $10 million-$11 million per year
." This serves to underline the point I've been making about the impasse in the Cruz negotiations. They want to make him the league's highest-paid slot receiver, since that's the position at which they plan to play him. He wants to make top-wideout money, based on the numbers he's put up the last two years. Tough to see either side moving significantly toward the other as long as that philosophical gulf remains. At this point, you have to think Cruz is planning to hit unrestricted free agency next year, and that his payday will be determined by what kind of 2013 season he has.
Philadelphia Eagles
Just because the Eagles acquired him a year ago to play middle linebacker in what was then a 4-3 defense does not mean DeMeco Ryans can't play in a 3-4.
That's according to Ryans
, who correctly points out that he played in a 3-4 in his final year in Houston. It's become sort of conventional wisdom that the reason the Texans traded Ryans was because he wasn't a good fit for the 3-4, but the main reasons they dealt him was that he was the one (as opposed to Brian Cushing) who was coming off the field when they went to the nickel and his salary was too much for a two-down linebacker. Cushing doesn't play for the Eagles, who have no salary cap concerns, and it's entirely possible Ryans could be a three-down linebacker even when the Eagles go to a 3-4.
Jeff McLane
ponders the possibility
that Nick Foles outplays Michael Vick and wins the job as the Eagles' starting quarterback in 2013. As we discussed here yesterday, yes, completely possible. My central point on Foles continues to be that he showed nothing last year to prove he was ready to be an NFL starting quarterback. That's not to say he isn't or won't ever be, but it can take a while for a quarterback to develop into a starter, and I think sometimes people assume Foles is further along than the evidence supports.
Dallas Cowboys
One of the absolute keys to the Cowboys' chances in 2013 is their ability to stay healthier than they did in 2012. Calvin Watkins identifies
five Cowboys players
whose health is especially important to the coming season.
Jerry Jones made a
strong impression
on Baylor wide receiver Terrance Williams during Williams' recent visit to Valley Ranch.
February, 8, 2013
2/08/13
10:12
AM ET
So
this here is the Eric Edholm article
about which you've likely heard, some time in the past 24 hours, if you're a
Philadelphia Eagles
fan. It's from 2009, when Billy Davis was the Cardinals' linebackers coach, and it features Davis explaining in detail the hybrid defensive alignment the Cardinals were running at the time. Something between a 3-4 and a 4-3 with "under" principles. Davis, who would soon thereafter become the Cardinals' defensive coordinator, has just landed a job as the Eagles' new defensive coordinator under Chip Kelly. And while it's no sure thing that he'll install the exact same defense he was using in Arizona, the story offers some potential clues about the way the Eagles will run their defense with Davis in charge.

The "under" front Davis employed in Arizona, which shifts toward the tight end side, looks like a 3-4. But it doesn't adhere strictly to 3-4 principles, and as you read the details in Eric's story you can start to believe the Eagles' current 4-3 personnel might fit the new defense better than initially thought:
But in the 4-3 'under' front, like the Cardinals use as their base defense which looks similar to the 3-4 to the naked eye, the biggest difference is in the outside linebackers. The strong-side linebacker is still outside the tight end. But the other outside guy -- the Cardinals call this player their "Predator" -- is almost always rushing the passer, although the Cards will occasionally drop him into covers to mix things up. Other differences: The nose tackle shades to the A-gap (in between the center and the guard) on the tight end side, and the end on that side moves between the tackle and tightend.
In this arrangement, the Eagles' "predator" could be either
Trent Cole
or
Brandon Graham
. Either one fits the mold as a pure pass-rusher with a great first step and, especially in Graham's case, a high motor. I'm not sure either of those guys translates to the strong-side linebacker role in this scheme, and
Mychal Kendricks
seems suited to the weak-side linebacker role. They may need to find a more traditional stand-up linebacker and either rotate or decide between Cole and Graham, since you have to think
Cullen Jenkins
and
Fletcher Cox
are the ends and the nose tackle is someone not yet on the roster.
Another interesting aspect has to do with veteran middle linebacker
DeMeco Ryans
, who would remain an extremely important player in a scheme such as this. It's true that one of the reasons the Texans traded Ryans to the Eagles was that he'd become an imperfect fit once they switched to a 3-4, but that had more to do with Ryans' salary and the emergence of fellow linebacker
Brian Cushing
as a superior three-down option than it did Ryans' ability to play the scheme. And if Davis runs a system similar to the one he ran in Arizona, Ryans takes on a vital dirty-work role:
The only player in the 4-3 'under' who is left uncovered is the "Mike," or the middle linebacker. In the Cardinals' scheme, that's usually Gerald Hayes. "That's my thumper, more of a thick guy," Davis said, circling the capital M on his piece of paper. "In the 'over' front, when I was in Atlanta [2001 to 2003], we put Keith Brooking -- we were actually playing an even scheme, too -- but we stacked Keith right behind the three [technique] and he got to run and make players and use his athleticism, and he made his first Pro Bowl playing behind the three."

But in this scheme Hayes, listed at 249 pounds ("or a little less than that," he admits with a wink and smile), is the only uncovered linebacker. That means he often will be taking on 300-pound guards head on. On Sunday, it could be Steeler ORG Darnell Stapleton and his 305 pounds that will meet Hayes more than once. "You don't think about," Hayes says, "you just do it. You can't worry about taking those guys on. It comes with the territory."
Ryans is listed at 247 pounds and seems a natural for that role, which would answer one of the big questions about the Eagles' current personnel transitioning to a new alignment.
Again, we will learn more about all of this in the coming months, and the way the Eagles line up on defense this year could look different even from what Davis has run in the past. But this is an interesting look at the new guy and where he comes from philosophically, and I found it interesting. Hope you did, too.
April, 6, 2012
4/06/12
2:31
PM ET
Continuing our borderline relevant, hopefully fun and interesting look at the history of the specific draft picks our division's teams hold this year, we look at the
Philadelphia Eagles
, who have nine picks in this year's draft. Some interesting stuff you turn up in an exercise like this. For instance, some pretty good recent history at the Eagles' first two picks. And if you think the Eagles have to take a quarterback early if they're thinking about the future, scroll all the way down. They might be able to wait until their very last pick to find the next Bart Starr!
PICK 15
(15th pick, first round)
Last five players taken
2011 --
Mike Pouncey
, C, Dolphins
2010 --
Jason Pierre-Paul
, DE, Giants
2009 --
Brian Cushing
, LB, Texans
2008 --
Branden Albert
, T, Chiefs
2007 --
Lawrence Timmons
, LB, Steelers
Eagles' history of No. 15 picks
2003 --
Jerome McDougle
Hall of Famers picked No. 15
Alan Page (1967), Jim Taylor (1958)
Other Notables
Albert Haynesworth
(2002)
PICK 46
(14th pick, second round)
Last five players taken
2011 --
Orlando Franklin
, T, Broncos
2010 --
Linval Joseph
, DT, Giants
2009 --
Connor Barwin
, DE, Texans
2008 --
Jerome Simpson
, WR, Bengals
2007 --
LaMarr Woodley
, LB, Steelers
Eagles' history of No. 46 pick
1983 -- Jody Schulz
Hall of Famers picked No. 46
Jack Lambert (1974)
PICK 51
(19th pick, second round)
Last five players taken
2011 --
Da'Quan Bowers
, DE, Buccaneers
2010 --
Toby Gerhart
, RB, Vikings
2009 --
Andy Levitre
, G, Bills
2008 --
Malcolm Kelly
, WR, Redskins
2007 --
Steve Smith
, WR, Giants
Eagles' history of No. 51 pick
None
Hall of Famers picked No. 51
Rickey Jackson
(1981)
PICK 88
(25th pick, third round)
Last five players taken
2011 --
Johnny Patrick
, DB, Saints
2010 --
Andre Roberts
, WR, Cardinals
2009 -- Ladarius Webb, DB, Ravens
2008 --
Bruce Davis
, LB, Steelers
2007 --
Andy Alleman
, G, Saints
Eagles' history of No. 88 pick
1984 -- Evan Cooper
Hall of Famers picked No. 88
Bob Hayes (1964)
PICK 114
(19th pick, fourth round)
Last five players taken
2011 --
Cecil Shorts
, WR, Jaguars
2010 --
Dennis Pitta
, TE, Ravens
2009 --
David Bruton
, DB, Broncos
2008 --
Reggie Corner
, DB, Bills
2007 --
Marvin White
, S, Bengals
Eagles' history of No. 114 pick
1967 -- Bob Van Pelt
Hall of Famers picked No. 114
None. Closest I found was Steve Largent, who was picked 117th. Sorry.
PICK 153
(18th pick, fifth round)
Last five players taken
2011 --
Jeremy Kerley
, WR, Jets
2010 --
Andrew Quarless
, TE, Packers
2009 --
Cornelius Ingram
, TE, Eagles
2008 -- Matt Slater, WR, Patriots
2007 --
Kevin Boss
, TE, Giants
Eagles' history of No. 153 pick
2009 -- Cornelius Ingram
1967 -- Bob Hughes
Hall of Famers picked No. 153
None. No one at all in the 150s. Or the 140s, for that matter.
PICK 172
(second pick, sixth round)
Last five players taken
2011 --
Brandon Fusco
, C, Vikings
2010 -- Brent Bowden, P, Buccaneers
2009 --
David Buehler
, K, Cowboys
2008 -- Thomas Brown, RB, Falcons
2007 --
Legedu Naanee
, WR, Chargers
Eagles' history of 172nd pick
2005 --
Scott Young
1999 --
Cecil Martin
1984 -- Joe Hayes
Hall of Famers picked No. 172
None.
PICK 194
(24th pick, sixth round)
Last five players taken
2011 --
Markell Carter
, LB, Patriots
2010 --
Ramon Harewood
, T, Ravens
2009 --
Brandon Gibson
, WR, Eagles
2008 --
Ryan Mundy
, S, Steelers
2007 --
David Irons
, CB, Falcons
Eagles' history of 194th pick
2009 -- Brandon Gibson
1996 --
Steve White
Hall of Famers picked No. 194
None. Closest I found was
Shannon Sharpe
, who was picked No. 192 in 1990.
PICK 200
(30th pick, sixth round)
Last five players taken
2011 --
Ross Homan
, LB, Vikings
2010 -- Charles Scott, RB, Eagles
2009 -- DeAndre Wright, CB, Giants
2008 -- Joe Mays, LB, Eagles
2007 --
Melila Purcell
, DE, Browns
Eagles' history of 200th pick
2010 -- Charles Scott
2008 --
Joe Mays
1984 -- Manny Matsakis
Hall of Famers picked No. 200
Bart Starr (1956)
March, 27, 2012
3/27/12
11:15
AM ET
PALM BEACH, Fla. -- The
Philadelphia Eagles
needed help at linebacker -- needed a starter-quality, sure-tackling veteran to man the middle of their defense. No one who watched them last year could doubt that, and it was their top offseason position priority.
But
DeMeco Ryans
, for whom they traded a fourth-round pick to the
Houston Texans
last week, brings more than that. Ryans is a leader, on the field and in the locker room. Whether the Eagles admit it or not, that's something that was lacking in their locker room when times got tough. And whether they were part of the motivation for the deal or not, Ryans' intangibles will matter a great deal to the 2012 Eagles.
[+] Enlarge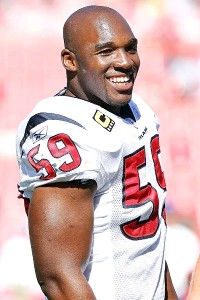 Kim Klement/US PresswireLinebacker DeMeco Ryans is just the sort of leader the Eagles can use on and off the field.
"In my six years in Houston, DeMeco's been undoubtedly the leader of our football team," Texans coach Gary Kubiak said Tuesday morning at the NFL owners meetings. "He's been a fine player, a great person, a great kid in the community. He's the guy, off the field, that all our players really go to."
Kubiak talked of the regular Thursday night dinners Ryans would organize and host for his teammates, how he "raised" fellow Texans linebacker
Brian Cushing
, how he calmed everybody down on defense by reassuring them he knew what the play was, reminding them of their responsibilities.
"All you've got to do is turn the film on and watch him," Kubiak said. "He runs the show. I mean, everybody goes to him. They trust him so much and when he's doing. Whether it was on the field in a drill or whether it was off the field or working through tough times, DeMeco was always the guy that they went to."
The 2011 Eagles needed someone like this. When they were losing games early in the season, doubting each other, doubting the coaches, questioning their fits in the new schemes, there was very little glue to keep them together. So many players were new, so many coaches were new or in new spots. There had been very little time for trust to build up in the locker room, and there were few if any voices speaking up about the need for pride and trust and togetherness.
Cullen Jenkins
, one of the 2011 newcomers, would speak after games about the need for accountability. But he was a rare case. For most of the season, the Eagles were adrift, losing games without understanding why and with few if any on-field leaders to help them steady things before they tipped over.
Adding a player like that, and adding him at a position like middle linebacker, is a perfect salve for those problems. If Ryans really is the magnetic leader his Houston coaches and teammates say he was, he'll fill more than one of the Eagles' crying needs. He'll be a guy who can make sure the young linebacker or safety to his left or his right is in the right place, or who can reassure that young player that things are under control if he's feeling uncomfortable in a new spot.
"He's tough as nails," Kubiak said. "He's all man. He stands for all the right stuff."
The natural question, of course, is why then did the Texans trade him for a fourth-round pick. Kubiak's answer is the Texans' defense changed last year when they brought in coordinator Wade Phillips and switched to a 3-4. Ryan's natural position of 4-3 middle linebacker was eliminated, and Cushing was the only inside linebacker they kept on the field even when they switched to nickel and dime defenses.
"I think DeMeco can still be a three-down player," Kubiak said. "I told him that when he left. I think in the right scheme, he could still stay on the field for three downs. It's just that, when we went to nickel, Wade does things a little bit different with how he replaces the linebackers inside, and Brian was really the only guy that stayed on the field for us in nickel."
And they were paying Ryans about $6 million a year, and that's a lot for a guy who only plays 58 percent of your defensive plays. So they bid him farewell, though it was difficult and they believe he'll play well for his new team. Since his new team is the Eagles, he should be able to do even more than that.
"As hard as it is, we feel like it's a great opportunity for him," Kubiak said. "And obviously we have to move on and have a tough job to replace him. The Eagles are getting a great kid. You're going to love this kid. He's really special."
May, 11, 2010
5/11/10
7:31
PM ET
By
Matt Mosley
| ESPN.com
Former
New York Giants
linebacker
Danny Clark
has reached an agreement to return to the
Houston Texans
,
according to the Associated Press
. Clark, 33, played the past two seasons with the Giants but he became expendable once it was clear that rookie
Clint Sintim
would replace him at strongside linebacker.
Coach Tom Coughlin loved the leadership that Clark brought to the locker room, but it was obvious that he was a declining player for the Giants. Clark had watched the Giants win the Super Bowl before joining the team in 2008. He had a close relationship with Coughlin and desperately wanted to get his own Super Bowl ring.
Now, he'll try to make that happen with the Texans. The suspension of second-year linebacker
Brian Cushing
may have prompted the move. Clark is very familiar with what the Texans do on defense and has remained close to some of his former teammates.
March, 31, 2010
3/31/10
1:00
PM ET
By
Matt Mosley
| ESPN.com
»
NFC History
:
East
|
West
|
North
|
South
»
AFC
:
East
|
West
|
North
|
South
»
Draft Watch
:
Biggest needs
(2/17) |
Busts/gems
(2/24) |
Schemes, themes
(3/3) |
Recent history
(3/10) |
Needs revisited
(3/17) |
Under-the-radar needs
(3/26) |
History in that spot
(3/31) |
Draft approach
(4/7) |
Decision-makers
(4/14) |
Dream scenario/Plan B
(4/21)
Each week leading up to the NFL draft (April 22-24), the ESPN.com blog network will take a division-by-division look at key aspects of the draft. Today's topic: History in that spot.

Dallas Cowboys
My colleague Mike Sando from the NFC West bureau has done some outstanding research on this very topic. Over the past 15 years, he's discovered
that running backs have been quite popular
at No. 27. From 1995-09, there were four running backs taken, three wide receivers and three offensive linemen. True to form, the Colts selected
Donald Brown
at No. 27 overall in '09 and there's a good chance he'll start for the next six or seven seasons.
In '08, the Chargers selected cornerback
Antoine Cason
at No. 27. He's had four interceptions and 10 pass breakups in his first two seasons. Teams at the bottom of the first round love it when cornerbacks slip a little bit. That's why I keep saying the Cowboys will keep a close eye on Rutgers cornerback Devin McCourty. And remember, you heard it here first. In '07, I took at trip to Tulsa, Okla., to do a story on a former team roper named
Robert Meachem
. He'd become a star receiver at Tennessee and the Saints selected him at No. 27 . Meachem was a huge disappointment in his rookie season, reporting to work out of shape. But now he's a key member of the Saints' elite corps of receivers. So in the past three years, you've seen teams connect on those late first-round picks.

New York Giants
Most people believe the Giants need to draft a linebacker in the first round. And as Sando's research indicates, that's been
a very popular position at the No. 15 spot
, where the Giants will be. In the past 15 drafts, teams have selected five linebackers at No. 15. Will Alabama's Rolando McClain still be available? We're about to find out. The Steelers selected Florida State linebacker
Lawrence Timmons
at No. 15 overall in '07 and I'd say that's worked out pretty well. The Chiefs took offensive tackle
Branden Albert
out of Virginia in '08 and last year the Texans went with former USC linebacker
Brian Cushing
. That's two excellent linebackers at No. 15 in the past three years. Bodes pretty well for Giants fans.

Philadelphia Eagles
For whatever reason, there's been
an inordinate number of defensive backs
taken at No. 24 overall. And it wouldn't surprise me to see the Eagles continue that trend. The team could take a safety or cornerback and feel pretty good about it in my mind. The Eagles have a lot of practice selecting in this range, so they won't get caught off guard. Last year, the Falcons took defensive tackle
Peria Jerry
out of Ole Miss in the No. 24 hole. And in '08, the Titans selected running back
Chris Johnson
, now the most prolific runner in the league. In '07, the Patriots drafted Miami safety
Brandon Meriweather
and turned him into a pretty versatile player. And how can anyone forget the No. 24 pick in the '05 draft? It was the ultimate green room debacle, Cal quarterback
Aaron Rodgers
. That's obviously worked out pretty well for the Packers.

Washington Redskins
There's no real consensus at the No. 4 pick over the past 15 drafts. But there's only been one quarterback taken No. 4 overall -- if you can believe that. The position is so valuable that the top player at that position (Sam Bradford this year) is almost always gone by No. 4. Last season, the Seahawks played it really safe with Wake Forest linebacker
Aaron Curry
, who's going to be an excellent player in the league for years to come. The Raiders selected Arkansas running back
Darren McFadden
No. 4 overall in '08 and you can't say that's really panned out for them. Of course, nothing they've done the past decade has really panned out for them. The Bucs took Clemson defensive end
Gaines Adams
No. 4 overall in '07 and we all know that his life ended tragically this past January. In '06, the Jets found an excellent left tackle in
D'Brickashaw Ferguson
of Virginia. The Redskins would be wise to follow the Jets' lead in three weeks. In '05, the Bears went with Texas running back
Cedric Benson
. But I wouldn't worry about the Redskins taking a running back at No. 4. There's no one good enough to tempt them at that spot. Shanahan would rather go with the old warhorses,
Clinton Portis
and
Larry Johnson
.
April, 24, 2009
4/24/09
10:30
AM ET
By
Matt Mosley
| ESPN.com
Posted by ESPN.com's Matt Mosley
NEW YORK -- After a slight delay (two hours), the Beast arrived in the city a little past midnight Thursday. This morning, I'll join my pal Randall Liu from the league office and nine players for a youth football clinic in Central Park. Here are the players attending this weekend's draft:
The nine players will begin their day with an appearance on CBS' "Early Show" before heading over to Central Park for the NFL Play 60 Youth Clinic. There's a remote chance I'll be speaking at the clinic, so I've prepared extensive notes. For some reason, the kids in New York are dying to hear about ESPN.com's Blog Network.
The players will then visit Mt. Sinai Children's Hospital before ringing the closing bell at the New York Stock Exchange. A photo shoot in front of the Radio City Music Hall marquee is next on the agenda, and the players will be interviewed by ESPN and the NFL Network at Radio City after that.
Pretty full day. I'll tag along as long as the league will allow it, which is probably not long. We've been offered access to Curry, but I'm quickly finding out that pretty much every reporter in the country has a similar arrangement. I'll check in via Blackberry every now and then.
April, 22, 2009
4/22/09
12:05
PM ET
By
Matt Mosley
| ESPN.com
Posted by ESPN.com's Matt Mosley
Oh wait, you guys do that anyway! But we're providing another wonderful second-guessing opportunity with today's NFL blog network mock draft. We took a very scientific approach to this draft, which required NFC West blogger/database manager Mike Sando to spend most of his day Tuesday calling the other seven bloggers and demanding they make selections on the spot.
Unfortunately, things didn't turn out anything like the Beast mock draft, which is set to be released in Times Square at noon ET on Friday. Sando took Virginia left tackle Eugene Monroe at No. 2 for the Rams -- but that wouldn't happen. If the Lions go ahead and take quarterback Matthew Stafford, the Rams won't even flinch before taking former Baylor Bear Jason Smith.
In our mock draft, Sanchez falls all the way to Denver at No. 12. On Saturday, I'd bet at least three of my NFL draft magazines (purchased yesterday) that Sanchez doesn't make it past the Seahawks at No. 4. But since we're focused on the Beast, I thought linebacker Brian Cushing was a no-brainer at No. 13. He'll start immediately, and I think he'll give the team another pass-rushing threat. Yes, the Redskins were hoping that Brian Orakpo or Aaron Maybin slipped to 13, but Cushing should be an outstanding player for them.
The Eagles watched their guy Knowshon Moreno go to the Lions at No. 20, so they panicked and took the next best running back in Chris "Beanie" Wells. In reality, I would've tried to trade down a few slots and selected tight end Brandon Pettigrew out of Oklahoma State. Tremendous, tremendous player. The Eagles may say that Brent Celek's The Man, but that would change once Pettigrew showed up on the club's South Philly campus.
I have the Giants taking Rutgers wide receiver Kenny Britt at No. 29. There will be a run on wide receivers right before this pick, and Britt's a guy the Giants have liked for a long time. What happens if the Giants trade for Braylon Edwards? We may find out. Everyone assumes the Giants will have to give up a ('09) first-rounder for him. But general manager Jerry Reese has some other options. Trust me. Just this once.
April, 3, 2009
4/03/09
9:30
AM ET
By
Matt Mosley
| ESPN.com
Posted by ESPN.com's Matt Mosley
Teams needs: Defensive end, offensive tackle, linebacker, guard
| | |
| --- | --- |
| | |
| | Joe Robbins/Getty Images |
| | One player the Redskins are looking at is Tennessee defensive end Robert Ayers. |
Dream scenario: The Redskins were ready to mortgage their 2009 and 2010 drafts in order to land Jay Cutler. But it wasn't enough. Now, they'll stay at No. 13 overall and try to find more help on defense. Tennessee defensive end Robert Ayers is a player the Redskins have fallen in love with since he had a breakout performance during Senior Bowl week. He has a little baggage (a 2005 arrest), but he's coming off an excellent 2008 season in which he made 15 stops behind the line of scrimmage and took over several games. The Redskins desperately need help at left end, and Ayers would be a Day 1 starter. Phillip Daniels and Renaldo Wynn are serviceable, but at this point in their careers you don't want to lean on them heavily. There's also a chance that Vinny Cerrato tries to trade out of that 13th pick and make a run at Ayers or even offensive tackle Michael Oher. The Redskins don't have much ammunition in the draft (five picks), so a trade could put them in a better situation. Actually, the dream scenario is Brian Orakpo slipping to 13, but that's a stretch. There's some thought that the Raiders might take him at No. 7. Also keep your eye on LSU defensive end Tyson Jackson
Plan B: The Redskins are high on USC linebacker Brian Cushing. They need to surround Albert Haynesworth with disruptive players, and Cushing has the build (255 pounds) and the athleticism to be an effective pass-rusher. And don't forget that the Redskins aren't exactly stacked at strongside linebacker.
PollCenter: On the Clock

What is the Washington Redskins' biggest positional need? VOTE
Scouts Inc. take: "After going with skill in the first three rounds of the draft last season, I expect the Redskins to stay on offense if and only IF one of the offensive tackles happens to be on the board. I think Ole Miss OT Michael Oher will be the pick if he is there. Alabama offensive tackle Andre Smith is also a possibility. The Redskins also need to address their pass rush so if defensive end Everette Brown from Florida State or Penn State defensive end Aaron Maybin were available they would be considered. The bottom line is they need to address their line play on both sides of the ball, but I think they would go OT over DE. Regardless, the Redskins are in a very good spot and will find a very good player who will fit a huge need on their roster." -- Jeremy Green, Scouts. Inc.
Who has final say? Ultimately it's owner Dan Snyder, but executive vice president of football operations Vinny Cerrato is running the room. If the Redskins trade out of the pick, Cerrato will be the reason why.
Now On the Clock: Denver Broncos, April 5.
Previous On the Clock: New Orleans Saints. The team-by-team series.
February, 23, 2009
2/23/09
12:27
PM ET
By
Matt Mosley
| ESPN.com
Posted by ESPN.com's Matt Mosley
There's nothing I love more than some good standing broad jump play-by-play. I used to scoff at the NFL combine, but it's grown on me over the years. The broad jump play-by-play man just told me how sports tape "promotes the flow of blood" before a player leaps into the air.
So far, Wake Forest linebacker Aaron Curry has the most impressive broad jump with 10 feet, 4 inches. USC linebacker Brian Cushing just recorded 10 feet. (That's Frank's boy). And fellow USC linebacker Rey Maualuga just had a disappointing 8 feet, 10 inches. The wild shock of hair shooting out of his headband could've hindered the leap.
OK, this is so addictive. If you're at work, also check out the 3-cone drill, which was invented by Titans scout C.O. Brocato. It's easy to make fun of the NFL Network for devoting 25 hours to men running 40s and cone drills, but it's exactly what they should be doing.