September, 10, 2014
Sep 10
1:20
PM ET
Bruce Arians brought a new offense with him when he took over as
Arizona Cardinals
coach last year, and it took a while for veteran quarterback
Carson Palmer
to master it. So when Arians watches
New York Giants
quarterback
Eli Manning
right now, he sees a familiar sight -- a veteran going through growing pains as he works to learn a new offense.
Manning
"I don't think there's any doubt," said Arians, whose Cardinals visit the Giants at 1 p.m. ET on Sunday. "It's very hard for somebody to change after they've been in a system. I did this with Carson Palmer last year. He'd been in the same system pretty much nine years and he has ideas and you're trying to reprogram. It's easier getting a rookie and brainwashing him than it is to take a veteran and change him totally into a new system."
The Giants' offense looked poor throughout the preseason and did again in racking up only 197 yards in a season-opening loss in Detroit on Monday night. Manning and the passing game have struggled so badly to get on track that wide receiver
Victor Cruz
is publicly petitioning for more targets. The problems range from pass protection up front to Manning's continued struggles with the footwork and timing on which new coordinator Ben McAdoo's West Coast scheme is based. And it's possible it's going to be a long time before it looks the way they want it to look.
"I try never to judge a quarterback in a new offense until Week 8," Arians said. "Because it just takes so much time, and you see the same defense all through OTAs and all of training camp. Now, all of a sudden you're seeing a different defense every week and a different game plan, and I think it takes a while to get through a number of different-style clubs and swing it back and really see the improvement in the second half of the season."
That's potentially bad news for a Giants team that started 0-6 last year and was hoping to get off to a faster start this year. But Arians' point is that it takes time, as he saw last year when he had to teach his own scheme to Palmer.
"It was Week 8 for us last year," Arians said. "That's when, all of a sudden, you could see the guys around him start to get it and play faster and play better. Instead of waiting to see a guy come open, he was throwing guys open. When you can throw the ball on time, trust the receiver is going to be there, everything happens a second or a second and a half faster. And that's a lot of time when you're talking about the passing game."
June, 13, 2014
Jun 13
1:00
PM ET
IRVING, Texas -- Since the
all-time quarterback rankings
that had
Tony Romo
ahead of Troy Aikman went over so well earlier in the week, let's close the week with some more rankings.

Garrett
David Steele of the Sporting News
has ranked the NFL head coaches and
Dallas Cowboys
head coach Jason Garrett came in at No. 23.
Here's what Steele had to say:
One will always wonder how Garrett would do out from under Jerry Jones, as something other than the owner's hand-picked golden child -- or with a roster only half as bizarrely constructed as the Cowboys' usually is. On the other hand, coaching the Cowboys has always meant living up to outsized expectations, and Garrett hasn't even come close so far.
All of the 22 coaches ahead of Garrett made the playoffs if we're counting Bruce Arians' work as the
Indianapolis Colts
' interim coach in 2012. Arians went 10-6 in his first year with the
Arizona Cardinals
last season but did not qualify for the postseason.
Garrett has a 29-27 career mark, two games above .500 because of his 5-3 stint as the interim when Wade Phillips was fired in the middle of the 2010 season. The Cowboys have gone 8-8 in each of Garrett's three seasons and lost the chance to make the playoffs all three times with Week 17 NFC East losses.
Some progress has been made, like retooling the offensive line and drafting better, but the scheme change from the 3-4 to the 4-3 last season was disastrous. Rod Marinelli is Garrett's fourth defensive coordinator since taking over in 2010. Scott Linehan will be the third different playcaller in as many years.
Game management has been an issue. The Cowboys have had too many "how-did-they-lose-that?" contests in Garrett's watch (Detroit, 2011, Arizona 2010,
New York Giants
2010, Green Bay 2013).
The ranking sounds about right for now. Garrett can work his way up the list if the Cowboys make the playoffs this year when outside expectations are so low. If he does that, not only will his ranking go up, but he would earn a contract extension as well, which might be a tad more important to him.
January, 14, 2013
1/14/13
4:18
PM ET
The
Philadelphia Eagles
announced Monday that they have interviewed former
Arizona Cardinals
coach Ken Whisenhunt for their vacant head-coaching position. Whisenhunt, who coached the Cardinals for six seasons and went to one Super Bowl (famously beating the Eagles in the NFC Championship Game four years ago to get there), is the second former NFL head coach whose name has surfaced in connection with the Eagles in the last two days. CSNPhilly.com reported that they also have interviewed former
Baltimore Ravens
coach Brian Billick.
Combined with the expected interviews of Bengals offensive coordinator Jay Gruden and Colts offensive coordinator Bruce Arians, this brings the number of known interviewed Eagles candidates to 12, including the three college coaches who turned them down and decided to stay at their schools. What's interesting is the variety -- the college coaches, offensive coordinators, defensive coordinators such as Seattle's Gus Bradley and former head coaches in Billick, Whisenhunt and Lovie Smith.
What it says to me is that the Eagles don't have a clear preference among their remaining available candidates and are interviewing as many people as possible to make sure they make the right decision. Some have expressed frustration that the process is taking so long and appears to lack focus, but I don't think either of those is a valid criticism. I think there's no harm in casting a wide net, especially when you don't have a clear top choice (or when your top choice, who in this case I believe was Oregon's Chip Kelly, has already passed). If nothing else, in talking to men who've done the job at the NFL level, the Eagles' decision-makers can get a sense of the different approaches people take to the job and maybe educate themselves about what they like and don't like in a candidate.
Eagles fans haven't been through a coaching search in 14 years, so they can be forgiven for forgetting what it's like. But a lot of times, this is it. And it's only been two weeks since Andy Reid was fired, so really it hasn't taken as long as it may seem. Just because you're hearing different names of different types of candidates doesn't mean anything negative about the search. If anything, it's careful and purposeful, which is good because it's important to get it right.
January, 8, 2013
1/08/13
8:00
AM ET
There are other things going on in our division besides this
Robert Griffin III
knee injury, right? Let's see if we can't find a few for the links.
Washington Redskins
Wide receiver
Pierre Garcon
has a phobia about surgery and
does not want to have it
on his foot this offseason, though it sounds as though he may have to bite the proverbial bullet if he wants his foot to feel better.
Mike Shanahan appeared to suggest that the Redskins still believe they can
get some satisfaction
in their dispute with the league about the salary-cap money they were docked last spring. And I guess he'd know. But Shanahan is literally the only person involved in this situation to whom I've spoken over the past six months who has said anything to indicate this isn't a settled issue. I'm just saying, I wouldn't get my hopes up on this.
New York Giants
Ohm's looking this week at "Five Giant Issues," and
his most recent
examines what went wrong with the pass rush in 2012. Certainly, one of the most surprising aspects of this 2012 season was the failure of the Giants' pass rush to show any life.
The new coach of the
Buffalo Bills
has a connection with Giants coach Tom Coughlin, a Syracuse guy who
has been a mentor
to Doug Marrone.
Dallas Cowboys
Scapegoat season has begun, and the Cowboys
have fired
running backs coach Skip Peete. Yes, it's hard to blame the running backs coach for the problems the Cowboys had in the run game this year, but that's how it goes when you're the running backs coach. When changes start coming, those are the kinds of guys who are looking over their shoulders.
Dez Bryant
is
having surgery today
to repair that broken finger. A clear bright spot in 2012, Bryant will enter 2013 with lofty expectations to continue his rise.
Philadelphia Eagles
With Chip Kelly staying put in Oregon, the Eagles are
soldiering on
in their effort to find someone to coach their team in 2013. Jay Gruden, Gus Bradley and Bruce Arians are among the now-familiar names who are getting interviewed for it this week.
After watching Bradley coach the Seahawks' defense to victory in Washington on Sunday, Reuben Frank
thinks he'd be a good choice
for the Eagles.
January, 4, 2013
1/04/13
6:15
PM ET
I believe I mentioned this idea a month or so ago in a Blogger Blitz video about
Indianapolis Colts
offensive coordinator Bruce Arians as the kind of coaching hire that might generate positive vibes among the
Philadelphia Eagles
' fan base. Arians went 9-3 this year as the interim head coach of the Colts while Chuck Pagano was receiving treatment for Leukemia, and that performance has enhanced Arians' status in the eyes of NFL teams looking for head coaches. The Eagles have received permission, they announced, to speak with Arians as well as Seahawks defensive coordinator Gus Bradley. Since the Colts and Seahawks have wild-card-round playoff games this weekend, they are not permitted to interview until next week.
[+] Enlarge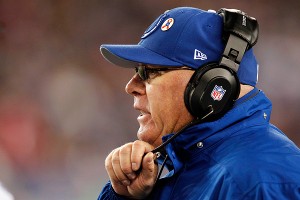 Greg M. Cooper/USA TODAY Sports At age 60, would Bruce Arians be a good fit for the Philadelphia Eagles?
Mike Sando has a nice breakdown of
what might appea
l to the Eagles about Bradley, and he's surely an interesting new name. But the name of Arians, who's 60 years old and has 20 years of NFL assistant coach experience but no head coaching experience until this year, is intriguing in a different sort of way. The feeling around the league is that the Eagles will hire an offensive-minded coach, and Arians is that. And clearly, he's shown an ability to lead men to success even in trying circumstances.
It'd feel weird for the Eagles to hire a 60-year-old coach who said he he planned to retire last year after the Steelers let him go. Arians doesn't fit the profile of the young, up-and-coming innovator Eagles fans may have in mind, and hiring a 60-year-old doesn't scream "long-range planning." But if you think about it, 60 isn't
that
old in NFL coaching circles. We see coaches coach into their 70s, and Arians is still 10 years away from that. Could be he's a guy who should have got a chance a long time ago and is just now getting a look because of the extraordinary circumstances that took place in Indianapolis this year.
Anyway, it seems at least worth checking out. Tapping into some of that good Colts karma isn't a bad idea for an Eagles franchise that feels as though it's under a cloud these days. Philadelphia is casting a wide net in its coaching search, and it's probably a good idea to consider a wide variety of candidates.
December, 6, 2012
12/06/12
10:00
AM ET
With Andy Reid almost certainly on his way out the door as
Philadelphia Eagles
coach, I get a lot of questions these days about who will replace him. Fact is, I don't have any idea, and I can't find anyone who does. All anyone's got right now is speculation, and when we speculate about someone else's decisions we try to look for some sort of clues about the reasons those decisions might be made.
So in this week's Blogger Blitz video, I discuss one possible factor -- public relations appeal. No, I don't think the Eagles should pick a head coach based on P.R. appeal. But you're nuts if you don't think that's one thing weighing on owner Jeffrey Lurie's mind. People close to the Eagles will tell you that it upsets Lurie that he's got this team that has won so many games and made so many playoff appearances over the past decade-plus and yet the city of Philadelphia has such strong negative feelings about it. He has a lot of money sunk into this team, and the idea that its fans can't stand it is irksome, which is understandable.
As we imagine who might be the next coach, then, it's worth considering that it would be someone Lurie can present to the fans in a manner that is upbeat, positive and hopeful. Someone who won't make eyes roll when the news is announced. This is a fan base that famously booed the announcement that the team had drafted
Donovan McNabb
, and which has taken to using the tone of Reid's say-nothing news conferences as fuel for its animosity toward him. The announcement of the new coach will get nearly as much attention as the coach himself will. I think Lurie and the Eagles will do whatever they can to hire the best-qualified football coach, but whether right or wrong I'm sure that they'll ask about each potential candidate, "How will our fans take this?"
So no one from the current staff, certainly. And realistically, they're not getting someone like Sean Payton to bail on
Drew Brees
so he can come coach
Nick Foles
. The names I raised in the video include Oregon's Chip Kelly, who's probably the hottest candidate from the college ranks and Cincinnati defensive coordinator Mike Zimmer, who's having another big year and seems somewhat universally respected as a coaching candidate. I wonder if they'd even take a look at a guy like Bruce Arians, who's done such a fine job filling in for Chuck Pagano with the Colts. Total shot-in-the-dark speculation on my part, but he's a guy about whom people are saying all positive things these days.
Just something to think about, is all. Thanks for watching the video.