January, 3, 2014
Jan 3
11:01
AM ET
IRVING, Texas -- For the second straight year the
Dallas Cowboys
will see their special teams coordinator interview for an NFL head coaching vacancy.
According to ESPN's John Clayton, Rich Bisaccia will interview with the
Washington Redskins
. Last year Joe DeCamillis interviewed with the
Chicago Bears
and eventually joined Marc Trestman's staff as assistant head coach/special teams coordinator.
Bisaccia put together one of the better special teams' units in the NFL last season, but he almost never got to the Cowboys. If things had not worked out, then he would be coaching in the BCS Championship game for Auburn. He was the school's running backs, special teams and assistant head coach for 22 days before joining the Cowboys last winter.
Bisaccia and Redskins general manager Bruce Allen worked together for years with the
Tampa Bay Buccaneers
.
Bisaccia was Jason Garrett's top choice last season, but he also interviewed Bruce DeHaven, a former Cowboys' special teams coach, and Alan Lowry.
The Cowboys saw improvement in their kickoff and punt return averages, albeit minimally in the punt returns. The kickoff and punt coverage were also improved by fractions, and there were no major breakdowns.
In 2012, the Cowboys had a punt blocked, a punt returned for a touchdown, and a kickoff returned for a touchdown. This season, the longest punt return allowed was 26 yards, and the longest kickoff return was 45 yards.
With injuries on defense, Bisaccia had to mix and match his units, but they were able to hold up their end of the bargain.
February, 15, 2010
2/15/10
3:50
PM ET
By
Matt Mosley
| ESPN.com
On the Sunday following the Super Bowl, special-teams coaches around the league are always on pins and needles. That is because they're waiting for Dallas Morning News NFL columnist Rick "Goose" Gosselin to release
his annual special-teams rankings
.
[+] Enlarge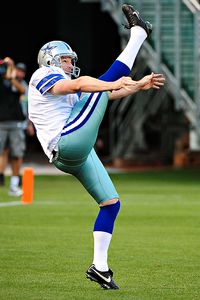 Kyle Terada/US PresswireThe Cowboys downed 38 of Mat McBriar's punts inside the 20.
Gosselin, my old officemate at the DMN, has developed an intricate system for ranking the special-teams units from all 32 teams. In fact, teams such as the Eagles will often cite Gosselin's report when announcing a new special-teams coach. Surprisingly, the hapless
Cleveland Browns
were ranked No. 1 this season and the Super Bowl-winning Saints checked in at No. 29.
The Cowboys hired former Jaguars special-teams coach Joe DeCamillis before the '09 season and moved up 23 spots to No. 4 in the overall rankings. The Eagles were 17th, Giants 20th and Redskins 27th. The good news for Eagles fans, though, is that new special-teams coach Bobby April led the third-ranked special-teams unit in Buffalo. OK, here are some other NFC East-related tidbits from the Gosselin rankings:
The Eagles led the league in punt returns with a 13.5-yard average thanks to DeSean Jackson.

Pete Carroll made a major mistake running off former Cowboys special-teams coach Bruce DeHaven from Seattle. The Seahawks finished 11th in the rankings despite having a bad overall team.

Cowboys opponents had an average starting point at the 22.8-yard line (second in league), something that could be attributed to leading the league in touchbacks. David Buehler deserves major props for his work in that department.

The Cowboys were fourth in the league with 38 punts downed inside the 20. That's one of the main reasons Mat McBriar belonged in the Pro Bowl.

The Eagles and Chargers tied for first in field goals made with 32.

The Cowboys ranked 30th in field goal percentage with 64.5.

The Redskins led the league in giveaways on special teams with five.

I realize the Packers don't play in the Beast, but can you believe they had 28 penalties on special teams? The Falcons had a league-best six.
May, 28, 2009
5/28/09
11:53
AM ET
By
Matt Mosley
| ESPN.com
Posted by ESPN.com's Matt Mosley
Trimming the Cowboys' roster to 53 in late May seems like a silly exercise -- but that didn't stop DallasNews.com's senior blogger Tim MacMahon. Take a look at what MacMahon came up with, and see how it matches up with your final 53. Oh wait, you haven't done yours yet?
MacMahon's list looks pretty solid to me. He has 11 of the club's 12 draft picks being on the final roster. I'm not sure what that says about the Cowboys. In my mind, it means that Wade Phillips has finally admitted that it's hard to win with poor play on special teams. That was his undoing in Buffalo (firing Bruce DeHaven), and we'll see if he's waited too late in Dallas.
I think fifth-round safeties Michael Hamlin and DeAngelo Smith have made excellent first impressions with the coaching staff. Safeties coach Brett Maxie told me Tuesday that Hamlin is soaking up information quicker than most rookies he's coached. And both players have good ball skills, something this team has been missing in recent years.
MacMahon has Isaiah Stanback making the team, but I don't think that will happen. He might be intriguing as a Wildcat quarterback, but he can't stay on the field because of injuries. Former Sooner Travis Wilson will have a shot at being the fifth receiver. I think Manuel Johnson and Kevin Ogletree could be good practice squad candidates.
And the depth along the offensive line is so uninspiring. Cory Procter or Montrae Holland can get you through some games at guard, but after that it's a crapshoot. Doug Free should give thanks each day that the club hasn't been able to develop another young lineman to force him off the roster. The Cowboys have done a lot of things right in the draft. Drafting talented offensive linemen isn't one of them. Maybe Robert Brewster out of Ball State will change that, but I have my doubts.
Do you guys see any major/minor surprises happening during the trimming process? Have fun churning the bottom of the roster. No one loves that phrase more than Bill Parcells. Never thought I'd miss him, but ...
January, 1, 2009
1/01/09
9:59
AM ET
By
Matt Mosley
| ESPN.com
Posted by ESPN.com's Matt Mosley
The first step in Wade Phillips' new plan for returning the Cowboys to the playoffs was apparently to identify the nearest scapegoat. And unfortunately, special teams coach Bruce Read was an easy mark. The special teams were awful during Read's two years with the club, so Tuesday's announcement didn't catch anyone by surprise.
A source with the club informed me Wednesday that the Cowboys would not immediately replace Read because they might want to talk to special teams coaches still in the playoffs. ESPN's Chris Mortensen is reporting that Joe DeCamillis, who has been with the Jaguars the past two seasons, is a leading candidate.
The Cowboys were already showing signs of poor play on special teams in the preseason and the debacle in the desert against the Cardinals probably sealed the deal in Week 6. The Cardinals blocked a Mat McBriar punt to beat Cowboys in overtime -- and McBriar had to be placed on injured reserve with a broken right foot.
Read had to use a lot of older players on his coverage and return units after players such as Sam Hurd and Pat Watkins were lost for the year to injury. Adam "Pacman" Jones never lived up to expectations in the return game. As I pointed out in the news story, this isn't Phillips' first rodeo when it comes to firing special teams coaches. He made Bruce DeHaven the scapegoat for the Music City Miracle, and then replaced him with Ronnie Jones, whose NFL career quickly came to an end when the Bills' special teams were dreadful.
The Cowboys needed to make this move, but to think Read was the only problem is pretty naive.
Happy New Year!
December, 24, 2008
12/24/08
2:20
PM ET
By
Matt Mosley
| ESPN.com
Posted by ESPN.com's Matt Mosley
Redskins punter Ryan Plackemeier was named the NFC Special Teams Player of the Week for his performance in a 10-3 win over the Eagles on Sunday. He punted eight times, and five of those were downed at or inside the 10-yard line. His five punts in the fourth quarter resulted in the Eagles starting drives at their 9, 3, 10, 20 and 9-yard lines. Pretty remarkable numbers for a guy who was released by the Seahawks -- against special teams coach Bruce DeHaven's wishes. Plackemeier has helped clean up a mess the Redskins made by cutting veteran Derrick Frost and going with rookie Durant Brooks.
This is the sixth weekly or monthly honor the Redskins have received this season.
October, 12, 2008
10/12/08
4:30
PM ET
By
Matt Mosley
| ESPN.com
Posted by ESPN.com's Matt Mosley
GLENDALE, Ariz. -- Not the start the Cowboys were looking for against the Cardinals. J.J. Arrington takes the opening kickoff back 93 yards for a touchdown. After watching several replays, it looks like rookie Mike Jenkins broke containment on the sideline. Anthony Spencer had the best shot at Arrington, but he barely slowed him down.
Rookie Orlando Scandrick and kicker Nick Folk were the safety valves, and they never had a shot. Looked like former Cowboys receiver Jerheme Urban did a nice job of sealing Scandrick the last 30 or 40 yards.
If the Cowboys lose this game, special teams coach Bruce Read is going to receive a ton of heat. Dallas has not been the same since Bruce DeHaven left to take a job with the Seahawks.
There are some people who were hoping Jerry Jones would fire Read and bring back former special teams coach Joe Avezzano, a mainstay during the Super Bowl years and a finalist for the head-coaching job that Dave Campo eventually received.