December, 14, 2013
12/14/13
10:00
AM ET
Louis Riddick endured the chaos in Washington from 2001-07, first as a scout and then as director of pro personnel. He knows the toll it takes and what needs to happen. This is Part 1 of our conversation with the ESPN NFL Insider.
What does Dan Snyder need to do?
[+] Enlarge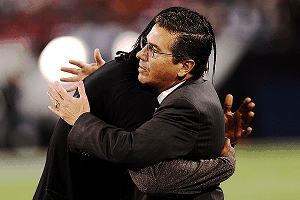 AP Photo/Paul SpinelliOne has to wonder just how strong the relationship is between Redskins owner Dan Snyder and star QB Robert Griffin III.
Louis Riddick:
He can do whatever the hell he wants. He owns the place. He doesn't have to ignore players. But he has to understand the delicate culture of an NFL locker room. You can't empower a first-year quarterback to feel he is bigger than everyone else when you have 8-, 9-, 10-, 11-year vets that you're not doing things for. You can't do that to a point where a head coach feels as though he has to make a stand against that kind of stuff to this degree – if you believe that's what's happening now and why wouldn't you believe it considering the fact that to different degrees you've seen it before with Bruce Smith or Clinton Portis. You've seen players say, 'I can do what I want because I'm tight with the main guy.' … You have to respect how the game has to be managed from the ground level, not from the board room and be cognizant of the power and authority the head coach deserves and needs. If it's just about, 'I'll do what I do because I have a right to do it,' then don't be mad when the results are what they are. This is a long-winded way of saying you have to make some adjustments, otherwise you'll face this over and over.
There's nothing wrong with wanting to be personable. This is a relationship business. It's still a people business. I don't think the upper level of management has to be so cold and impersonal that it lacks the ability to relate to or communicate effectively with the people who work for you. But the dynamic of running an NFL team from a head coach's perspective is very unique and you can't in any way undermine it.
Assuming this staff is gone, someone will take this job.
Riddick:
Yes. … I know Dan cares about this team dearly, desperately. I know he does. He just has to make some adjustments.
I know from Robert Griffin's perspective all the talk about his relationship with Snyder is off the mark, that they're not as close as it's being leaked.
Riddick:
A lot of times it's funny how when you're a part of it and part of the problem you don't realize how much you're part of the problem. 'How can what I'm doing be so bad? I'm not doing anything. I'm just hanging out.' If you could have him step outside himself and look at himself. … When I used to look at old pictures of myself as opposed to now, I was wearing earrings and had all the chains and I was like, 'What the hell is that? That can't be me.' While I was doing it I thought this is the way it's supposed to be. You don't have perspective. Perspective is going to be the key.
What's the formula for Snyder?
Riddick:
The hardest part for him is to be objective. You can't help from keeping his subjective feelings and preconceived attitudes and biases about this game out of it. He just can't help it. He is really attracted to the names, the star power, the perceived star power and big names and doesn't dig deep to see what's substance and staying power those star power names have, whether or not it really is something and if star power and names have earned all the accolades and attention they get. If you look at Mike [Shanahan], you can ask 50 different people and get all kinds of different opinions, and one thing you'll constantly hear people say is if it wasn't for John Elway, now what? They'll keep saying that. That's what they'll keep saying. If you look past that, once he left and started to get total control and was building the organization, what happened then? What do people say about you after that point? Dan needs to stop chasing names and start trying to look for substance and look for real qualifications and then he has to re-examine his information gathering process and let the process lead to the name instead of looking to the name and saying the process took care of itself because I got the name. It's almost like doing it backwards. He'll eventually get what he wants if that process is sound, which is to stop getting embarrassed.
The sad part is the process once led them to Jim Zorn.
Riddick:
It's just as important in the head coach hiring process for the people who are doing the interviewing to have prepared and studied and researched what they need to ask and what they need to hear as it is for the person who is being interviewed. If you have taken the time to find out what the answer is I'm looking for, what characteristics I'm looking for that are going to take my organization to the places I want to take it to. If you don't know what they are, then you have no shot. You'll hire this guy, try that guy. You need to stop and look at yourself and say, 'Am I respecting the process and respecting the game and how hard it is to build a winner?'
November, 12, 2013
11/12/13
7:30
AM ET
ASHBURN, Va. -- The
Washington Redskins
have gone on four excellent runs to turn their season around and close with a flourish since 2001. Will they make it a fifth? Based on their recent play it's tough to predict such a run. But history also shows that these runs aren't always predictable.
Here are the four seasons in which Washington has finished on a hot stretch, taking a season from bad to excellent:
2001
How they started:
The Redskins lost their first five games under coach Marty Schottenheimer -- and looked terrible in doing so. It also happened to follow a horrible preseason. The Redskins were outscored 143-33 in those games.
[+] Enlarge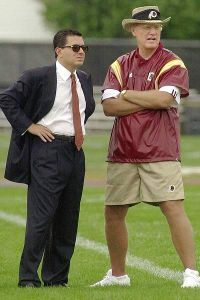 Chris Knight/AP PhotoThe 2001 season was a roller coaster of wins, losses and emotions for Redskins owner Daniel Snyder and coach Marty Schottenheimer.
Low point:
Players were unhappy with Schottenheimer and his methods early in the season, with several voicing their complaints (even mild-mannered second-year offensive tackle
Chris Samuels
was displeased). But the two who were most upset? Corner
Darrell Green
and
Bruce Smith
.
Thoughts of a turnaround:
None. The Redskins had played poorly since the preseason and they had cast-off
Tony Banks
at quarterback and no legitimate playmakers on offense. But what did start to change was the impression of Schottenheimer. Players started to respect his methods. They started to become a tough, physical team. A
LaVar Arrington
interception versus Carolina in a 17-14 win turned it around.
How it ended:
The Redskins won five straight to reach .500 en route to an 8-8 record. Schottenheimer was well-liked by most players in the locker room, though Smith and Green, by most accounts, did not buy in. Owner Dan Snyder did not buy in, a fact that upset numerous players, as he fired Schottenheimer. It was a mistake.
2005
How they started:
The Redskins actually played well at the start of the season, winning their first three games and they were 4-2 after six games. But they lost four of their next five to sit 5-6 after 11 games.
Low point:
The Redskins lost three straight games, including the last two at home. One of those was as bad as the Minnesota game last week as they lost 16-13 to a three-win Oakland team that lost every game the rest of the season. They followed that with an overtime loss at home to San Diego.
Thoughts of a turnaround:
Solid, despite the skid. Players were genuinely confused about what had happened. They knew Gibbs' first year would be a struggle, but I remember talking to players, tackle
Jon Jansen
in particular, about what was happening. Their belief was that they were at least a nine-win team, that they had worked too hard and believed too much in what they were doing. I didn't think they would win every game the rest of the season, but a strong finish? Doable.
How it ended:
The Redskins won their last five regular season games to finish 10-6 and reach the playoffs. No opponent scored more than 20 points and the Redskins topped 30 in each of the last three games.
2007
How they started:
The Redskins won five of their first eight games coming off a 6-10 season. Things looked good.
Low point:
Sean Taylor's death. The Redskins then lost a crushing game to Buffalo, 17-16, and flew to Miami for his funeral. It was their fourth straight defeat as they fell to 5-7.
Thoughts of a turnaround:
None. It was asking too much for them to turn it around given the circumstances. They were a drained team. But, as in 2005, there were a lot of true professionals that provided reason to believe they could win again.
How it ended:
Todd Collins
entered and played well at quarterback for an injured
Jason Campbell
and the offense started to click. The team overall played inspired football and the Redskins won four in a row to reach the playoffs. They lost in the first round and Joe Gibbs retired.
2012
How they started:
Washington lost three straight, including at home to Carolina, 21-13, to fall to 3-6.
Low point:
Losing at home to previously one-win Carolina after two straight defeats to the
New York Giants
and Pittsburgh. Against the Giants, the Redskins played a solid game and lost on a last-minute touchdown pass. But
Robert Griffin III
's heroics provided hope that they were never out of a game. They lost at Pittsburgh in part because of nearly a dozen dropped passes and the Steelers' defense had been dominating all year. Neither were terrible losses. But at home to the Panthers? That was bad.
Thoughts of a turnaround:
After the bye week, the players returned refreshed and energized and expressed a belief that they could play better and finish strong, with fullback
Darrel Young
saying they would do "something special." Too many players believed in what they were doing to write them off; it was similar to the 2005 feeling I had. So I anticipated improved play? But a seven-game streak? No way.
How it ended:
With seven straight wins and a home playoff loss to Seattle, and the injury to Griffin. But with a belief that they had turned a corner.
November, 9, 2012
11/09/12
8:00
AM ET
New York Giants
What would a week with the Giants be without a little back-and-forth trash talk with or about the other team? This week, the Bengals' A.J. Green said something about the Giants' defense having "a lot of holes in it," and Giants safety Antrel Rolle fired back with some profanities and
a bit of a threat
. "I'll talk with my pads come Sunday. That's how I approach the game. That's how we always approach the game," Rolle said. "If he sees me, he'd better duck. That's it." We'll miss the chatty Giants next week when they're off, won't we?
Hakeem Nicks says he did not have a setback with his knee and that he'll play Sunday. He also said "
stats is for girls
" when asked about his disappointing numbers, then later clarified his comments to make sure everybody knew he wasn't being sexist but rather repeating something a youth coach of his used to say about guys who just want to compile stats for the purpose of impressing girls. Nicks is a good, unassuming guy, and I believe that he wasn't trying to be defiant or, certainly, offensive.
Philadelphia Eagles
Dominique Rodgers-Cromartie says the rest of the league looks at the Eagles' defense as "
pretty
," and that the impression other players have is that "y'all guys are talented but y'all don't want to hit nobody." Looks that way the last few weeks, sure. The Eagles' defense was a tough-tackling unit in September but has looked lost lately.
One aspect of the Eagles that's not at risk of being called "pretty" is the offensive line, which is down four starters and a complete mess. But line coach Howard Mudd says
the problems can be fixed
.
Dallas Cowboys
If the Cowboys' DeMarcus Ware can tear through that soft Eagles line on Sunday and get at least one sack, he'll have his seventh straight season with at least 10 sacks. That would
put him on a list
with Reggie White, John Randle, Bruce Smith and Lawrence Taylor, which if you sack quarterbacks for a living is the kind of list on which you dream to find yourself.
Jason Garrett says he doesn't like the word "desperate" because it suggests that the team might start to do things it's not supposed to do. But Jean-Jacques Taylor writes that the Cowboys' situation is
indeed desperate
, because the loser of Sunday's game in Philadelphia can kiss its season goodbye.
Washington Redskins
One of the most disappointing aspects of this year's Redskins team for Mike Shanahan has been
an excess of penalties
. The Redskins have played and lost a lot of close games, and if you're a coach who thought your team would be better than 3-6, that's an obvious place to look.
Brian Burke looks at the numbers during the bye week and concludes that the Redskins do indeed
still have a chance
to reach this year's playoffs. Certainly, the fact that they have five division games among their final seven offers some degree of opportunity.
February, 21, 2012
2/21/12
12:30
PM ET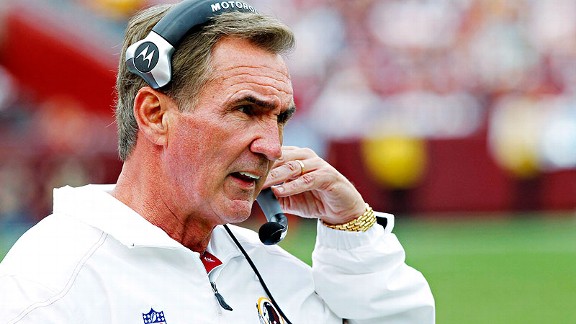 Geoff Burke/US PresswireSince Mike Shanahan's arrival, the Redskins' personnel decisions have been more disciplined.
I get it,
Washington Redskins
fans. You've been hurt. You've been burned too many times by big March headlines you thought would bring lasting happiness but instead brought heartache, and now it's difficult for you to trust. You don't want to be hurt again.
How else to explain the horrified reaction by a quarterback-starved fan base to the idea of signing
Peyton Manning
? Judging by the reactions from the folks in our comments section all the way up to
the mayor of Washington, D.C.
, you'd think we were talking about handing the starting quarterback's job to Dan Snyder's teenage nephew. This is what Mayor Vincent Gray had to say on the topic to a D.C. television station last week:
"You know, I think it depends on what role he would play, Bruce," Gray said. "But I really think the Redskins need a quarterback that they can build with for the future. You know, Andrew Luck is probably going to go to the Colts, but there's Robert Griffin III, and there's a couple other promising quarterbacks that are out there. We've kind of been down this pathway with quarterbacks who've been great but maybe are in the back end of their career, and even if he comes in and plays a year or two, where do we go from there?"
Well, jeez, Mr. Mayor. At that point, you go with the guy you drafted in 2013 because you weren't able to trade up and get Griffin in 2012. Or you go with a young guy you picked later in that draft who's been apprenticing for a year or two under
Peyton Manning
, for goodness' sake. What Gray and many other Redskins fans seem to be missing here is that Mike Shanahan can't just go to the "franchise quarterback" aisle at the Wegman's down the road from the team's Ashburn, Va., training facility and pick one. Only one team's going to get Griffin, and if the Redskins aren't that team, they need to have a good Plan B. If Manning is fully healthy and shows he can throw the ball the way he was throwing it two years ago before his neck injury, he's the greatest Plan B in alphabetically themed planning history.
Redskins fans, the mayor included, are looking at this whole thing through the disappointing prism of free-agent signing periods past. I'm hearing names such as Bruce Smith, Deion Sanders,
Albert Haynesworth
and yeah,
Donovan McNabb
-- a list of big-name, star players the Redskins brought in to great fanfare and who flopped for one reason or another. Because of this, the chorus moans, Manning isn't the way to go. The Redskins have done the big-name/big-contract thing before and it just never works out. They need to stop doing business this way.
Well, guess what? They kind of already have. Yeah, McNabb was a mistake -- a flyer Shanahan took thinking he could re-light a spark that had gone out in Philadelphia and maybe sneak into the playoffs in his first year in Washington. He acknowledges it was a risk that didn't work out. But (a) Manning is not McNabb, who was no longer driven to excel by the time the Redskins got him and (b) the McNabb acquisition is an outlier among the moves Shanahan and Bruce Allen have made since taking over personnel decisions two years ago. Everything else they've done in the draft and free agency has been focused, sober and competent, and they deserve the benefit of the doubt, even from Redskins fans scarred by the mistakes of past administrations.
[+] Enlarge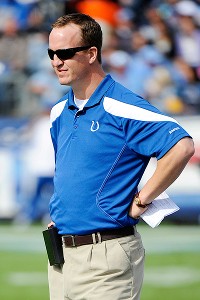 AP Photo/Frederick BreedonAdding Peyton Manning for the right price would make a lot of sense for the Redskins.
Snyder doesn't pull these strings anymore. Part of the agreement Shanahan signed when he took the job was that Snyder would let him build the team, as he puts it, "the right way." Last year's draft was an exercise in patience, as Shanahan refused to reach for quarterbacks he didn't think were the long-term answer simply because he had a need at that position. He traded back, trying to build depth, and picked up key future pieces such as
Ryan Kerrigan
,
Roy Helu
,
Evan Royster
,
Jarvis Jenkins
and
Dejon Gomes
. He has eight picks this year and will have to decide how many of them he's willing to sacrifice if he wants to move up to draft Griffin. Shanahan knows how many needs his team has, so he's not going to make that decision lightly.
In the meantime, there is free agency, and although the Redskins didn't make a big splash last summer, they did very well in free agency. Shanahan targeted specific players in the 27- to 29-year-old age group -- guys he believed were already established but still young and hungry enough to grow and develop with the team. He plans to use the same formula this year to address wide receiver, offensive line and the secondary. He's not after the biggest name out there. He's after the specific types of players he believes his team needs in order to build a consistent, year-to-year winner.
Which brings us back to Manning, one of the greatest quarterbacks of all time. Shanahan's not going to give Manning a big, five-year, huge-money deal. I don't think anyone is, given the health concerns, but if the market gets that crazy, I don't expect the Redskins to play in it. It just wouldn't be smart. Bringing Manning in on a one-year or two-year deal with incentives to allow him to prove he's healthy is smart, because if Manning is healthy, he's worth as much as any quarterback in the league.
That's the important thing to remember here, Redskins fans. Manning isn't a "fading star" who's past his prime. He was, before his neck injury, playing at as high a level as any quarterback in the league. He got hurt and missed a season. Now, it appears he'll be available again. And if he shows teams he can throw the ball the way he did in 2010, he's a smart short-term investment for a team that needs a quarterback answer now and for the future. The ideal solution would be both, but if that's not out there, the Redskins need to be smart about addressing the former while keeping their eye on the latter. So far, the Shanahan regime has shown that it doesn't do business like those "same old Redskins" who've hurt you so many times.
April, 5, 2010
4/05/10
12:26
AM ET
By
Matt Mosley
| ESPN.com
Pardon me for not getting caught up in the apparent playoff euphoria that is sweeping Redskins Park. My esteemed colleague and pal John Clayton has
elevated the Washington Redskins to "co-favorite" status
, along with the Dallas Cowboys, to win the NFC East.
Sorry, but I'm not there yet. Clayton points out that the addition of
Brett Favre
to the Vikings added 5.7 points per game and took them from 10 to 12 wins (and an NFC title game appearance).
My issue with that comparison is that McNabb won't have anywhere near the talent surrounding him Favre enjoyed. The Vikings had the best running back in the league heading into the 2009 season. The Redskins counter with a stable of running backs who each peaked about four years ago. I realize
Clinton Portis
was good in 2008 but he faded late.
Let's not act like drafting Oklahoma State left tackle Russell Okung in this month's draft is going to completely fix one of the worst offensive lines in the league. What, did you guys get excited about that
Artis Hicks
signing? He couldn't start for the Vikings last season but I guess he'll get the Redskins to the next level.
By trading for McNabb, Shanahan is acting as if the Redskins are prepared to win now. You don't pay an aging quarterback $11.2 million in 2010 to be a stopgap player. To me, this smacks of the old Dan Snyder way of doing business. McNabb is a blockbuster name like, say,
Deion Sanders
or
Bruce Smith
. It sounds like another expensive shortcut, albeit a highly-intriguing one.
But let's not forget McNabb finished his 2009 campaign by playing miserably in back-to-back losses to the Cowboys. Are the Redskins a better team with McNabb at quarterback? Of course they are. But it's hard to imagine him making a seven-win difference -- and that's what it would probably take to challenge for a division title. Clayton immediately has the Redskins passing the Eagles with this move.
"As for the Eagles, who were 11-5 last season, the pressure falls on the unproven quarterback
Kevin Kolb
," writes Clayton. "With this being his first year as the full-time starter, we can expect a two- or three-win drop in the Eagles' record because first-year starters have difficulty winning close games. The Packers experienced that after they traded Favre to the
New York Jets
for a second-round choice in 2008. Even though
Aaron Rodgers
threw for more than 4,000 yards in 2008, he struggled in the fourth quarter of close games, and the Packers dropped from 13-3 to 6-10."
Again, the good news for Eagles fans is that McNabb isn't exactly inheriting the Fun Bunch.
Santana Moss
still has breakaway speed, but he needs time to get open. And let's not act like McNabb is the same guy who once kept a play alive for 14 seconds on "Monday Night Football" against the Cowboys. In Philadelphia, McNabb played the majority of his career with offensive tackles
Tra Thomas
and
Jon Runyan
. He'll likely be breaking in a rookie on his blindside in 2010 and the pedestrian
Stephon Heyer
will man the right side.
This is certainly a fascinating trade in terms of its impact on two franchises, but to say that Washington and Dallas are the co-favorites in the division is a pretty big stretch.
August, 5, 2009
8/05/09
11:00
AM ET
By
Matt Mosley
| ESPN.com
Posted by ESPN.com's Matt Mosley
Cowboys
Eagles
Giants
Redskins
February, 26, 2009
2/26/09
2:09
PM ET
By
Matt Mosley
| ESPN.com
Posted by ESPN.com's Matt Mosley
The Washington Redskins have spent the past week releasing players and restructuring contracts in an effort to make a splash in free agency Friday. The Washington Post is reporting that the Redskins have "laid the groundwork" to go after Titans unrestricted free agent defensive tackle Albert Haynesworth.
Of course, it would be tampering if the Redskins are already visiting with Haynesworth's agent. But that never happens in free agency. The fact that Dan Snyder was having dinner with Haynesworth's agent in Indianapolis -- as reported by Peter King -- must've been purely coincidental.
We should credit a Houston sports radio host (Lance Zeirlein) for being the first to report that the Redskins were making a strong push to sign Haynesworth. As the Post points out, it's still hard to imagine Washington finding enough cap room to land Haynesworth, but Snyder's been known to get pretty creative. (His Shockwave roller coaster at Six Flags Over Texas is still a crowd-pleaser.)
And this is the type of splashy move that will bring back memories of Deion Sanders (sorry!) and Bruce Smith. But to be fair, Haynesworth's in the prime of his career. I know he's had some injury (and stomping) issues, but he's the most dominating defensive tackle in the game. There's a chance he could command more than $30 million in guaranteed money.
My biggest worry would be Haynesworth becoming satisfied with all that cash and becoming lazy. He's basically been in a "contract year" for the past two seasons. I don't think there's any guarantee that this guy continues to get better. Part of the reason he was so effective was the Titans' defensive scheme and the fact that he was surrounded by talented defensive ends. And you have to give former defensive coordinator Jim Schwartz a ton of credit for what he accomplished.
It appears that Plan B for the Redskins will be Cowboys defensive end Chris Canty. The former Virginia standout would be a nice addition, but he's not a game-changing force like Haynesworth. Of course, you could certainly save a lot of money with Canty. It would also give you a lot better chance of keeping DeAngelo Hall, who will be looking for a $15 million in guaranteed money.
Much, much more to come. Stay tuned for more breaking free agency news.
January, 6, 2009
1/06/09
7:05
PM ET
By
Matt Mosley
| ESPN.com
Posted by ESPN.com's Matt Mosley
Some good news and bad news from the NFC East now that the 17 finalists have been announced for the 2009 Pro Football Hall of Fame class. As we already knew, the late Cowboys wide receiver Bob Hayes is one of the two senior nominees. I'll be shocked if Hayes doesn't make it this time around.
Redskins guard Russ Grimm is one of the 15 modern-day finalists, but former Cowboys defensive end Charles Haley did not make the cut from 25 to 15. Haley has an NFL record five Super Bowl rings from San Francisco and Dallas. He was a huge part of the Cowboys' three Super Bowls in the '90s and he should've made it ahead of Richard Dent.
In other NFC East news, former Redskins defensive end Bruce Smith is also one of the 15 finalists. Of course, you would consider Smith more of a Buffalo Bill than a Redskin. I think the class will be Smith, Cris Carter, Hayes, Rod Woodson, Grimm and Paul Tagliabue. I'd love to hear what you guys think.