September, 2, 2014
Sep 2
7:59
AM ET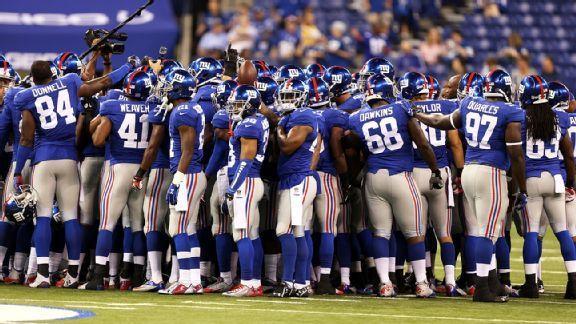 ESPN.com
New York Giants
reporter Dan Graziano makes his game-by-game picks for the 2014 season.
Week 1: at Detroit Lions
The Giants are coming off a mess of a preseason, undermanned and overwhelmed, with the offensive line still a mess and the new offense not clicking at all. No one will pick them to win this game. Except me. Prediction: Win
---
Week 2: Arizona Cardinals
This one's a comedown off the Week 1 surprise, as Arizona's banged-up defense still manages to flummox Eli Manning and collect a few interceptions. It's a bummer of a home opener as reality begins to set in. Prediction: Loss
---
Week 3: Houston Texans
Houston's defense is as liable as Arizona's to make life miserable for Manning and the offensive line. But Houston has bigger questions on offense than even the Giants, and this is a win for the New York defense against Ryan Fitzpatrick. Prediction: Win
---
Week 4: at Washington Redskins
The short week and Washington's stellar crew of offensive weapons prove too much for the Giants to overcome. Will Beatty still sees Brian Orakpo in his nightmares. Prediction: Loss
---
Week 5: Atlanta Falcons
The pattern continues, and the Giants overcome two Osi Umenyiora sacks to outscore the Falcons with a furious Manning comeback in the final minutes. The Giants poke their heads over the .500 mark as they make the turn into the most brutal stretch of their schedule. Prediction: Win
---
Week 6: at Philadelphia Eagles
The Giants don't have Matt Barkley to kick around this time when they visit the City of Brotherly Love. Chip Kelly and the Eagles show them what a truly innovative offense looks like. Prediction: Loss
---
Week 7: at Dallas Cowboys
The season-long debate about what gives when an anemic Giants offense meets a pathetic Cowboys defense tilts in Dallas' favor in the first meeting. Tony Romo & Co. have more than enough weapons to outscore Manning and his bunch, and the Giants hit the bye with a 3-4 record. Prediction: Loss
---
Week 9: Indianapolis Colts
After a long break before the Monday night home game, the Giants get taken apart by Andrew Luck, Hakeem Nicks & Co. at MetLife Stadium for a third straight loss. The offense is starting to run more smoothly, but it still doesn't have enough playmakers to outscore one of the league's better offenses. Prediction: Loss
---
Week 10: at Seattle Seahawks
You're kidding, right? Prediction: Loss
---
Week 11: San Francisco 49ers
The Giants have obviously handled the Niners in recent years and in some high-profile situations. But by this point in the season, San Francisco's defense is back to full strength, and the 49ers can't afford to lose ground to the Seahawks by failing to beat the team Seattle just beat the week before. Prediction: Loss
---
Week 12: Dallas Cowboys
A sixth straight loss is by no means out of the question here, as Romo and his crew still have the potential to outscore anyone in a given week. But from this far out, I'll forecast that something goes wrong for Romo late in this game, and the Giants get a gift. Prediction: Win
---
Week 13: at Jacksonville Jaguars
This is where the schedule starts to soften up, when the Giants start playing teams that insist on not starting their best quarterback. It's unfortunate they're 4-7 at this point and just about out of the playoff hunt, but they will get it going against the bottom-feeders. Prediction: Win
---
Week 14: at Tennessee Titans
I think the Titans are going to be dreadful this year, and by December they won't be very difficult for anyone to beat, even at home. A third straight victory keeps the Giants' hopes alive. Prediction: Win
---
Week 15: Washington Redskins
Have to be honest: The NFC East is so unpredictable that, when doing these predictions, I just decided to give the Giants a 3-3 division record with victories in all three home games and losses in all three road games. It's as fair a way as any to do it, I believe. Prediction: Win
---
Week 16: at St. Louis Rams
After moving back to .500 with four straight wins, the season falls apart at the hands of the St. Louis pass rush. An offensive line that has once again been the Giants' biggest problem all year can't protect Manning in a must-win game. Prediction: Loss
---
Week 17: Philadelphia Eagles
Tom Coughlin's teams can always find a way to play for pride. The Giants' playoff hopes are extinguished, but they still manage to end the season on a high note and with a .500 record. Prediction: Win
---
Predicted Record: 8-8
August, 22, 2009
8/22/09
1:48
AM ET
By
Matt Mosley
| ESPN.com
Posted by ESPN.com's Matt Mosley
ARLINGTON, Texas -- Cowboys owner Jerry Jones stood in the middle of a brand-new locker room late Friday evening looking like a proud parent. Jones said he woke up at 2 a.m. the morning of the first preseason game inside new Cowboys Stadium and "wasn't a bit tired."
The Cowboys beat the Titans 30-10, but the star of the game was the stadium. There was an announced crowd of 75,720, and the number appeared to be pretty accurate. Just as Jones planned about four years ago, his players entered the field by walking through a luxury suite filled with fans. The only glitch was that wide receiver Roy Williams was about 10 seconds late for his introduction.
About an hour earlier, starting inside linebacker Bradie James delivered what appeared to be the most inspiring preseason game speech in recent memory. It was obvious from the start the Cowboys had more energy than the Titans. Jones had hoped his players would be inspired by the $1.2 billion stadium, and for at least one night, that appeared to happen.
"I thought maybe this stadium would create a certain expectation and responsibility for our players," Jones said. "And if tonight's performance is any indication, that's going to happen."
The parking lots opened two hours before Friday's 7 p.m. CT kickoff. And despite heavy construction on a major highway near the new stadium, the traffic seemed bearable. The Cowboys played their first game with the roof closed, but the huge windows high above each end zone allowed natural light to pour in. Before the game, I bumped into the stadium's principal architect, Bryan Trubey, and he marveled at what Jones had accomplished.
"I've never worked with an owner who basically wanted to learn everything about what we were doing so that he could talk about it with authority," Trubey said. "It was like Jerry was going back to school."
| | |
| --- | --- |
| | |
| | Tim Heitman/US PRESSWIRE |
| | An A.J. Trapasso punt hit the bottom of the stadium's 90-foot-high video board. |
When the sun went down, the fritted glass on the outside of the stadium shimmered under 8,000-watt lighting. Inside, Marion Barber had the first carry in the stadium's history and Williams caught the first pass.
Jones seemed to enjoy the controversy surrounding a Titans punt that hit the bottom of the stadium's 90-foot high video board. A free-agent rookie out of Ohio State named A.J. Trapasso booted the ball into the board and then later criticized the Cowboys for not anticipating that scenario.
Meanwhile, Jones had a twinkle in his eye as he talked about the video board's "entertainment value." He didn't come right out and say it, but I think he'd hoped opposing punters would have to kick around the enormous board. He also seemed to imply that Trapasso was aiming for the board.
"The board is not intrusive," Jones said. "You shouldn't have any issues with this board."
And speaking of intrusive, Jones is pulling back the curtain on the media. He's set it up where fans in field-level suites can stare at reporters as they lob questions at Wade Phillips and Tony Romo.
"What y'all do is very entertaining," Jones said to a surprised group of reporters. "I want to let people be in there looking at you."
When I finally left him, Jones was talking about how he wanted to hire the "best illustrator in the nation" to break down plays on his huge video board. He compared it to how John Madden diagrammed plays on the telestrator -- but indicated that his guy would have better penmanship. Here's the last thing I heard Jones saying as I departed the locker room:
"If you can't get excited about a day like this, they need to put you in a pine box. I can use this day as a solid week."
I didn't have the heart to tell him it was just a preseason game.