NFC East:

Bryant McKinnie
April, 21, 2010
4/21/10
9:00
AM ET
By
Matt Mosley
| ESPN.com
»
NFC Draft Tale
:
East
|
West
|
North
|
South
»
AFC
:
East
|
West
|
North
|
South
I've heard so many versions of the story where the Cowboys had a near-miss in the first round of the 2002 draft that I decided to go back for clarification Tuesday. Former assistant director of pro personnel Bryan Broaddus still marvels at how owner Jerry Jones was on the phone with Vikings vice president for player personnel Frank Gilliam, Chiefs general manager Carl Peterson and Jaguars coach Tom Coughlin at the same time.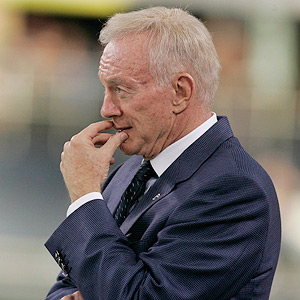 Tim Heitman-US PRESSWIRECowboys owner Jerry Jones was cool and collected despite almost missing a draft pick in 2002.
Jones, who had the No. 6 overall pick, was trying to determine who the Vikings were planning to take at No. 7 before swapping picks with the
Kansas City Chiefs
(No. 8). Jones found out the Vikings were not going to take Oklahoma safety Roy Williams (they picked
Bryant McKinnie
), so he traded down to No. 8 and selected Williams. We all know that Williams eventually flamed out in Dallas, but he was considered an excellent choice at the time. The Chiefs selected defensive tackle
Ryan Sims
No. 6 overall and the Jaguars took Tennessee defensive tackle
John Henderson
at No. 9.
"It was pretty impressive to see how calm Jerry was while working all those phones," Broaddus told me Tuesday. "You knew right then how good a negotiator he was."
But the Cowboys almost forgot to turn in their trade, which nearly allowed the Vikings to nab the sixth pick. A talented young scout from SMU named Chris Hall strolled into the draft room and asked whether the Cowboys had reported the trade to the league office. And that's when Stephen Jones, Jerry's son, took matters into his own hands.
"Jerry went to sleep at the wheel," former Cowboys scouting director Larry Lacewell told me a couple years ago. "And all the sudden someone shouts that we only have 10 seconds left."
According to Broaddus and at least two other eyewitnesses, Stephen dived across the table to grab the phone and inform the league about the trade. Jerry reportedly sat there with his arms crossed watching the whole thing play out. He'd likely been in tougher spots than this in the oil business.
"That's as close as I ever saw us come to losing one," said Lacewell, who remains close to the Jones family.
With the third-round pick the Cowboys acquired from the Chiefs in that trade, they selected Ohio State cornerback
Derek Ross
, who didn't pan out. But looking back, the Cowboys are just fortunate they submitted the trade on time. Vikings officials were rushing toward the table to make that No. 6 pick, but Stephen Jones' diving play saved the day.
February, 1, 2010
2/01/10
12:00
PM ET
By
Matt Mosley
| ESPN.com
New York Giants
left tackle
David Diehl
was thrilled to be added to the NFC Pro Bowl squad, but he
hadn't planned on playing every snap
. Diehl and Eagles offensive tackle
Jason Peters
went the distance in last night's 41-34 loss to the AFC, in part, because Vikings left tackle
Bryant McKinnie
was kicked off the team for skipping practices. At least one of Diehl's teammates -- Cowboys cornerback
Terence Newman
-- said he would petition the league so that the offensive tackle would receive the $45,000 winners' share.
McKinnie should be embarrassed by his actions. Had he simply come up with an injury or "personal reason," the NFC could've added another offensive tackle. Instead, McKinnie made the trip to South Florida and then decided to skip the practice sessions. And with the laidback approach during Pro Bowl week, it's not like McKinnie would've been taxed.
"I can't speak for him," Diehl said. "But I know a lot of guys are upset and I know guys that are on the Vikings, especially the guys here, they're here for everything -- the team stuff and everything. You're out here for the guys next to you. You're out here trying to give yourself the best opportunity to win the game."
Something tells me that McKinnie will lose some votes from coaches and players next season no matter how he performs on the field. And I think that would be an appropriate response.
January, 15, 2010
1/15/10
1:00
PM ET
By
Matt Mosley
| ESPN.com
AFC
:
Jets-Chargers
:
Graham
|
Williamson
»
Colts-Ravens
:
Kuharsky
|
Walker
NFC
:
Cowboys-Vikings
:
Mosley
|
Seifert
»
Saints-Cardinals
:
Yasinskas
|
Sando
Three nuggets of knowledge about Sunday's divisional playoff game between the Dallas Cowboys (12-5) and Minnesota Vikings (12-4).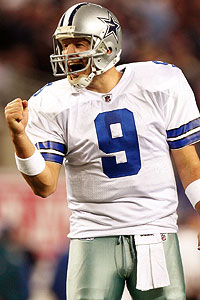 Ronald Martinez/Getty ImagesTony Romo's career QB rating of 95.9 shows he can play at an elite level.
1. Bring the noise:
It's hard to imagine the Metrodome being louder than the Saturday night in New Orleans, where the Cowboys gained confidence with a win over the previously unbeaten Saints in Week 15. But that Viking horn going off every 30 seconds or so can start to play tricks with your mind. It's well-known that Cowboys left tackle
Flozell Adams
has some hearing loss, which contributed to his six false start penalties this season. Dallas has done an excellent job of getting off to quick starts during its four-game winning streak and that will be imperative against the Vikings on Sunday. The last thing the Cowboys want is to fall behind early and let this crowd get carried away. That's why I think it's important for Dallas to establish the running game early on. The Cowboys' enormous offensive line feeds off the running game. If the Cowboys have some early success on the ground, you'll see players such as
Andre Gurode
and
Leonard Davis
begin to gain confidence against the Vikings' talented front four.
2. Romo vs. his boyhood idol:
I know that
Tony Romo
is trying to downplay the whole boyhood idol theme, but don't let him fool you. Growing up in Burlington, Wis., he tried to copy
Brett Favre
's every move. And when he first got into the NFL, he would wear his jacket on the sideline just like Favre (a cape) and position his chinstrap the exact same way as No. 4. It's no coincidence that he ended up with a similar style to Favre's. The Vikings are hoping they can take an early lead and force Romo to put too much pressure on himself. Romo's played better than Favre down the stretch, and I don't expect for his game to fade now. The Cowboys like the matchup they have with
Miles Austin
against
Antoine Winfield
, who's been banged up. I heard Chris Mortensen talking about it on the ESPN affiliate (103.3 FM) in Dallas on Thursday. He doesn't think Winfield is himself because of a bum foot, and he believes the Cowboys can exploit that matchup. Winfield's still a scrappy player, but he's not the guy he was three years ago -- or even three months ago, for that matter. If the Cowboys' offensive line can give Romo time, I think he can light up this secondary.
3. The Vikings' offensive tackles will have their hands full with the Cowboys' outside linebackers:
Wade Phillips has been doing a nice job of moving
DeMarcus Ware
and
Anthony Spencer
around. You'll even see them line up next to each other occasionally. It's important for the Vikings to communicate against this defense. I don't think
Bryant McKinnie
's prepared for what he's about to face with Ware. I guess
Julius Peppers
gave him a little preview, but Ware's even more relentless. Vikings coach Brad Childress must neutralize the Cowboys' pass rush by dumping off the ball to his tailbacks or fullbacks. Favre doesn't need a ton of time in the pocket, but you can't have him running for his life. The last time he faced a Phillips defense in the regular season, he was knocked out of the game after throwing two interceptions. Fortunately for Favre, Nate "The Mayor" Jones from Rutgers is no longer with the Cowboys. That's the man who sent him to the locker room on a corner blitz. This game should have it all, and the NFC East blog will be at the Metrodome to bring you every moment. Thanks for spending a little time with us this afternoon.
NFC EAST SCOREBOARD
Sunday, 10/26
Monday, 10/27