July, 28, 2010
7/28/10
12:15
PM ET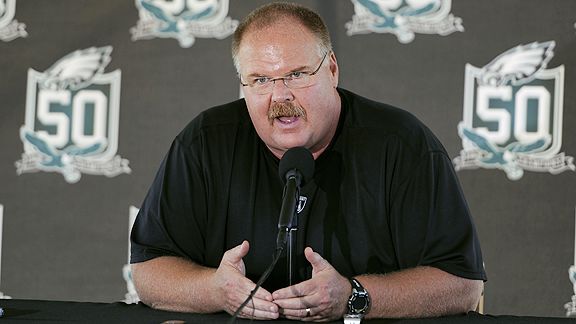 Howard Smith/US PresswireThere are plenty of new faces on Andy Reid's roster heading into the 2010 season.
BETHLEHEM, Pa. -- In the NFL's often unforgiving circle of life,
Philadelphia Eagles
head coach Andy Reid has been handed a rare second opportunity -- a chance to hit the refresh button on his team and his career.
And there he was on the first day of training camp at Lehigh University, in his usual command position on the practice field, about 50 yards behind the middle linebacker, all alone, looking at his own reincarnation.
Gone was
Donovan McNabb
-- Reid's first training camp in his 12-year head coaching career without the quarterback he drafted in the first round in 1999.
Gone was
Brian Westbrook
-- the veteran running back who provided much of the late-game heroics and pyrotechnics that often bailed out the Eagles and their head coach.
And there were all the new faces, including
Kevin Kolb
, who will have the fewest career starts -- just two -- of any prospective starting quarterback in the NFC this year. In all, the Eagles jettisoned 14 players from their 2009 roster -- more than any team in the league.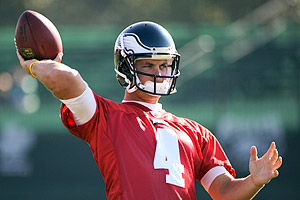 Howard Smith/US PresswireKevin Kolb takes over at quarterback for the departed Donovan McNabb.
When the veterans arrive on Thursday, there will be 32 new players in camp.
How green are these Eagles? The training camp roster boasts only one non-kicker over the age of 30, the fewest in the NFL.
"There's a little bit of unknown, which I kind of like," said Reid of his new team, average age 24.1 years old. "I like that."
Now, there is a first. The NFL's head coaches -- among the planet's greatest control artists -- rarely embrace the unknown, or at least admit it in public.
Assessing his rebuilt roster, Reid called it "a great challenge." What might be more challenging is convincing his championship-starved fan base that this roster overhaul can work. In Philadelphia, with McNabb now playing for the division-rival
Washington Redskins
, and so much inexperience wearing midnight green this season, there is little love of the unknown created by Reid.
More like fear.
And that translates into one thing: a whole lot of pressure on Reid. Yes, the head coach was given a three-year contract extension in December. But now failure to bring a Super Bowl title to Philadelphia can no longer be blamed on McNabb's shortcomings, Westbrook's injuries or aging veterans such as
Brian Dawkins
who are long gone.
It's on Reid now.
"There are some big-name players that have been proven players on this football team that aren't here," said Reid. "It's important that the young guys step up and they go."
If they don't, it will be difficult to try to peddle to Eagles fans that the team was victimized by inexperience. Going young was the franchise decision.