August, 29, 2013
8/29/13
10:30
AM ET
IRVING, Texas – Before Wes Phillips joined the
Dallas Cowboys
' coaching staff in 2007, he was a quarterbacks coach at Baylor for one year and spent two years coaching the position at West Texas A&M. His first official coaching job was as a student assistant at UTEP, his alma mater.
It helped that his father, Wade, was named Cowboys head coach in 2007.
If he got in the NFL door thanks to his father, Wes Phillips' work has kept him around.
"I think a lot of people look at nepotism and they think, 'Well, guys get jobs that maybe don't deserve them,'" said Cowboys executive vice president Stephen Jones, who, as son of Dallas owner Jerry Jones, heard similar comments when he started in the NFL. "I think that shows that obviously Wes is a sharp guy. He loves football. He works hard at it. He has a passion for it. He's obviously made his mark around here … I think his arrow is up, and he's only going to get better in this league."
Phillips always wanted to get into the family business started by his grandfather, Bum, and continued by his father. Unlike Bum and Wade, Wes is an offensive coach.
"He's the black sheep of the family," said Wade, now the defensive coordinators for the
Houston Texans
, who visit Dallas tonight in the preseason finale for both teams. "He knows that. He went on the dark side, but we still love him."
Wes Phillips joined the Cowboys as a quality-control coach. He has worked with wide receivers, the offensive line and even was the special-teams coach for a game in 2009 when Joe DeCamillis underwent an emergency appendectomy.
Cowboys head coach Jason Garrett made Phillips the tight-ends coach this year.
[+] Enlarge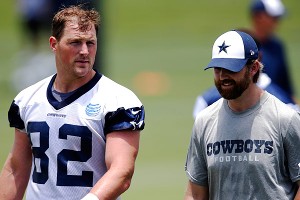 AP Photo/Tony GutierrezWes Phillips, son of Wade and the Cowboys' tight-ends coach, said he searches for "one little nugget" to give standout Jason Witten, left.
"A lot of what you do as an assistant is you sit in the room and you watch other coaches coach," Wes said. "You do a lot of work behind the scenes in the office and now you're more involved in all aspects of game planning, preparing your meetings. I was fortunate to sit in that room and listen to some excellent coaches."
There is also some symmetry to his father's early coaching career. Wade coached Hall of Famers to-be Elvin Bethea and Curly Culp in his second year on Bum's Houston Oilers' staff. Wes' first time running a position group comes with a Hall of Famer to-be in
Jason Witten
.
"I coached Elvin Bethea and Curly Culp and I thought, 'Man, I'm really a good coach,'" Wade said, "but maybe I wasn't. Maybe that was the players … (but) it gave me confidence to know I could coach. Hopefully that will help him, too."
Wes is Witten's fifth position coach in 11 seasons; the tight end has eight Pro Bowl appearances in his first 10 years.
"When you've got a guy like that it's, 'How can I stimulate him?'" Wes said of Witten. "How can I take a guy who's had so much experience and so much success and give him one little nugget or something that can help him be more successful? … With him it's got to be very succinct, very direct on what you're trying to get accomplished, and you'd better know your stuff because he knows it like a coach."
Earlier this week Wade (
@sonofbum
) tweeted about how well-coached the Cowboys tight ends looked as he prepared for tonight's game at AT&T Stadium. He said he feels the pride his father felt when he became a successful coach.
"The only thing I regret with Wes is I didn't give him a position a lot sooner," Wade said.
Which position?
"Well, I'd make him offensive coordinator first, but that wasn't my choice," Phillips deadpanned, an acknowledgment that Garrett was named coordinator before Phillips was named Cowboys head coach in 2007. "No, I just think he deserved a position because of the kind of coach he was and it would've helped his career a lot more. But he's going to have a fine career. Hopefully he'll be the third NFL head coach in this family. That will be the only family that's ever done that."
If Wes Phillips ever gets that far in this profession, it will have been on merit.
"The way I look at it is one way or the other, everyone gets hired because they know somebody," Wes said. "They have some sort of connection. And it's not how you get there. It's what you do once you get there. I do take pride in just doing my job the best I can. The fact that I've been able to stay here going on seven years is really a long time in the NFL. I've been fortunate."
January, 15, 2012
1/15/12
10:20
PM ET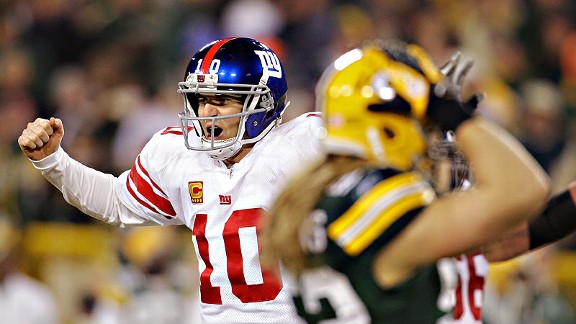 AP Photo/Darron CummingsTom Coughlin has Eli Manning and the New York Giants just one win away from the Super Bowl.
GREEN BAY, Wis. -- Deep in the bowels of Lambeau Field on Sunday night, America's youngest 65-year-old practically bounced up to the podium, a grin creasing his famously red face as he broke down his latest huge coaching achievement.
When you push yourself as hard as Tom Coughlin pushes himself, you have to revel in nights like this. The
New York Giants
had just crushed the 15-1
Green Bay Packers
37-20
to move into the NFC Championship Game, and Coughlin finds himself in the middle of a postseason run every bit as delightfully surprising as the one on which he took the Giants four years ago.
"Just very happy," Coughlin said, and who can blame him? This is a remarkable coaching achievement he's pulled off. His team looked dead in the water just four weeks ago, sitting at 7-7 and in second place after a miserable home loss to the Redskins. The story in New York was about whether he would be fired if the Giants didn't make the playoffs, and the consensus seemed to be that the Giants would have little choice.
Four games and four victories later, such talk has turned preposterous. Coughlin, whose contract runs through 2012, has put himself in line for a multiyear extension. This run with this team is establishing him -- if he hadn't already done so -- as one of the elite head coaches in the game. If he wins his next two games, he becomes a two-time Super Bowl champion and, quite frankly, people are going to start to ask whether he belongs in the Hall of Fame.
"There's nobody outside of this room who believed we could get where we are right now," Giants left tackle
David Diehl
said. "You go back a month, and it was all, 'Should Coughlin be fired?' But he knew what we had here, and we knew what we had here, and we used all of that for motivation."
The mark of a great coach is his ability to identify the kind of team and the kind of players he has and coach accordingly. Bum Phillips famously said that what made Don Shula great was that "he could take his'n and beat your'n, or he could take your'n and beat his'n." Coughlin is of that school. At a time when so many coaches seem to be slaves to their own system, or seek to have control over roster construction, Coughlin sees his role more simply. His is not to mope and complain that the team didn't do more in free agency, or that defensive starters dropped like flies in the preseason. His is to figure out how to win with what he has. And as he did four years ago, when he tore through Dallas and Green Bay before taking out the undefeated Patriots in the Super Bowl, he has figured out how to push exactly the right buttons with a roster that didn't look playoff-caliber for most of this season.
"The way the leadership part works is, it starts with the coach," Giants safety
Deon Grant
said. "And what we have here is a coach who knows his team. He knows how to talk to the veterans in this locker room, when to challenge people, when to lighten up. You want a leader who believes in you, and in order to believe in you, he's got to know you."
[+] Enlarge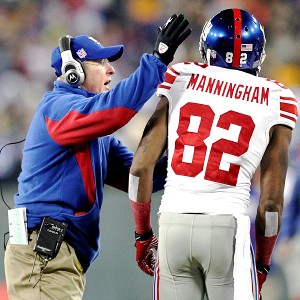 Matthew Emmons/US PresswireNew York's playoff run is establishing Tom Coughlin as one of the league's elite coaches.
Coughlin knows his team. He knew, after that Redskins loss, that the way to approach the following week was to build his players up rather than tear into them. They have responded, and are playing with a champion's level of confidence at exactly the right time of year. No fewer than four players in their locker room said Sunday night, "I knew we were going to win this game," and every single one of them was convincing and sincere.
"We've got a lot of confidence right now," running back
Ahmad Bradshaw
said. "We've been here before, a lot of us, and we've been here together. And I think that helps us a lot."
This really is starting to feel like four years ago all over again, and the reason is the seasoned, even-keel performance of the leaders who keyed that playoff run.
Eli Manning
is playing quarterback at an incredibly high level, and Coughlin is delivering the right message during the week and projecting cool, experienced certainty during the games.
"Our coach is always consistent with his message," defensive lineman
Chris Canty
said. "That's a big deal, because it makes it easy to buy in. Confidence comes from demonstrated performance, and we have people in our building who have some pretty good records."
Sunday was Coughlin's sixth career playoff road win, one short of the all-time record held by a guy you may have heard of named Tom Landry. That's heady company, and it says a lot about the advantage Coughlin gives the Giants at this time of year. To have a coach who's not going to be surprised or thrown off by any situation, who has shown a sincere belief in you and earned your reciprocal belief in him -- that's the kind of stuff that allows a team to keep its head in intense playoff games.
"Success breeds confidence," Coughlin said. "And right now they're a pretty confident group."
That starts at the top, and while he would scoff at the notion, the fact the Giants are one of the final four NFL teams left standing is a direct result of one of the finest coaching jobs of Coughlin's fine coaching career.
February, 26, 2010
2/26/10
7:47
PM ET
By
Matt Mosley
| ESPN.com
INDIANAPOLIS -- Cowboys head coach Wade Phillips was kind enough to stop and visit with four reporters in a hotel lobby earlier this afternoon. I asked him several questions, but his most interesting response involved outside linebacker
Anthony Spencer
. He said Spencer was "one of the best players in the league at the end of the year."
[+] Enlarge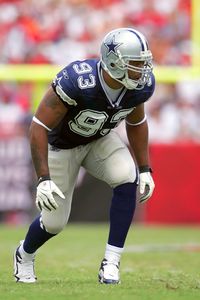 Cliff Welch/Icon SMI Anthony Spencer had 67 tackles last season -- third most on the Cowboys -- including 10 for a loss.
Phillips indicated that Spencer was talented enough to one day be compared with a member of the Saints' famed "Dome Patrol," linebacker
Rickey Jackson
. The former New Orleans star was voted into the Pro Football Hall of Fame a couple weeks ago and he was part of Bum Phillips' first draft class in New Orleans (1981).
Phillips also talked Friday about how much he enjoys the scouting process. His father, Bum, used to send coaches out on the road to scout players. Wade was responsible for the University of Tulsa when the Oilers selected wide receiver Steve Largent in 1976. But when the Oilers needed a roster spot in the preseason, the offensive coaches decided that Largent was expendable. He was eventually traded to the Seahawks for an eighth-round draft pick. And I think most of you know the rest of that story.
In other news, Phillips said he thought the Cowboys' inclusion in the Hall of Fame Game
was a positive
despite the extra travel and practice time it will require.
"With our team, I think it's a good thing," Phillips said. "We have a lot of young players. We had some young players that were hurt last year, or didn't play a whole lot or played some and need more playing time. I can just see that helping."
When I last saw Phillips on Friday, he was catching up with Redskins coach Mike Shanahan. Phillips was replaced as head coach of the Broncos by Shanahan after the 1994 season. Now the two will square off in the NFC East. OK, let's do this again Saturday.
August, 3, 2009
8/03/09
5:01
PM ET
By
Matt Mosley
| ESPN.com
Posted by ESPN.com's Matt Mosley
It's been one week of Eagles training camp, and the team has already dealt with a lot of adversity. First and foremost, there was the death of longtime defensive coordinator Jim Johnson, one of the best minds in the game. There's also been the distraction of rookie wide receiver Jeremy Maclin's contract holdout.
Now it appears that starting middle linebacker Stewart Bradley, one of the team's best young players, will miss the season with a torn anterior cruciate ligament that he suffered during Sunday's Flight Night at the Linc. I don't know the exact play during the scrimmage where Bradley suffered the injury, but Les Bowen of the Daily News says the linebacker got caught up in a pile of players.
In recent days, I've written about how some teams feature more contact in training camp than others. Cowboys head coach Wade Phillips said there would be no tackling in San Antonio, and he said that's something that goes all the way back to how his father, Bum, approached training camp. In Denver, though, there will be full-pad tackling like the old days. Andy Reid had said Saturday that the scrimmage would include full-contact.
And with what happened to Bradley, it's time to make the immediate second-guess. In fact, that's one of my specialties. I'll ask around to my fellow bloggers, but my sense is that most team's don't tackle in training camp -- except sometimes in red zone drills. So is tackling in training camp worth the risk?
This afternoon, I'm sure a lot of Eagles fans are wondering how to answer that. Bradley's one of the smartest players on the team and he's an emerging leader. In addition to trying to fill the shoes of the great Jim Johnson, defensive coordinator Sean McDermott will now be forced to find a replacement at one of the most important positions on the field. He could go with a veteran such as Omar Gaither who was benched last season in favor of Akeem Jordan or an '08 late-round draft pick named Joe Mays.
We'll keep our eye on this one for you. And thanks for your patience this afternoon. I had to step away from the Beast news desk for another assignment.
Update: Andy Reid wasn't pleased with how the media handled the injury.
NFC EAST SCOREBOARD
Sunday, 10/26
Monday, 10/27