NFC East:

Cadillac Williams
May, 4, 2012
5/04/12
9:53
AM ET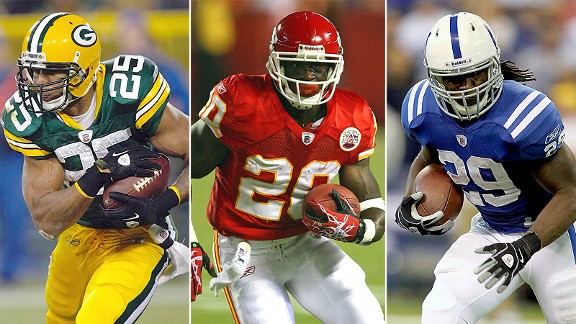 Getty ImagesRyan Grant, Thomas Jones and Joseph Addai are the top running back options left on the market.
We are in the eighth week of NFL free agency, and the position to which it has been most unkind is running back. Due to the ever-increasing emphasis on passing offense and the punishing nature of the running back position, teams see less and less value in investing big money in the position. So as the calender flipped to May, a number of veteran running backs with pretty good résumés remained on the open market.
All four teams in our division could conceivably still be in the market for a veteran running back. The
Washington Redskins
continue to negotiate with
Tim Hightower
, who was last year's starter before he tore his ACL, and would like him to come back to front an otherwise young running back corps that leaned on 2011 draft picks
Roy Helu
and
Evan Royster
over the final weeks of the season. The
New York Giants
, having lost
Brandon Jacobs
to free agency, picked
David Wilson
in this year's first round, but given the youth of their backup plans behind starter
Ahmad Bradshaw
, it wouldn't be ridiculous for them to bring a veteran back into camp.
The
Philadelphia Eagles
whiffed on
Ronnie Brown
as
LeSean McCoy
's backup last year and have plenty of intriguing youngsters at the position now, but they don't know what to expect from
Dion Lewis
or
Bryce Brown
or Chris Polk. And even the
Dallas Cowboys
, with
DeMarco Murray
as the starter and veteran
Felix Jones
as the backup, could stand to add some depth.
So here's a look at the top 10 remaining free-agent running backs and what they might bring if one of our division's teams were to sign them.
Ryan Grant.
Rushed for a total of 2,456 yards in 2008 and 2009 as the Packers' starting running back, but an injury in the 2010 season opener cost him that whole season. Showed flashes of his old form in 2011, averaging 4.2 yards on his 134 carries, and he's 29 years old. Might be looking to start somewhere. He was talking to the Lions this week.
Thomas Jones.
The graybeard of this group, Jones will turn 34 in August, and his days as a full-time starter are behind him. Might still be able to help in the passing game, but as a runner he'd be well down the depth chart. Well-regarded veteran locker room presence who might help the development of the younger guys who are getting the carries in a place like Washington.
Joseph Addai.
Another 29-year-old who's struggled with injuries and probably needs a part-time role to better his chances of staying healthy. Even in his prime as an Indianapolis Colt, Addai was never a 20-carry-per-game guy. His value there was mainly as a receiver and as a blocker in the passing game. But there are some teams in this division that might be looking for a part-time guy who's good at that stuff.
Cedric Benson.
He topped 1,000 yards in each of the past three seasons as the workhorse back in Cincinnati. Some say he chafed at the part-time role that developed for him as the 2011 season wore on, but at this point in the market he must see that a part-time role is his only option. Has had off-field issues that could scare teams away, but aside from that he might be a nice fit with Bradshaw in New York.
[+] Enlarge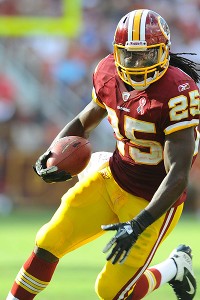 James Lang/US PresswireThe Redskins would likely welcome Tim Hightower back if it weren't for concerns over the knee injury he sustained last season.
Tim Hightower.
The Redskins loved him as a runner, receiver and pass-blocker, and would have him back in a second as their starter if they were sure about his knee. But he hasn't signed yet, and a recent visit to New England indicates he's looking for more than the Redskins are willing to offer.
LaDainian Tomlinson.
One of the best ever at the position and a possible Hall of Famer, Tomlinson could be looking at retirement as he comes up on his 33rd birthday next month. But if he wants to play and can approach the level he showcased in 2010 with the Jets, he's the kind of guy who'd get a young running back's attention.
Cadillac Williams.
Another 30-year-old for whom injuries have been the dominant story in recent years. He can be a more than productive backup with starter potential if he can stay on the field, but he generally can't.
Ronnie Brown.
Only twice in the past five years has the 30-year-old Brown had 200 carries in a season. He was never able to assert himself as the starter in Miami, and as the Eagles' backup last year he was pretty much a complete disaster. It's going to be tough for Brown to sell himself as a reliable backup with what he showed in 2011.
Justin Forsett.
He's small and quick and doesn't have a lot of miles on him. He won't turn 27 until October. The question is how much you can get out of him, and in what role. He's not a power runner, but he's good at finding holes. He accelerates well but doesn't have great top-end speed. He catches the ball well but isn't much help as a blocker in the passing game. Someone will sign him, and if they find the right role he could be a good change-up back for someone. It just feels as though each NFC East team already has someone like him.
Maurice Morris.
Morris is 32 but has never been a regular feature back. He's been under 100 carries in each of the past three years, and of all of the backs on this list he has the most experience in the kind of part-time role we're talking about. He can catch the ball out of the backfield and doesn't mind playing special teams. He will find a home.
October, 2, 2011
10/02/11
10:26
AM ET

As you get ready for today's game against the Rams in St. Louis, here's one reason for
Washington Redskins
fans to feel good and one reason for concern:
Feeling good: The pass rush vs. Sam Bradford
Bradford has been sacked 11 times this season, and the Rams' pass protection has been an issue. Enter the Redskins, with outside linebackers
Brian Orakpo
and
Ryan Kerrigan
fired up about a chance to add to that sack total. The Redskins brought a lot of blitzes Monday night in Dallas to try and force
Tony Romo
out of the pocket and into bad decisions, and that's likely to happen again. They've had some success generating pressure up the middle with
London Fletcher
, and you'll probably see some of that, too. But the key to the Redskins' pass rush is Orakpo and Kerrigan, who should be able to take advantage of mismatches against the St. Louis tackles and cause problems for Bradford.
Cause for concern: Steven Jackson and the Rams' run game
The Redskins' defense has been good overall this season, but a disturbing trend has emerged in the second half in each of the past two weeks. In their Week 2 victory against Arizona, the Redskins allowed 87 rushing yards in the second half, including four
Beanie Wells
runs of 10 or more yards. Monday in Dallas, the Redskins allowed 93 second-half rushing yards, including
Felix Jones
runs of 40 and 29 yards. The Rams have Jackson back at full strength, and there's plenty of tape on how to run against Washington, especially in the second half. This is a potential issue that arises when your edge rushers are so good and so focused on getting to the quarterback -- they can forget that part of their job is to set that edge and force the run back inside. If the Redskins don't correct that, they could give up some big runs to Jackson and
Cadillac Williams
.
September, 19, 2011
9/19/11
12:05
PM ET
It's "Monday Night Football" here in New Jersey tonight, as I'll head down Route 17 to the Meadowlands to see the
New York Giants
take on the
St. Louis Rams
. We will be chatting live during the game right here on ESPN.com, and of course I'll be blogging and columnizing and Rapid Reacting and all of the things we do from games we attend in person. It's going to be a long, late night, so take a nap this afternoon if you need one to make sure you can keep up. I know I will.


You already know I think one of the keys for the Giants is to
commit to the run
more strongly than they did in the opener against the Redskins. But I also think the run game is the key when they're on defense. The Rams were able to run up the middle with some success in their opener against the
Philadelphia Eagles
, and the Giants' defense has a similar weakness in the middle to the Eagles' defense -- i.e., a rookie middle linebacker who's likely to struggle if he has to make a one-on-one play against the running back. The Giants'
Greg Jones
looked better in his debut than the Eagles'
Casey Matthews
has looked in either of his games, but the rookie out of Michican State is still new at this, and even if
Steven Jackson
doesn't play, stopping
Cadillac Williams
and
Jerious Norwood
isn't exactly the same as stopping Indiana's run game. It will fall to defensive tackles
Chris Canty
and
Linval Joseph
to slow the Rams' backs at the line so they don't hit the soft middle of the Giants' defense with a head of steam.
On offense, the Giants should try to create those same mismatches with running backs
Ahmad Bradshaw
and
Brandon Jacobs
against the Rams linebackers, especially if the Rams blitz as much as they did in their opener. It remains to be seen whether Steve Spagnuolo will blitz like that every week or whether that was just a plan to try and rattle (or eliminate)
Michael Vick
.
Eli Manning
gets rid of the ball very quickly, as Spagnuolo knows from his days coaching against him in practice when he was the Giants' defensive coordinator, and it's possible the Rams will choose to rush four and sit in coverage more than they did last week. If they do go blitz-heavy again, the run game is the Giants' best way to take advantage of that.
I think the Giants will win the game tonight, but to do so they must seek to control it, and the best way to do that is to control the ground game on both sides of the ball. If this turns into a shootout, neither quarterback has his full complement of receivers. But I don't think the Giants want to entrust this game to their banged-up secondary.
March, 8, 2011
3/08/11
3:46
PM ET
There's an interesting story coming out of New York that will at least make some fans in Tampa Bay wonder about an intriguing scenario.
Former
New York Giants
running back
Tiki Barber
reportedly
has filed the paperwork necessary to come out of retirement
and return to the NFL. Barber's twin brother,
Ronde Barber
, recently signed a one-year contract to continue his career with the Buccaneers, the only team he's ever played for.
Could Tiki join Ronde as a teammate for the first time since they were in college?
It's at least something to ponder. Although the Bucs generally are following a youth movement,
Ronde has plenty of clout with coach Raheem Morris and might be able to encourage the Bucs to sign his brother.
Tiki would return to the NFL as a free agent, and he was critical of Giants coach Tom Coughlin, so a reunion isn't likely. Tampa Bay found a feature back in
LeGarrette Blount
last season, and the Bucs are hoping to keep
Cadillac Williams
as a third-down back. But the Bucs could use a backup to keep Blount from being overused.
September, 27, 2009
9/27/09
7:27
PM ET
By
Matt Mosley
| ESPN.com

Posted by ESPN.com's Matt Mosley


Even though the Giants beat the Cowboys last Sunday, they were still upset about allowing 251 rushing yards. They knew the Bucs had gashed the Cowboys for 174 rushing yards in Week 1 and they were determined to slow them down. Well, they did more than slow them down. The combination of
Cadillac Williams
and
Derrick Ward
combined for 10 yards in the game.
And Bucs quarterback
Byron Leftwich
couldn't get anything done either. It was a dominant defensive performance against a woeful team. On the other side of the ball,
Ahmad Bradshaw
and
Brandon Jacobs
both had big days, helping the Giants rush for 226 yards.
Eli Manning
was efficient in throwing for 161 yards and two touchdowns, and he was able to watch most of the fourth quarter from the bench.
Tom Coughlin is one of the best coaches in the league at using adversity as a motivating factor. The team got the news Thursday that starting safety
Kenny Phillips
would be placed on injured reserve. It's an obvious setback, but the defense didn't miss a beat Sunday.
The Giants will travel to Kansas City to face a winless Chiefs team next Sunday. It might sound like the perfect time for a letdown (see: Cleveland in 2008), but I don't think it will happen. I think the Giants are the best team in the league right now, although you could certainly make an argument for the
Baltimore Ravens
. Last week, the Giants' front seven was embarrassed by what the Cowboys accomplished in the running game.
On Sunday, Ward had two yards on five carries. His former teammates were happy to see him. Maybe a little too happy. Nice win for the Giants all around. And it was good that this banged up group could get a little rest after the
Sinorice Moss
touchdown. By the way, that guy seems to make the best of his limited opportunities. Pretty impressive to get in there and score a touchdown on his only catch.
The Giants will get some players back from injury in the coming weeks -- and they could become even more formidable.
September, 13, 2009
9/13/09
10:42
PM ET
By
Matt Mosley
| ESPN.com

Posted by ESPN.com's Matt Mosley
From what I was able to see from a TV at Giants Stadium, the Cowboys' offense had a pretty memorable day in a 34-21 win over Tampa Bay.
Tony Romo
threw for 353 yards and three touchdowns, and he did a really nice job of spreading the ball around.
Roy Williams
has joked that this is a below-average receiving corps, but he responded with three catches for 86 yards, including a 66-yard touchdown where he caught the ball down the seam and ran away from defenders.
Patrick Crayton
led the way with four catches for 135 yards. It was a strong statement from a group of wide receivers that arrived with plenty of doubt this season. The Cowboys did what they had to do in putting an inferior team away in the second half.
Marion Barber
had 14 carries for 79 yards and a touchdown and did a good job of using his power to finish off the Bucs.
The thing that has to concern Wade Phillips the most with the Giants coming to town next Sunday is Tampa Bay's 174 rushing yards.
Cadillac Williams
and
Derrick Ward
gashed the Cowboys in the first half. Phillips said he was calling a lot of blitzes, and that led to some wide gaps in the defense. They better not do that against the Giants, a team that features
Brandon Jacobs
and
Ahmad Bradshaw
.
There's also the issue of the Cowboys not registering a sack for the first time in the Wade Phillips Era.
DeMarcus Ware
put plenty of pressure on
Byron Leftwich
, though, and the Cowboys had several knockdowns. Tony Romo will have some tests on his right ankle tomorrow at Valley Ranch, but he said he'll be fine. He played through the injury in the second half. All in all, it was a pretty strong start for the Cowboys. You can't let a bad team hang around -- and the Cowboys disposed of the Bucs in the second half. Now, they better figure out how to stop the run.