June, 17, 2014
6/17/14
10:30
AM ET
IRVING, Texas -- Through the organized team activities,
Dallas Cowboys
quarterback
Tony Romo
has been kept out of competitive drills as well as some individual work as he recovers from December back surgery.
Romo
With the Cowboys' minicamp starting Tuesday, Romo will continue down the same road. Romo has said recently he expects to be 100 percent within a few weeks, but that time frame comes after the Cowboys' offseason is over.
"We'll take him day-by-day like we do with all the other guys," Garrett said last week, "but I don't see it changing dramatically."
Romo has gone through walkthrough drills with the first-team offense and thrown individual routes with wide receivers, running backs and tight ends. He has not taken a snap in 11-on-11 or 7-on-7 drills. He has also sat out of the quarterback's footwork drills as the team attempts to protect him from jarring motions as much as possible.

Romo will not be the only Cowboy to likely be limited because of injury during the three-day minicamp. Wide receiver
L'Damian Washington
(shoulder), wide receiver
Devin Street
(quadriceps bruise), safety
Matt Johnson
(hamstring), linebacker
DeVonte Holloman
, linebacker
Anthony Hitchens
, defensive end
Ben Gardner
(groin), defensive tackle
Amobi Okoye
(illness), defensive end
Anthony Spencer
(knee), defensive tackle
Chris Whaley
(knee), wide receiver
Dwayne Harris
(shoulder), defensive end
George Selvie
(shoulder), defensive end
Caesar Rayford
(shoulder) have been either slowed by injury during all or part of the offseason program.
Johnson took part in just one OTA before his hamstring tightened up. Because of his history (he missed his rookie season with recurring hamstring injuries) the Cowboys have wanted to protect Johnson. He missed last season because of foot surgery.
He is hoping to take part in the minicamp in some fashion.
"I've just been making sure it's good to go," Johnson said. "I think we're being over-cautious but I feel good."
Cornerback
Terrance Mitchell
, one of the Cowboys' five seventh-round picks, will take part in team drills for the first time since the rookie minicamp in May. League rules prevented him from showing up before June 13 because Oregon had not graduated.
November, 12, 2013
11/12/13
8:55
PM ET
IRVING, Texas -- The
Dallas Cowboys
made a roster change late Tuesday afternoon, but it's not what most fans are looking for: The team released defensive end
Caesar Rayford
, who played in seven games and totaled five tackles.
To replace Rayford on the 53-man roster, the Cowboys signed defensive tackle
Corvey Irvin
. Irvin played at Georgia and was drafted in 2009 by Carolina in the third round. He's played in 18 NFL games, including 12 games for Tampa Bay last season, when he recorded six tackles.
Guard
Phillipkeith Manley
and defensive tackle
Jason Vega
were released from the practice squad, and tackle John Wetzel was signed to the practice squad. Wetzel signed with Oakland as an undrafted free agent after the 2013 draft and was released in August.
The day started with the Cowboys working out 16 players, including veteran safety
Michael Huff
, who was cut by Baltimore last month. But the Cowboys, in need of improved play along the secondary, have decided to focus their energies to the defensive front, which has had health issues. Starters
DeMarcus Ware
(thigh) and
Jason Hatcher
(stinger) are nursing injuries. Hatcher missed Sunday's game at New Orleans. Ware returned after missing the previous three games, but he said he tweaked his thigh during the game. Ware added that he didn't believe it was too serious, and Hatcher said he expects to play in next week's game at the
New York Giants
.
Since the start of the season, the Cowboys have signed nine defensive linemen to the active roster.
October, 21, 2013
10/21/13
10:00
AM ET
PHILADELPHIA -- Five of the eight defensive linemen the
Dallas Cowboys
used against the
Philadelphia Eagles
joined the team after training camp began. Two joined in September. Two more joined the 53-man roster last week.
Last Thursday
Jason Hatcher
, the biggest name of the No-Name bunch, organized a trip to a local comedy club to get to know each other a little better.
Name tags were not needed.
"Nah, I know them," Hatcher said, "but it's just goes to show you man when you play for each other, you love one another off the field and you spend time with each other , you know on the field it's going to be something special. Just go out there and work your butt off for each other."
Hatcher had his sixth sack of the season, tacking on to his career high.
George Selvie
(signed July 24) had the first multi-sack game of his career (1.5 sacks).
Jarius Wynn
(signed last Tuesday) split the sack with Selvie.
Caesar Rayford
(signed Sept. 3) had
Matt Barkley
by the ankle on
Barry Church
's interception in the fourth quarter.
"It's what football's about, you know," defensive line coach Rod Marinelli said. "At the end of the day, it's still a blue-collar game of men who want to go out and work, fight, compete, and opportunities. That's what I see it as. It's special."
October, 14, 2013
10/14/13
3:00
PM ET
A review of four hot issues from the Dallas Cowboys' 31-16 win over the
Washington Redskins
:
[+] Enlarge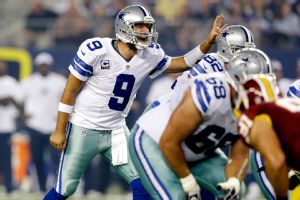 AP Photo/LM OteroTony Romo and the Dallas offense stepped up their production in the third quarter.
Man, what coverage:
If you're looking for a change in how the Cowboys played defensively, it was in the secondary. Cornerback
Brandon Carr
followed
Pierre Garcon
all over the field.
Morris Claiborne
and
Orlando Scandrick
were matched up in man coverage more. The result was three pass breakups apiece for Carr and Claiborne and two for Scandrick.
"I think that takes us back to what we're all here for," Scandrick said. "Whether it's man or zone, it's our job to play the scheme, but Brandon Carr was brought over from Kansas City, gave him a bunch of money to play man-to-man. Mo, traded up for him to play man-to-man. Signed me long-term to play man-to-man, so …"
Answering the call:
In a Sept. 22 loss to the
San Diego Chargers
, the Cowboys ran just seven plays in the third quarter and lost 30-21. On Sunday they ran only eight plays in the third quarter but managed to score a touchdown thanks to Dwayne Harris' kickoff return. After that, however, the offense had two three-and-out drives. After
Kai Forbath
missed a 49-yard field goal early in the fourth quarter, the Cowboys answered with a nine-play drive that ended with a 30-yard field goal from
Dan Bailey
for an eight-point lead. For six of those nine plays, the Cowboys went with their "empty" personnel, spreading the field.
Tony Romo
completed four of six passes for 42 yards with no running back on the field with
Cole Beasley
catching three of the passes.
Need line help:
The trade deadline is two weeks away, and the Cowboys will be open for business but face salary-cap restrictions when thinking about making a deal. While
DeMarcus Ware
felt confident his strained quadriceps would be OK, there is little proven help along the defensive line, leading to a question about adding a defensive lineman through a trade or free agency. The Cowboys have about $2 million in cap room, making the acquisition of a name player difficult. At one point the defensive line Sunday was
Caesar Rayford
,
Drake Nevis
,
David Carter
and
Kyle Wilber
, who did have his first career sack. They pressured Robert Griffin III at times, but can this "no-name" group, as Jerry Jones called it, get it done every game?
Quiet return:
After missing two games with a hamstring injury,
Miles Austin
was held without a catch against the Redskins. He was targeted four times and nearly had a touchdown, but Redskins cornerback
DeAngelo Hall
managed to deflect the Romo pass at the last second. It was the second straight game Austin was held without a catch by the Redskins. It also happened in last year's season finale, but he missed a lot of action in that game with an ankle injury. For the offense to be at peak efficiency, Austin will need to make some plays. The good news is that he did not aggravate his hamstring injury, so he should improve as he grows more confident in his legs.
September, 10, 2013
9/10/13
10:00
AM ET
IRVING, Texas -- If it's Tuesday it's time to wonder about some
Dallas Cowboys
-related topics.
In this week's installment of Five Wonders, we wonder about the cornerback play after Sunday's game, Phil Costa's gameday future, and
Anthony Spencer
's involvement on defense.
And away we go:
[+] Enlarge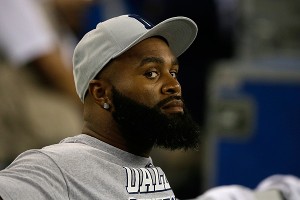 AP Photo/Tony GutierrezDallas might opt to use Anthony Spencer in a rotation as he recovers from offseason surgery.
1. I wonder when Anthony Spencer will be, you know, Anthony Spencer. He was encouraged by some of the running he did late last week, but the defensive end has not done much since July 25 knee surgery. Can the Cowboys realistically expect him to come in and play 60 snaps a game with limited practice time? To me, that's asking too much. I wonder if they will work him in slowly in passing downs and allow
George Selvie
to take the run downs, setting up a three-man rotation at defensive end along with
DeMarcus Ware
. That would be the smart thing to do, especially if Selvie plays as well as he did against the Giants. I was skeptical of Selvie after his two-sack performance against Miami in the Hall of Fame Game, but I might have been wrr ….. wrr … wrong about him.
2. Worry is a word Jason Garrett abhors, but I wonder if at least some people worry about the cornerback play Sunday. The Giants had three receivers go for more than 100 yards, and
Eli Manning
had 450 yards passing. It was just too easy for Manning to throw slant after slant after slant to
Hakeem Nicks
or
Rueben Randle
or
Victor Cruz
regardless if
Brandon Carr
,
Morris Claiborne
or
Orlando Scandrick
were in coverage. The Cowboys kept linebackers
Sean Lee
and
Bruce Carter
hugged to the A gap at the snap, and the cornerbacks gave free releases mostly at the line to allow easy completions. With some good, accurate passers coming (
Peyton Manning
and Denver in a month), the Cowboys will have to tighten that down or live with not just a bending defense, but an entirely too flexible defense that gives up too many big plays.
3. With
Brian Waters
getting more acclimated to the Cowboy Way, I wonder what happens to
Phil Costa
. Somewhat surprisingly, the Cowboys dressed eight offensive linemen on the 46-man roster Sunday, with
David Arkin
joining Costa and
Jermey Parnell
as the backups. The Cowboys normally like to keep seven linemen active to increase their flexibility in other spots. If they revert to that old form, then Costa would appear to be the odd man out (as well as Arkin) because
Mackenzy Bernadeau
can play center. The Cowboys would be covered in case of injury at any of the three interior spots, making Costa a little superfluous. But before you start wondering about a trade involving Costa to, say, Pittsburgh, who lost
Maurkice Pouncey
for the year, I would offer some hesitation that a strength today might be a weakness in the future. Costa is a low-cost insurance policy in case something was to happen to Bernadeau,
Travis Frederick
or any interior linemen.
4. The Cowboys ran 74 plays against the Giants. They ran that many in a game just four times last season and went 1-3, losing to Baltimore (79), the Giants (83) and Washington (75), and beating Cleveland (78). Much has been made about Chip Kelly's offense in Philadelphia and how many plays he wants to run per week. I wonder if the Cowboys have a similar philosophy, but just haven't told anybody. The more plays you run, the more the other team is off the field. The Cowboys had the added benefit of four takeaways by the defense that allowed them to run more snaps and hold the ball for 37:10. The Cowboys had only two games last season in which they held the ball for a longer amount of time (Baltimore, Cleveland).
5. I wonder if the Cowboys will get that conditional seventh-round pick from Chicago in next year's draft. In order for it to happen, tight end
Dante Rosario
will have to be on the Bears' 46-man gameday roster for eight games this season. Rosario was inactive in the Bears' win against Cincinnati, but the Bears released
Kyle Adams
on Monday, which would seem to clear a spot for Rosario. A wonder inside the wonder when talking trade: I wonder if the Cowboys will have to fork over their seventh rounder in 2015 to Indianapolis for
Caesar Rayford
. For that to happen, Rayford will have to be on the Cowboys' 53-man roster for five weeks. Rayford was inactive against the Giants and will need time, but pass-rushers are hard to find. If I'm a betting man (and I'm not, unless it's for entertainment purposes only), then I think there is a better chance the Colts pick up that extra selection rather than the Cowboys getting that pick from the Bears.
September, 5, 2013
9/05/13
11:00
AM ET
IRVING, Texas – One of the biggest contrasts between the
Dallas Cowboys
and
New York Giants
is how they construct their defensive lines.


Osi Umenyiora
and
Chris Canty
might be gone, but in their place the Giants added
Cullen Jenkins
and drafted
Johnathan Hankins
and
Damontre Moore
in the second and third rounds, respectively, in April. They also brought in free agents
Shaun Rogers
and
Mike Patterson
.
The Cowboys did not draft any defensive linemen and, when the teams meet Sunday, will have
Jay Ratliff
and
Tyrone Crawford
, expected to be key contributors at the outset of training camp, reduced by injury to spectator status, and another either watching or limited in
Anthony Spencer
. Two of Dallas' defensive-line pickups,
George Selvie
and
Landon Cohen
, came after training camp began. Two more came in trades within the past week in
Edgar Jones
and
Caesar Rayford
.
"They've always made a huge emphasis on signing and drafting defensive linemen and that's been going on probably since the 1950s," Cowboys head coach Jason Garrett said of the Giants. "And they're good at it. And they challenge you every time you break the huddle because of how big, strong and powerful those guys are. There are some new faces there, but the same mentality."
In the past 10 drafts, the Giants have selected eight defensive linemen in the top three rounds, including
Jason Pierre-Paul
(2010),
Mathias Kiwanuka
(2006),
Justin Tuck
(2005) and
Linval Joseph
(2010). Using outside linebackers because of their time in the 3-4 scheme, the Cowboys drafted six outside linebackers/defensive linemen in the top three rounds from 2004-13, but only one since 2006 (Crawford, a third-rounder in 2012).
In a passing league, affecting the quarterback is vital. Having a deep defensive line is a must.
"It's very critical during a game to be able to do that, be able to rotate enough people through so that you're fresh, that you have a chance to give guys a chance to catch their breath," Giants coach Tom Coughlin said. "You might have a pitch count in mind for some guys that you have to keep track of, but that's very important. We've been doing that in one way, shape or form for quite a while."